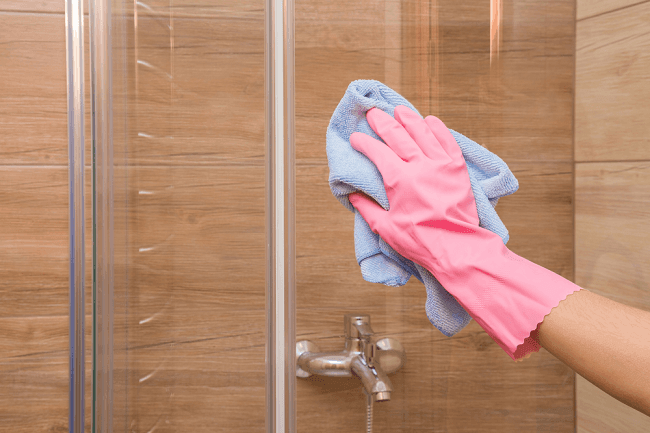 When searching through catalogs or the Internet to buy a shower enclosure, we are captivated by the gleaming glass partitions and doors. However, our shower doors never seem to look like they did in the adverts. How To Keep Glass Shower Doors Clean is a perennial problem. 
Whether the build-up on the glass is caused by hard water or through soap adhering to the glass, there are solutions, both natural and chemical, that can restore your shower doors so that they, once again, look good.
There are two main reasons why our shower doors look so bad, compared to their original pristine condition. These are a build-up of soap on the glass and hard water (calcium). 
The natural solution
The best way of removing those stubborn films of soap from your shower doors is white vinegar. Vinegar is an acidic product. It normally has a pH of around 2.5. It is a chemical-free cleaning agent provided by nature.
It will not hurt if you get it on your skin, there is no residue left on the glass, and it is completely safe to use around children and pets. Vinegar works by dissolving the dirt and grime from the glass. It is even able to remove the leftovers from where stickers had once been on the glass.
To use white vinegar simply fill an old household cleaner spray with the vinegar solution and spray the entire glass door, or panel. Normally, you can just leave it on for two minutes and then clean it off with a cleaning cloth (microfiber ones work best). If you have any stubborn stains, then apply more vinegar to that spot and leave it for five minutes, or you may wish to try another method which I describe in the next paragraph.
Using the white vinegar is a nice easy method of cleaning the glass but occasionally stubborn stains appear and something tougher is needed. For those difficult to clean patches, scrubbing with corn starch is a great option.
It Might Be Helpful:
Corn starch is an abrasive material, a bit like natural sandpaper, and if you mix your vinegar solution with a teaspoon of dishwashing liquid, and then add cornstarch to the mix. You will have a super-charged cleaning liquid to rub onto the offending patch with a cleaning cloth.
Another natural solution is to mix some grapefruit. Cut a grapefruit in half, sprinkle it with salt and then scrub the glass with the grapefruit. This works because the citric acid in the grapefruit breaks down the dirt and the salt acts as a mild abrasive.
Using existing household products
Lemon Pledge is fantastic for cleaning shower doors. Apply it to the glass and leave it for 15-20 minutes while you go and have a coffee (that part is optional) and when you return, give the door a scrub and the result will be a super clean door that will fight off the dirt for months.
How to keep water spots off glass shower doors is a topic that we could talk about for hours. There are so many brilliant ideas that really work. However, we have held ourselves back and stuck to what we believe are the best of the best ideas. 
Our final option is one that works slightly different from the pledge or vinegar. Epsom salts can be used to scrub the glass and they act in an abrasive way and clean of the hard water layer very efficiently. You may even prefer to use this method before the vinegar treatment for really awful looking doors. 
Keeping those doors pristine
Most of us have some WD40 around the house or garage.. Well, you may not know it but WD stands for "water displacement". WD 40 works by applying a layer of viscous oils where you spray it.
Those oils reel the water and they will repel water from your glass. If you spray WD409 onto your doors and then wipe it down, you will have gleaming doors that will have a surface which repels water. 
Final Words
You have seen that it is not necessary to fill your house with high cost branded products. Cleaning your glass shower doors and protecting them from further stains can be done with some well-known household products. Not only do they prove to be far cheaper, but they are also often far more effective than those costly brands from the supermarket. 
Recommended Resources