Our top picks: Best Toilet Paper for Septic Tanks 2023
Many of you might be suffering due to a clogged toilet. Perhaps, searching for a solution for the constant clogging of the septic tank. We will ask you to check the toilet paper you are using. Excuse me! What's the connection? Yeah, we expect that kind of reaction.
Even after using heaps of toilet paper, we still wonder why the tank is getting clogged. Just why when I cleaned it the other day! The reason is right there in front of your eyes. Replace your toilet paper with the Best toilet paper for septic tanks we are going to suggest.
Toilet paper is so negligible, and we are so used to using it, that it being the reason for clogging the tank doesn't hit our brain cells. Unless your drainage system is all jacked up and you are emptying the garbage bin in the toilet bowl, the culprit is the toilet paper. Always.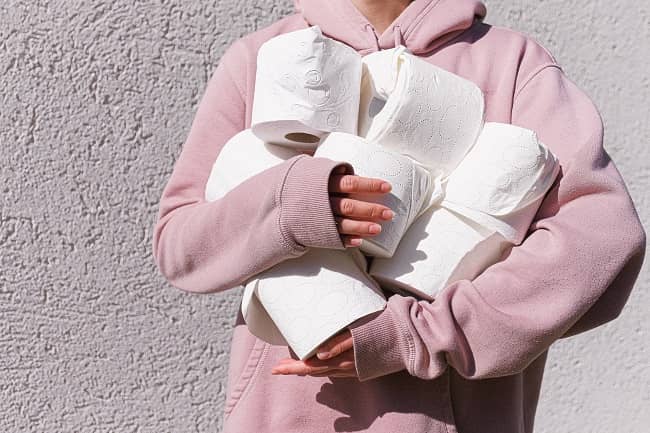 Review of the Best Toilet Paper for Septic Tanks
Last Amazon price update was: September 24, 2023 8:23 pm
We were demanding the replacement of toilet paper, but with what you wonder. We are going to review ten of them. So, keep on reading.
1. Caboo Tree Free Bamboo Toilet Paper
Caboo tree-free toilet paper isn't tree-based. Thus eco-friendly. It is made from bamboo and sugarcane, which are known as fast-growing grasses. Takes three-four months maximum to grow. It is natural, soft, and 100% biodegradable.
The materials allow the disposal of paper in the toilet and flushing it. Your toilet will not get clogged, nor the septic tank. If required, take a few to the adventure trips so that you can throw them anywhere you are compelled to without feeling any guilt.
You get 24 double rolls consisting of 300 sheets in each roll. The rolls are 2-ply rolls. The tissue paper is very soft on the skin but firm in wiping up the mess without messing up the hands.
These sheets have no fragrance and are hypoallergenic, too. So those of you who do not prefer scented tissue and are allergic to tree-based tissue papers can use them.
No BPA, no elemental chlorine, and no paraben used to make it. It is Non-GMO Project verified. Rubbing the skin with it will not create fluff as it is lint-free too.
Features at a glance
Eco-friendly

Made of fast-growing bamboo and sugarcane

Soft, 100% biodegradable, and septic safe

24 double rolls

300, 2-ply sheets per roll

Lint, BPA, paraben, and chlorine-free
2. Cottonelle Ultra CleanCare Soft Toilet Paper
Cottonelle Ultra CleanCare is three times more thick and more robust, despite being a 1-ply tissue paper. It has the patented CleaningRipples texture, which ensures easy but superior cleaning in just one wipe.
It is made from plant-based fibers but is biodegradable. So, when you flush them, they will be decomposed naturally, so no clogs. It is safe for the septic as well as the sewer.
It is the 24 Family Mega Rolls, a true-blue value pack. So, you get six mega rolls in one pack, and you have four similar packages. That takes the total to 24, which is equal to 128 regular rolls. Each roll has 388 sheets.
These are very soft on the skin and hypoallergenic too. Then, there is no use of paraben. All you sensitive skin users, grab these up.
1-ply tissue papers help you use less to a great extent. But most of the time, they fail to absorb. Thus you end up using a lot. But not in this case because it is two times more absorbent.
Features at a glance
388 1-ply sheets but 3x thicker and stronger

Made with plant-based fibers

Biodegradable, thus clog and septic safe

Active CleaningRipples texture for efficient cleaning

2x more absorbent

Hypoallergenic and paraben-free
3. Amazon Brand – Presto! 308-Sheet Mega Roll Toilet Paper
Presto offers four packages that have six mega rolls in them. Mega toilet paper rolls with 2-ply and thick sheets.
You get 308 sheets in a roll. So, you know it will last, four times better than a regular roll. If one roll lasts that long, the whole package will be of great value.
These sheets are ultra-soft to the skin but clean thoroughly. You can use its strength to its full potential for superior cleaning. Even the most vehement rubbing of the tissues will leave you with very little lint.
Made of pulp albeit from sustainably managed forests and controlled sources, you must use it as little as possible. The manufacturer did their best not to harm the environment as much, do your bit using the bare minimum.
It is 2-ply, thick toilet paper, yet septic safe. And as we right above mentioned, make sure you use it less. If you follow that, your toilet, septic tank, or sewer will not get clogged that easily.
Features at a glance
308 2-ply sheets

4 Packs of 6 Mega Rolls

Ultra-soft, plush, and thick toilet paper

Minimum lint and septic safe

Made with tree-based pulp but from controlled sources

Lasts four times longer
4. Amazon Brand – Solimo 2-Ply Toilet Paper
Solimo toilet paper are made of pulp. These are tree-based toilet papers, and thus will not fully degrade in the septic and sewer. However, the processing makes them sewer and septic-safe.
The pulp sources to make these thick but soft toilet paper rolls are sustainable and responsibly sourced trees. So, what you cut to make the tissue proper, you repay by planting new ones.
These toilet paper sheets are nicely textured for easy and fast cleaning. The textures help to break them easily when flushed in the toilet to the septic tank.
The full package consists of five packs of toilet paper. Each pack contains six rolls that have 350 sheets in each one of them. Most importantly, they are 2-ply. So, it's a long-lasting package.
If the sheets are not strong, it might absorb the moisture but fail to withhold the soaked-up water, no matter how thick they are. Solimo is robust, so much so, that it leaves no lint, perhaps just a little if rubbed too harshly.
Features at a glance
Made with tree-based pulp

Collects the materials from sustainably sourced trees

Five packs with six roles in one

350 2-ply sheets per roll

Soft and absorbent

Sewer and septic safe
5. Scott Rapid Dissolve Bath Tissue
Scott bath tissues are for RVs, buses, and boats but are great for toilet use as well. These are FSC certified. Therefore the trees used for the pulps are all from responsible sources.
You get four rolls in one plastic wrapper. And there are four plastic wrappers, which makes it a 16 toilet paper rolls package. Each roll has 231 sheets, and it's a 1-ply toilet paper, keep that in mind.
Scott toilet paper is soft, and thin, but tough. The softness proves to be very gentle on your skin. It is thin but the right amount, the way 1-ply should be. Coming to the toughness, it allows you to rub it with a reasonable force, but without breaking it apart. Neither will your skin be full of lint.
It vaunts about rapid-dissolving. That means it breakdowns fast, which makes it septic and sewer safe. These 1-ply sheets dissolve four times faster than any top-rated toilet paper brands.
Then comes the absorbance. Scott aces that department. It not having any fragrance and works as the icing on the cake.
Features at a glance
16 rolls of 1-ply tissue paper

231 sheets per roll

Breaks down 4x faster

Fragrance-free, soft to the skin

Septic and sewer-safe

Absorb moisture well
6. Seventh Generation White Toilet Paper
Seventh Generation, as the name suggests, has made toilet paper keeping the safety of future generations in mind. Using these toilet papers, you leave thousands of trees, uncut, standing where they were.
You get 48 rolls of toilet paper, and each roll has 240 2-ply sheets in them. Using 24 of the 48 rolls saves 4,900,000 trees. The impact; go figure. No wonder these are Rainforest Alliance certified.
These toilet papers are made of 100% recycled paper. To be precise, 50% post-consumer recycled paper. That means the papers used to make these toilet papers are straight from your houses, schools, and offices.
It is whitened without chlorine bleach. There is no use of dyes, inks, or fragrances. Thus it's great for sensitive skin.
It is designed to be perfectly soft but firm. The strength works the best in wiping the mess and absorbing the moisture, and the softness keeps you comfy and rash-free. Though 2-ply and robust, these dissolve pretty fast. Thus sewer and septic are safe.
Features at a glance
100% recyclable paper, eco-friendly

24 rolls save over 4,900,000 trees

Soft and strong

No dyes or inks, no fragrance

Rainforest alliance certified

Clog, sewer, and septic safe
7. Quilted Northern Ultra Plush Toilet Paper
Till now, we have discussed only 1-ply or 2-ply toilet paper. This one is very different in that sense as it is a 3-ply toilet paper, four inches in width.
You get 24 rolls with 319 sheets in each. These sheets are all three plies, which means they are three times thicker. The thickness and it being 3-ply cuts down the usage of sheets to a great extent.
These three plies of ultra-plush toilet paper's sheet have three different qualities to flaunt. They are soft, cushiony, and three times more absorbent. The luxurious embossed design and the softness altogether make these sheets as smooth and silky as possible.
The toilet paper are made following the Sustainable Forestry Initiative (SFI) sourcing standards. Hence, you can be sure of them doing their bit to give at least something in exchange as it used the tree pulps.
These are septic and sewer safe. So, flush the toilet paper without worrying about clogging the septic tank and sewer system. It has to stay true to the tagline designed to be forgotten, after all.
Features at a glance
24 rolls, 319 sheets per roll

3-ply roll, different from the rest

3x thicker and more absorbent

Luxurious embossed texture

Soft, ultra-plush

Septic and sewer system safe
8. Scott 1000 Sheets Per Roll Toilet Paper
When you purchase a toilet paper roll, you expect it to last as you maintain not using too much. This one, even if you use too much, is going to last forever. You shouldn't, though, save the environment, follow that motto.
We are talking about 32 toilet paper rolls and 1000 sheets per roll by Scott. A total of 32000 sheets is hard to beat, and thus it goes on and on and on.
The material to make the toilet paper rolls are collected from Sustainably Sourced responsibly managed forests.
Some of you might take 1-ply toilet paper as not up to the mark. But the best thing about 1-ply toilet paper is it has just one layer to use. Most of the time, we tend to roll the toilet paper without thinking and use more than we need. With 1-ply, that mistake doesn't cost that much.
The sheets dissolve in no time. They take seconds to disperse, four times faster than any regular toilet paper. As it breaks up into short fine fibers from a whole sheet in seconds, thus is septic and sewer safe.
Features at a glance
1000 1-ply Sheets Per Roll

4 Packs of 8 Rolls, total of 32 rolls

Good-quality, economical package

Disperse four times faster

Sewer and septic safe

Superior, lost lasting performance
9. Aqua-Soft Toilet Tissue
Aqua-Soft Toilet Tissue is soft and luxurious. You have four rolls consisting of 396 sheets in each. These have a slight texture to them and are snowy white, and pure.
These 2-ply strong sheets will provide superior performance in cleaning up. They are highly absorbent too. Thus a little piece goes a long way. No amount of waste or moisture will leave any remnant after wiping the personal area with these.
Toilet tissues cause a decrease in trees, producing them creates a lot of waste, and if bleached, dyed, and processed with chemicals, it's a terror. However, it is not if it's 100% biodegradable. In that case, you are not harming our nature by using this.
This one is designed to prevent messy clogs. So, do not worry about clogging your toilet, septic tank, and sewer system. These dissolve faster and reach the tank with one flush.
Not just the classic toilets, these sheets work with RV and marine waste systems. It has no fragrance on it. The chemicals used to make toilet papers smell nice are harmful to the area they are used to clean. So, it has nothing to annoy your skin.
Features at a glance
Luxurious and versatile

396-sheets per roll

100% biodegradable

Rapid dissolving doesn't clog the tank

Soft, snowy white and pure

Highly absorbent
10. Freedom Living RV Toilet Paper
Freedom Living makes premium-quality toilet paper. You get eight of them, and these are all extra thick 2-ply rolls. The thickness wipes and cleans the nasty mess fast and without making things messy for you.
The 500 thick sheets per roll are going to last for a very long time. These are 100% biodegradable. So, no amount of thickness or it being 2-ply can stop it from dissolving naturally. Also, being fully biodegradable implies that it is more than safe for our nature.
It dissolves really fast. Use and flush it, and in no time in the septic tank, it will start dissolving, and in mere minutes it will vanish in thin air. Therefore, it's a clog-free and septic-safe toilet paper.
These toilet paper sheets are ultra-soft, gently textured on them, and strong. Its being ultra-soft makes the wiping of the personal area comfortable.
Toilet papers need to be good at absorbing moisture without breaking up or leaving lint. This one is pretty strong, and the gentle texture ensures superior cleaning without being harsh on the skin.
Features at a glance
Eight 100% biodegradable toilet paper roll

500 2-ply sheets in each roll

Dissolves in minutes, thus clog-free and septic safe

Gentle, ultra-soft but strong

Extra thick, no fragrance

Pure white tissues with a textured design
Important Things to Consider When Buying Toilet Paper for Septic Tanks
Toilet paper is a simple toilet accessory. So, you expect the most basic of things from it.
Eco-Friendly
The toilet paper must be that one that is eco-friendly. When the toilet is eco-friendly, then you know using it will not harm the environment. Neither the manufacturing of it has damaged the environment. The grass-based toilet paper, in that case, is the best as grass grows faster.
There should be no fragrance, no bleaching, no dye so that there is no use of chemicals. Neither should there be too much waste while producing. Eco-friendly toilet papers are right for you and the septic tank also.
Fast Dissolving
When you are done using the toilet paper, you flush it in the toilet. So, here is how it works. When you flush it, it is in the water, and water starts breaking it up into fine fibers, almost like lint. So, it goes smoothly to the septic tank through the drain pipe.
The toilet doesn't get clogged. However, this is the case for rapidly dissolving ones. If the toilet paper doesn't dissolve fast and takes time, then the next few times it is used, there will be a heap of toilet paper in the pipe. As a result, you end up with a clogged toilet.
Now, no matter how many times you flush the toilet, nothing will get dissolved. Unless you physically work to clean the septic tank and pump it, there is no other way you can return to an unclogged situation.
Septic Safe
Is there any doubt about that? Toilet paper for septic tanks has to be septic-safe, sewer safe, clog safe. 100% biodegradable ones are the best when it comes to septic tanks. Bacteria present in the tank help to dissolve the toilet paper. So, better, there is no use of chemicals. Septic-safe toilet papers are easy to flush too.
Responsible Sources If Tree-Based
Toilet papers are mostly tree-based. You get the primary material from the tree. There are a few exceptions, but mainly they depend on trees. Making toilet paper means decreasing the number of trees.
So, you need to know whether the toilet paper you are using is made from trees from responsible and controlled sources or not. If they are, then it is best. Now you know multiple plants have been planted due to the use of the trees.
Plies
There is 1-ply, 2-ply, and even 3-ply toilet paper. So which one is the best for septic tanks? The best is always something that is in the middle range. So, in our opinion, it is the 2-ply toilet paper that is the best. They are not too thick, nor too thin, so you can clean yourself up as well as flush without clogging the toilet.
But then 3-layer is more strong and highly absorbent, and the 1-ply calls from limited use. If you use the right amount and responsibly, then each ply will end up benefiting you in some way or the other.
Strong
The sheets have to be strong enough to handle the moisture, mess and rubbing. If it's not strong, it will end up breaking, and you will be compelled to use more toilet tissue to clean yourself up. But that amount might not be appropriately flushed, and eventually, the toilet and septic tank will be clogged.
Highly Absorbent
The rule is the same here as well. If the sheets don't absorb moisture well, you will use more and will shove that heap up into the pipe. Anything more than two sheets of 2-ply toilet tissue is enough to clog your toilet. Get toilet paper that absorbs all the moisture with just one 2-ply sheet.
Soft And Gentle
You never buy toilet paper just for the septic tanks. First, you are using and rub it on your skin. So, the toilet paper that you are purchasing must be soft and gentle on your skin. It should not have chlorine, fragrance, dyes, inks, and any other chemicals. They should be pure white. Anything otherwise must not be used to wipe anywhere near the personal area.
Long-lasting
Toilet paper that lasts is always economical. Many factors make toilet paper last. It could be a massive volume of sheets, thick, strong, moisture-absorbing sheets, or toilet paper that cleans and dries with one sheet. The less you use from the roll, the more it will last.
Conclusion
Toilet paper is among those things that we use, knowing it is not suitable for the environment. We use it for convenience. For our comfort, we are damaging the environment. So, we have to use it wisely. It comes in a huge role, and its being affordable should not propel overusing.
If you use water to clean up, using one sheet or no use of toilet paper is well appreciated. But we know how useful toilet paper could be. Thus, we emphasize the Best toilet paper for septic tanks. It is eco-friendly. If you are using it, use it the right way.
Using it the right way means you use no more than one or two sheets. Again, not bad for the environment doesn't mean you need to waste it. That way, you will save yourself from buying tissue paper for a long time.