Our top picks: Best Shower Bench of 2023
Shower benches are basically seats placed in shower rooms, and they are necessary for many reasons. For the elderly and disabled, this unit helps them clean up without requiring any assistance from their designated caregivers.
For other people, shower benches provide a comfortable spot to sit on as you shave your legs or simply to sit back and relax.
However, since different people have different needs, for you to buy the best shower bench, you need to find the unit that is specific to what you require and this article outlines 10 of the best ones in the market from which you can pick the one you prefer most. 
Best Shower Bench Reviews
Last Amazon price update was: December 5, 2023 6:14 pm
As you get down to shopping for a shower bench, these are the best units that you can get online. Go through our list and select the piece that you prefer most.
1.  Aqua Teak Kai Corner Teak Shower Bench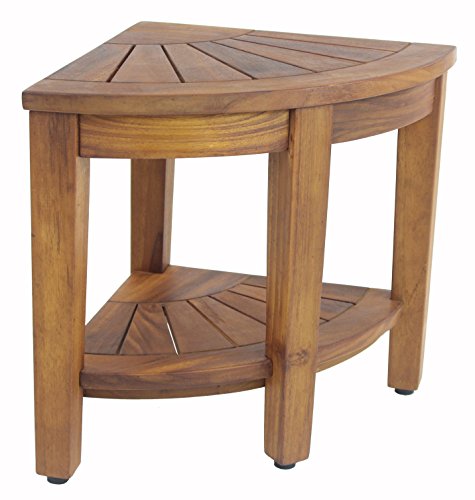 Aqua Teak's Kai shower bench is made in an elegant spa style that provides convenience and an aesthetic appeal to your bathroom. It has a triangular design that is meant to fit at the corner of the shower or bathroom, and this takes up less space.
The unit is very versatile in terms of use because it can be placed both indoors and outdoors, that is, in the bathroom or shower as a bench when bathing indoors or in the patio or lawn as a decorative furniture piece outdoors.
Structurally, the bench is made from sustainably harvested solid teak wood and stainless steel for strength and durability, and for stability in wet environments, the feet have adjustable rubber grips that provide traction.
Additionally, these materials are all naturally water resistant and this assures you of durability and continued use without degradation, whether you use it in the humid bathroom environment or outdoors.
Another desirable feature is the shelf at the bottom, which provides some storage for your bathroom accessories. This helps to save on space especially if you have a lot of items in your bathroom and also helps maintain organized storage space.
On size, the bench measures 15.5 x 15.5 x 18 inches, which is a compact size for minimal space use but is still large enough to make you feel comfortable when sitting on it.
Features at a glance
Elegant spa style.

Strong and durable solid teak wood and stainless steel construction.

Rubber gripped feet provide traction and stability.

Bottom shelf included for additional storage.

Requires some assembly before use.

Water resistant build.

Triangular compact design.
2. Aqua Teak Maluku Teak Shower Bench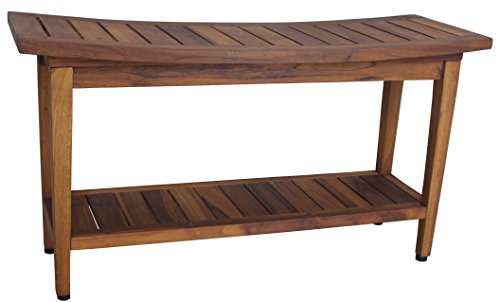 Being the most expensive shower bench in this review, Aqua Teak's Maluku has several qualities that make it worth the money.
Like the Kai Teak bench above, this one is also made of 100% solid teak wood and stainless steel non-corrosive hardware which makes it durable and naturally water resistant.
Measuring 36 inches in length, 12 inches in depth and 18 inches in width, the bench has quite a large footprint, which means it can accommodate two people max for instance in a spa setting. At the bottom, it has adjustable rubber gripped feet to provide stability when in use.
With this bench, an extra shelf is provided below the seat for storage and organization of various bath accessories such as towels, soap or even to keep your toiletries.
Versatility is also considered in the bench's look and design because it can either be used as a shower tool indoors or as a decorative end table outdoors.
However, some assembly is required before use but this is an easy task that simply requires you to screw the included hardware together in a few steps.
Features at a glance
Strong and durable solid teak wood and stainless steel non-corrosive hardware construction.

Relatively large size, measuring 36 x 12 x 18 inches.

Rubber gripped adjustable feet for stability.

Built-in extra shelf for storage and organization.

Can be used both indoors and outdoors.

Requires assembly before use.
3. Aqua Teak Asia Teak Shower Bench
Coming from the same brand as the previous two benches, this one is also made of 100% solid teak wood that is naturally water resistant, with stainless steel non-corroding hardware and anti-slip rubber padded feet for stability.
It has a combination of ancient tradition and modern designs that make it compatible with most bathroom interior décor and because of this, it can double as a shower bench indoors, as well as a patio accent piece outdoors.
Measuring 18 x 12 x 18 inches, the unit is pretty compact, meaning that it takes up less space in the bathroom, is highly portable and is easy to assemble as the smaller parts are also lighter and thus, easier to handle.
On the downside, the bench does not have a shelf underneath, eliminating the advantage of additional storage and organization space.
Features at a glance
Made of 100% solid teak wood and stainless steel hardware.

Anti-slip rubber padded feet for stability.

Combines an ancient tradition and modern design that is compatible with most bathroom interior décor.

Can double up as a patio accent.

Compact and portable size, measuring 18 x 12 x 18 inches.

Easy to assemble.
4. Giantex Bamboo Shower Bench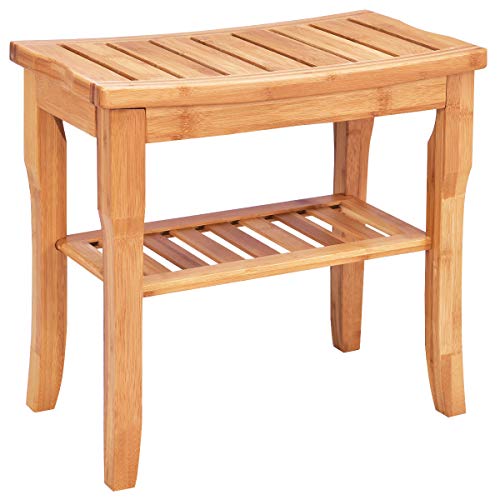 If you want a shower bench that is perfect for elderly or handicapped people that need support when bathing, then this piece from Giantex is a good choice to consider.
This is because it is made of a solid and durable bamboo material that is equipped with waterproof and antibacterial qualities and is tested to handle up to 187 pounds in load capacity.
The stool's top is curved to conform to the human body so as to provide comfort. In addition to this, it is also slotted for good drainage and efficient heat dissipation. This contributes to keeping the surface clean and dry after each use.
Design wise, the side edges are curved and thus is very useful when it comes to moving the bench or supporting yourself as you stand from the bench. There is also an extra built-in shelf that helps in storage and organization of your soaps, towels and other accessories within close reach.
As for the dimensions; the stool top measures 19 x 10.5 inches, the shelf measures 16 x 7.9 inches and the total height of the bench is 17.6 inches. With these, it has a compact design that occupies little space and is easily portable.
In terms of use, the unit is very versatile because, as you see above, it can be used in the bathroom indoors, but can also be placed on an RV, deck or lawn as an outdoor bench or storage organizer.
Features at a glance
Solid and durable bamboo construction with a waterproof and antibacterial surface.

Tested to handle up to 187 pounds.

Curved and slatted bench top.

Built-in shelf for organized storage.

Compact and portable design.

Can be used both indoors and outdoors.
5. Drive Medical Shower Tub Bench with Back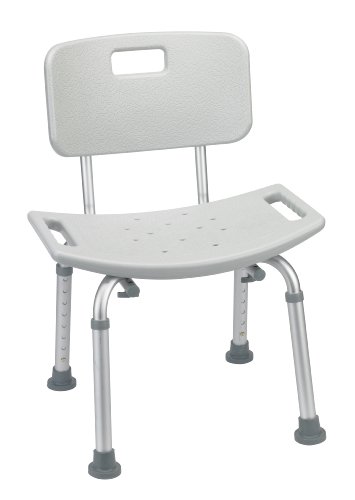 Designed for maximum comfort, efficiency, and safety, Drive Medical's shower tub bench is the most affordable product in this review.
Despite this, it has a lightweight and portable design, with an aluminum frame that is corrosion proof, and a plastic bench that is raised at the sides and has slots for holding and carrying the unit.
Even with this kind of construction, the unit can comfortably accommodate a maximum of 400 pounds, which is way higher than the average weight of fully grown adults.
The seat is shipped while disassembled but its assembly process is easy and tool-free, taking only a few minutes to set up after unpacking.
Once set up, the bench's legs are angled with suction-style tips at the bottom to provide stability when in use in the bathroom or bathtub. These legs have an adjustable height, which can be done in 1-inch increments, and this makes it possible to accommodate people's different heights.
On size, the seat is very compact, measuring 11.5 x 19.25 inches, with the height ranging from 15.5 to 19.9 inches due to the adjustable legs.
Overall, this bench is dependable and guarantees that your bathing experience will be pleasant and safe, and eliminates the worry that may arise from falling when bathing.
Features at a glance
Affordable.

Aluminum frame with plastic parts gives it a lightweight, portable design.

Maximum weight capacity of 400 pounds.

Requires assembly before first use.

Height adjustable legs with suction style tips for grip.

Compact size.
6. HOMECHO Bamboo Shower Bench
Homecho's bamboo shower bench is an economy kit whose package includes a soapbox, an instruction manual, a bag of tools and of course, the shower bench. As the name suggests, it is made using high-quality bamboo material and the included soapbox is made of the same material.
On top of this construction, each piece has an eco-friendly lacquer finish and the end result is a smooth, durable and odorless bench that is water and mildew resistant. This gives the bench a high durability factor even with continued use.
In terms of size, the bench has a large seating surface, measuring 23.62 x 11.8 inches, with a height of 18.1 inches from the floor. This large surface area is convenient for comfortable sitting and the structure can support a maximum of 220.6 pounds.
Two handles are built-in on both sides that allow you to hang towels and also give you support as you get up from the bench.
Other features include a curved leg design that increases the product's stability and a slotted surface that is good for drainage and heat dissipation.
Features at a glance
Economy kit; comes with a soapbox and a bag of tools.

Made of high-quality bamboo with an eco-friendly lacquer finish

Large seating surface measuring 23.62 x 11.8 inches.

Max load capacity of 220.6 pounds.

Slatted surface for good drainage and heat dissipation.

Handles on both sides allow you to hang towels within close reach.

Curved legs for stability.
7. Ala Teak Waterproof Shower Stool Bench
Teak wood is naturally water resistant and with this material used in its construction, this stool bench from Ala Teak will remain in top condition for a long time, whether you use it indoors or outdoors.
In addition to this, it includes stainless steel non-corroding hardware, which further contributes towards the extended durability of the unit.
A storage shelf is built-in just below the stool top, and this gives you some space to store your wet towels, spa accessories, and toiletries within close reach.
Another useful feature is the curved bench top, which conforms to the shape of the human body, enabling you to sit comfortably for longer periods of time. This top also has a slatted design that drains water and dissipates heat to leave the bench clean and dry both when in use and after.
Other features include curved legs for stability and the unit comes fully assembled for immediate use straight after unboxing.
Features at a glance
High quality and durable grade-A quality teak plus non-corroding stainless steel hardware construction.

built-in shelf for organized storage.

Curved stool top with a slatted design.

Curved legs for stability.

Ideal for both indoor and outdoor use.

Required no assembly before use.
8. Sorbus Bamboo Shower Bench
This is the top-rated shower bench in this review as it is multi-purpose, stylish, safe, eco-friendly and versatile.
That said, the unit is a 2-tier bamboo stool that offers a seating bench at the top and a storage shelf below for storing all your bathroom essentials while also keeping them within close reach.
On being stylish, the bench's design complements a nature-inspired style, rustic farmhouse, and minimalist décor, and this makes it versatile enough to be used in saunas, baths, mudrooms, gardens, patios, balconies and of course, showers.
For stability, curved legs are used to spread out the weight over a wider area while slip-resistant rubber-clad feet keep a strong footing on the ground to prevent these legs from sliding apart. All in all, this construction ensures that the seat can accommodate full-sized adults that do not exceed 220 pounds in weight.
Other features include a curved top for comfort with a slotted design that allows water to pass through so as to eliminate water build up as you enjoy your shower.
Features at a glance
100% bamboo construction.

Built-in lower shelf for organized storage.

Slotted design for eliminating water build up.

Slip-resistant rubber feet for stability

Stylish design

Can hold up to 220 pounds.
9. Clevr Foldable Teak Wood Shower Bench
One unique feature of this Clevr bench is that it has a fold-up design that is very helpful in saving space when you shower while in an upright position.
Though it has a very wide sitting surface that measures 35.5 x 15.75 inches, this fold-up design is made possible by its wall mount installation method, which requires a bit more work to set up and fixes the bench permanently in place, but results to a convenient design that large but also compact.
An instructions manual is included to help in the installation process but it is recommended to call in professionals for the job. Once properly installed, it can support up to a maximum of 400 pounds, which is perfect for the elderly or physically challenged.
Structurally, grade-A Burmese teak wood is used to build the bench and is beautifully finished off with a clear coat for a premium smooth surface and extra protection. A premium stainless steel frame is used to support this bench, and it has a polished chrome finish for good looks.
Features at a glance
Space-saving fold-up design.

Can support up to 400 pounds if properly installed.

Burmese grade A teak wood construction with a premium stainless steel frame.

Wide sitting surface, measuring 35.5 x 15.75 inches.
10. HEALTHLINE Bath Seat Shower Bench
Healthline's bath seat features a similar type of construction as Drive Medical's unit, with an anodized aluminum frame that is lightweight but still very durable, and a heavy-duty molded plastic seat that features drainage holes to prevent water build up as you shower.
The bench is also highly portable, owing to its lightweight design as well as a compact size, measuring 16 x 13.5 inches, with no back and an adjustable height between 15-20 inches.
This compact size makes the bench suitable for small spaces and can even fit into the bathtub while carrying a maximum load capacity of 300 pounds.
Other features include padded handles for support as you wake from the chair, angled legs plus suction cups for stability and slip-resistance and a tool-free, easy-to-assemble design that takes a few minutes to set up.
Features at a glance
Tool-free simple assembly process.

Compact size, measuring 16 x 13.5 inches.

Angled legs with suction cups for stability.

Non-slip padded handles for support as you rise from the seat.

Heavy-duty molded plastic seat with drainage holes to prevent water build up.

Lightweight and durable anodized aluminum frame construction.
Consider Before Buying the Best Shower Bench  
Material
This depends on your preference mostly. There are plastic and wooden shower seats and each material has slightly different qualities and benefits. Plastic is lightweight and its non-porous characteristic makes it easy to clean.
Teak is an attractive wood that has a golden shade and is naturally resistant to water, which means no mold or mildew growth. However, it requires constant cleaning and oiling.
Another option is bamboo which is darker and blends in seamlessly with most modern décor. It offers just as much resistance as teak but requires the same amount of maintenance.
Size
Before going to buy a shower seat, measure the size of your shower stall or bathtub so that you don't end up purchasing a seat that is too large. The size of your shower seat should permit you to open and close the shower door easily, while also leaving some space for movement.
Number of Tiers
This factor basically shows whether the bench has a storage shelf or not. A single tier seat only has the top bench and can only be used as a seat when bathing.
Two tier units feature an extra shelf at the bottom that allows you to keep your toiletries, wet towels and other bath accessories. A two-tier unit is definitely better, but it will be heavier to move around.
Portability
Freestanding shower benches are the most common and least expensive when compared to wall mounted units. Even though most of them require some form of assembly before use, they don't need to be installed on the wall and thus, can be moved easily and used in different areas.
Wall mounted benches are permanently fixed in place, eliminating their portability factor. However, some feature space-saving fold-up designs, giving you the convenience of having a large sitting space and compactness in one.
The choice between the two is down to personal preference as both are good quality benches.
Ease of Use
Some shower benches require assembly before use. Even if the process is easy and labeled as tool-free by the manufacturer, it still gives you some work to do before using the shower.
On the other hand, some units are shipped while fully assembled, making them much easier to use. Ultimately, if you are the non-handy type of person, this should be your choice, but if you don't mind setting up the bench, your choices are basically limitless.
Adjustability
Adjustability is important so as to cater to the needs of tall and short people. If you go for such a bench, ensure the legs are sturdy enough and will not collapse.
Otherwise, if you decide to pick a fixed bench, ensure it fits your height or the height of the person who will be using it.
Load Capacity
Before purchasing the bench, you should check to make sure that it can withstand the weight of the person that will be using it. Manufacturers normally provide the weight limits so there is no hassle in looking for this information.
Conclusion
As seen above, shower benches are extremely helpful not only to the disabled but also for multipurpose use in bathroom storage organization and outdoor applications in a number of areas.
Since there are many different benches with different qualities in the market, the best thing is to consider the needs of the user first before buying one.
After doing so, going through this review will help you easily pick the best shower bench that suits all your needs.