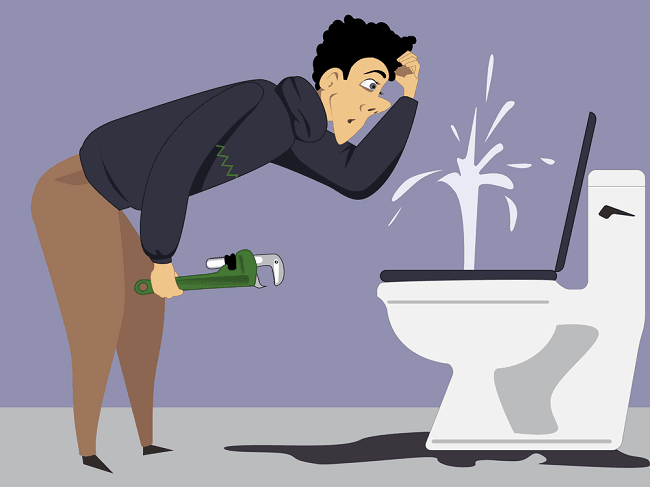 Of all the regular maintenance and repair jobs that might be required in your home, one of the very worst is a blocked toilet. Not only can this problem be expensive to repair, but it can also be embarrassing, cause unpleasant smells and require a thorough clean up.
So, what can you do to avoid this happening?
Well, there are lots of reasons a toilet might not be draining properly, and ways to prevent it from happening. 
Causes of toilets not flushing properly:
The most common reason a toilet will start to overflow is a blockage, normally a build-up of tissue which accumulates. A blockage in the pipe means that the water is unable to drain when you pull the flush, and repeated flushing causes the water to rise back up through the pipes and, you guessed it, overflow into your bathroom.
Unfortunately, there are lots of products on the market which are unsuitable for flushing and aren't always clearly labeled. Sometimes these are not clearly labeled, so both to avoid your toilet overflowing, and to make sure you are not flushing anything which isn't dissolvable and is therefore harmful to the environment, below you will find a checklist of some of the most commonly-flushed items which cause blockages.
It Might Be Helpful:
Common reasons for blocked toilet pipes:
Cotton products – bathroom products like cotton pads, cotton balls and cotton buds should not be flushed. Cotton can clog the pipe, absorbs water to create a solid blockage, and the plastic in some cotton buds can become jammed in the tubes and create a hard to remove the blockage.
Hair – a regular cause of blockages is when hair trimmings or hair from a brush is flushed down the toilet. Hair can become caught in any other small blockage or corner of the pipe, and tangled hair in the pipe work can catch other items as they are flushed
Sanitary products – very few sanitary products will be dissolvable due to their absorbent nature, so should never be flushed. Larger items can easily be caught in the pipework and create a blockage very quickly
Baby wipes – these are usually not biodegradable, and many commercial brands are made from plastic. Baby wipes are both harmful to the environment and do not dissolve, so even one or two wipes can block your piping
Tissue paper – although tissue paper is designed to be flushed, some brands or too much toilet paper being flushed in one go can build up. Usually, a blockage caused by toilet paper builds up over time, and once a blockage starts forming, new tissue will become caught on the blockage and cause a more serious problem
Another factor to mention, which anyone with children will be aware of, is that sometimes items which have no business being in the bathroom end up being flushed down the toilet by small hands! Every experienced plumber will be able to tell you all the interesting items they have found blocking a toilet pipe.
It Might Be Helpful:
Ways to prevent a toilet from overflowing:
Prevention is the best cure! If you notice that the water in your toilet is not draining quickly when flushing, this might be the first sign that there is a blockage in the pipes. It is wise to either treat the problem with drain cleaner or call a plumber at this stage, as they may be able to identify and fix the problem quickly before it comes too severe
Be aware of the products in your bathroom, and which are often not suitable for flushing. Provide a wastebasket so any non-flushable items can be easily disposed of, and any visitor or a family member are not tempted to flush them down the toilet
Regular cleaning can prevent blockages from forming. Blocked toilets can sometimes be cleared with a powerful drain cleaner; however, the chemicals in these mean they are not suitable for regular use.
If you regularly use a toilet cleaning liquid, this helps break down any small blockages which may be starting to form, as well as killing harmful bacteria
To summarize, the best way to avoid an overflowing toilet is to make sure that only dissolvable toilet paper is flushed, and that the piping is kept bacteria-free and clear of blockages with regular cleaning using a suitable toilet cleaning liquid. 
Recommended Resources