Our top picks: Best Toilet Lock of 2023
Kids are quite often amused by toilets. It could be the water or the toilet shape but whatever it is, the toilet just seems to have everything right to attract a toddler to it, including being at the perfect height.
The problem with this is that the toilets are very gross. Children might not have any idea what that is but the water inside and the purpose of the toilet make it a very dirty playground.
Apart from this, a toilet is also a drowning hazard. Although a rare case, children can drown by falling headfirst inside the toilet, and without any help, they simply run out of air.
Because of this, it is important to baby-proof your toilet by keeping the seat or lid closed using a toilet lock. This article gives you an in-depth review of some of the best toilet locks with a view to helping you get the best one for baby-proofing your toilet.
Reviews of the Best Toilet Lock
Last Amazon price update was: September 24, 2023 10:11 am
1. Safety 1st Swing Shut Toilet Lock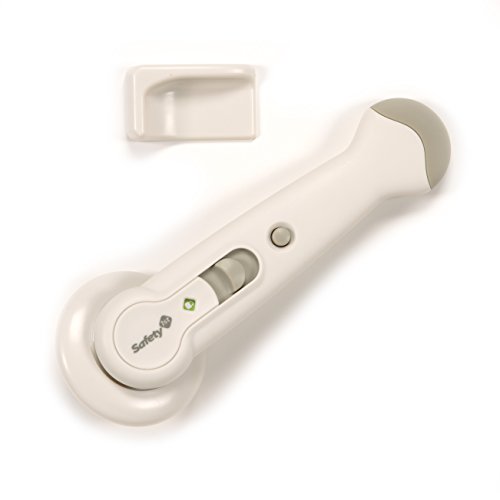 The Safety 1st swing lock is a strong plastic-made unit that has a universal design, which means it can fit and be used on most toilets.
Some products might be difficult to install but this lock is fixed using an adhesive, eliminating the need for drilling the lid. This makes the process quite easy.
However, this adhesive should be left to dry so as to attach permanently. Therefore, you must ensure that the kids don't play around with the lock before it sticks. If installed properly, the lid should lift not more than 1.5 inches, making it very safe for youngsters.
In terms of use, this product's unlocking mechanism is conveniently designed for a one-hand operation for sanitary purposes. On the other hand, the locking is designed to happen automatically when the handle is pushed into the latch. This makes it very easy to use.
An important thing to note is that this lock is not recommended for use on soft or padded lids. You should only install it on hard lids.
Features at a glance
Made using plastic.

Easy to install.

Universal design makes it ideal to use on most toilets.

One hand locking operation makes it very sanitary.

Automatic locking feature.

Recommended for use only on hard toilet lids or seats.
2. Wonderkid Child Safety Lock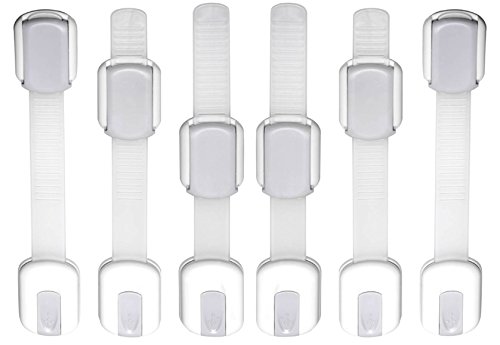 Wonderkid's child safety lock is available as either a 2 or a 6-pack and is very affordable if you consider the price per unit. It is also available in 4 colors, which include black, brown, white, and white-silver. These color options help you get something that matches your bathroom's decor.
The unit has a universal fit due to its flexible strap, which means that the lock can be used on flat or cornered surfaces. This strap is also adjustable lengthwise and this enables you to fit it correctly around the edge of the toilet and the lid.
When it comes to installation, authentic 3M adhesive pads are used and this makes the setup process quite easy. However, the glue must be left to dry for at least 24 hours for permanent bonding.
In terms of use, the product requires only a one-hand operation when locking or unlocking, and thus, it is very easy to use.
The pack comes with 2 extra pieces of 3M tape as accessories, which make the lock reusable in instances such as when you change the toilet lid.
Features at a glance
Available in 4 different colors.

Flexible strap for installation on flat or cornered surfaces.

Length adjustable strap for correct fitting of the lock.

3M adhesive pads for installation, which require at least 24 hours for permanent bonding.

Easy to use.

The set comes with 2 extra pieces of 3M tape that make the locks reusable.
3. BabyKeeps Child Safety Lock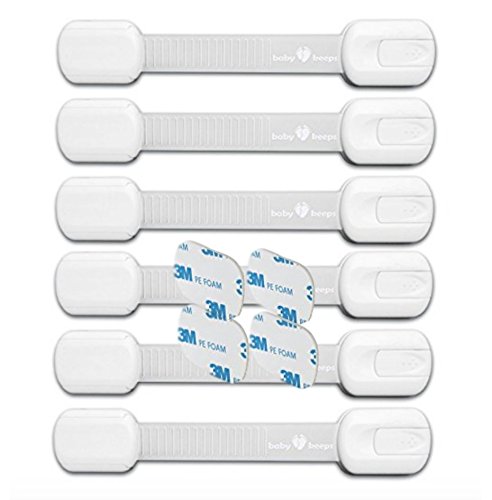 Structurally and functionally, BabyKeeps' child safety lock is very similar to the Wonderkid unit above.
It has a multi-purpose design as a result of its flexible and adjustable strap, which works on both flat and cornered surfaces. This means that you can use it on drawers, refrigerators, cabinets, and of course, toilets.
Additionally, the lock has a slim and stylish design that blends in easily on these different pieces of hardware while the availability in black, brown, or white colors gives a more perfect fit in terms of color blending.
Installation is done using 3M adhesive strips, which are known for providing superior stickiness, and comes with additional pieces for helping you reuse the toilet lock.
The product comes in a set of 6, giving you enough pieces to baby-proof the toilet and many other things in your house. 
Features at a glance
Flexible and adjustable straps make the lock usable on both flat and cornered surfaces.

Slim and stylish design.

Available in black, brown, and white colors.

3M adhesive strips for easy installation and reusability.

Comes as a set of 6 locks.
4. Cutesafety Child Proof Safety Lock
Cutesafety's toilet lock is a top-rated product and this can be mostly attributed to its durability. For starters, the unit is made using a high-quality ABS and TPE plastic material, which is non-toxic, flexible, and durable.
Secondly, the lock is attached to the toilet using 3M adhesives, which form a very strong bond that can withstand the pulling action caused by children trying to open the toilet lid. This also means that it is easy to install because no drilling is required.
The flexible and adhesive installation properties make Cutesafety's lock very versatile because it can be used to baby-proof various equipment such as cabinets, windows, cupboards, and refrigerators among many others.
In terms of use, this lock is easy for adults to open but very difficult for kids to do so. Its slim and stylish design is opened using a one-hand operation that the kids can't simply figure out.
Features at a glance
Made using high-quality and durable ABS and TPE plastic.

Easy to install using 3M adhesives.

Flexible and adjustable straps.

One-hand locking and unlocking operation.

Comes in a pack of 6.
5. Fabroop Child Safety Lock
3M is a big deal when it comes to toilet lock adhesives. This child safety lock features 3M adhesive pads that bond strongly to the surface while also making the installation process quite easy without causing any damage to your toilet.
The strap that holds the lock together has a high tensile strength that is capable of withstanding the stress caused by your child in trying to open the toilet lid. This strap is adjustable and this makes it quite easy to fit across different toilets and their lids.
For unlocking, an innovative double-finger press design is used. This design is very intuitive for adults but kids cannot figure it out.
An important thing to note, however, is that this lock is only usable on cornered surfaces, which means that after installing it on the toilet, the remaining 5 locks in the 6-pack can only be used to lock fridges, cabinets, etc. on their cornered edges.
Features at a glance
3M adhesive pads.

High tensile strength strap.

Adjustable.

Double-finger press design for unlocking.

Usable on cornered surfaces only.
6. Younik Baby Safety Lock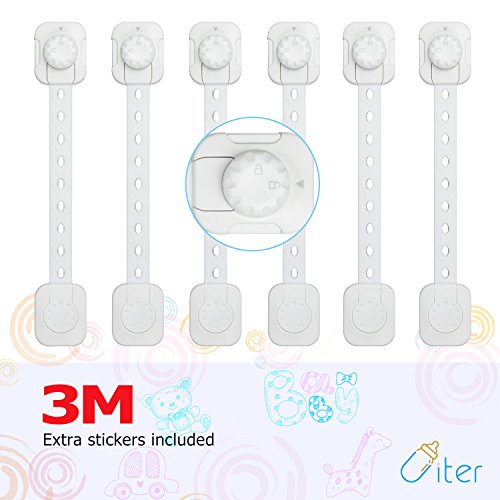 The biggest strength of Younik's baby safety lock is a very tough and durable PE strap that can bear up to 21 kilos of force, which is pretty huge. It is very hard for small kids to achieve such and therefore, this ensures that they are permanently locked out.
To give more support, 3M adhesive is used to attach the lock to the toilet or any other item that you want to baby-proof in your house. However, you must give the glue at least 24 hours for it set strongly.
A double lock system is used to keep the children out and this gives you more confidence in the lock's abilities. The first lock is closed or opened using a rotating switch while the second one is a pressure switch that must be pressed on both sides of the lock.
Features at a glance
Tough and durable PE strap.

Easy to install using 3M adhesive pads.

Double lock system.

Adjustable strap.
7. Happy Kid Essentials Child Safety Lock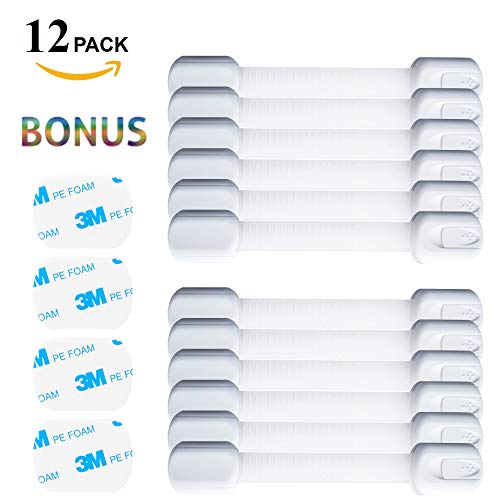 If you want to baby-proof a lot of stuff, this is the best option to buy because it comes as a pack of 12 locks. Although expensive as a set, the price per unit is very affordable, which makes it a big bargain.
With these 12 pieces, you obviously need a place to use them apart from the toilet. Luckily, this safety lock is a multi-purpose product due to its strap and latch design, which makes it ideal for refrigerators, drawers, cabinets, etc.
Design-wise, the locks have a strong and slim look with an adjustable strap lengthwise that makes it more versatile to use.
Other features include 3M adhesive tape for easy installation and easy-to-open latches for adults but hard for children.
Features at a glance
Comes as a pack of 12.

Expensive.

Multi-purpose use.

Strong and slim design.

3M adhesive tape.
8. Mommy's Helper Toilet Seat Lid-Lok
This is the most affordable toilet lock but it has a somewhat complicated installation process as compared to the other adhesive-based toilet locks above.
In order to work, the supporting base of the unit must be fastened onto the toilet bowl. 4 spacers are included to help with this and they give the lock a universal property because it can be fitted onto most toilets, regardless of their size.
Once fitted, an L-shaped bracket does the locking and is operated using only using a single hand to unlock for ease of use as well as for sanitary purposes.
The good thing about it is that it can be used immediately after installation. However, it is only designed for toilet use and has a complex design that requires regular cleaning because part of the clamping goes under the inner rim.
Features at a glance
Complex installation process.

Can be used immediately after installation.

Comes with 4 spacers for universal fitting.

One-hand lock and unlock operation.
Consider Before Buying the Best Toilet Lock
Flexibility and adjustability
These two characteristics are very important factors to consider. A toilet lock that is flexible and adjustable is versatile enough to be a multi-purpose lock.
Such a lock will be ideal to baby-proof a couple of places such as refrigerators, cabinets, drawers, and of course, toilets.
However, most rigid toilet locks are specifically designed for toilet use. Therefore, if you want to buy a set of locks, make sure that they are meant for multi-purpose use so that you can utilize them in different areas around the home.
Ease of installation
When it comes to installation, there are two main ways of installing toilet locks. The easiest method is by using strong adhesive but this takes a lot of time, at least a day for the glue to set properly.
Toilet locks that feature clamps for installation are a bit complex to install but they do not require any drying time. They can be used immediately after installation.
Quantity
Quantity should be considered if you intend to buy a full set for baby-proofing the entire lockable stuff in the house.
For instance, if you want to lock your toilet, fridge, cabinets, and drawers, you can buy a set containing a couple of units to cover all these. However, you should ensure that they are multi-purpose units.
If you only want to baby-proof the toilet, you should go for the single unit.
Accessories
Not all toilet locks come with accessories. However, for adhesive-based locks, some do come with additional tape for reusability purposes.
Such accessories are usually very good to have. In fact, additional accessories are always an added plus and make the deal sweeter.
Conclusion
If you were wondering about how to get the best toilet lock, this article will greatly assist you to narrow down your options.
If you also did not know about the importance of toilet locks, after going through this, you will have a much better understanding of this.
Simply said, this tool is not something to forego, especially if you have a toddler(s) in the house.