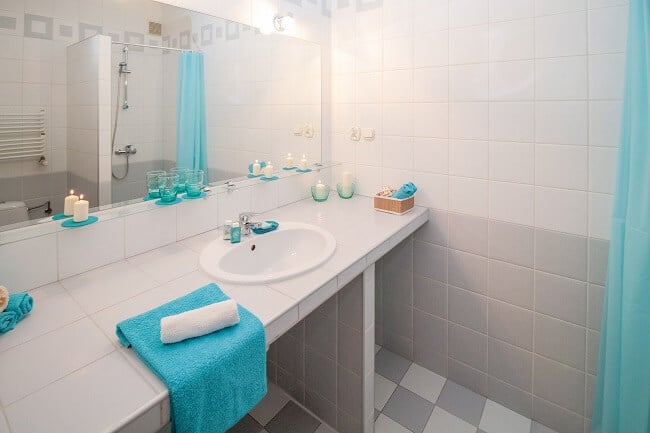 It has been a long day. The one thing that is on your mind is getting home to get a nice hot bath or shower. You finally make it home and put your belongings down. You pour yourself a nice glass of wine.
But wait…..what is that smell?
That smell is, unfortunately, coming from your bathroom.
A dirty bathroom cannot only interrupt a relaxing evening, but it can also lead to health complications if not tended to.
A clean bathroom is very important to your health and so is what you use to clean it. Allow me to educate you of natural ways to keep your bathroom smelling fresh all day long.
Let's get started. Shall we? 
Automatic Air Fresheners
Maintaining a fresh bathroom can be a difficult task that no one wants to tackle. Automatic air fresheners can make the task much easier. Some of the fresheners contain essential oils and other natural ingredients. Be careful not to get the air fresheners that contain aerosol because they can be harmful to your health, hard to recycle and require batteries.
Upgrade Your Soap
A quality bar of soap can benefit you in many ways. It can be more bubbly which makes for a really good lather to clean with. The amount of moisture that is left on your skin after usage will make your skin happy.
The top three soap making oils you would want to look for when shopping around are palm, olive, and coconut oil. Palm oil gives your soap its hardness and creaminess, olive oil provides its conditioning quality and coconut oil provides soap its bubbly power. I will choose quality over commercial brands any day.
It Might Be Helpful:
Provide Proper Ventilation
Your bathroom will benefit greatly from ventilation. It will ensure that your air stays clean and fresh which will prevent mold and mildew buildup. Make sure to keep the exhaust fan cleaned regularly. Doing so can make cleaning your mirror quicker and eliminate the use of elbow grease when cleaning the tub, sinks, faucets, and shower. The shower is the most important area, right? Why not make its cleaning an easy task.
Eliminate Moisture
With all that goes on in the bathroom, moisture can be a big problem. Not tending to it can lead to the growth of bacteria, which is the main reason for the pungent odor. If you like your showers as steamy as I do, your bathroom can become covered in condensation. An absorbent rug can help keep some of the moisture down. Just make sure to clean it regularly.
So there you have it. Those are some of my best ways to keep a fresh smelling bathroom without all of the heavy-duty cleanings. You will now be able to supply your bathroom with the essential items needed to ensure your bathroom stays clean at all times.  The bathroom is one of the most important places in your home.  Treat it with the love that it deserves and watches as it returns the favor.
Recommended Resources