Toilet flange also referred to as closet flanges, toilet flanges are the point of contact between toilets and the drainpipes located on the floor.
With this in mind, the best toilet flange should have a good seal so as to prevent any smell from the sewer lines from entering your house. The product should also prevent any leakages from leaking out to the floor as you flush the toilet.
Therefore, it is important always to buy the best toilet flange so as to avoid any of these problems. This article looks at 5 of the best ones in the market, with a view of helping you pick the best one to suit your needs. 
Quick Answer – Best Toilet Flange
Reviews of the Best Toilet Flange
---
NEXT BY DANCO Perfect Seal Toilet Wax Ring
---
This product is innovatively designed to take the guesswork out of toilet installation. It has a black plastic ring located inside the grey rubber housing that is removable to allow the seal to compress fully on itself.
Therefore, if the flange and horn are very high above the tiled floor, you can remove this plastic so that the toilet can compress the flange and seat flush on the floor.
On the drain part, this unit features a patented seal design that makes use of specially made rubber gasket that is encapsulated with wax. This forms a seal, which is 3 times stronger than regular wax rings and does not cause any mess.
The gasket grabs the toilet while the wax is pushed down the walls of the drain pipe, ensuring that a strong seal is formed between the drain pipe wall and the flange sleeve.
Such a strong seal means that the toilet flange can maintain its integrity even with small toilet movements, which are very common as you use it.
Structurally, this unit is made from plastic but it is strong enough to stabilize toilet bolts so that the toilet can attach firmly onto the floor.
Features at a glance
Accommodates flange heights of between 0.5 inches above the floor (due to the removable plastic) to 1.5 inches below the floor.

Specially designed rubber gaskets that are encapsulated with wax.

3 times stronger seal.

Can fit drainpipes of any size since the wax fills the gap between both the flange wall and the drainpipe wall.

Plastic construction.

Stabilizes toilet bolts.
---
OATEY 43405 Set-Rite Toilet Flange Extender
---
Bathroom renovations might include new flooring and most of the time, the floor gets raised. This brings about refitting issues on the toilet because the existing flange gets sunk below the floor surface. As a result, you can be sure that leakages will occur.
Well, with Oatey's 43405 toilet flange extender, this won't be a problem. This is a top rated product that is available in different sizes to cater for the different depths that the flange is sunk below the surface.
In terms of size, the spacers come in a variety of sizes, which include 1/8, 1/4, 1/2 and 3/4 inches in width, and they can be combined to form thicker spacers. In total, they can elevate the flange from 1/4 inches to 1-5/8 inches with the inclusion of a foam gasket and the yellow extender.
All these parts are quite easy to install and can work on any type of flange, from PVC/ABS and cast iron to even the uneven and broken ones, and in the process, the whole setup sort of renews the whole existing flange.
Construction wise, the extender is made of durable plastic and features a wax ring that sits between the extender and the toilet for creating a tight seal.
Features at a glance
Raises/ extends the existing toilet flange in the range of 1/4 to 1-5/8 inches.

Can be bought as an extender alone or a kit consisting of the extender and differently-sized spacers.

Easy to install.

Can be used to extend any type of toilet flange.

Made using durable plastic.
---
Flexon Toilet Flange for 4″ PVC, ABS
---
Flexon's toilet flange is more expensive than the rest of the products in this review but this can be mostly attributed to the fact that it comes as a full kit.
This kit contains the toilet flange, 8 spacers and a patented toilet seal gauge, which is used to verify that the seal is made before setting the toilet above the flange. Spacers ensure that the unit is at the correct height for screwing in the toilet.
The flange is compatible with 4 inch PVC/ABS, cast iron or lead pipes, and features additional seals on the sleeve that seal it to any of these pipes, ensuring that there are no leaks or returns of odors.
On the upper part, the seal that attaches to the toilet horn without requiring any wax. This is because it is designed to create a strong hermetic seal, which ensures there are no leakages.
Apart from preventing leakages, Flexon's toilet flange also corrects up to 1-inch offsets on the toilet and can also seal rocky toilets, which means that it can remain intact even with small toilet movements.
Features at a glance
Comes as a full kit containing a toilet flange, 8 spacers, a patented toilet seal gauge and a couple of screws.

Compatible with 4 inch PVC/ABS, cast iron and lead drain pipes.

Double wax-free seals.

Upper seal attaches hermetically to the horn.

Corrects up to 1-inch offsets.

Seal remains intact even if the toilet starts rocking.
---
Korky 6000BP Universal Toilet WaxFree Seal
---
The Korky 6000BP has a universal design, which means that it can fit on both 3 and 4-inch drain pipes. It also means that this unit can fit on flanges that are above, at level with or below the floor surface and this is made possible using a two-piece foam on the interior, making it very adaptable.
Construction wise, this seal is made of rubber, which gives it a couple of advantages. First, this seal eliminates the need for wax seals, which can be very messy.
In case you don't set the toilet properly the first time, rubber seals enable you to reset, not once, but multiple times. Wax seals are usually easily ruined and will require new ones if you mess up the toilet setting process on round 1.
Wax seals are also prone to be affected by temperature changes, which means that they can freeze or melt as the temperature goes up or down. This might result in the occurrence of a sticky mess or a hardened block, effectively affecting the integrity of the seal.
However, this rubber seal is resistant to temperature changes and thus, maintains the integrity of the seal all through.
Features at a glance
Can fit on both 3 and 4-inch drain pipes.

2-piece interior foams enable the seal to fit on flanges that are above, at level with or below the floor surface.

Allows for toilet resetting multiple times.

Resistant to temperature changes.

Rubber construction.

Made in the USA.
---
Leaknogasket Wax Free Toilet Seal
---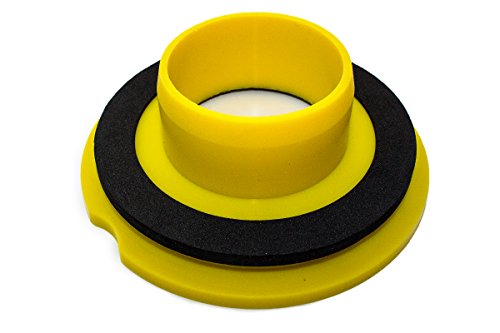 Leaknogasket's wax-free toilet seal is very affordable but this does not mean that it is a low-quality product. Actually, it is quite cheap because it is only a seal but not a full toilet flange. This means that it needs to be fitted between the toilet horn and the flange or the drain pipe.
On the upper part, this unit forms a seal below the surface of the toilet horn as well as around it. This double bond ensures that all the wastewater from the toilet flows down to the drain without any leakages.
In terms of use, this wax free seal is compatible with flanges that are 1/4 inches above to 1/2 inches lower than the finished floor, making it very adaptable. It is also very practical because it can fit inside drain pipes of different sizes.
Material wise, the unit is made of heavy-duty silicon, which is very durable, flexible and makes the seal reusable just in case you change the toilet itself. Just like rubber, silicon is also not messy and can withstand extreme temperatures, making it even more durable.
Features at a glance
Affordable.

Forms a double seal with the toilet horn.

Fits flanges that are 1/4 inches above to 1/2 inches below the floor surface.

Fits differently-sized drains.

Silicon construction.
---
Oatey 43538 ABS Cast Iron Flange Replacement
---
If you want to replace old broken metal flanges with a new one, give it a try. This lightweight tool delivers excellent performance, which is mandatory for all toilets. It can easily fit 4-inch cast iron and plastic pipes. Its rubber seal secures its position correctly against the wall of the tube.
It comes with 3-inch stainless steel bolts. They are used to lock the flange to your pipe from the bathroom floor. After tightening them, the flange will be highly stable. You don't even have to do caulking to resist water penetration. Its compression joint enables the users to adjust the riser up to 3 inches based on their needs.
When it comes to other ordinary similar products, their installations might involve tearing up the bathroom floor. Unlike them, you don't have to break the surface to set it up. Besides, there will be no need to use additional tools while installing. Just make sure to lock the bolts tightly utilizing a wrench.
As it consists of plastic materials, it provides way better protection against corrode compared to the metal models. Despite the plastic frame, it has incredible quality and durability. So, once you get it, you don't have to worry about replacing it with a new one for a long time.
Features at a glance
Sliding capability inside of cast iron as well as plastic pipe

Included stainless steel bolts ensure a high level of stability

No requirements of caulking

Riser adjustment with the compression joint

Quick installation can be done easily without using any other tools

Lightweight and flawless unrestricted flow design
---
NEXT BY DANCO (10672X) HydroSeat Durable Toilet Flange
---
The NEXT BY DANCO (10672X) toilet flange can solve the problems of your leaky toilets within no time. Its flexible construction is able to fit every type of pipe and toilets. All thanks go to the wax or waxless ring that secures it tightly against the pipe. Thus, you will be guaranteed a perfect seal. Because of the Sure Seal technology, there won't be any gas smells as well.
It features a self-centering gasket for providing a more firm position. Also, the attached bolts play an important rule in making hassle-free seating. The HydroSeat involves rubber funnel as well, so that there is no chance of misplacing.
Above all, it takes only a few minutes for installation. While doing so, you don't have to remove your existing flange. Simply put the ring on the old one and screw it tightly. Note that the package includes screws, nuts, rubber funnel, and washers along with the main product. But you have to purchase the wax ring separately.
Its powder-coated steel structure can endure long term usage and corrosion. That's why it is very durable. If you want to enjoy all the mentioned benefits, replace your existing, damaged, and broken flanges with it.
Features at a glance
The waxless toilet ring makes sure of a tight and a perfect fit

No unpleasant gas smell due to the Sure Seal technology

Self-centering gasket grips are responsible for creating a hassle-free seating.

Sturdy powder-coated steel formation

Integrated with steel screws, nuts, and washers

Suitable for fixing most standard leaky toilets
---
Oatey GIDDS-173390 43539 Replacement Flange
---
Leaky toilet systems are challenging to fix, but this one will pave an easy way to do this. It is a PVC plastic compression tool and an excellent alternative or replacement to the cast-iron counterparts. It may seem not so durable, but it keeps giving flawless services for a couple of years.
It is a lightweight model measuring 4-inch in height and 7-inch in width. So, you won't face any problems while holding or lifting it. It does not come with any test cap. If the users want one, they have to get it separately.
It contains 3-inch stainless steel bolts to get into 4-inch water-pipes quickly. The rubber compression gasket makes sure that the flange can be used with several types of cast-iron piping. Its compression joint offers maximum 3-inch adjustability of the riser.
One of the key benefits of the model is its easy setup procedure. The process requires no additional instruments or no need of tearing up the floor. After placing it in the right position, don't forget to tighten the bolts to secure the flange to the pipe. Such perfect fitting does not promote leakage. Therefore, you can skip caulking if you want.
Features at a glance
Robust PVC plastic compression

Easily fits inside 4-inch pipes

Maximum stability with 3-inch stainless steel bolts

Straight-forward set up method does not need extra tools

No need to break the existing tiles

Smooth and unrestricted flow design provides incredible performance
---
Genova Products 75158S Universal Closet Flange
---
The Genova closet flange is not less than any other high-end flanges, yet available at a more reasonable price. Its plastic main-frame is lightweight but flexible. It can be the right choice for 4-inch cast iron as well as PVC-DWV pipe systems. Its 7-inch X 7-inch X 3.6-inch dimensions fit the frame of the pipe perfectly.
It includes a stainless steel ring for assisting in drilling holes in the tiles with the right alignment. The ring acts as a gasket and prevents leakage. The flange will be completely sealed as soon as the bolts get tightened. Then the ring will center itself while rotating. Such flanges can survive most high-pressure applications.
It offers an airtight seal and makes the toilet more secure. With it, the user will no longer notice wobbly toilet complications. Again, they will not be experiencing any lousy smell too.
This item arrives assembled. It does not need any batteries to operate. The customers get all the needed bulk fittings along with the flange. It will take only a few minutes as it goes inside the pipe quite smoothly. As a result, you don't have to put lots of pressure on it.
Features at a glance
Heavy-duty plastic structure

Coupled with a stainless steel ring that has rotating functions

All bulk fittings are part of the package

One of the best economical alternative to traditional mechanical ones

Quick and easy installation

Perfect for both iron Or PVC DWV pipe
---
SIOUX CHIEF MFG PBS44AZ 4″ Push-Tite Cist Flange
---
It is an ABS Plastic flange. Just like the premium-grade similar equipment, it also fits inside any kind of 4-inch pipe. We have to get rid of the old one only if it is above the bathroom tiles. Then we can slip it with a little bit of pressure and mount it. These sliding flanges are too flexible to get into the pipe within seconds.
The associated gasket is responsible for sealing inside the tube. For this reason, the users will not encounter any water leakage issues. It also makes the toilet pretty firm and reliable. Additionally, they don't spread bad smells inside your bathroom.
The overall suite includes many plumbing fixtures, faucets, and other essentials apart from the flange itself. No battery is given because it doesn't need batteries for maintaining the continuous functions. All you have to do is fasten it to your floor after pushing it in.
Its solid stainless steel ring can be adjusted depending on how you want it. No matter how you use it, the gasket seal will never open. The chemical gasket gives protection against the high temperature too. They utilize large outlets. Their smooth internal body does not contain obstructions that may lead to clogging.
Features at a glance
Gasket locks the placement inside DWV pipe

Effortless installation involves pushing slightly in and then fastening to the flooring platform

Bigger outlets compared to other closet flanges

The smooth interior haveno obstacles to cause clogging

The stainless steel ring is quite long-lasting

Great functionalities with no water leakage and no odor
---
Best Toilet Flange Buying Guide
---
There are many types of toilet flanges on the market. But before buying one, you should consider the following:
Compatibility
When it comes to toilet flanges, compatibility is usually considered in terms of the drain pipe size. Drain pipes are available in different sizes, with most of them being either 3 or 4 inches in diameter.
Before buying a toilet flange, it is important to check the size of your drain pipe and then check whether the flange's sleeve is compatible with that size.
Alternatively, you can buy the universal fitting flange, which is suitable for drain pipes of all sizes.
Type of seal
A critical part of any flange is the seal. It is available in 3 main types, which are wax, rubber or silicon seals.
Wax seals are very good at forming watertight seals they are easily affected by temperature changes, which means that they can melt and get messy when it's too hot or stiffen when it's too cold. Either way, these conditions affect the integrity of the seal, making it prone to leakages.
Again, when using wax, once you set the toilet above the flange, the wax sets itself such that any big movement such as removal of the toilet destroys the seal.
On the other hand, rubber is reusable, which enables you to reset the toilet countless times without worrying about it getting damaged.
However, with rubber, the seal must fit snugly over the toilet horn, toilet and drain pipe so that it forms a watertight bond. Silicon is more like rubber and thus, its properties are quite similar to those of a rubber seal.
Material
Toilet flanges are also available in different build qualities. This is primarily determined by the material used to construct the unit. These include
Plastic
Most toilet flanges are made using plastic and specifically, a type of plastic called PVC. However, there are some variations of these, with some being entirely constructed out of PVC while others have a PVC body and a metallic horn.
Another commonly used plastic is ABS. This material is more rigid than PVC and is also more resistant to heat and shock as compared to PVC.
Plastic flanges are usually very affordable and are designed for 3 and 4-inch drainpipes.
The main advantage with copper flanges is that they are highly resistant to corrosion and wear and tear, making them very durable. However, they are more expensive than plastic flanges.
Cast iron flanges are quite expensive but very durable. They are available in a variety of sizes, with the deep-bodied ones being ideal for drainpipes that are quite low as compared to the toilet floor. With their strong, durable sleeves, they can extend deep down to reach the drain pipe so that water is passed from the flange to the pipe without any leakage.
Aluminum toilet flanges are designed to be strong and durable by being corrosion resistant, yet lightweight for easy handling.
Stainless steel flanges are also very durable because of their resistance to oxidation and corrosion, but they come at a high price.
Similar to stainless steel, these are very durable.
Generally, metallic toilet flanges are quite expensive than their plastic counterparts. However, they are very durable and are guaranteed to serve you for a long time.
The height of the flange
If you have renovated your bathroom floor, chances are that the floor raised a bit to leave the drain pipe sunk. It is important to consider the depth of this sunk pipe so that you can buy the appropriate flange that can extend to that level.
Similarly, if the old flange is raised above the floor, you should buy a compressible unit so that it does not leave the toilet floating and loosely attached midair.
Conclusion
Clearly, there is a lot about toilet flanges than their simple, rounded appearance. After going through this article, you will understand what the different features of these components mean in terms of the benefits they provide.
With this information, I hope, you should be able to pick the best flange for your toilet from the 5 units reviewed above. 
Recommended Resources