Our top picks: Best Shower Faucets of 2023
Outfitting your bathroom with the right pieces is crucial in ensuring a high-performing space. Not bathroom fixtures are made equally, especially since they come in different shapes and sizes. This is why the best shower faucet is an important concern for many homeowners, as they can make or break the home's bathing experience.
If you're in search of some, here's a quick guide that should help you out. 
Recommended 10 Best Shower Faucets
Last Amazon price update was: December 6, 2023 2:06 am
1. Shower System, Brushed Nickel Shower Faucet Set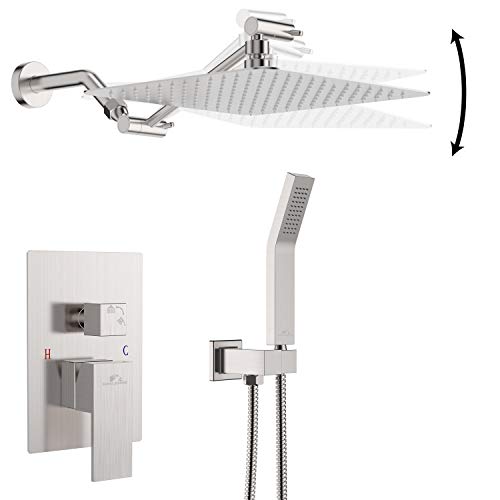 Whether you're upgrading your bathroom or creating a new, modern one, the SunCleanse Shower System, Brushed Nickel Shower Faucet Set would be a solid choice. This sleek set has a very sleek design with its cubical details and all-metal look, making it appear very state-of-the-art and stylish.
Aside from looking very nice, however, this shower faucet set is also made to be efficient. Since it comes with two showerheads, it can already suit the various needs of many households. The 12" square rain showerhead will surely efficiently cover your head and body for quick and efficient washing. The handheld shower can make your shower a lot more functional and will make washing hard to reach areas faster and simpler.
Using this product is also very simple. The concealed water mixer is designed to respond to your requirements quickly. It's equipped with a dedicated switch to help you choose between the hand shower and the top shower. Its hot and cold water control is also responsive, keeping you safe from burns.
As for its water pressure, this set is rated at 2.5 gpm which is the maximum allowed by the federal government for showerheads. This guarantees that its water flow is as you can legally get which can also ensure your safety as it's definitely not too high to hurt the user. 
Features at a glance
12" square rainfall showerhead, L-Style hand showerhead, heavy-duty shower faucet valve

Solid brass, 304 stainless steel materials with a brushed nickel finish

Air technology

Valve switch for top shower or hand shower

Adjustable shower arm

2.5 GPM
2. Gabrylly Shower Faucet
For something that doesn't seem too imposing on a smaller bathroom, take a look at the Gabrylly Shower Faucet. This features a 6" rounded rain showerhead made of sturdy ABS material and silicone nozzles with a chrome finish. It's definitely not much, especially since it's mounted on a steady shower arm. However, with its 2.5 gpm rating, you can still count on it to have enough power to give you a good wash. 
Aside from its size, the minimalist design of the Gabrylly Shower Faucet also makes it a very low-key option for those who want to keep their bathrooms simple and uncomplicated. It offers understated elegance and contemporary appeal with its chrome finish and simple details. 
When it comes to performance, however, this product is the farthest thing from simple. With its 2.5 gpm water flow rating, it guarantees to give you enough water pressure for a relaxing and effective bath. It's also made of sturdy materials that won't just withstand regular use but are also very easy to clean. The silicone nozzles will make it easier to get rid of calcifications, so if you have hard water in your area, this can be a good choice.
Lastly, since it comes with a tub spout instead of another showerhead, this can be a solid choice for those with shower and tub setups in their bathrooms. It can't be used without the tub spout, though, so keep that in mind if you're not planning on installing a tub.
Features at a glance
6" showerhead, 5.9″ tub spout, faucet valve

ABS and brass materials with chrome finish

Pressure balancing valve cartridge

Soft silicone nozzle

2.5 gpm
3. Esnbia Brushed Nickel Shower System, Shower Faucet Set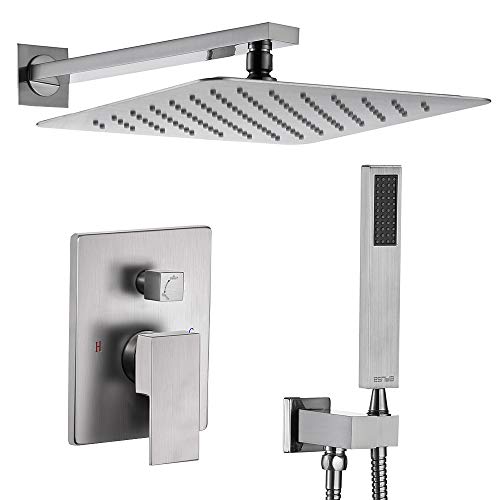 For something sleeker than our first option, check out the Esnbia Brushed Nickel Shower System, Shower Faucet Set. This product is also a two showerhead set but appears more swanky with its ultra-modern design.
There are two things that make this product very eye-catching. First is its very thin rain showerhead. With how minimal it is, it certainly appears ultra-modern and sleek. Even if it's square in shape and has corners that can be visually disruptive, the fact that it's not chunky makes it very fashionable.
Then there's its sleek hand shower. It's just a rectangular contraption that can look like a modern remote control at first glance. The contrast between the brushed nickel finish and its black faceplate where the nozzles sit makes it appear very chic and contemporary. 
The devil is in the details of this shower faucet, however. The shower arm appears like a rigid structure but in reality, it has an adjustable brass ball joint so you can adjust it to your most comfortable angle. The shower hose also contributes to the overall sleek appearance of the set since it comes with the same finish and look as the rest of the set. 
Equipped with the air pressure technology and its 2.5 gpm rating, you're also guaranteed of this product's high performance. It will certainly have enough water pressure to give you a satisfying clean.
Features at a glance
12" square rainfall showerhead, handheld shower with bracket, water mixer valve, 16" shower arm, 59" shower hose

304 stainless steel and brass materials

Air pressure technology

2.5 gpm
4. KES Pressure Balance Shower System Bathroom Shower Faucet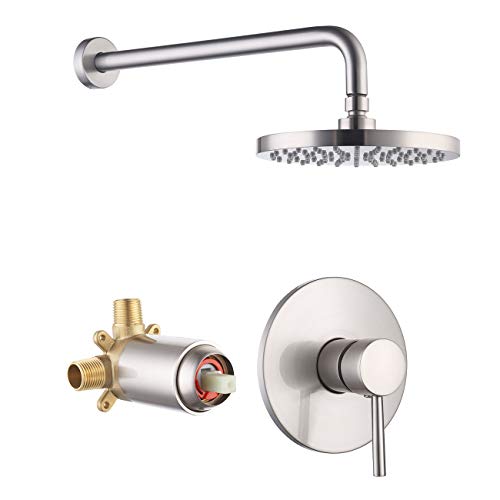 Those who love mixing and matching pieces might want to take a look at the KES Pressure Balance Shower System Bathroom Shower Faucet. This set is possibly the smallest on our list but it's still worth a shot for how it both offers great form and function.
While it only includes an 8" showerhead and a valve, it can still be a solid choice for many homes. Why? First off, it offers the basics. Some folks don't really need much else, especially if they have other plans for their bathroom. These two will already suffice for many households.
Secondly, this product is very attractive. Its black coloring with brushed nickel finish makes it appear as if it belongs in the poshest and most modern bathrooms. Its details are very minimal and the size of the rainfall showerhead isn't too imposing so it doesn't cause too much visual disruption. So all in all, it can really be a great addition to any chic and modern bathroom.
Another great plus this product has is its pressure-balanced ceramic disc cartridge that is designed to prevent scalding. It will help prevent the hot water from reaching temperatures that are too high and intolerable so you're guaranteed that you won't get burns from your showers.
Features at a glance
8" overhead rainfall showerhead, 15.7" shower arm, rough-in valve

304 stainless steel and brass materials, matte black brushed nickel finish

Pressure balanced ceramic disc cartridge to prevent scalding
5. Sumerain Shower Faucet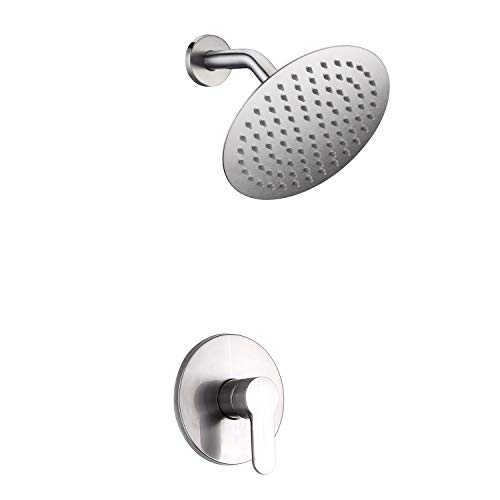 The Sumerain Shower Faucet is another great option if you want a simple shower faucet set for your bathroom. Like the KES product above, it's only composed of a rainfall showerhead and a rough-in valve so you only really get the basics. It should be fine, however, if you're not really looking for a lot of other additional accessories.
What makes it an alternative to the previous item is its appearance. With its stainless steel with brushed nickel finish, it looks more contemporary and subdued than the KES set above. It's not as sleek but it also doesn't look outdated so it will fit in nicely in most homes.
Another notable feature this product has is its Touch Clean soft spray holes. These refer to the silicone nozzles equipped on the showerhead, making it easier to clean in case of calcification. So if you live in an area with hard water, you won't have to struggle to get the hardened bits off the showerhead.
Note, however, that the Sumerain Shower Faucet is only rated at 2.2 gpm so it might not be as powerful and pressurized as the others listed above. This shouldn't be an issue, however, as it's still plenty powerful for most folks. 
Features at a glance
8" rounded, rainfall showerhead, rough-in valve, shower arm

Stainless steel with PVD brushed nickel finish

Drip-free ceramic disc cartridge

Touch Clean soft spray holes 

2.2 gpm
6. Shower System, Wall Mounted Shower Faucet Set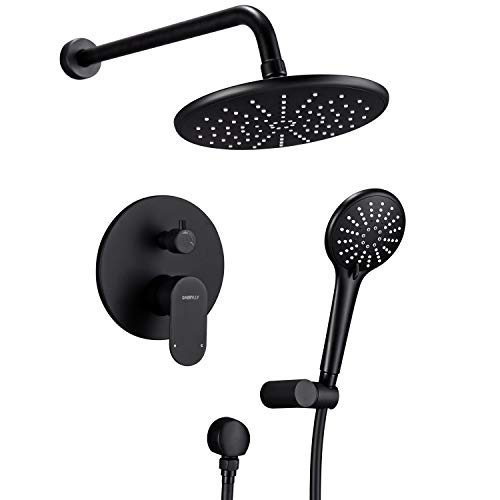 Black can be a great neutral color for many bathrooms because it looks modern, doesn't look old right away, and can be rather easy to clean. So if you're looking for a reliable set, check out the Gabrylly Shower System, Wall Mounted Shower Faucet Set.
This product features an all-black set of shower fixtures including an 8" rainfall showerhead, handheld shower, a valve, a shower arm, and hose. They're all equipped with brass fittings even though the items are made of sturdy ABS. The showerheads are all rounded and have a contemporary design, so they'll fit in nicely in most modern homes. 
There are several things to like about this set and at the top of the list is how it will outfit your bathroom nicely for great functionality. The valve will easily let you switch from the top showerhead to the handheld one with the help of the labeled switch on the valve. Switching from hot to cold water is easy, too, since the valve handle is marked H for hot and C for Cold.
A great plus that many would enjoy about this product is its low-pressure performance. It's made to provide great water flow even when the water pressure is low. As a result, it promises reliability and efficiency.
Features at a glance
8" rounded rainfall showerhead, 3-setting handheld showerhead, Pressure Balance Valve, 16" shower arm

Arass and ABS materials in black matte coating

Adjustable water pressure

2.5 gpm
7. All Metal Brushed Nickel Shower Faucet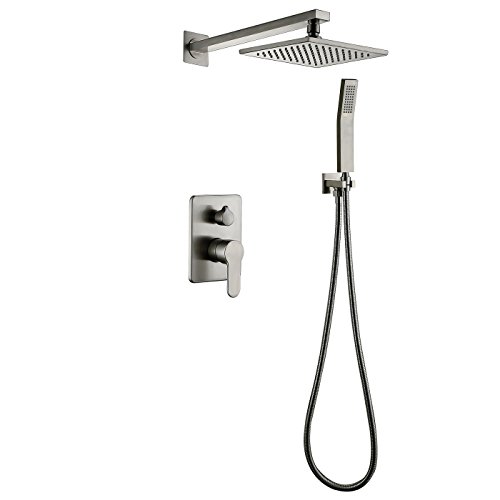 The Sunuan All Metal Brushed Nickel Shower Faucet is also a nice choice if you want to go take the ultra-modern and sleek route for your bathroom. As its name suggests, it's an all-metal product so it has this posh vibe to it that can elevate the look of any bathroom. Its design also adds to the elegance of the product as its curves and edges nicely complement each other.
What's interesting about this set is that it combines cubical shapes to curved and rounded details. The rainfall showerhead and the handheld showerhead are packed with pointy edges while the valve is equipped with knobs and elongated handles. So in a way, it looks very modern without looking too intimidating.
As for its performance, it also guarantees a great job with its 2 gpm rating. It's not as high as the others but it can still be a great choice if you have high water pressure in your area already. 
Features at a glance
8" square rainfall showerhead, L-shape handheld shower, faucet valve, 16" shower arm 

Brass and metal materials with brushed nickel finish

2 gpm
8. POP Shower Faucet Set with Tub Spout
Not a big fan of rainfall showerheads but also not too keen on showerheads that barely cover your width? Check out the POP Shower Faucet Set with Tub Spout. It features a showerhead that is nearly identical with the rainfall showerhead from the other sets but since it doesn't come with an extra-long shower arm, it's meant to hit you at an angle and not directly from above your head.
Its design is also very striking as it looks very modern. It also employs a cubical styling as its showerhead is square in shape while its tub spout and valve handle are rectangular. With these, it appears chic and stylish, something that might surprise many because of its price point.
Guaranteeing an impressive performance is its air injection technology that mixes air with the water to boost the pressure from the shower and tub spout. As a result, you'll get more powerful water flow. It also promises to be quieter than other fixtures because of this very feature.
Since it comes with a tub spout instead of a handheld showerhead, this product is better suited to those who have a tub and shower combination.
Features at a glance
8" square showerhead, tub spout, rough-in valve

Stainless steel and brass materials

Air injection technology
9. Shower Faucet Sets 8 Inch Rain Shower Head
Going for a classic look in your bathroom? Then the Gotonovo Shower Faucet Sets 8 Inch Rain Shower Head might do the trick for you. With its exposed pipe and starburst style valve switches, it can definitely compliment a vintage bathroom.
The first thing you'll notice about this product is that it's quite beautiful. If you have a clawfoot tub that you're looking to make the most out of, this woud be an excellent choice. 
In terms of functionality, this set will also be a satisfactory addition to your bathroom. Its overhead rainfall showerhead is big enough to cover most folks effectively, allowing it to do an efficient job in washing you up. The handheld showerhead may be smaller but its height is adjustable and is easy to wield, so you don't have to fuss about it.
What might convince many to give this product a shot, however, is its lifetime warranty. The manufacturer is confident with the quality of its items, so you might be able to count on it to be a worthy investment. 
Features at a glance
8" rainfall showerhead, handheld showerhead, cross knobs shower mixer

Brass material with brushed nickel silver finish

Adjustable height
10. SOOOHOT Shower System, Shower Faucet Set
Want a quick upgrade for your bathroom? The Sooohot Shower System, Shower Faucet Set with Dual Functions could be the perfect match for you. This striking set will certainly grab everyone's attention with its gold coloring, allowing you to give your bathroom a grand makeover without doing any renovation.
Making it look all the more modern is its cubical design. The square rainfall showerhead is complemented with a rectangular shower arm and a similarly shaped handheld shower. The latter might actually remind some folks of remote controls with its looks but a way more elegant one.
If you're worried about maintenance, don't be. This product is equipped with a nano-brushed technology so it will stay spotless with ease. You don't have to wipe it down often to remove fingerprints because they won't stick on the pieces in the first place.
It's not just flashy, however. It also rated at 2.5 gpm so you can be sure that it will be water-efficient and effective in giving you a nice wash.
Features at a glance
10" square rainfall showerhead, handheld showerhead, rough-in valve, 16" shower arm, 71" hose

Brass, copper, and 304 stainless steel materials with luxury brushed gold finish

2.5 gpm
5 Things You Need To Know About the Best Shower Faucet Before Buying
Not because there are lots of options available does it mean that it's easier to choose the best shower faucet there is. The number of options can be more overwhelming and confusing for some, so aside from product recommendation, we're also dishing out a number of important points to consider to help you make a choice. Here are some of them:
Take a close look at the inclusions
As you would know by now, shower faucets aren't just the very faucets that you can find underneath the showerhead. These items are composed of a few different pieces, sometimes even including a shower pan and strainer.
While most of our picks didn't include such, they're still great options as they will already give you what you need for a nice shower setup. However, as you would notice, some have more pieces than the others, so that's worth taking into account as well.
While you don't necessarily need to go for a product with the most inclusions, it would be nice to get everything you want in one set. This way, you don't have to look high and low just to find another piece that will match the initial set you chose. This can make the task simpler for you.
Read reviews
Reading product reviews is always a must if you want to get to know certain products better. There are lots of information such writeups contain that you'll never know from the listings and marketing materials of the item.
Some may be biased but since there are ways to look past them, they shouldn't be an issue. Make sure to read the ones about the item you're eyeing so you can better learn about their performance, ease of use, ease of maintenance, and other crucial details that can make or break your decision.
Pay attention to the water flow rate
To make sure that you'll get great results from your shower faucet, you should take a close look at its water flow rate. Some models can help boost water pressure which is always a great thing as that helps conserve water. It's also beneficial to those who live in areas that have low water pressure.
Be very particular about the materials used and quality
While most shower faucets are made with materials that can withstand water exposure, it's still best to be very particular about them for many reasons. Rusting is still possible, especially if you live near the sea. Discoloration, staining, and other aesthetic issues can also arise and they can make your bathroom look gross and unsanitary so avoiding them is imperative.
Some designs and materials used on your shower faucet can be harder to maintain, so you might want to skip them entirely. It's always best to go for something easy to clean and maintain so you can be sure that you can keep your bathroom spotless.
Consider your budget
Bathroom fixtures come in a wide range of price points so it might also help if you have a budget to work with when shopping for the best shower faucet for you. This will help you narrow down your options and find the best product that you can afford.
Conclusion
To be fair, choosing the best shower faucet doesn't have to be a complicated task. Sure, the sheer number of options might feel overwhelming but if you know what you need, you can narrow down your options pretty quickly.
We're actually quite confident that this guide will help point you in the right direction, so make sure to give our tips and recommendations a shot.