It's an indisputable fact that there are lots of advantages to using the best detachable shower head. They can help households conserve water better and will more effectively suit the needs of those with disabilities and limited mobility.
They're also more versatile as they can be easier to work with when bathing pets and children. So, really, they can certainly come in handy for most homes. This is why it's not surprising that many are thinking of swapping out their fixed showers with handheld ones.
But as these fixtures are not made equally, you might also want to know which ones will suit your needs the most. To help you out, here's a quick guide that will tell you everything you need to know about finding the finest handheld showerheads in the market today. 
Our Top 5 Recommendations
(Below you can read our detailed reviews about these products.)
Review of the Best Detachable Shower Head
What are the best detachable showerheads that you should look into? Here are 10 of our picks:
1. Waterpik High Pressure Powerpulse Massage Hand Held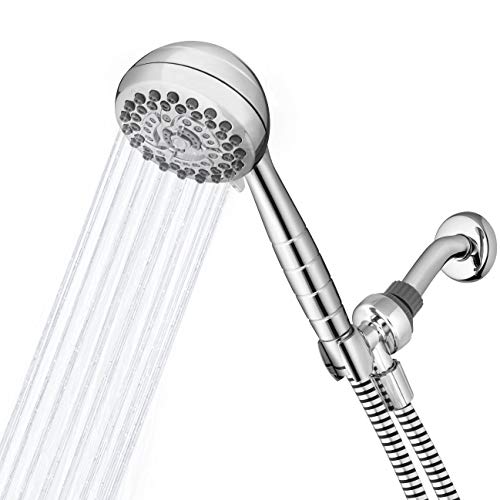 Showers have always been some of the easiest ways to relax at home. And with the right item, you can take things up a notch by actually getting a massage while washing up. The Waterpik High-Pressure Powerpulse Massage Handheld offers exactly this benefit, so if you love taking a relaxing bath after a long day, this item can be a nice pick for you.
Since the brand is best known for bringing us the Original Water Massage in 1974, it's not surprising that they have developed additional innovations to make showers with their products more relaxing. In this product, you'll get 7 shower spray settings, allowing you to enjoy your bathtime more.
These include Full Body, Full Body Eco, PowerSpray, Water Saving Trickle, PowerPulse Massage, Full-body + PowerPulse Massage, and PowerSpray+ PowerPulse Massage modes. As their names suggest, you'll get different spray settings, letting you customize the way you wash up.
Aside from its different spray settings, you can also count on the quality and reliability of this product. Waterpik is one of the most respected manufacturers of shower heads, so you can be sure of its durability. It's also equipped with anti-clog nozzles and is rated at 2.5 gpm, so you can be sure that it's also water efficient.
Features at a glance
4" head will provide enough coverage.

7 spray settings will let you make the most out of your bathtime.

2.5 gpm ensures water efficiency and ensures that you'll stick to the federal mandate for showerheads.

Chrome finish gives this product a sleek and modern appearance.

Advanced OptiFLOW® Technology ensures that this product has satisfactory water flow and pressure.

Anti-clog nozzles guarantee that its performance won't deteriorate over time due to clogged nozzles.
2. Briout Handheld Shower Head
Looking for something that won't cost you a lot but can still hold up to regular use? The Briout Handheld Shower Head might be the right match for you. This popular option has won a spot in many households because of the great value for money that it offers.
For its low price, this item has pleasantly surprised many homeowners with its performance and reliability. For starters, it comes with five different spray settings. You can choose from the Power Mist, Power Rain, Rain Massage, Rain Mist, and Pulsating Massage modes to help you make the most out of your showers. With these, you don't just get to nicely clean yourself but you can also get more relaxation in the process.
Another notable thing about this product is its construction. It's well-made for its friendly price tag so it's pretty much a steal in most folks' opinion. Its 5' hose is made of stainless steel and it's very flexible so handling this shower head won't be too fussy.
It also has self-cleaning nozzles so you don't need to worry about mineral buildup preventing it from having a wider spray. It also makes maintenance a bit easier.
Features at a glance
1" shower head diameter guarantees good coverage.

5 spray settings so you can easily customize your bathtime.

2.5 gpm will help you consume less water every time you shower.

Self-cleaning nozzles prevent mineral buildup and keep the showerhead in top shape.

ABS, nylon, and stainless steel materials with chrome plating ensure durability and attractive appearance.

5' stainless steel hose promise durability and flexibility.
3. Chrider Handheld Shower Head
Some people shy away from handheld shower heads beacause of the angle they spray water in. It can be quite tricky for some folks to position themselves under the stream and holding up the showerhead can be too troublesome. This is one of the things that the Chrider Handheld Showerhead addresses, making it an attractive pick for some.
What sets this item apart from the competition is its angle-adjustable overhead bracket. This will allow you to tilt it to different angles so you can get the exact spray direction that you want. As a result, it will allow you to enjoy your showers better.
Its design also makes this product resemble a fixed showerhead. It doesn't come with a long arm bracket that will let you adjust the height. It comes with a wall-mounted bracket instead, so it's important to install it at a height that will suit everyone in your households. The adjustable angle will make up for its height with great ease.
Features at a glance
4" showerhead diameter will give you a wide stream of water for more efficient cleaning.

5 spray settings promise great versatility and different ways to enjoy bathtime.

Angle-adjustable overhead bracket so you can better position the showerhead to hit you the way you want it to.

High-quality ABS material with a chrome finish ensures durability and a beautiful appearance.

60" stretchable stainless steel hose promises flexibility and durability.
4. INAYA Handheld Shower Head
If you're thinking of replacing your showerhead with the top detachable shower head to make it more functional, then check out the Inaya Handheld Shower Head. This product might tickle your fancy with its interesting design.
There are two very notable features about this product. First is its stop water button that will allow you to stop the stream of water without having to deal with the shower knob. It may seem a bit redundant at first but since this is a detachable shower head, it's actually a nice touch.
This feature turns it into a high-pressure hose once the shower head is removed. As a result, you can already use it for other purposes. You can then use it to clean the bathroom, flush the toilet, and wash cleaning materials among other things.
The other exciting feature is its micro nozzle technology. By having smaller spray nozzles, the water pressure is increased, giving you a more powerful spray. This is a great plus, especially if you live in a place with lowe water pressure. Showering with just a trickle can be very frustrating, so this might just solve your woes.
Features at a glance
4" showerhead guarantees a sizeable water stream.

340 anti-clogging nozzles also boost water pressure.

3 spray modes to choose from and personalize your bathtime.

1 key stop water button to pause the stream of water without having to deal with the knob.

Premium ABS plastic with scratch-resistant chrome finish promises durable construction and an attractive appearance.

Doubles as an ejector when the showerhead is removed so it's also a multifunctional pick.
5. KEBAO Handheld Shower Head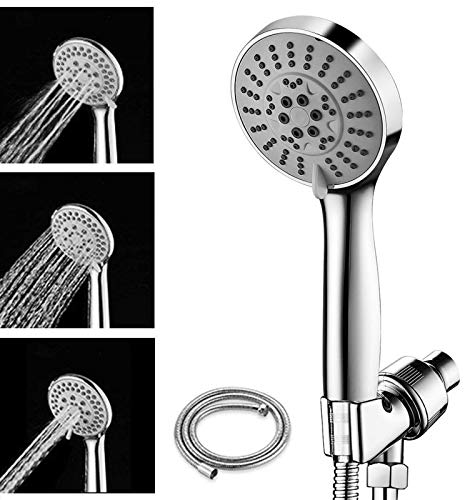 Another option to look into is the Kebao Handheld Shower Head. This product offers great functionality without you having to spend a lot.
Despite its affordable price tag, there are lots of features this product can offer that you can find in more expensive options. For starters, it has an adjustable angle so you can position it according to your very specific needs and preferences.
Like the other item mentioned above, however, the Kebao Handheld also uses a fixed wall-mounted bracket so the height is not adjustable. So the best way to remedy this is by installing it at a high point so everyone in the household will be nicely accommodated.
This product also has 3 spray settings. You can select from Massage, Rain Massage, and Power Rain modes, letting you customize your shower with ease. This is also very useful if you have pets and little ones that can get spooked by high-pressure shower heads.
Features at a glance
1" showerhead guarantees ample coverage with its large streaming surface.

Silicone spray nozzles are designed to prevent mineral buildup and clogging.

Angle adjustable overhead bracket will allow you to position the showerhead at the angle you want it in.

3 spray settings will let you customize your shower experience.

ABS plastic material promise durability.

5' stainless steel hose ensures flexibility and durability.
6. ZenFresh Detachable High Pressure Handheld Shower Head
Did you know that the water you use to wash your hair and skin plays a huge role in the health and appearance of such body parts? Luckily, products like the Zenfresh Detachable High-Pressure Handheld Shower Head address issues of this kind.
With the use of bioactive stones, this detachable shower head filters the water before it comes out so it helps clean it out of debris, treatment residue, and even helps soften it in certain areas. So if you often suffer from blocked pores or if your water tends to dry out your skin and hair due to the stuff in the water, this feature can be very helpful to you.
Aside from its unique functionality, it also comes with a clear body so you can easily see the filtration system it uses. This makes it all the more interesting and exciting as it can certainly give your bathroom a special look.
Note, however, that this item only comes with the showerhead so you'll need to purchase accessories like a hose and bracket if you're switching from a fixed showerhead.
Features at a glance
1" showerhead promises good coverage with its sizeable stream.

3 layers of mineralized spheres help filter water to make it more ideal for use on your skin.

Low flow design makes it suitable for places with low water pressure.

Laser-cut micro cone-shaped holes technology help increase the pressure of the water stream.

Stainless steel and clear plastic body material give it a modern appearance and sturdy construction.
7. idocce Detachable Ionic Filter Shower Head
The idocce Dtachable Ionic Filter Shower Head is another option you can go for if you liked the item mentioned above. This item just has a few more features, making it an alternative choice to the Zenfresh pick.
Like the shower head with water filter mentioned above, this idocce product also comes with a stone filtration system that uses bioactive stones to balance the metal content of the water and soften it before its release. This is why it promises to help keep your skin in great condition and prevent complications caused by hard water.
Unlike the previous item, however, this product comes with 3 spray settings which will let you increase the water pressure it can release. So if yoou want to change things up a bit when you shower or enjoy a spa-like experience every now and then, this can be a great option to go for.
Features at a glance
3" showerhead offers ample coverage for washing your body and other surfaces.

3 shower modes to help you customize and get more out of your bathtime.

Filtration beads help soften and balance the metal content in the water.

Laser drilling technology helps increase water pressure for a more water-efficient shower.

High-quality ABS material promise durability.
8. Makibes Handheld Shower Head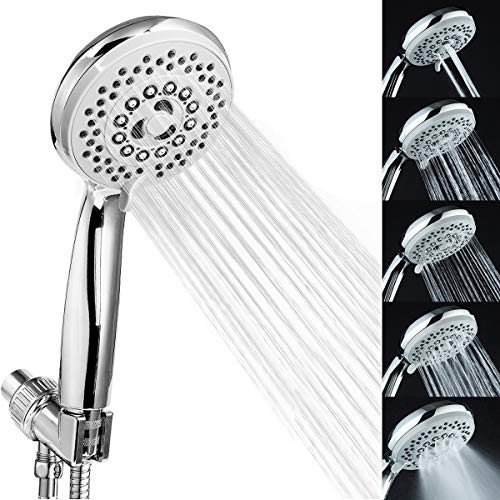 The Makibes Handheld Shower Head is another attractive option if you're after an affordable product that will work with the low water pressure of your home. This item comes with many conveniences, too, so it can certainly be the very solution you're looking for if you have difficulties with your shower setups.
Offering 5 spray modes (Pulse, Double Pulse, Power Rain, Rain Mist, and Atomization), this product will let you enjoy your shower without too much fussing. It can help you customize the water stream the exact way you want it in, so you can get the most out of your bathtime.
It also has a lengthy stainless steel hose so you can do a few more things with it. This length will definitely let you use it for other purposes as well like cleaning the bathroom or for giving baths to kids and pets. It will also come in handy for those with mobility issues.
Features at a glance
9" shower head will provide ample water stream to cover your body for easy and efficient wash-ups.

5 spray modes will allow you to tweak your shower settings and enjoy bathtimes more thoroughly.

Self-cleaning nozzle with anti-scaling technology prevents mineral buildup and clogging.

High-quality ABS material with chrome plating promise durability.

79" stainless steel hose can provide more flexibility, functionality, and versatility.
9. G-Promise Handheld Shower Head
Want a bigger stream from your shower head? The G-Promise Handheld Shower Head may have the very features you want. With a bigger face size, it can offer a bigger spray coverage to offer you more efficiency.
Measuring 4.9" in diameter, this shower head definitely offers more coverage than most of the products mentioned on this list. As a result, you can count on it to give you a wider spray area which can be a more attractive feature for many homeowners.
In addition to this, you can also choose from its 6 spray modes. These include Light Mist, Light Mist + Rainfall, Rainfall, Power Water Jet,  Power Water Jet + Rainfall, and water-saving Trickle modes. These options are more than what most of the items above offer so you'll have more choices in customizing your shower experience if you get this item.
As a bonus, you're also guaranteed durability with this item. While most products above come with brackets made of ABS material, this item comes with a solid brass holder. It won't easily crack and break.
Features at a glance
9" showerhead offers a large spray coverage.

6 spray settings to ensure that you'll get the spray mode you want.

100% solid brass shower head holder guarantees durability.

Free Spinning Locking Collar allows easy and secure angle adjustment.

63" stretchable stainless steel hose provides flexibility.
10. malisu Handheld Shower Head with ON/OFF Switch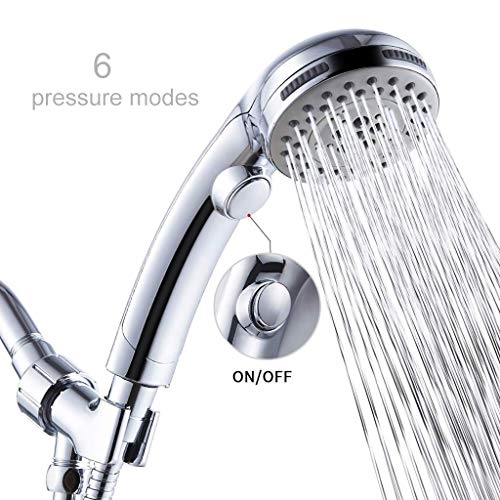 Finally, we have the malisu Handheld Shower Head which offers a wide range of functionality to homeowners. This item is one of the most convenient options on our list, thanks to its feature-packed design.
Its most unique offering would be its On/Off button. This activates the product's advanced water flow blocking technology which will let you pause the stream of water with just a single press of the button.
It eliminates the fussiness of turning a knob when you need to quickly shut off the water in the middle of washing up. It can certainly come in handy no just for regular use but more especially for those with limited mobility and for bathing kids and pets.
It also comes with 6 spray modes. You can choose from Rain Spray, Massage, Spa Spray, Rain & Massage, Rain & Spa Spray, and Pause settings.
Features at a glance
15" shower head guarantees a wide spray to provide efficient cleaning.

On/Off button promises great ease of use.

6 shower modes will allow you to customize your bathtime to a T.

Adjustable arm suspension bracket will let you tweak the angle of the shower head to better position it during your shower.

ABS and stainless steel materials ensure durability and sturdy construction.

60" stainless steel hose promise durability and flexibility.
Buying Guide & Things Need To Know About the Best Detachable Shower Head Before Buying
If you still can't make a choice even after getting to know some of the finest options when it comes to detachable shower heads, don't fret. This is understandable since there re lots of great products available. To help you narrow down your options and take a pick, here are a few tips that you can try out:
Consider your budget
As our list would suggest, these products come in different price points so it's crucial that you take note of how much you're willing to spend in one. The more expensive ones don't always guarantee better quality, so it's important to look into this detail closely.
Read reviews
To make sure that the showerhead is of great quality and performs well, reading reviews can help. While they're not foolproof sources of information all the time, they can still give you useful information to help you form opinions about the products you're interested in.
Take a close look at the features
Again, as our list above would suggest, many showerheads come with a wide range of features. All of them are very interesting and can take your bathtimes to the next level so they can be pretty exciting to have. However, it's also likely that you don't need a lot of them. So if you're after a practical choice, you should pay close attention to such details.
Be particular about the accessories included in the package
An important thing to note about shower heads is the fact that some of them are sold without any accessories while others come as a full set. So if you're making a switch from a wall-mounted or a rainfall shower head, make sure to take note of this detail so you can make additional purchases if necessary.
Assess how a certain product will function in your bathroom
If you or anyone in your household have any mobility issues, it's very important that you take it into consideration when shopping for a shower head. Handheld showers are best suited for such situations but you might also need other specific features like a height-adjustable handle to make the showerhead easier to reach among other things. List these down so you can be sure to look for them while shopping for the right handheld showerhead for your home.
Conclusion
Creating a functional bathroom is a great way to enhance your quality of life. The best detachable shower head can contribute largely to this, so it would be nice if you can get the right product for your needs.