Our top picks: Best Dual Shower Heads of 2023
Having a shower is a way to help one get relaxed, changing the mood from bad to good. Choosing the best shower heads can ensure such a rejuvenating shower. Because, the right volume of water, absolute air pressure, different settings of the shower, rain, aeration, etc. are related to it.
One unit of dual shower head systems contains two shower heads. Size and function may differentiate them from each other. Dual shower head might have a fixed rain shower head and a standard handheld shower head. An individual is controlling of spray settings on each shower head.
Here goes a brief detail of the best of the best dual shower heads available in the market. 
Best Dual Shower Heads: Our Top 10 Picks
Last Amazon price update was: September 25, 2023 6:07 am
1. AquaDance 7″ Premium High-Pressure  
Structurally, both shower heads of Aqua Dance 30-Setting 3-Way Rainfall Shower Combo have six full spray settings. Each shower head can easily be used separately or both together for its 3-Way diverter. One can change it from one setting to another with Click-Lever Dial and clean shower head using rub-clean jets. Water-saving pause mode saves water in RVs and boats.
Its installation is so easy and fits any standard shower arm. In terms of use, this shower head deserves a glowing recommendation for being a super standout. The water pressure in the main head is quite good gives a real feeling of being clean after soaping up.
Its power setting is helpful to rinse hair. The handheld unit fulfills the demand for a hard shower with 1.5-2 times pressure of the main unit.
Pause function of both heads allows the user to take a few minutes to really soap up.
Mounting the main shower head on an extender arm ensures luxurious rainfall coming from the direction above and the handheld is up against the wall.
Features at a glance
7" Face for drenching flow coverage

Each shower having 6 setting

Directing water flow between two showers

Easy to Install

Fits Any Standard Shower Arm

Angle-Adjustable

5 ft stainless-steel hose
2. Delta 75588RB In2ition 2.5 GPM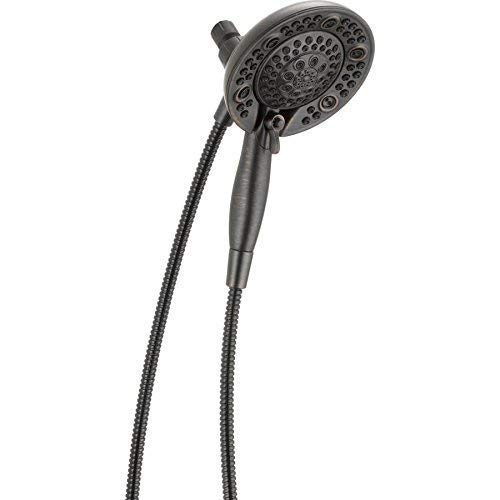 Structurally, the item Delta 75588RB In2ition 2.5 GPM Dual Hand Held Rain Shower Heads is 2-in-1 combo with holder and 72-inch hose. It includes a 3-way diverter. You may use the rain shower, handheld or both at the same time as a hand shower is there inside a rain shower head.
It has 2.5 GPM high flow rate with 5 functions. In addition, there is a pause feature that reduces water flow to a trickle.
It has soft, rubber spray holes. Swiping of the finger, you can easily wipe away calcium and lime built up from the spray face of shower head & handheld. It is lightweight and Venetian Bronze color.
There are in2ition shower head holder bracket, hand shower and 72-inch hose for installation. It is awesome for the actual use of the shower head. It is very easy to install.
Features at a glance
Water flow 2.5 Gallons Per Minute

Lightweight

Of Venetian Bronze color

2-in-1 combo with holder and 72-inch hose

Includes a 3-way diverter

Easy to install.
3. Zoe Industries Neptune Dual Shower Heads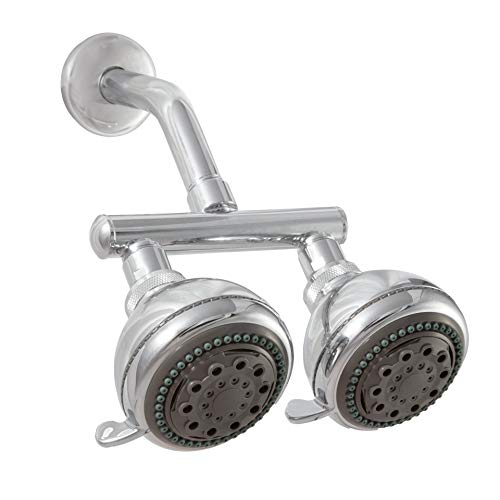 In terms of structure, it has dual shower heads. Its notable aspect is 3 Position Spray Pattern, from a soft spray to a full stream. A ball joint is there, helping each shower head swivel independently.
It has a solid brass shower head manifold. It holds shower heads in place. It can be installed in seconds. This dual-headed shower head includes 3 position spray pattern. 
You can fit it to all standard shower arms. This long-lasting chromed finish product has a beautiful look. It gives you an ease to clean rubber spray tips and ensure uninterrupted water flowing. It can meet your desire to have full blast high-pressure showering or switch to a softer soothing spray.
The shower heads have adjustable spray and thread sealing tape. Of course, it is a relaxing and amazing shower head at a reasonable price. The diameter/circumference of the rod that the two shower heads come off is 1/2″ NPS pipe.
Its color is chrome and bras made. You can put a shut-off valve on this product to turn off one of the heads when only one is needed.
Features at a glance
Dual shower head

3 Position Spray Pattern

Independent swiveling of each shower head

The configuration is of quality metal.

Plastic shower heads

Nice water flow

Easy to install and not time-consuming

Gaskets prevent leaks at the connections

Having gaskets to prevent leaks at the connections

Polished finishing

Stylish look

Movable/adjustable shower heads
4. LORDEAR Commercial Flexible 5 Functions  
This set is the inclusion of a handheld shower, a fixed shower head, a shower arm, a slide bar and a stainless hose. Its shower head shells cannot be scratched. There are rubber nozzles to prevent sediment buildup.
The set is chrome finished. In terms of construction, it has a fixed showerhead and handheld shower head. They are 5″ in diameter. 23.6″ adjustable slide bar with 60″ stainless hose is also added. Spray, bubbles, massage, spray bubbles, spray massage are the 5 functions of showerheads.
Both shower heads can spray at the same time or one can be turned on at a time. CHROME-1 includes a straight vertical bar attached to the shower arm at the top. Behind it diverter is located.
On the contrary, at the top CHROME-2 bar is curved and attached down the shower arm. The location of its diverter at the bottom with the bottom bar bracket made its use more convenient. The flange is with a shower arm.
Features at a glance
Having a fixed shower head and handheld shower head

Drill-Free 23.6″ adjustable stainless steel slide bar

Polished Chrome-2 color

Scratch-free shower head shells

Round shape

60″ stainless hose

Shower heads of 5" diameter

Threaded outlet coming with a handheld shower head

5 functions of shower heads.

Well executed chrome coated nylon or other plastic
5. Ana Bath Spot Resist Brushed Nickel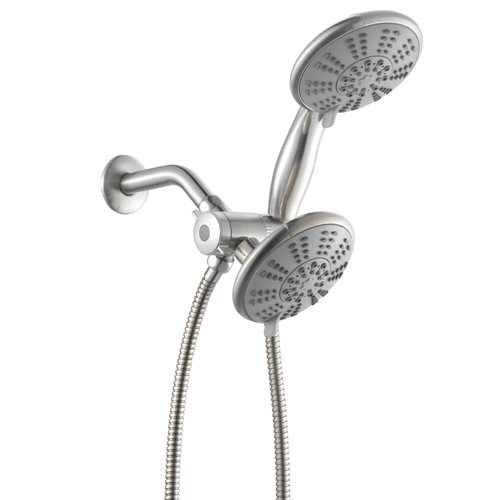 This set has 5-inch large spray. It performs 5 functions. This dual combo shower has a brass connector. In addition to other components, there is a 5 ft stainless steel hose. The nozzles are anti-clog, which are easy to rub clean.
No way for lime and mineral deposit. Pushing nozzles with water on you can easily remove calcium and mineral deposit. Its modern large/wide spray face is with an ergonomic handle.
Its 5-inch-wide spray face provides rainfall spa experience. It will relax you. The handheld shower fits will comfort your hand. The transitional style of it gives a perfect fit to the bathroom.
It is wider and longer than the industry standard. It has a sleeker look. Water can be turned to a handheld shower, stationary shower head, or both shower together or separately. For metal connectors, its durability is noteworthy.
It gives different shower experiences: rain spray, massage spray, massage and rain mix, bubbling spray, bubbling and rain mix. It contains metal hose and fittings. All parts have the same finish electroplating. 
Features at a glance
Brushed nickel color

Modern large/wide spray face with an ergonomic handle

Anti-twist brass conical nut & brass hex nut

Large/wider diverter with brass connector

5 function shower heads with the brass ball joint

5 ft super flexible stainless-steel shower hose with 2 brass nuts

Water-saving shower technology
6. Hotel Spa 1831 30-Setting Ultra-Luxury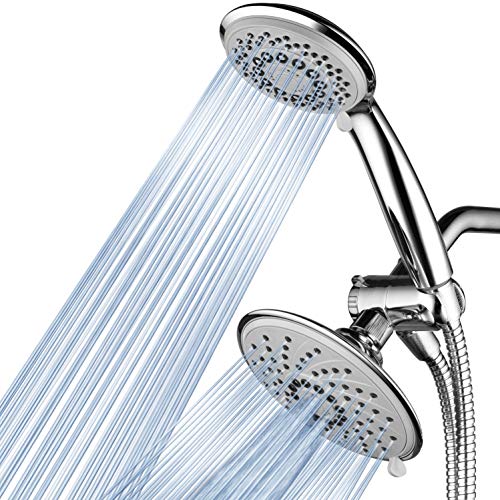 Construction-wise, it is 6/4″- 3-way multi-function rainfall shower head/handheld combo. | It allows the user to use the shower heads separately or both rainfall shower head and handheld shower together. You may choose any of 30 full and combined water flow patterns.
Dual shower head system provides a 6-setting 6-inch rain shower head, 6-setting 4-inch handheld shower, patented 3-way water diverter with anti-swivel lock nut. In addition to them, there are angle-adjustable overhead brackets, 5-foot stainless steel shower hose and plumbers tape.
On top of these, the settings of each shower feature power rain, pulsating massage, hydrating mist, rain/massage, rain/mist. Above all, it ensures a water-saving economy rain.
It is distinguished for its high-power precise spiral flow dial design. 3-zone click lever dial with rub-clean jets have added a dimension to it. It is of chrome color and chrome finish.
Its installation is tool-free and it can be connected in minutes to any standard overhead shower arm. 
Features at a glance
6/4″- 3-Way Rainfall Shower Combo

Chrome color and finish

3 Way Rainfall Handheld Shower Combo

Chrome Plated Premium ABS, Stainless Steel Hose

Circular shape

Wall-Mounted

Easy to Install,

Fits Any Standard Shower Arm,

Angle-Adjustable,

3-zone Click Lever Dial

Rub Clean Jets

Certified as frustration-free

2.5 GPM water flow

5 Feet long hose
7. Luminex by PowerSpa 7-Color 24-Setting LED Shower Head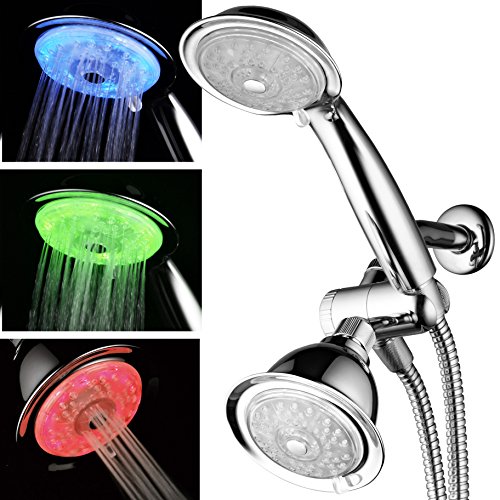 The Luminex shower head is a combination of 24 Setting Color Changing LED Shower head and LED Handheld Shower. It offers more fun and enjoyment into your bathing experience through a water pressure activated LED lighting system.
It creates a rainbow effect while bathing adding a stylish and entertaining sense. No battery is required for powering LED lights as they get powered while running water. 7 vibrant LED colors of it change automatically, gradually blending into one another. It happens frequently.
Air jets design present in it adds oxygen into the water to accelerate water pressure through 48 elastic rub-clean nozzles. As a result, no clogging can take place. This shower head is of 4″ face and has 4 settings like rain, massage, rain with massage and water-saving pause mode.
The showers are angle-adjustable, ensuring easy body reach. Removing handheld shower from the overhead bracket for helps up-close handheld use and mobility.
It has a patented 3-way water diverter, including anti-swivel lock nut. An extra-flexible 5-foot stainless steel shower hose is also there and dual solid brass conical nuts with it make hand-tightening easy. Its flow rate is 2.5 GPM.
Features at a glance
Using each shower separately or simultaneously

24 full and combined water flow patterns

LED lights powered by running water without battery

Automatic color change of 7 vibrant LED

Hydro Supercharged Turbine LED

Used for Commercial/Residential purpose

4″ face of each shower head

Four Spray modes for relaxation

Angle-adjustable

Air Jet design to increase water pressure.

Patented 3-way Water Diverter with Anti-swivel Lock Nut

Extra-flexible 5 ft stainless steel hose

Easy and tool-free installation
8. DreamSpa 3-way 8-Setting Rainfall Shower Head
In terms of construction, this product is ultra-luxury rainfall shower head and multi-setting handheld shower combo. The rainfall shower head is of 7-inch chrome face. Separate and simultaneous use of each shower head is possible.
It is a 3 way multi-function shower combo. This luxury 7-inch rain shower head or 7-function hand shower offers ultimate spa experience.
The high-power hand shower has 4-inch chrome face that includes 7 settings like power rain, pulsating massage, hydro-mist, eco rain, rain/mist, rain/massage and water-saving pause.
The premium 60-inch (5 ft) super flexible hose is aided with dual conical solid brass hose nuts. It helps easy hand tightening.
On top of this, it features 3-zone click lever dial with rub-clean jets, patented 3-way water diverter with anti-swivel lock, angle-adjustable overhead bracket.
It can serve both residential and commercial purposes. You can easily install and fit it to any standard shower arm. Its water consumption is 2.5 GPM. Tool-free installation is another notable aspect of it.
This makes great housewarming gifts for new homeowners, Halloween, Thanksgiving or Christmas present.
Features at a glance
3 Way Multi-Function Shower Combo

Commercial/Residential

Easy to install, fits any standard shower Arm

2.5 GPM water consumption

Circular shape

Patented 3-way water diverter with anti-swivel lock nut

7-inch chrome face rainfall showerhead

4-inch Chrome Face High-power Hand Shower

Stainless Steel Shower Hose

Tools-free Installation

Chrome color and finish

Chrome Plated Premium ABS, Stainless Steel Hose

Angle-adjustable Overhead Bracket
9. AquaDance Total Chrome Premium High-Pressure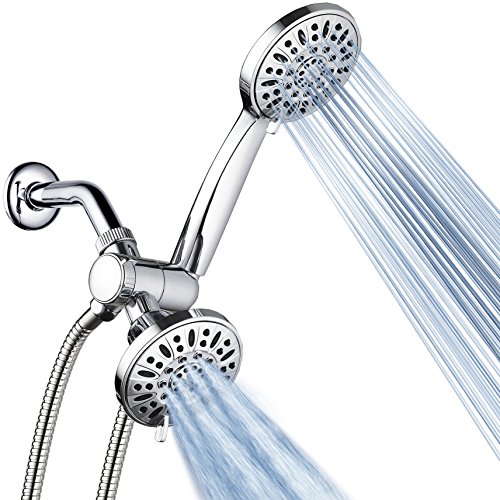 AquaDance Total Chrome Premium High-Pressure 48-setting 3-Way Combo is the combination of the luxurious 6-setting rain shower head and 6-setting handheld the shower. You may use them separately or simultaneously.
Each shower offers 6-settings such as power rain, pulsating massage, power mist, rain massage, rain mist & water saving pause mode. Patented 3-way water diverter included to the product turn the switch to direct water flow between two showers. Ant-Swivel Position Lock Nut is there for an easy and secure connection.
A professional team of US showerhead experts tested it to meet the latest US compliance standards. The premium shower head is of the large 4-inch face. A high-power click lever dial & rub-clean jets, which helps easy cleaning and preventing, lime buildup.
Angles are adjustable & of modern design. The product is almost chrome finish. It can be used as an overhead or handheld shower. The handle is an ergonomic grip.
This combo includes shower head, hand shower, 3-way diverter with built-in bracket, shower hose, washers, plumbers tape, installation manual etc. Easy tool-free connection, you can fit it to any standard shower arm. It is made in China but must pass USA regulations.
Features at a glance
Deluxe 4″/4″ Combo

Fixed & Handheld Showerhead Combo

Chrome Plated Premium ABS, Stainless Steel

Circular shape

Chrome color and finish

Extra-flexible 5 ft. stainless steel hose

2.5 gallons water consumption

Stunning gift box designed in USA

Six full spray settings, patented 3-way diverter

Fits Any Standard Shower Arm,

Easy to Install,

Angle-Adjustable
10. Zoe Mariner 2 Combination Shower Head
As the name suggests, it is a combination of dual shower heads wall mount and handheld. Both are adjustable with 3 positions. It includes a heavy-duty solid brass 24-inch shower bar and allows handheld to slide as you wish.
Its stainless hose is of deluxe 69-inches. Finishing of all parts is a beautiful oil rub bronze. This is available in a brushed nickel finish too.
3 adjustable Sprays are there in both shower head and handheld shower. Only one shower head runs at a time. Using the diverter, you can select which shower head you want to use, either the stationery or the handheld one.
Its shower arm and flange are of solid brass. Diverter valve helps move water from shower head to hand spray. The adjustable shower slide bar is also there.
Its handheld can be tilted in any direction ensures a barrier-free shower. This can be installed in an existing shower too. Its look is great. The price is also reasonable.
It is typical of most adjustable shower heads. The three settings on the shower heads are: shower(mimics rain), multiple hard streams and pulsating hard streams(massage).
Features at a glance
Having dual shower heads

Includes a diverter

Stainless hose

3 adjustable Sprays

Very heavy and well-constructed.

Shower head be moved from side to side and up/down

24-inch shower bar

Can be installed in an existing shower

High longevity.
Consider Before Buying the Best Dual Shower head
Dual shower head systems uplift the décor. Due to their advantageous aspect and practicality in use, they are popular. To make the perfect choice of a dual shower head with mouthwatering options, can be pretty hard.
It is not only a matter of turning on the faucet and coming out of water. Close inspection of the features enables you to choose a great dual shower head or best magnetic shower head from a dreary one.
Design
Available dual shower heads are of various sizes, shapes, and designs. You are to consider the installation specifications in addition to your choice of taste. Determine your liking for a model with a combo and a fixed head or a dual shower arm.
Settings
Taking a shower is a must daily activity for relaxation. Setting the mode as per personal requirement different age group people relax their body or feel stress-free. For instance, to get relief from body aches, you can stand under the shower setting at rain/massage mode.
You can choose any option of rain, massage, mist, power-rain and water-saving economy rain, rain/aeration, rain/massage and a few more.
Convenience
Dual head shower systems include two shower heads. They can be used separately or simultaneously. New model of handheld shower head helps clean any part of your body. Not only that, from dogs to basins, tubs, and walls of the bathroom can be easily cleaned by handling a shower in hand.
Finish
Bathroom accessories must be praiseworthy. The dual shower heads are now found in multiple designs and colors. You can choose a contrasting one from chrome, nickel or bronze coating with a luxurious look.
Price
You can buy showerheads from the online or offline market. Before that, set your budget first. Look for a quality-driven product that is long-lasting. Then buy an ideal one comparing the other features and cost.
Installation
Many dual shower heads are available in the market, installation of which is less time-consuming. Your choice is to be the best model that suits the interiors of the bathroom. A model can be installed on one wall and the other on the adjacent one for extra pleasure.
LED shower heads
LED showerheads attract kids much, for color changing features make their bathing a heavenly experience. Seven different colors of a rainbow are entertaining to them.
Versatility
A smart dual shower head should be versatile. An impressive feature of it is the ease of shutting it off quickly to avoid water wastage. Simultaneously, you will save hand energy for a livelier bathing experience.
Durability
The craft and materials of your best dual shower head must ensure longevity and maintenance. For example, the rooftop finishes bring about minimal showerhead disturbance and internal components of high quality will last you long.
Material construction
Rubber made limiters and sealants of dual shower head help effectively seal water into the unit. Moreover, they help minimize possible corrosion in such an often-wet area.
Cleaning and maintenance
Choose shower head jets, easy to clean so that no buildup of contaminants or any deposits happens. For, water flow might be altered or at the worst for such dirt. Your model must maintain high hygiene standards for zero infections.
Conclusion
Best dual shower heads add an aesthetic view to the bathroom and provide several advantages. Your preference is to be given to the best model with advanced settings and multifarious functions.
It will provide an overwhelming and soothing spa experience staying at home. Discussion of the top-rated models featuring best will be great assistance to choose the best one for your bathroom.
These wall-mounted showerheads offer a relaxing bath for you and your pet. Buy one now and have a pleasant feeling.