Our top picks: Best Shower Light of 2023
There are different types of lights that you can install around your home but when it comes to shower lights, you must ensure that they are listed for use in wet locations. This is because it is not a good idea to mix electricity and water.
Therefore, shower lights are usually defined by having the actual light enclosed in a waterproof housing that prevents moisture from sipping in.
With this in mind, there are quite a variety of these products in the market and this means that it can be quite difficult to select a good one, especially if you are new to them.
However, this article looks at some of the best shower lights that you can get so as to make it easy for you to pick the one that suits your needs.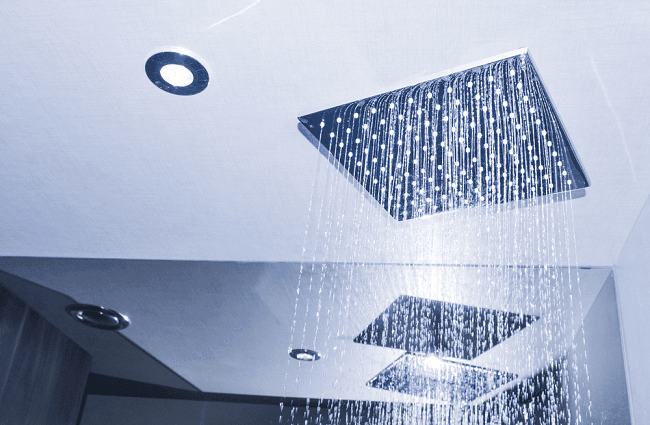 Best Shower Lights Review
Last Amazon price update was: September 24, 2023 6:11 am
Here are 9 of the best shower lights on the market. Go through the list and pick the one that you prefer the most.
1. Cloudy Bay Ceiling Light Fixture,12″ LED Flush Mount
If you want a low-profile shower light, then Cloudy Bay's 17-watt fixture is your best bet. This is because it has a 12-inch-wide diameter face that lays out most of the electrical components inside horizontally so that you get a 1.75-inch-thick product.
With this design, the unit fits very nicely on the ceiling, and can even sit flush when mounted on a junction box.
Construction wise, this product is made of plastic and steel, with a sponge ring all round that prevents moisture and bugs from penetrating inside.
Additionally, it comes in a rust-proof oil-treated bronze or brushed nickel finish, making it suitable for different home styles, while also being durable enough to be used indoors or outdoors such as in living rooms, bedrooms, porches and of course, shower/bathrooms.
On the actual lighting, 17-watt LEDs are employed to provide the lighting, and these save a lot on energy costs, producing a bright 1100 lumen light that is equivalent to that produced by a 120-watt incandescent bulb.
Other features include a dimmable setting and the availability in warm white (3000K) and daylight (5000K) color temperatures.
Features at a glance
17-watt power rating.

Low profile design (12-inch diameter with a thickness of 1.75 inches).

Plastic and steel construction, with a sponge ring all round that keeps out moisture and bugs.

Available in rust-proof oil-treated bronze or brushed nickel finishes.

Luminous flux of 1100 lumens.

Available in warm white (3000K) and daylight (5000K) color temperature options.

Requires silicone to caulk the edges and mounting surface when installing on a wet surface.

Comes with a mounting box, 4 screws and 3 wire nuts for installation.
2. Mr. Beams MB980 Wireless Battery 
Mr. Beams MB980 is the most affordable shower light in this review but this does not mean that it is substandard. In fact, it is a very high-quality light fixture that is fully featured with lots of performance improving hardware.
For starters, the bulb is equipped with energy efficient 7-watt LEDs that produce 100 lumens of bright white light. Since it is battery powered, these LEDs give it a long operating time before requiring a battery change, which is about 35 hours.
This means that you can get up to a year of light from one set of batteries with an average use of 8-10 activations per day. Battery powering also makes it very easy to set up, requiring only to be fixed on the ceiling wirelessly in a process that takes about 5 minutes.
To make it even more efficient, this product incorporates the use of a motion sensor, which ensures that the LEDs are only powered up once movement is detected within 20 feet, then automatically shuts off 30 seconds after the motion stops.
On top of this, the unit has a photocell that ensures the LEDs only light up when it is dark, and this keeps it off during the day. Other features include a 260 square feet light coverage, a tight weatherproof seal.
Features at a glance
Affordable.

Battery powered (requires four C-cell batteries).

7-watt LEDs that produce 100 lumens of bright white light, covering 260 square feet.

Fast and easy wireless installation.

Motion sensor switch.

Photocell for keeping it off during the day.
3. TORCHSTAR 6″ LED Recessed Downlight
Torchstar's 9-watt light fixture is innovatively designed with a J-box attached that makes it easy to install for both remodeling and new constructions. It also has a slim body that is designed to fit in sloped or shallow ceilings with limited space.
If you have insulated ceilings, this fixture can also be installed inside the insulation because it has an airtight and IC rated construction, which prevents heated airflow diffusion from affecting your air conditioning or heating.
In terms of performance, the unit's 9-watt LEDs have a luminous flux of 700 lumens, producing the light beam at an angle of 120 and at a color temperature of 2700K (soft white). There is also a 5000K (daylight) option if you prefer a higher color temperature.
Regardless of the color temperature, this downlight features a smooth dimming range of 10-100% with no flickers and has a baffled trim that protects your eyes from the illuminated glare.
Other features include plastic construction, an estimated service life of 36.5 years on a 3 hour/day usage.
Features at a glance
9-watt power rating.

Attached J-box for easy installation.

Airtight, IC rated plastic construction.

Luminous flux of 700 lumens.

Produces the light beam at an angle of 120.

Available in 2700K and 5000K color temperatures.

Smooth dimming range of 10-100%.

Baffled trim to protect your eyes from the glare.

Estimated service life of 36.5 years on a 3hr/day usage.
4. OBSESS 3-Inch IP54 Waterproof Shower Light
Obsess' 8-watt LED shower light is the most expensive product in this review but is also the top-rated light fixture and this is because it incorporates the use of COB LEDs, which are more efficient than the standard SMD LEDs.
This COB chip produces a brightness of 600 lumens, with the option of either a 3000K (warm white) or 4000K (neutral white) color temperature to suit your preference.
On safety, the unit is IC rated, and when the temperature of the internal IC gets to 150C, the driver in the junction box will automatically cut off the power supply. This ensures that the circuit does not overheat, protecting your house from accidental fires caused by hot light fixtures.
For dimming, this downlight can be dimmed on a range of 5-100% and requires no warm-up time. In the process, it does not hum, pause or produce any flickering, making the transition very smooth.
Construction-wise, an aluminum structure makes the fixture very strong and durable. It also makes the light dustproof and waterproof, making it ideal for wet locations such as in the shower environment. It also has aluminum cooling fins and an aluminum junction box for safe electrical connections.
Features at a glance
Efficient COB LEDs for lighting.

8-watt power rating.

A brightness of 600 lumens.

Available in either a 3000K (warm white) or 4000K (neutral white) color temperature.

IC rated, with a driver to shut off the power automatically in case the internal IC overheats.

Dimming range of 5-100%.

Strong and durable aluminum construction that is also dust and waterproof.

35000-hour lifespan.

Rotatable.
5. BIGLIGHT Wireless Battery-Operated LED 
Biglight's shower light is also a battery-operated LED fixture that requires 3 C-cell batteries. This setup also means that it is very easy to install, requiring only a few minutes to screw it into your ceiling.
In terms of power consumption, this product is the most energy efficient, featuring five super bright 2-watt LEDs that have a lifespan of 80,000 hours. They produce a brightness of 250 lumens and a warm white light color temperature at 3000K.
To make the fixture conserve more energy, it is equipped with a motion sensor, which lights up the LEDs once movement is detected within 11.5 feet. The same sensor turns off the light when no movement is detected after 20 seconds and this helps to conserve the batteries.
This motion sensor is then controlled using a light sensor, which ensures that it can only operate at night when it is dark.
Structurally, the product has a rounded plastic housing construction that keeps the LEDs inside waterproofed, making it usable in both dry and wet rooms, from your closet and stairway to the shower and bathroom.
Features at a glance
Battery-operated LED fixture that requires 3 C-Cell batteries.

Easy to install.

2-watt power rating.

Luminous flux of 250 lumens.

Warm white color temperature (3000K).

Motion sensor switch.

Light sensor ensures it only operates at night.

Waterproof plastic construction.
6. BIGLIGHT Battery Operated LED Ceiling Light Indoor Outdoor
These battery-operated LEDs arrive in 4 various lighting modes and color options. You can choose any colors and brightness levels according to your choice. There will be no need to set any wireless connection for that. You will get a remote, which is able to operate within 20 feet. It contains a dimmer button to adjust the luminance to 4 levels.
Once you turn off a light, it can be troublesome to set the brightness and colors after turning it on. With these lights, you will not face this problem anymore. It can remember the last settings when you turn it on again.
All ceiling lights consist of four bright LEDs with 180 lumens. They have a circular shape and plastic construction. They require three C-cell batteries to operate. The cells are too durable to provide flawless service for a long time. But you have to purchase them separately as they are not part of the package.
The setup process is quite straightforward. You will only need a screw that will be included with the product. Follow the user manual properly for a successful installation. Once you have them, you will be impressed with all the beneficial features of this shower light.
Features at a glance
Four different lighting modes comes in 16 colors

Remote controlled lights don't require any wired connection

Last brightness and color level remembering capabilities

Dimmer buttons enable us to choose any of the four brightness settings

Powered by very long-lasting 3C-Cell batteries

Quick installation with the included screws
7. Mr. Beams MB990 UltraBright Wireless Battery
They utilize a clean and modern design that blends beautifully with any home decoration. The 300 lumens of bright light illuminates all dark areas instantly. As they feature a diffuser, the light can brighten up a wide coverage area. One light is sufficient for 300 square feet coverage.
They required D batteries to activate. You have to buy them separately. Once you buy one set, it will easily last for a long time. Even if they have to withstand 8-10 activations per day, they will be able to provide service for up to one year.
They deliver motion activation benefits from 18 feet as well. They can sense quick change and take action according to the changes. The light sensor can shut off the light automatically and prevent light activation during the daytime. As a result, the lifespan of the battery extends. Above all, they don't get affected by the moisture and heat of the surrounding environment.
Their setup system doesn't require any electrician because there will be no need for any wired connection. You can do it yourself within five minutes with the included screws.
Features at a glance
Battery-operated LED offers 300 lumens of bright light

Compact, weatherproof, and modern design

Large coverage area due to a unique diffuser

Motion activation and automatic shut off functions

Easy setup produce takes only a few minutes with a screw

Prolonged battery life with the light sensor
8. LE Flush Mount Ceiling Light Fixture, Waterproof
These premium quality LEDs are popular for their bright and even illumination. They have more than 80 CRI rating because of the perfect light and texture appearance. Besides, their classic, small, and cylindrical appearance will look great in any place.
Their milky white casing lessens the probability of glares as well as offers a better light experience. These lights resist moisture and water penetration. Their plastic coating is responsible for separating all dew and moisture from the interior. That's why they achieve an IP54 water-resistant rating. You can use them in balconies, washrooms, or basements without worrying about their functionalities.
A single LED is an excellent alternative to 100W incandescent models as they consume almost 85-percent less power. Though they are small in size, one 15W light delivers 1250lm brightness, which is capable of illuminating up to 129 square feet area.
Their pull-on installation mechanism is more simple and more comfortable than all traditional processes. So it will definitely save lots of your time as well as effort. The customers will get three anti-vibration pads to make the lights more stable. Moreover, the deal will contain many screws and expansion tubes absolutely free for the buyers.
Features at a glance
CRI 80+ rating for the bright, uniform and accurate service

The white casing protects us from glares while giving an impressive light experience.

The plastic structure is water-resistant and moisture resistant

A single 1250lm LED light is enough to light up 86~129 square feet area

Cylindrical, energy-efficient and non-dimmable

Pull-on installation design is super convenient
9. Cloudy Bay LMFFM712840WH 7.5 inch LED Ceiling Light
If you are looking for such light that will preserve the right color and texture of all objects, go for this one. It enables us to visualize everything with their most accurate color due to the CRI90+ rating. Such vivid lighting is pretty rare when it comes to other similar products.
It measures 7.5-inch in width and 1.2-inch in height. The users can pick between 3000K, 4000K, and 5000K options to get warm, cool, and bright white light, respectively. This sleek design and white finish go well with all home settings. The rustproof mainframe delivers maximum protection against corrosion. Therefore, they will certainly be usable for at least a year.
If you want, you can use them with dimmers for getting 10 to 100-percent dimmed illumination. The overall suite contains a silicone caulk apart from the main product. When you want to use the lights in any wet location, don't forget to cover the rim with the caulk. In this way, it will be safe from all damages caused by moisture.
The manufacturers keep customer safety in mind while producing it. They supply an insulated transparent cover so that we will be safe from electrical accidents. Besides, it features a LED disk module for decreasing the chance of glare concentration in the middle.
Features at a glance
Ability to preserve the original color of objects in a better way compared to other alternatives.

Low profile, lightweight and stylish

Effortless, quick and straightforward installation

Available in several white light options

Protection against moisture, water, and insects

The high-quality and even illumination is ideal for hallways, restroom, and stairways
Consider Before Buying the Best Shower Lights
 Before buying a shower light fixture, there are a number of things that you need to consider.
Battery or AC powered
Battery powered shower lights are usually very easy to install since they require no power cabling. They also require no physical switch because this is handled by a motion sensor and are usually more affordable that AC shower lights.
However, these fixtures might not be as bright as their AC counterparts and their brightness usually fades away as the batteries continuously get depleted over time.
On the other hand, AC shower lights provide unmatched performance when it comes to brightness since their power supply is not limited.
However, they require a more complex installation process due to the power cabling and because they are usually more powerful, they come at a higher cost.
Buying Guide: If brightness is your main concern, then you should buy an AC-powered shower light. However, if you prefer convenience and ease of use, then you should consider a battery-operated fixture.
Color temperature
Given in degrees Kelvin, this value shows the actual color of the light as opposed to its temperature. The lower values (3000K and below) are usually yellowish in color while the higher values (4000K and above) are whiter.
The choice between these colors is ultimately down to personal preference because the color does not affect the performance of the shower light.
Luminous Flux
Measured in lumens, this shows the brightness of the bulb. The higher the value, the brighter the bulb and vice versa.
The choice here is also down to personal preference because some prefer very bright shower lights while others can work with dimmer options. However, a higher lumen value usually also means a higher power consumption because more LEDs are used.
Wattage
The power consumption or rating of an electrical component is mostly given in watts and the higher the value, the more the energy that the component consumes.
The most energy efficient type of lights are LEDs and thus, if you are really cautious about your power bills, then you need to buy LED lighting for your shower.
All the 5 products reviewed above are LED lights and although there are slight power-rating differences between them, in general, they are all very energy efficient as compared to incandescent or other types of fixtures.
Dimmable
A dimmable feature is very desirable to have in a shower light because it lets you adjust the brightness level and therefore, you are able to control the mood. For instance, you can use dimmer lights to create a more relaxing shower experience and brighter lights for the usual or normal showering sessions.
Motion Sensing
This feature is usually found in battery operated shower lights and although its main purpose is to conserve battery power, it gives you the convenience of having an automated on/off mechanism.
This means that you won't have to physically tap the wall switch and therefore, if you prefer this type of convenience, then you should definitely consider buying a shower light with a motion sensing mechanism.
Conclusion
In conclusion, there are different types and varieties of shower lights and even though their main purpose is to light up your shower or bathroom, they have some slight differences between them that determine their quality and performance.
The good thing though is that after going through the review above, you should be in a better position to pick the best shower light, which is the one that suits most of your needs.