For most women, makeup is an important tool for sustaining beauty and confidence. Not getting it right can cause a banana skin when you eventually notice later in the day. However, a bad makeup doesn't necessarily mean you're a bad artist or applier, it could mean that you just don't have the right illumination to create the perfect ambiance you need for that facial application.
You may not know this, but your bathroom light is one of the most important things to put into consideration before applying. Ask any professional what makes their work spectacular besides the expertise and touch of creativity, they'll tell you it's the decent lamp they make use of.
That's why we are here with 10 of the best bathroom vanity lamp for makeup. Today, the constant struggle to get the best effects ends! After reading this, you can go ahead to make things right and also end the bad days! 
Quick Answer – Bathroom Vanity Lighting for Makeup
Best Bathroom Vanity Lighting for Makeup Reviews
---
Progress Lighting P300047-009 3-100W
---
Calhoun Brushed Nickel Three-Light Bath & Vanity produces that nice and cozy atmosphere with its apothecary design and clear glass diffuser.
The classic style of this lamp is specially designed to complement any home décor styles and would be a perfect fit for you if you're vintage. The clear glass diffuser feature, on the other hand, allows for perfect illumination in your bathroom, which is what you need to get your face fixed well without even struggling. 
Instead of just turning round and round to get the right illumination before applying your mascara, foundation or eyeliner, this classic lamp will help you to get better effects for your beautiful face without having to struggle at all.
Calhoun is designed for both aesthetic and functional purposes with its apothecary style and clear glass feature for perfect illumination. It is easy to install and can be easily fixed anywhere you want. It has a remarkably versatile design for a variety of display styles and fixtures.
Calhoun produces better illumination if you have high ceilings. It's best hung high on the wall, facing up or down, for perfect illumination in your room.
Features at a glance
Aesthetic and functional build

Apothecary design that makes it look crafty and fashionable

Clear glass diffuser that allows for the bright and solid illumination

Versatile design for both residential and industrial settings

Brushed nickel texture to add to its vintage appearance
---
Design House 519736 Ajax 3 Light Vanity Light
---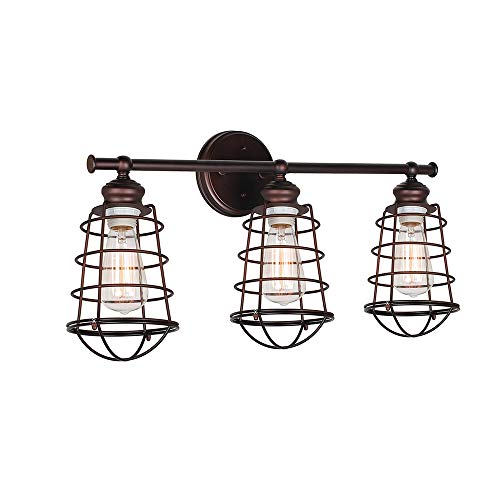 A lamp with the perfect fixtures, specification, and illumination for your makeup appearances is Design House Ajax 3 Light Vanity. For an easier and better facial touch up, Design House Ajax 3 could be a perfect replacement for daytime brightness.
With its modern build, metal wire shades design, coffee-colored texture, and bright illumination, you get to add beauty to yourself and at the same time, brighten up your room. The strong beam this lamp produces will also help you to add lively colors to your beautifully shaped face.
Design House Ajax can be used with 3 medium-base bulbs or LED (60 watts). One of the quite interesting features of this vanity lamp is it works well in damp locations. So, you can be sure it'll last long. It is also electrically-wired. The best part of it all is you can mount this sturdily designed lamp as want you it, facing up or down.
Features at a glance
Coffee-colored texture and build

Produces bright, reliable beam

It works in damp locations

Quite durable

Reliable and long-lasting. Last for a lifetime with proper maintenance.
---
Kira Home Mason 23″ 3-Light Industrial Vanity/Bathroom Light 
---
Kira Home Mason is just the right choice for you if you want to replace those deceiving lamps with a brighter and better one.
Truth be told, colorful lamps don't provide the brightest illumination you need in your room. Kira Home Mason is a better option if you want an improved beam and a livelier atmosphere in your home.
To add to your bathroom decor is its elegant look. Kira Home Mason has 3 seed glass jar shades with a wonderfully sleek surface and a smooth oil-rubbed bronze finish to add to the beautiful feel and texture.
This elegant 3-socket vanity lamp is dimmable, unlike many lamps you'll find in the market. It can also be fixed facing up or down just to ensure you get a decent brilliance and fixture.
The lamp can be easily assembled and installed. It comes with easily understandable instructions on how to fix them. For the perfect beam, this lamp should be mounted high above your mirror and vanity table.
Features at a glance
Industrial style with a handmade appearance

Dimmable

Oil rubbed bronze finish

Versatile installation and fixtures

Can be assembled and installed easily without having to rummage through your toolbox

Listed in UL for damp location compatibility
---
Kichler 37423 Barrington Distressed Black and Wood Cylinder 
---
Kichler Vanity Light may be used as the replacement for that daytime brightness, instead of just wasting your time scouring the net for a very long time to get the best brilliance.
Kichler is also one of the best options for a house with sophisticated home interior décor and designs.
The distressed dark wood finishing gives that aesthetic appeal to your bathroom. On the other hand, the clear seeded glass shades offer a brighter and more elegant beam that provides the wide coverage needed for you to apply your makeup on your face.
Kichler comes with 4 traditional medium-base bulbs (60 watts). When used with other lamps, the combination of its wooden, metal and glass design makes it a wonderful blend.
Above all the cohesive feature it has similarly contributes to its versatility and blend with other lightings.
Features at a glance
Daylight-like beam

Traditional feature

The faux wood finish for an elegant modern home décor

Easy mountable. Comes with easy-to-read instructions and hardware
---
Westinghouse Lighting 6343400 Iron Hill Three-Light Indoor Wall Fixture
---
This lamp is a great choice for you if you truly want something with a blend of charmingly rustic and industrial décor styles. Whether you want a light to fill your modern décor or complement your traditional home styles, Westinghouse comes to mind as one of the best choices you can have.
The vintage and industrial build of Westinghouse makes it a perfect fit for every bathroom design.  Its rich oil rubbed bronze finish and metal shades add to the traditional appeal it has.
Westinghouse works with 3 60-watt medium bulbs. These are, however, not included in the pack, but can be gotten from any store at a relatively affordable cost. You can also use the Edison LED bulbs instead. This particular type adds to that rustic vintage appeal and makes your room more beautiful and functional. The Edison LEDs are more energy-efficient too and can last you longer than halogens or fluorescents.
For a beautiful brilliance and an elegant touch in your bathroom, this quality lamp is what you should choose. It is pocket-friendly and would be a great choice as your vanity light.
Westinghouse is quite easy to install. Included in its pack are easy-to-understand instructions and useful hardware for mounting.
Features at a glance
Listed in ETL /CETL

Has a functional, durable and reliable design

Lightweight

Dimmable, when used with the appropriate bulb types

Provides strong lights for your makeup application
---
Globe Electric 5o192 Parker 5-Piece All-In-One Bathroom Set
---
To apply makeup, you need to be able to see clearly in other not to miss a spot or, maybe, apply the wrong color. And to get that clear vision indoors, you need a strong lamp that can give you a perfect blend of quality illumination and task lighting. In all the light emanating from the lamp must be bright enough for you to be able to apply with ease and never miss any spot.
Globe Electric All-in-One Bathroom Set is one of the best options for vanity lamps. One thing you can be sure of when purchasing this particular lamp is that they emanate the brightest rays you need for your makeup application. Some lamps may cause shadows on your skin because they're not bright enough. However, Globe Electric All-in-One Bathroom Set is bright. The clear glass shades provide a heavenly ambiance for your bathroom.
One highlight feature of this amazing lamp is that it comes with 5 different functions. Functions well as your bathroom vanity lamp and come with other important bathroom furniture like a towel ring, towel bar, tissue holder, and robe hook.
Quite fascinating right? You can get this and save a lot of space and money getting spent on the other furniture.
This lamp is built to fit in any setting with its refined vintage design. Each piece of the kit can also be used separately in different locations in your house.
Features at a glance
5-in-one-bathroom kit

Refined vintage design for all bathroom décor styles

Bright and dimmable lights

Cost-effective

Versatile; each piece can be used in different locations
---
Howplumb Brushed Nickel 4 Globe Vanity Bath Light  
---
What you don't need in your bathroom is a brightly glowing yellow ray. They may be bright enough for you to brush and smear your powder or foundation, however, they're greatly deceiving.
But you can solve that problem easily by changing your lamp to one that can provide you with quality and reliable illumination. One option that fits this description is Howplumb's Brushed Nickel. This sophisticated lamp produces a warm bright light similar to that of daylight. You'd need four 100w A-type bulbs or any other equivalent (halogen, CFL, incandescent, or LED) to achieve this bright spectrum.
One fascinating feature is the curved shape and the icy highlights of the glass that makes for the brightest illumination you can ever imagine. This remarkable feature makes Brushed Nickel Vanity Bath Light a suitable vanity lamp for your bathroom. It will look great above your mirror after it has been easily mounted facing your ceiling or the ground.
Features at a glance
Crystal white glass shades produce a replica of daytime illumination

Reliable beam

Modern design for modern bathrooms

Brushed-nickel finish

Can be easily mounted facing down or up for the perfect room illumination
---
Designers Impressions Juno Matte Black 3 Light Wall   
---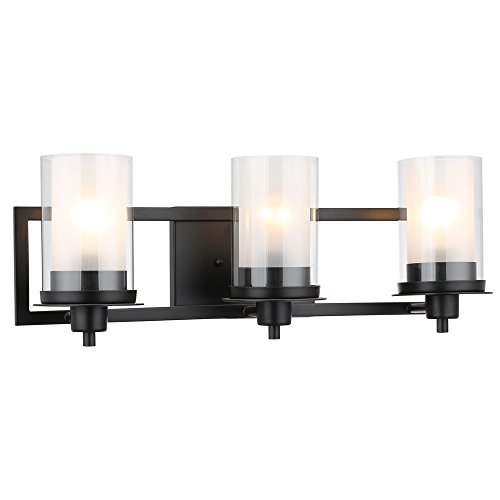 As mentioned earlier, the perfect light for makeup is daylight. But indoors, you can't get that. You need to reinvent that daytime illumination just to ensure you get the best effects for your beautiful face.
To get a replica lamp can be quite difficult if you don't know what you're looking for exactly. There are a lot of bathroom lamps in the market incapable of producing just the exact kind of illumination – a warm bright beam –that you need to get your face perfectly made up.
But you don't have to worry about the right lamp to get, Designers Impressions Bathroom Fixture Frosted is just one of the best options you can go for. The matte black finish would be a great combination to any wall color.
The clear frosted glass shades also allow for more brightness for you to appropriately get your face fixed, just like you want it.
This lamp requires you to fix 3 60 watt medium-base bulbs which you'd have to purchase in a store as they won't be included in the package.
One less interesting feature of this lamp is that it can only be mounted facing your ceiling. But that's not a problem if you are down for a bright modern glow in your beautiful bathroom.
Features at a glance
Easy to install

Can only be mounted facing upwards

Clear and frosty glass shades for brighter ambiance

Stylish design

Easy to mount

Bright and shaded illumination
---
Nuvo SF77/193 Four Light Vanity Strip
---
Have you ever felt you've not done just enough, even after taking a lot of time to apply your makeup? Well, one reason could be that your lamp is not bright enough for you to confirm you're perfect before making off for the day.
The importance of illumination in makeup cannot be overemphasized. By now you must have mastered the fact that it is a very essential instrument to perfectly smearing your face to your satisfaction.
Nuvo Vanity Strip can give you that ambiance you need to get that confirmation before heading out for work or for that planned dinner with your lover.
Nuvo Vanity Strip ends the constant struggle to get the best effects. This metal lamp is built with a polished chrome frame and a blue easily removable sheltering cover.
This lamp needs 4 g-type medium base bulbs (100-watt). You can be sure of the best quality when you buy this lamp as it was manufactured by one of the industry's best. It also produces a remarkable mix of functionality and elegance for your bathroom.
Features at a glance
Stylish design

Easy to assemble

Can be fixed in any position around your mirror

Has a chrome polished frame
---
Lithonia Lighting FMVCAL 36-Inch MVOLT
---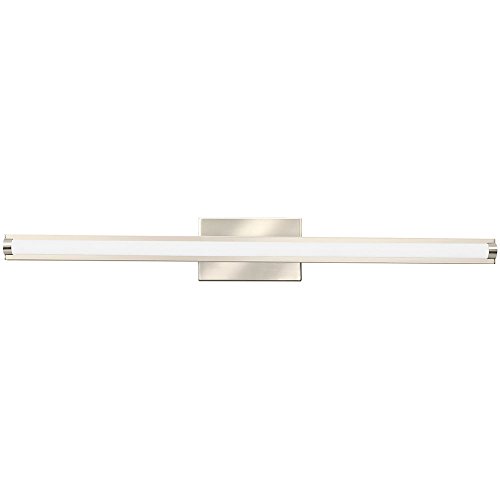 Lithonia Lighting FMVCAL is that lamp that will give you both the form and functionality you're looking for. Lithonia FMVCAL allows you to save on power. Instead of buying those cheap and low-quality fluorescents that take a large chunk of your money as well as your power, you can just get the 3K LED. This particular lamp consumes way less than regular lamps.
This lamp is long-lasting. You can forget the constant replacement of bulbs. As this lamp produces 50,000 hours of brilliance, which approximates to about 23 years of use. This lamp is quality. You can be assured you won't get low glows, flickering or intermittent dims.
Lithonia FMVCAL is a good item for your home. It complements the beauty and décor of your home and creates that welcoming atmosphere for you and your family.
Lithonia FMVCAL's quality level has also been confirmed to be standard. The product complies with the ADA standard. It is also 24 compliant for California, certified by Energy Star.
Above all, Lithonia FMVCAL UL listed in Canada and the US for damp location compatibility.
Features at a glance
Elegantly designed

Cost-efficient and power-efficient

Meets the overall standard for product quality and compliance

Offers high-quality illumination

Easy to maintain
---
Best Bathroom Vanity Lighting for Makeup
Buying Guide
---
Before purchasing any vanity lamp for your bathroom, you have to be sure you're getting one with the appropriate specifications, one that fits your bedroom as well as your pocket. Before anything else, you want to be entirely sure you're getting a bathroom vanity lamp with the best function and form.
Below are some of the most important things to put into mind when purchasing your vanity lamps;
Design
To easily fix yourself with good makeup, you need a decent bathroom lighting. And asides that, you also need it to create a comfortable, homely and lovely atmosphere in your house.
Interestingly, good lighting also makes your room brightly lit and more functional for you.
So before ordering one, make sure the design of the lamp you're going for is compatible with your bathroom interior designs. This is vitally important.
Lamp Color
Another thing to put into consideration is the color your lamp produces. Colorful lights are very deceitful. For example, yellowish lights can show your skin color like beige and this can cause you to think you're having bad skin and need to add more powder or concealer than is necessary to hide the complexion and the dark spots.
The bad thing about this is that you wouldn't notice until you get out in the daylight, or when a friend points it out and this can be embarrassing for you. So, to avoid embarrassment, get a lamp without heavy confusing colors. Your choice must be warm clear and white like daylight.
One thing you don't need over your bathroom mirror is deceiving lights that can allow you to miss strategic spots on your face. They may present you with beautiful and overly colorful rays that make for a utopian atmosphere; however, they do not come as the right fit for you if you want perfect touch-ups.
So before purchasing any lamp, check the product specifications to ensure you're getting just the right illumination needed for your daily beauty ablution.
Function
Daylight is the best option for makeup application. However, you can't get that when you are within. So, to recreate that daylight ambiance whenever you're indoors, you need to install a reliable lamp with just the right light fixtures and features in your room. They must be bright enough for you not to miss spots. They must not be too bright to that they tempt you to apply more foundation, concealer or mascara.
Maintenance
For every household furniture, maintenance is the key, and to make sure that your lamp lasts you a lifetime, you need to be able to constantly maintain it well. That's why getting a lamp that's completely easy to maintain is important. Ensure the lifespan is long enough to last you until you're ready to replace it.
Bulb types
You have to seriously consider the type of but you're going to be purchasing before going online to make any order. This is important if you want a bulb with just the right color and quality that's perfect for your makeup application.
Every bulb type produces a different intensity and color. The illumination LEDs produce is quite difficult from that Halogens produce, or other bulb-type for that matter.
Conclusion
Most times, you can't get that natural daytime lighting. But, on the contrary, you have a lot of better options in artificial lamps.
And to replicate that daytime beam, you can install warm white lights. These lights usually provide the replacement for that fresh spectrum daytime illumination offers. Asides that, it also allows you to evenly smear your whole face for perfect beauty, without leaving any spot out.
Your search for the perfect fit for your beautiful bedroom ends today. No need to go too far. The lamps on the list are the best choice. They're all perfect fits for any bathroom décor and design. 
Recommended Resources