Our top picks: Best Combination Shower Head of 2023
A relaxing shower gives a heavenly experience after a tiring day. It can change our mood within no time. Single showerheads fail to provide the maximum body coverage we want. Unlike them, a combination unit head allows several water streams to fall like rain on our bodies.
The water comfortably reaches each of our bodies. Some also offer to change the water pressure according to our needs. The increased water flow results in a more powerful shower. We don't have to spend much time in the washroom to get a clean body. So, enjoying a rejuvenating shower without the best combination shower head is impossible.
All of us look for the best showerhead for each age group. Since the store is full of a lot of options, it can be challenging to find the right one. But the good news is we have discovered some qualified models after long research.
Let's dive into the in-depth reviews of all of them. 
Review of the Best Combination Shower Head
Last Amazon price update was: December 5, 2023 5:16 pm
1. Moen IN208C2 Aromatherapy Combination Shower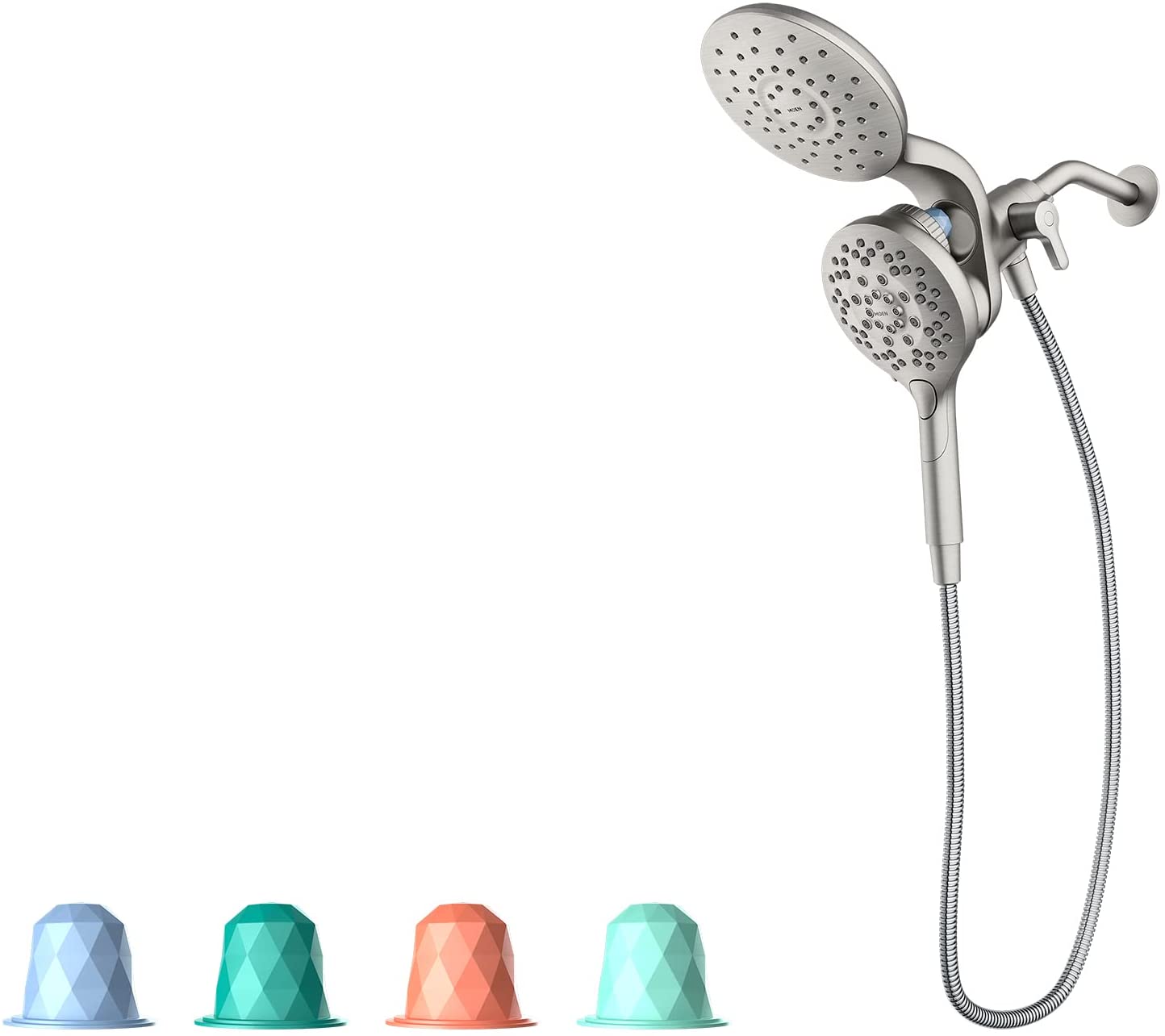 This item will give a luxurious sensory bath. It comes with a rain shower and a hand shower. People use them separately for partial coverage or both for maximum coverage.
There are six hand shower spray settings. They ensure optimal water pressure as well as complete satisfaction. Users have choices to select from slow-flowing to high-flowing water.
It is one of the magnetic handheld showers of the Moen brand. Such a product utilizes magnetic docking. The magnet is for immediate water release and pulling the hand shower back into its state.
The bundle covers five shower capsule packs. You will find 14 capsules having four kinds of fragrances. They emit essential oils into the hand shower water. Thus, you will be enjoying an aromatherapy spa whenever you need it.
The overall system is easy to create. Firstly, place a shower capsule into the shower's infusion dial. Then, press the desired dilution button for infusing the water. And your aromatherapy bath is ready. The best part is that you won't notice any oily residue on the tub or your skin.
Features at a glance
Five packers of shower capsule

Different fragrance settings

Six adjustable hand shower spray settings

Spot-resistant nickel finish

Magnetic dock for quick release of the hand shower

Customizable shower system
2. Delta Faucet 4-Spray Touch-Clean In2ition 2-in-1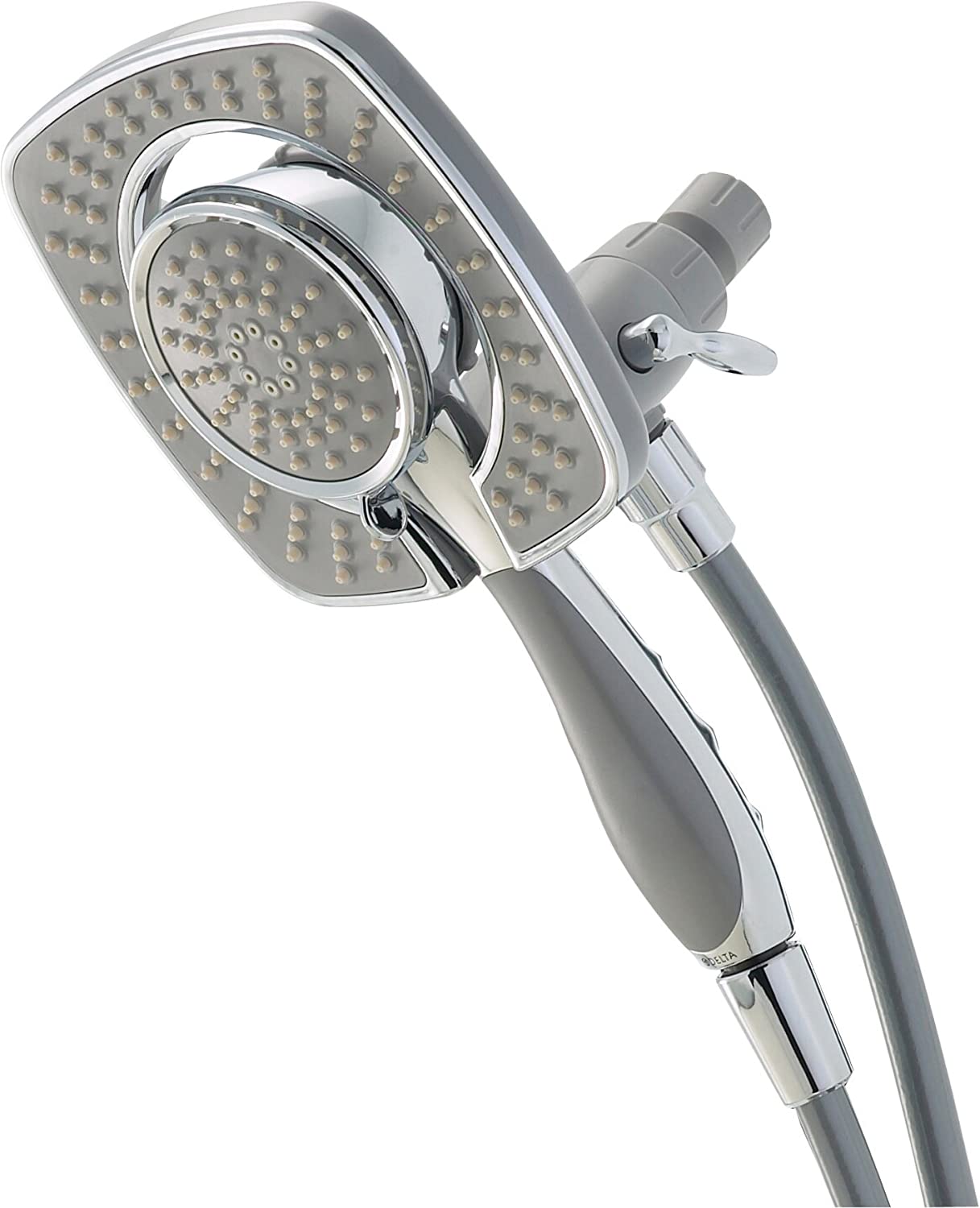 This combo covers two shower heads. One of them is detachable. You can use it separately with the hose. Besides, setting it simultaneously with the fixed shower will give you a luxurious shower. This combined dual-functionality ensures optimum flexibility without compromising warmth.
The water streams are intensely powerful. Once you turn on the showerheads, these forceful water streams will complete most of the showering needs. Gradually, they will relieve soreness in your muscles.
All users may not like the same spray types. Again, the same person may prefer different sprays for different purposes. That's why the manufacturers designed a total of 5 powerful spray modes. They are full-body spray with/without massage, quick/slow massaging streams, and Pause.
The pause option provides enough space for doing minor shower tasks. Then the users can restart the water flow with their previous temperature. It helps in conserving water too.
Its soft rubber spray holes prohibit mineral buildup over time. Even if there is any, you can simply wipe them away with a soft towel. It will give a quick, refreshed look. Note that you don't have to use any chemical cleaners.
Features at a glance
Detachable hand shower

Combined or separate use of dual shower heads

Powerful water streams

Five individual spray options

Zero mineral buildup with rubber spray holes

Pause setting for saving water
3. Antimicrobial/Anti-Clog High-Pressure 30-setting
Traditional shower systems face water-clogging problems after some uses. It results in restricting water flow. These shower nozzles are opposite to them. Even after using it for a year, it will keep giving a flawless performance.
The showers implement revolutionary micro ban technology. As a result, there is no chance of building up mold, mildew, or bacteria inside and outside the shower heads.
Another excellent feature is its flexible rubber design. It enables us to remove calcium, and mineral deposits easily. All we have to do is rub with a soft towel. In this way, we can keep the shower system clean forever.
It features a patented water diverter. It allows you to choose two luxury shower options individually or together. Six pressure dials are there, such as rain, rain/massage, massage, mist, rain/mist, and Pause. Pause activates and terminates water flow giving us ample space to complete small skin-care tasks.
The overall construction and technologies keep the shower heads safe from degradation over time. Thus, they extend the longevity of these shower heads.
Features at a glance
Less prone to clogging

Restricts the growth of bacteria

Flexible rubber design

Easy to get rid of buildups

Patented water diverter

Long stainless steel hose
4. AquaStorm by HotelSpa 30-Setting
A group of people looks for designs that have unbeatable performance even under less water pressure. They should go for this one. Its mounting process does not take more than five minutes and extra tools.
The rainfall showerhead has a spot-resistant chrome coating. It does not allow any lime buildup. Still, you may notice some debris around the faucets. People easily clean them without harsh detergent. For experimenting with your bath time, it has six settings, including the water-saving mode.
There are also the same six water sprays in the hand shower. Its ergonomic grip handle does not slip from the user's hand while bathing. Adjust their angles for maximum convenience. The chrome finish completed its design, leaving a shiny surface.
It features a three-way water converter. We can use both faucets together or separately. It has a switch to control the direction of water flow between two paths. Simultaneous water streams will come after activating the ON valve on the showers.
The showers are placeable at the designed angle without the need for our hands. All credits go to the adjustable overhead bracket.
Features at a glance
Six settings in both showerhead

Innovative dial design

Reduced water usage

Three-way water diverter

Flexible shower hose

Straightforward installation system
5. Bright Showers Rain Shower head with Handheld
Next is Bright Shower's dual shower heads. Just like the other top products, it has a three-way diverter. Due to its existence, you can turn on the rain shower or handheld shower individually or together.
The handheld shower head delivers the capability of changing angles. Meanwhile, a robust brass ball joint secures a leak-free connection. Therefore, you don't have to worry about leaking while fixing the shower to the required angle.
It has three spray settings. The first is rain spray, and the second is massaging streams. The final one forms a more potent shower mode by combining them.
Let's talk about the 8-inch rain shower head. We like the fact that it has 200 nozzles for the highest coverage. Plus, they are self-cleaning. They push out water harder without clogging the holes.
The package includes a 60-inch long hose to build a flexible scheme. This stainless steel tube arrives with a double hook system. It makes the hose flexible enough to move and release a splash of water on your body, tub, or walls.
Features at a glance
Two individual shower heads

Three spray forms

Less maintenance requirement

Impressive brushed nickel finish

Removable flow restrictor

Included shower hose, wall suction bracket
6. DreamSpa 3-way 8-Setting Rainfall Shower Head
This 3-way rainfall/handheld pack is a fantastic gift for friends or personal use. Use any of them or both. It will boost your mood.
Both shower heads have superior chrome finishing. Their metallic looks remain the same for a long time. Make sure to wipe them down routinely to avoid hard water spots.
You will be surprised to know that the rainfall shower measures 7 inches in diameter. A wider dimension means better coverage. It means the water will fall into a large section of your body. It will take away the soap, and dirt quickly.
A luxurious spa-like bath time is feasible with the 4-inch hand shower. You can control the water falling styles and pressure by selecting any of its seven arrangements. One of them is a water-saving Pause. It saves water if you want to take a break from bathing.
An overhead bracket is a segment of the hand shower. It allows us to move the faucet any place we want. The 5-ft. stainless steel hose adds another dimension in increasing its flexibility.
Features at a glance
7-inch rainfall shower head and 4-inch hand Shower

Seven kinds of water flow settings

Adjustable overhead bracket

Flexible stainless steel hose

3 Way multi-function water diverter

Easy setup with no tools
7. PowerSpa by HotelSpa Top American Brand High Pressure
Customers will get 8 and 7 water spray settings from the hand and the wall-mount shower, respectively. Whether they opt for a separate or combined shower, it's up to them. In brief, they can pick the most suitable one from the 63 full and combined flow patterns.
Each shower is linked to a three-zone precision dial. Their nozzles obtain anti-clogging properties because of high-quality ingredients and convenient design.
The manufacturers designed a compact handle for the hand shower. It features a built-in On/Off button. So, you can terminate or start water flow within seconds. It decreases water consumption by lessening water movement when you are not taking a shower.
You will receive a stainless steel hose with the showers. Enjoy cleaning the bathtub, your skin, or the surroundings with this flexible tubing. A locking nut embraces the hand shower. It maintains the leak-free connections of the joints.
You don't have to spend any buck on its installation because connecting the parts takes just a minute. Anyone can mount the showers; no need for plumbing skills.
Features at a glance
Over 60 flow patterns

Modern precision dial

Clog-proof jets for maximizing water pressure

Compact handle with convenient On/Off switch

Stainless steel hose

Overhead bracket for adjusting angles
8. Speakman VS-232007-BN Napa Anystream 
Its shower bundle offers versatile streams to relax your muscles after hard work. A diverter button serves the duty of instant interchangeability between fixtures. It permits us to use a single or double shower system.
Their brushed nickel layers look soft and subtle. It can hide fingerprints and other marks better than a chrome finish. Say goodbye to dried water spots and scratches.
The shower nozzles are made with versatile 360-degree technology. It confirms delivering water streams in a vast area. The water flow rate is 2.5 gallons per minute, which is similar to a single standard shower. Hence, we can say that it does not waste water.
If you buy this package, you don't have to purchase a hose separately. It is extendable up to 60 inches. As you can assume, it is longer than most other hoses.
Last but not least, the setup is too easy to do without any tools. All essentials will be in the deal so that we don't need to spend more cash.
Features at a glance
Spray style adjusting technology

360-degree blissful water streams

The diverter switch is easy to use

Coupled with a 60-inch metal hose

Quick installation

Both fixed and handheld shower heads
Important Things to Consider When Buying Combination Shower Head
All shower heads have their own characteristics. These factors make them unique from the rest. Various models have only the basic features where some offer many additional benefits too.
However, not all of them can meet our expectations. It is why everyone should keep a few properties in mind while searching for dual shower heads. We are presenting them so that you know the worth of a unit.
Spray settings
Typically, all high-end shower heads come with several spray levels. Their differences are in the water flow, water pressure, and coverage. People love to use a particular type for most of the showers they take.
Sometimes, they want to change the streams for different motives. In this case, nothing can be better than a shower head with lots of spray modes. You will find plenty of brands offering three to seven spray options.
From the mist, rain, massage, and many more, what you want will be a personal choice. Make sure that it has a pause option. You can take a break in the middle of the shower for shaving, brushing, cloth washing, etc.
Dimensions
The size of the shower heads plays a vital role in coverage. A wider surface indicates more accessible water streams while bathing. For example, a 6-inch rainfall shower reaches a broad range while balancing warmth.
You can't expect the same from its 3-inch counterparts. A spacious shower system consists of hundreds of water holes. As soon as you turn it on, more water streams fall on your body, targeting a large portion. It will clear soap bubbles, sweat, and dirt effectively. Purchase a six to seven-inch shower if you want spa-like bathing moments.
Type
The majority of combination shower heads deliver fixed and handheld showering opportunities. The fixed one is called a wall-mount shower head. Although it barely crosses 5 inches in diameter, some companies launch larger versions.
It may not have many bells and whistles. Yet, when it comes to solid pressure, such a showerhead can be the winner. In most cases, you can change the spray patterns, but the position is always fixed. The other is a handheld shower head.
They are too versatile to adjust their direction. They often include an extendable hose. It has a mechanism for quickly attaching and detaching the showerhead. Contrarily, many only offer a certain type of shower heads. We recommend prioritizing the first kind because you will have different systems in a single suite.
Hose length
The hose is an accessory to be used with handheld showers. Its length is more of a personal preference. A long line is responsible for a more accessible shower. First of all, you have to remove the shower from its base. Connect the shower head and base with the hose.
And you're all set. It will be moveable and will reach all places you want. You can use it to get rid of soap residue from the washroom wall as well. A greater portion of recent units features a 4 to 5ft long hose.
If you need improved convenience and more flexibility, you should consider a longer one. Read the product's specifications to know the hose dimensions before getting it. Don't buy it unless it meets your desired length.
Material and finish
Nearly every combination showerhead uses stainless steel as its main ingredient. The worst thing about most other metal construction is they suffer from rust just after a few usages. Sometimes, it clogs water holes leading to less water flow.
Stainless steel finishing is not susceptible to these issues. It performs the same even after a couple of months of use. However, if you love cleaner appearances, a chrome finish will be your favorite. They give a simple metallic look that is sturdy too.
Polished brass layers can also give the same reflective surface. They are shiny, hard, thin, and long-lasting. A durable alternative to brass is brushed nickel polishing. Its grayish color seems stylish with different bathroom styles.
It restricts water stain buildups as chrome does. Stay away from the plastic showerheads because they don't last long.
Nozzles
None wants to waste money on dual shower heads that will eventually restrict water flow. It is not necessarily the defect of the shower appliances only. Calcium and minerals gather right next to the faucet holes bit by bit.
These particles form a huge buildup blocking the water from coming out. Then the nozzles get clogged. The authorities of the best shower heads take some measures to avoid it. They involve antibacterial technology in their construction.
It prevents mold, germs, and mildew from decreasing the efficiency of the shower. Even if we encounter any buildup, cleaning is possible within seconds. We have to take a wet towel, rub a little bit, and wipe away the debris.
Frequently Asked Questions (FAQ)
Question: What is a combination shower head?
Answer: It is a system that combines two unique shower heads. Almost all of them comprise a wall mount and a handheld variant. They grant user control over changing spray settings individually.
Question: Can I adjust the water pressure of my shower head?
Answer: Obviously! There are thousands of shower appliances that have different shower modes. Water pressure and water flow style will vary from one to another. Also, they may have dials for low to high water pressure.
Question: Why does the water pressure become weak?
Answer: Most probably, your showerhead has clogging problems. It happens either because of dirt gathering. The outdated showers are more likely to lose pressure if you don't clean them regularly. In such situations, replace them with a new one. Try bringing the flow restrictor out of the shower faucet too. If it does not work, there must be underlying plumbing complexities. An expert plumber can help you fix this.
Question: Can I use both shower heads?
Answer: Yes. You can turn on both if they have a 3-way diverter. When you set the ON valve on any shower, it will let the water come out of the faucets. Do the same on both showerheads at the same time. Both of them will release water in the form of a combined powerful spray.
Question: Do combination shower heads waste more water compared to ordinary shower heads?
Answer: Well, it doesn't have an exact answer. 2.5 gallons per minute is the water-releasing capacity of a standard shower head. Many designers distribute the same between two shower heads. Consequently, they don't consume more water. Almost all dual shower heads have PAUSE as a water spray style. It reserves water when people are busy doing other jobs. But a few brands may take more water than usual.
Question: Do I have to call a professional for a shower head set up?
Answer: Nowadays, shower appliances feature a simple and straightforward installation. They neither require a plumber nor special skills to fit them. Even if you have zero experience, you can go through the phases by following the instruction book. Don't worry about tools because you won't need one.
Question: How to install a new shower head?
Answer: Go through these phases:
Remove the old items.

Clean the area well before attaching the new shower heads.

Read the guidelines written in the manual.

Add the diverter and tighten it using your hands.

Mount the showers to the existing shower arm. Apply little pressure to fit them and secure their positions.
Question: How to Clean a Shower Head?
Answer: Follow these steps:
Take a sponge to shred the dry debris from the faucet holes.

Wipe them away using a wet cloth.

Prepare a mixture of equal parts of water and white vinegar.

Pour the solution into a plastic bag.

Place it around the holes such that they are completely immersed.

Wait for a minimum of 15 to 20 minutes.

Untie the bag and run the shower. The running water will bring all dirt out.
Conclusion
The impact of the best combination shower heads is not understandable unless you try one. In modern times, their popularity is at its highest peak. They are quite fun to use and let us experiment with a variety of spray patterns.
Get any of the mentioned products on the list. We focused on their major areas, especially the overall functionalities. Check out their specifications, such as hose lengths, material, spray options, etc. Or, you can buy another showerhead combo.
No matter what you prefer, judge their quality based on the buying guide we included. Also, you will find answers to some common questions in the FAQ section. Hopefully, they will help you to make the best decision.