Our top picks: Best 10 Inch Rough-In Toilets of 2023
One of the biggest problems with washrooms is people usually keep the leftover space to build one. It is the reason why many big houses have small bathrooms. The owners have to consider the size before buying any bathroom essentials. While talking about the essentials, the first thing that comes to our mind is a toilet. We can easily get the desired style by finding the exact rough-in.
So, what is rough-in? It is the gap from the center of the drainpipe to the finished wall behind a toilet. Higher rough-in indicates larger toilets. Buying a 10-inch model will be the best decision for your tiny restroom. It will bring the toilet closer to the back wall. Then, you will get some extra space. 
Lots of customers wonder whether they deliver the same advantage as the standard sizes. The answer is yes. We are listing the Best 10 Inch Rough-In Toilets and their features for confirmation.
Review of the Best 10 Inch Rough-In Toilets
Last Amazon price update was: December 5, 2023 5:27 am
1. American Standard 221CB104.020 Colony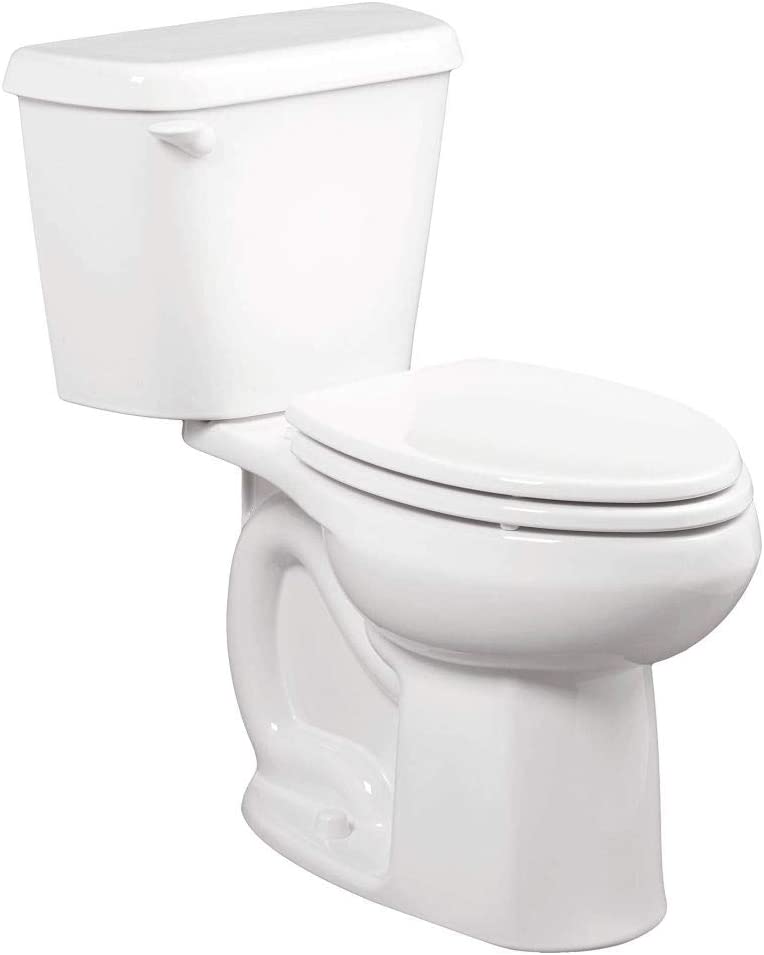 We can not deny that American Standard has tons of excellent toilets. It is one of them. With a 27.81 by 18.69 by 29.5 shape and white color, it blends with all bathroom styles. It has incredible benefits because of vitreous china construction. The inner surface is scratch-proof, dirt-resistant, and durable. It resists the growth of germs and bacteria.
Every time anyone flushes, an extended rim scrubs the bowl. It removes all grime, dust, and solid build-up from the wall instantly through the 2-inch trapway. And the result is a clean and gleaming toilet bowl. The flush valve also measures 2 inches in diameter. It is too robust to stay usable for a lifetime.
You have to press the trip lever after finishing your private job. Then, 1.28 gallons of water will travel from the tank to the bowl. Such quantity is less than most other ordinary toilets.
Another mentionable property is its oval-shaped bowl. It delivers more ease and convenience, especially to males. The few inches of extra gaps make their sitting position on the bowl quite comfortable.
Features At A Glance
Only 1.28 GPF water consumption

Study vitreous china frame

Floor-mounted mounting style

2-inch flush valve and trapway

Highly powerful flush

ADA-compliant elongated toilet
2. Toto CST744SF.10#01 Drake bathroom-hardware
When it comes to bathroom accessories, Toto never fails us. This ceramic Toto toilet is built to last for years. It is less prone to break or crack. Unlike wooden and other toilet types, it is less porous and cleaner. So, it is less likely to store dirt.
It utilizes a G-Max flushing system, one of the best waste removal mechanisms in the world. They use 3-inch flush valves, which are 1-inch broader than the conventional 2-inch valves. Apart from that, they have a fully glazed trapway. In this way, the toilet performs solid and liquid items disposal efficiently.
It is made of premium quality materials for high longevity. Besides, it maintains a universal height and fulfills ADA restrictions. The high-profile tank is separated from the relaxing elongated front bowl. Its two-piece decorative design adds an elegant vibe to your bathroom.
It includes a chrome trip lever for quick flushing. The flushes require 1.6 GPF of water each time. When you press the lever, it creates extra-large, siphon jet actions. A single flush pushes out everything in the drain line.
Features At A Glance
Integrated chrome trip lever

Ceramic architecture

G-Max flushing system

6-GPF or 6.8-LPF water usage

Universal height with a high-profile tank

Included tank but not seat
3. American Standard 215AB004.020 Cadet Pro 1.6
This oblong-shaped toilet is a masterpiece from American Standard. Just like most other high-end units, it also composes of vitreous china elements. The inner bowl is very smooth and less porous. Therefore, there is no chance of hiding filth and bacteria. It has a standard chair-like height enhancing the ease of use. It is appropriate for people of all ages.
Even if you don't clean the toilet regularly, it will still look clean. All thanks go to the 16-1/2-inch long washing rim. It scrubs the grime from the bowl with every flush. Each inch will be free from grime, germ, and severe odor.
It develops a cadet flushing platform for more remarkable results. Each flushing activity brings out 1.6 GPF of water from the tank to the bowl. We wish it had a 1.28 flow rate for saving more water.
Lastly, it includes a 3-in flush valve and a fully glazed trapway. These two items do not allow dirt build-ups in any areas and immediately send everything to the drain. Your toilet will never go through clogging.
Features At A Glance
Cadet Flushing System

Vitreous china mainframe

6 GPF water requirement

Strong rim for scrubbing bowl during flushes

Fully-glazed 2-1/8-inch trapway

3-inch flush valve
4. Kohler K-3713-96 Highline Classic Comfort
It is a two-piece toilet involving a vitreous china layer. So, it looks flawless and always clean. Apart from the shiny appearance, the coating also protects the internal section from damage and germs build-ups. One purchase will easily remain usable for years.
Very few models offer strong bulk waste flushing performance like this one. A powerful siphon jet flushing action takes place when we press the tank handle. The gravity does not let any residue stay on the bowl and eliminate quickly.
Its canister flush valve works as an incredible flushing actuator. It ensures consistent water usage without taking so much time. Consequently, you don't have to wait to fill the tank again and again. Keep flushing as per your need. Don't worry about bulk water usage; it uses only 1.28 GPF of water.
We are impressed to see how everything arrives in an already pre-installed figure. Mounting the toilet will be a matter of half an hour. Note that the package does not carry a wax ring. You can use any other standard ring instead. The associated manual describes all details about what you exactly have to do.
Features At A Glance
5-inch bowl height

Easy to stand up and sit

Gravity flushing technology

WaterSense certification

Maximum pre-installed parts

Canister flush valve
5. American Standard Cadet 3-Round Front
If you are interested in a smart design along with the highest performance, go for this one. Its reliable mainframe never lets the users down in terms of cleanliness, appearance, and longevity. Albeit the bowl is more suitable for children and women, everyone can use it.
The primary step for being an EverClean surface is a double-layer coating. Such an ending leads to a durable toilet wall. It prevents unpleasant smells, disgusting stains, and bacterial growth. As they hardly get dirty, the user does not have to clean them after a few usages.
It uses a flushing technique with just 1.28 gallons per flush. Still, you will experience superior performance. Again, some credits go to the oversized flush valve. Its 3-inch configuration gets the water inside the bowl and sends it to the drainpipe quickly. Even after years of use, the flapper will work great because it is absolutely chemical-resistant.
The suite covers a tank and bowl. The manufacturers may ship the items in one or more boxes. Wait until you receive all parts. You have to find a matching seat individually.
Features At A Glance
Round front toilet configuration

Durable vitreous china construction

Antimicrobial surface

Oversized 3-inch flush valve

Chemical resistant flapper

The seat is not included
6. KOHLER 4829-96 Cimarron Comfort Height
As our last but not least champion, we have one more KOHLER toilet. It has a round-front bowl perfect for washrooms with less space. It combines with comfortable chair-height seating for superior comfort. Its tall height surpasses the standard toilets. The majority of the adults feel easy to sit on it and stand up.
A medium tank completes the toilet. Many ruin the toilets while joining the body parts and causing leakage. The buyer must link them up following the DryLock installation process to avoid this trouble. Once he completes the setup, he will get a flawless toilet system.
With an AquaPistonCanister valve, it builds an accurate flushing performance. It makes sure to eliminate all defects which may cause leaking. So, say goodbye to leaking when you flush. It fits all other similar toilets from the same brand.
All flush pull 1.28 GPF water out of the tank and shift to the bowl. It generates a siphon jet flushing force around the bowl. It is powerful enough to get rid of waste with the first-time flush.
Features At A Glance
Standard mounting method

Canister flush valve

Round-front bowl suits all smaller bathrooms

Siphon jet flushing actions

Chair-height seating

A k-4166 tank is included
7. Kohler K-3889-U-0 Highline Comfort Height
Our third favorite is also from Kohler. Its elongated bowl pair with a standard seat height to give us the most pleasant time. It measures 74.9 cm by 45.7 cm by 79.4 cm. Everyone can use the toilet, regardless of age and gender. No wonder it is ADA-compliant.
As a part of class five flushing technology, gravity makes a powerful siphon for flushing. Such rinsing cleans the bowl within seconds no matter how much waste is inside the bowl. There will be no leakage and no clogging, only the optimum service.
The best thing we like about this toilet is its water-conserving feature. This 1.28 GPF toilet saves over 16000 gallons of water annually. You will be experiencing a significant decrease in the water bill. Despite the low amount, it does not sacrifice performance.
It comes with three pre-installed tank bolts that save time while mounting. The package does not cover the seat and required supply lines. You have to purchase them separately.
Features At A Glance
Heavy-duty vitreous china structure

Ideal height and elongated bowl

Tremendous waste removal capability

Quick installation

Zero clogging issues

Saves 20 percent more water than traditional toilets
8. Kohler K-3889-0 Highline Comfort Height 1.28 gpf
Kohler is a renowned brand in the toilet industry. Its K-3889-0 model features an elongated bowl. It extends some more centimeters in the front. It gives enough space to the users who need it. The seat height is more convenient to sit on and stand up than a relaxing chair.
It has an enamel layer of vitreous china. Such a coating is responsible for its longevity, shiny texture, and smooth finishing. The dirt and water don't get stuck on it and glide instantly. As a result, nobody has to flush a couple of times.
This floor-mounted toilet will be attached to the floor flange. You have to lock the flange with the floor by tightening some screws. Overall, the installation is pretty effortless. It won't take much time due to the pre-installed tank bolts.
The toilet implements a class five flushing scheme. It provides extraordinary performance with a large flush valve. Continuous release of the rapid water leads to top velocity. Its combination with a fed jet gives a fast and quiet flushing function. Yet, a flush does not use more than 1.28 GPF of water.
Features At A Glance
Super comfortable seat height

Built-in tank bolts

Gravity flushing mechanism

User-friendly left flush handle

Oblong shape bowl

Water-saving technologies
Important Things to Consider When Buying 10 Inch Rough-In Toilet
The products of different toilet brands vary a lot in design and functionalities. So, we often get confused about which one to buy. Considering the following factors can help us in the decision-making process:
Toilet type
All toilets come in two forms- one-piece and two-piece. One-piece toilets are single units holding tanks and bowls together. They are usually easy to install because they don't need any joining parts. For the same reason, they last for a long time.
Anyone can clean and maintain them in a few minutes. Their small figure makes them best for a small bathroom. Several downsides are moving difficulties, high prices, and fewer rough-in options. A two-piece model overcomes these cons.
It consists of a separate bowl and tank. You can easily replace the damaged bowl or tank rather than buying a whole new toilet. They are more susceptible to leakages and debris build-ups. So, the users have to spend hours cleaning each corner.
Flushing system
Nobody likes toilets with low flushing efficiency. An ideal one should vanish all liquid and solid particles in a single flush. It helps to decrease the amount of water consumption. Contrarily, flash systems that leave half items after the first trial are a big no for regular use.
The gravity-feed toilets cover flush valves, which depend on gravity. There will be no noise at all. They work fine but are not too powerful. Be careful of picking a lower-price toilet as it may not operate properly to displace unwanted substances.
Pressure-assisted toilets will never let you face these issues. The waste goes down the drain line because of air compression within the tank. They are also less prone to clogs. The only disadvantages are being loud and expensive.
Water consumption
Some of us are not aware that toilets play a vital role in utility bills each year. Buying a water-saver toilet will save both the environment and bucks. There are a variety of toilets in the market, having unique flushing capacities.
The Environmental Protection Agency says that no toilet should use over 1.6 gallons of water per flush. Models that pass this rule have EPA certification. Surprisingly, many companies consume only 1.28 gallons.
Also, multiple high-end toilets develop two individual flush valves. One uses less water to send the liquid waste out of the bowl, and the other works for solid dirt. Such toilets save an impressive amount of water annually.
Ease of installation
If your toilet requires setup through a complicated process, it will be really frustrating. Most people can't handle the heavy units, understand the mounting procedure, and fit the individual parts well. They have no other option than to seek help from professional plumbers.
It also costs some dollars. Toilets with straightforward installments are a better pick. You can replace the units whenever you want. You don't even have to be skilled or experienced. Just gather the needed tools and follow the simple steps. The toilet will be ready to use.
Ease of cleaning
The users have to maintain the toilet's cleanliness over time. The first thing we should check is the material. Vitreous china toilets are the winners of this category. Their smooth and slippery coatings never hide grime. You don't even have to flush twice.
Secondly, it is hard to find out every single hard-to-reach spot of a two-piece unit. A single structure is highly resistant to germs and dirt build-up. Cleaning them takes a maximum of some minutes. Hence, they are perfect for lazy customers.
Comfortability
Plenty of families have at least one elderly member having joint issues. They find round bowls very uncomfortable. It can increase their muscle pain and lead to more severe health problems.
The manufacturers started to launch elongated toilets simultaneously after being informed about the customer's sufferings. These toilets have an oval bowl built for maximum user comfort. Our legs stay in the right position naturally when we sit on them; no more joints fatigue and discomfort.
Budget
Prices vary according to the brands, model number, and features. Most often, costly toilets are blessed with robust construction, durability, and optimum service. They are more efficient than cheap ones. Again, not all affordable toilets are necessarily bad.
Yes, they may lack one or more additional benefits, but they can be great too. Just make sure to avoid cheap-quality toilets.
You may have to bear more expenses for their maintenance or replace them soon with a new one. Such mistakes will cost more money in the long run. We strongly recommend staying within your budget, deleting the expensive ones, and choosing the best out of the rest.
Frequently Asked Questions 
Question: How to measure correctly?
Answer: Selecting the wrong size toilet can ruin the look of your toilet and its effectiveness. So, the first step before buying a toilet is to know the exact rough-in.
Get a measuring tape.

Set the front corner on the back wall of the toilet.

Extend the tape toward the drain pipe. Do not bend the tape and maintain a straight line.

Record the distance. It will be either 10, 12, or 14-inch.
Question: Can I replace a 12-inch toilet with a 10-inch one?
Answer: Sure, but you have to deal with some modifications. For example, setting up a 10-in toilet in place of a 12-inch one will leave a 2-inch space between the tank and the wall. You have to get a more extended connector to join the tank with the shut-off valve. It will confirm a good reach.
Question: How difficult is it to clean 10-inch rough-in units?
Answer: Not at all. Almost all of them have a strong flushing system. It flushes away all filths entirely. We don't have to worry about cleaning the outer surfaces, especially when it is a one-piece version. There will be fewer hard-to-reach segments. A few wipes with a mild cleanser can remove all dust. 
Question: Is installing a 10-inch rough-in toilet the only way to save space?
Answer: No. If you prefer using a larger rough-in model, try these ideas:
Say yes to a corner sink

Add hooks, hanging shelves, and towel racks for items storage

Utilize cabinets above the toilet

Compact toilets save more space

Build wall-hung toilets or corner toilets
Question: Why do most people use 12-inch rough-in models?
Answer: We consider these toilets to be the standard ones. They are available in a massive range of styles and shades. A person can sit on them comfortably even while using a round bowl. Every plumber has knowledge and skills for their setup. On the other hand, not all of them can install or fix the 10-inch varieties.
Question: What are the phases involved in adding a 10-inch rough-in toilet in my washroom?
Answer: Follow these step-by-step instructions:
Firstly, install the ideal drain pipe. Skip this step if you already have.

Place your wax ring on the hole of the main drain line

Next, insert the toilet bolts in the required areas

Keep lining up your toilet system over the ring and bolts when you are putting it down. Pay attention not to shift the wax ring from its place; otherwise, the toilet may suffer from water leaks.

Put the toilet on the wax ring. You will see the bolts going upward through their holes. Lock them with corresponding nuts well.

Add the other toilet accessories.

Check for its operation before going any further.
Question: What are the disadvantages of the 10-inch rough-in toilets?
Answer: Here are a few:
The assembly of various parts can be a little bit difficult in a small working space.

Less comfortable compared to their bigger counterparts

Less available options in the store
Conclusion
You already have the idea of why you should get one of these Best 10 Inch Rough-In Toilets. Your old home's little washroom will look more spacious and perfect. Their easy installation and less water consumption always satisfy the customers.
Sometimes, we may not even open the shower door completely because of the less bathroom space. These toilets can solve it. However, they may not be suitable for a large restroom.
If anyone has an average to a large bathroom, he should rather invest in 12-inch rough-in brands. The buying guide will be the same for other rough-ins. We hope these details help you to get the best toilet you desire.