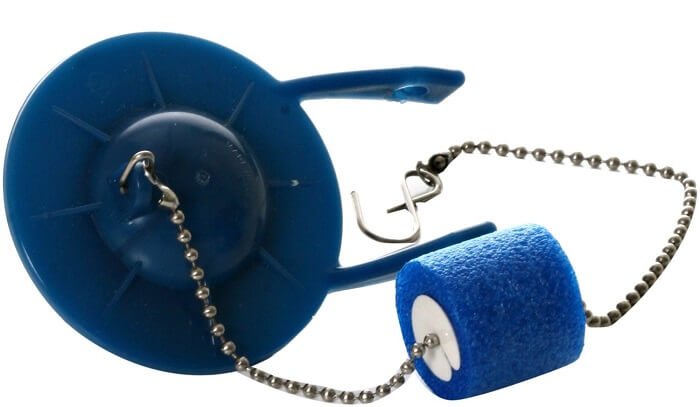 Have you ever given some thought to the process your toilet goes through when you flush the toilet? You probably never thought about it and that's perfectly fine. Using the toilet to relieve you and getting out as soon as possible is usually the preferred course of action from most people entering the toilet, with no extra thoughts exerted.
However, if you happen to be one of the few who have thought over what process your toilet must be going through to flush, you are sure to have noticed the toilet flapper. 
The toilet flapper is the part of your toilet which when you flush, drains water from the toilet tank into the bowl.
Normally, it's the water in the tank that helps keep the flapper potted against the flush valve opening. The flapper is attached to the tank lever via a small chain. Whenever the tank lever is pushed, the chain puts up the flapper. 
This article will aim to look at five different toilet flappers, the features that are included with each of them and will also tell you briefly how to choose the best toilet flappers.
You want to make sure you get your money's worth so how to choose the right toilet flapper will also be explored. Keep reading to find out more. 
Quick Answer – Best Toilet Flapper
Reviews of the Best Toilet Flappers
Just like every other product out there, each of the below-mentioned flappers comes with individual features. Some of the features are common or similar. Some may be different or exclusive. Either way, you may need to try out a few different flappers over the years to come to one that does the job best for your toilet.
---
Korky 08265001078 3060BP Universal Toilet Replaces  
---
Made right here in America, in the state of Wisconsin, the Korky 3″ Universal Toilet Tank Flapper is adaptable to meet your original toilet's performance. It is manufactured exclusively from long-lasting chlorazone red rubber, which makes it resistant to chlorine and different types of water, ranging from city water treatment to well water. This model is also bacteria resistant.
The Korky 3" Universal Toilet Tan Flapper comes with a stainless steel chain and a universal adjustable flapper. The adjustable flapper has several settings to warrant a proper fit inpopular 3″ toilet models,comprising of American Standard, Kohler, TOTO, Mansfield and Gerber.
It is made of flexible rubber intended for a tight seal and easy to install. You can fix running and leaking toilets easily as no tools are needed for installation. The 3" universal flapper can be easily adjusted to fit different flush valves.
The rubber is long lasting and provides a strong seal, something that you definitely want in place if you fear people messing around with your toilet tank (hint: kids).
Features at a glance
Made in America, designed and mass-produced in the state of Wisconsin, Korky has high-quality toilet products, which are known to be universal and fit specific individual toilet repair needs, irrespective of whether the toilet is old or modern.

The repair parts are easy to install and manufactured from long-lasting chlorazone rubber (red).

Toilet replacement parts are known to be high quality (famous for its brand).

Long lasting chlorazone red rubber that resists chlorine, hard water, city water treatment, well water and bacteria.

Stainless steel chain and the universal adjustable flapper included.

Fix running and leaking toilets while saving on unnecessary water waste with this large toilet flapper. It comes with a universal and adaptable design that easily fits oversized flush valves as well as newer toilet models.

No tools are needed for installation.

If your toilet bowl flushes slowly or it fails to fully empty, you may need a replacement toilet flapper. The 3″ universal flapper easily adjusts to fit flush valves in HET toilets while the adaptable long-lasting rubber makes for a tight seal.
---
Fluidmaster 5403 3-Inch Universal Water Saving Long Life Toilet Flapper 
---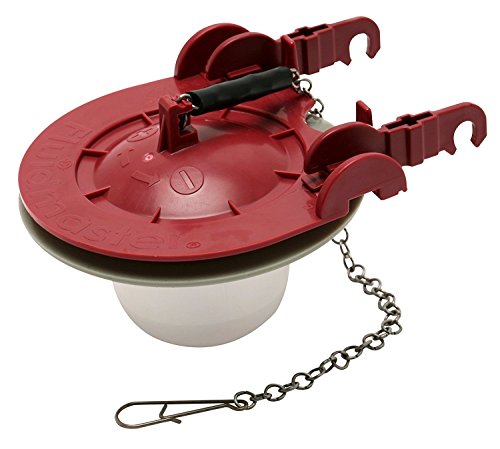 The Fluidmaster 5403 3-Inch Universal Water Saving Long Life Toilet Flapper helps to restore the original performance of pretty much all well-known brands and models that fall under 3-Inch toilets.
It is a good replacement for old, leaky toilet flappers. This model is easy to install with just two simple adjustments. It comes with a kink free chain, making it easier to hook. You can fix typical corrosion and running toilet issues that are common with toilets.
The universal design fits most toilet models and is resistant to both hard water and chlorine. It easily fits 3" flush valves and comes with durable silicone seal which is 10x longer lasting than standard flapper designs.
Perhaps the best option with this model is the fact that you can opt to save water every time you flush as it comes with the 3" adjustable toilet flapper replacement. There is an adjustable float ball for optimum functioning and injection molded frame and float.
Features at a glance
Easy-to-install with two simple adjustments

Good replacement for old, inefficient and leaky toilet flappers

Kink-free chain

Fix typical corrosion and running toilet glitches with this 3" flapper

Universal flapper with universal design fitting most toilet models.

Hard water and chlorine resistant

Fits 3" flush valve toilets

Durable silicone seal

10X longer lasting silicone seal last, compared to standard flapper designs

Save water with every flush (adjustable 3" toilet flapper replacement)
---
Toto THU500S Replacement Flapper  
---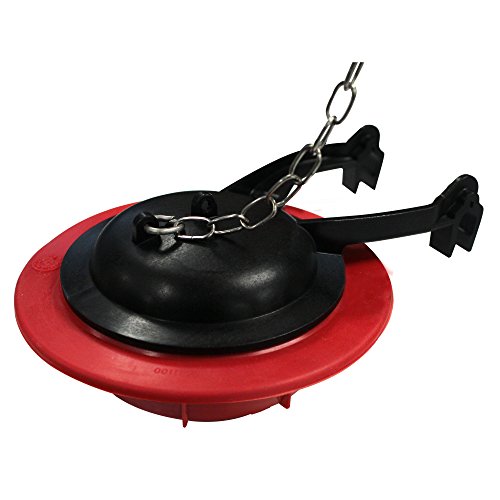 The Toto THU500S Replacement Flapper for Select 3 Inch Flush Valve Tanks is imported and made from plastic, having a solid fit. It has a 3-inch sealing surface, with a sturdy look.
This is an exclusive model in that it is intended for replacement in a list of TOTO 3 inch flush valve tanks.
Features at a glance
Imported

Plastic

3 inch sealing surface

Replacement flapper- design is intended for use on a selection of TOTO 3 inch flush valve tanks

Replaces the following TOTO flapper part numbers: THU331S, THU253S, THU138S, THU499S, THU175S, THU299S, THU140S, THU347S, THU277S THU275S, THU369S and THU332S.
---
Kohler GP84995KOHLER GENUINE PART GP84995 FLAPPER  
---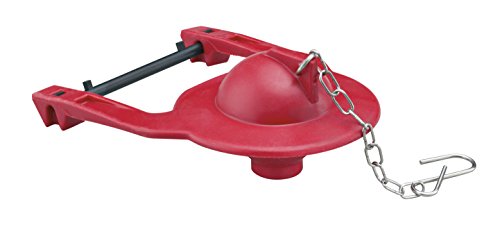 The Kohler GP84995KOHLER Genuine Part is known for its high-end performance with Kohler model toilets. It is resistant to corrosion. It comes with a firm bar for consistent flush and includes a 2" hinge flapper that is used in numerous one-piece toilets.
This model is compatible with a few KOHLER Models. Make sure to safeguard the warranty. Look for the "Kohler Genuine Parts" logo to ensure it is real.
Features at a glance
Corrosion resistant

Rigid bar that allows for consistent flush

2″ hinge flapper used in various one-piece toilets

Compatible with the following KOHLER Models: Revival 3360, Rialto 3386, Rosario 3434, San Raphael 3466, 3467, 3384
---
American Standard 7381.129-200.0070A Flapper 
---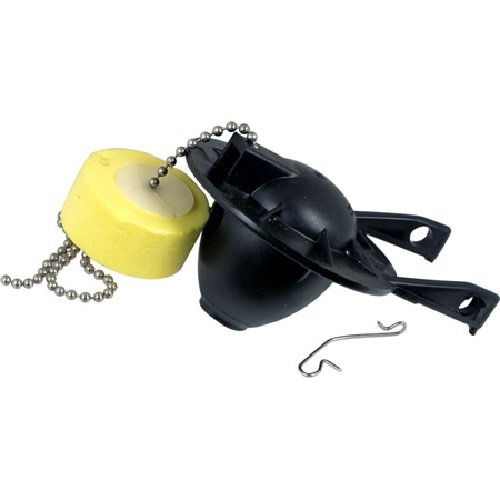 The American Standard 7381.129-200.0070A Flapper and Chain model, like most American Standard products are designed tactically for busy schedules. Parts are made to remain enhanced through rough usage.
This model comes with a universal replacement flapper with float. It is known for being durable and reliable due to its quality engineering and construction.
Replacement part, as well as float and clips, are included with the flapper with chain and hook. It is intended for usage in 2" valves.
Features at a glance
Universal replacement flapper with a float

Replacement part

Float and clips are included

Includes flapper with chain and hook

For 2″ flush valves
---
Fluidmaster 502P21 2-Inch Universal PerforMAX Longest Lasting
---
After reviewing the 3-inch flapper by Fluidmaster, which is going to seal a 3.5-inch drain hole perfectly, we have this 2-inch flapper by the same brand. This one is going to cover a 2.5-inch drain hole with perfection.
It should be by now pretty evident that sealing is everything when it comes to smooth flushing. So, perfect sealing is crucial, and this toilet flapper excels in that department. It is long-lasting too, so there is no need for you to replace the flapper frequently.
These toilet flappers have Microban protection on them, and that's patented protection. No other flapper has it, except the flappers made by Fluidmaster. Though the flapper continually stays in the water, yet the shield helps to inhibit any growth of bacteria and harmful microbes. Thus, there will be no bad odor or breakdown of the flapper.
Though made of rubber, it has a rigid frame. So, it aligns well in the drain hole. It is universal, easy-to-install. Not just that, it saves water too. For that, you only need to turn the flapper. You are going to notice the marks from a range of minimum one to the maximum nine. Keep the flapper at 7-9 range, and you can flush the maximum quantity of water with one flush.
And if you are keeping it in the range of 1-3, then the water usage will be lower. You will have to pull the lever quite a few times as the flapper will seal the drain hole frequently when you adjust it in the lower range. So, you are saving water and not emptying the tank at one go. However, the best is to keep it in the range of 4-6. It's not too low nor too high. A couple of pulls on the lever must be fine at this range.
Features at a glance
Apt for a 2.5-inch flush drain hole

Easy-to-install, rigid frame makes a perfect fit

Flapper adjustment from low to high

Built-in Microban protection

Corrosion-resistant

Lasts long
---
Gerber Danze G0099788 Flapper (Soft) 1.28gpf 3″ Diameter
---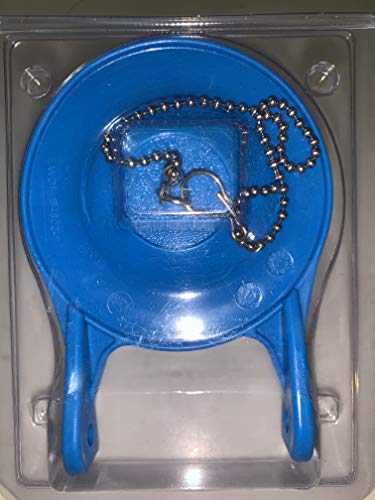 Here we have another 3-inch flapper. But this time, it is a toilet flapper for Gerber toilets. It perfectly fits Avalanche, Viper, Brianne, Allerton, basically every type and model of Gerber toilets because these are the ones, mostly with a flush drain hole of 3.5 inches.
There might be some exceptions where it doesn't fit as perfectly, but even with those, you can still manage. However, to get the best performance by the flapper, make sure to use it with the toilets they asked you to.
This flapper is specially made for flushes that release 1.28 gallons of water per flush. Made of high-quality materials, this flapper is not going to break down soon. The flapper chain is made of ultra-durable brushed nickel. With it, you can be sure of a superior performance that too for a long time.
Installing the flapper to the flush valve is as easy as it can get. It has a soft frame, thus bending it slightly to fix both the sides to the overflow tube's pegs becomes easy. However, it is equally sturdy, so when it seals the drain hole, it stays there pretty tight.
Without using any additional tool, one can install this flapper within minutes. Even if your previous flapper showed no sign of wearing off or damage, make sure to replace it with this toilet flapper. You will immediately notice the difference. The issue of ghost flushing will also be solved without calling the plumber.
Features at a glance
3-inches toilet flapper

Perfectly fits almost all the Gerber toilets

Brushed Nickel chain

Solves ghost flushing problem upon installation

Soft yet sturdy frame

Longer shelf life
---
Kohler K-GP1039444 Toilet Flapper, 3-1/4 In, Red
---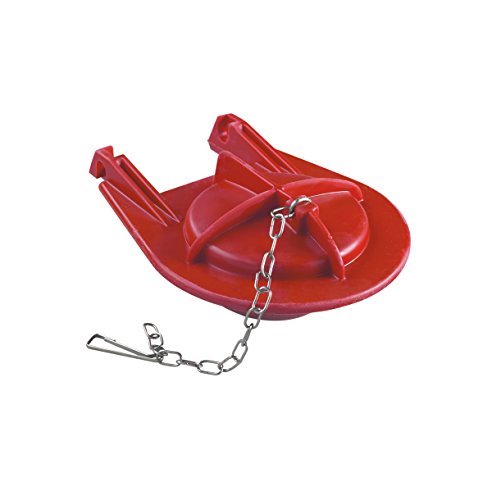 This one is for one-piece toilets. To be precise, it is made for a few Kohler models such as Cimarron 3489, 3802, 11889, and Memoirs 3451, 3453. As you can already gauge, this is a comparatively large flapper, measuring 3 1/4 inches.
Small flappers cannot seal the larger flush valves in one-piece toilets well. So, you have to deal with constant water leakage. A good-sized drain hole requires a flapper that seals it perfectly, without keeping any aperture. And this 3 1/4 inches flapper does exactly that.
It is corrosion-resistant, so you know it is going to last. Though replacing a flapper is not something that is too complicated, nor is it too pricey as a product, yet if it needs replacement within months, it's annoying. So, a flapper has to last. The more it lasts, the better.
Installing this rubbery yet solid frame into the flush valve is as easy as it can get. It takes a maximum of five minutes to set. It seals the valve from all sides and makes sure to stop water leakage.
The proper usage of 1.6 GPF of various one-piece toilets can only happen when you use the correct-sized flapper. So, when there are specific-sized flappers easily available for specific toilet models, then try to know which flapper is going to fit your flush valve perfectly. And make sure to buy the specific size. Those who are struggling with the flush of any of the mentioned models above must try this flapper. It will seal and save water without any glitch.
Features at a glance
Specially made for a few one-piece Kohler toilets

Apt for larger flush valves

3 1/4 inches flapper

Made of corrosion-resistant material

Lasts longer

Easy installing, no tools needed
---
Kohler (BLUE PART GP85160 FLAPPER WITH FLOAT)
---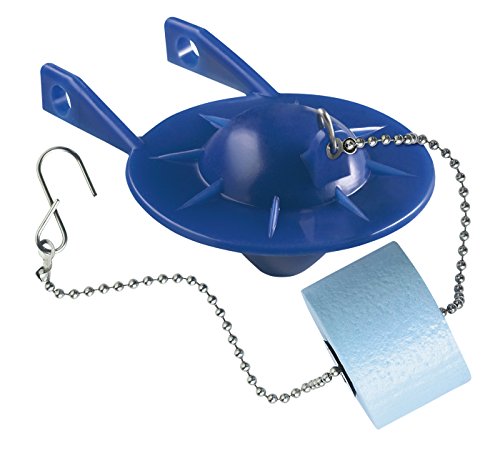 We are reviewing each and every type of toilet flapper here. So, how can we miss a flapper with the float! This one is a Kohler toilet flapper that comes with the float. Those of you who don't have any idea of what a float is and how it works, let us make things clear for you.
Floats on toilet flappers basically control the flappers. It is fixed in the chain and can be adjusted up and down. Depending on that adjustment, the flapper floats in the water. The lower the float is, the longer the flapper floats. So, the water flushes longer.
When you set the float higher, that means the flapper will seal the flush valve shortly. That ensures less use of water. So, set the float at a distance that you are not flushing too much water nor too little. For that, you will have to try different positions while installing the flapper into the flush.
Kohler toilet flapper uses high-quality Styrofoam floats. Just like the flapper, even the float stays in the water all the time. So, it being high-quality is essential. And Kohler makes it sure to use the best material to make the flapper as well as the float and the chain.
This flapper perfectly fits in any 1.6 GPF two-piece toilets. It is a 2-inch flapper, so it will be apt for various 2.5 inches flush valves. The brand can be any Kohler, Kallista, and beyond.
Features at a glance
2-inch flapper

Flapper with float

Apt for various 1.6 GPF two-piece toilets

Ensures longevity

Increase efficient water use

Perfectly seals the flush valve
---
Hibbent 2 pcs Toilet Flapper Replacement
---
Let's talk about a flapper package. In this package, you get two pieces of toilet flapper. So, when one is worn off, you do not need to run to the market to buy another flapper. You can immediately replace it with the second piece.
If you have a Lowes toilet or an AquaSource toilet at your house, then this flapper is the perfect match. Though it is best compatible with a few specific toilets, that doesn't mean it is not going to fit the others. It is large and apt for a 3.5 inches drain hole or flush valve. So, even if you do not have those toilets, it is going to work and seal just fine.
This high-quality silicone flapper is going to perform better than other flapper designs. It seals the drain hole tight. Yet, with a slight pull on the lever, it is going to break the seal. Hence, flush the toilet with ease.
Not just that, the rubber material is also corrosion-resistant. Add to that the stainless steel chain that is fixed to the lever. So, do not doubt it, when it claims to last 10x longer than standard flapper designs. The moment you see a worn off flapper that is causing water leakage and auto flush in the middle of the night without any reason, replace it with this one. It is going to persist way longer than you expect it to last.
To make you understand the quality a lot better, let us inform you that this package is tested and certified by UPC and CSA.  It is a pair of high-quality flappers, indeed.
Features at a glance
Best for Lowes and AquaSource toilets

A 3-inch flapper

A package of two flappers

Corrosion-resistant

Silicone flapper with a stainless steel chain

UPC and CSA certified
---
Buying Guide for Best Toilet Flapper
---
Toilet flappers not only make it possible for your toilet to flush but also help ensure extra water is not wasted from leaking or falling excessively into the toilet bowl from the toilet tank. As such, it's important for you to keep in mind a few pointers when you set out to buy a toilet flapper.
There may be times you need toilet flapper replacements, in such cases, it's best to read up on different toilet flappers before finalizing what to replace your flapper with. 
The thing with toilet flappers is that they are designed to create a proper seal in the water holding tank of your toilet so that before or after you flush, there is a tight control on the water that flushes into the bowl. This makes it a key component of your toilet.
It also helps you save on your bills by lowering your water bill. It's probably a good idea to give the flapper some thought when replacements are needed. 
Here are a few points to help you choose a flapper that's best for your toilet and one that will last you. After all, no one wants to head to Home Depot every other week to get themselves a new toilet flapper.
Size of your flush valve
You need to understand which size flapper seal you need to get. In order to understand this, an easy reference to understand whether you need a 2" seal flapper or a 3" flapper is to look at the size of your flush valve drain opening which is located at the bottom of the tank.
If it appears to be around the size of an orange or baseball, you probably need a 2-inch seal. However, if it looks more like the size of a softball or grapefruit, you need to get a big 3-inch seal.
Frame
Look into the material of the flapper, it could be rubber or plastic. Rubber has a more flexible frame and will fit most valve drains as rubber is flexible and stretches. Plastic offers a more solid fix and forces the flapper ball to center onto the drain and seal quickly.
Plastic is intended to stop leakages for a long period of time. However, plastic does not always work with all flush valve drains.
Type
Toilet flapper types can be adjustable or nonadjustable. Different toilets, depending on when they were manufactured, can flush different amounts of water per flush (in gallons).
Adjustable flappers are designed to flush toilets that flush anywhere from 1.28 to 1.6 gallons per flush toilets. Whereas non-adjustable flappers are designed to flush toilets that flush 3.5, 5 or more gallons per flush. Non-Adjustable Flappers come in only the 2-inch category.
Age of your toilet
Believe it or not, it helps to know how old your toilet is. There are different functions for toilets based on what year they were manufactured.
If you are unsure of how old your toilet it, ask a specialist to come to have a look or try to research further on this area. It can save you time and energy if you know which flappers go best with your toilet based on its age.
Rate of use
If your household has more people in it, obviously the toilet use rate would be more than if your household consists of only one or two members. The number of family members you have staying over or the number of friends and guests that come over on a regular basis also determine how much you should spend on your toilet maintenance.
For toilets that are used more rigorously than others, it's probably wiser to get more sturdy parts. Toilets that are used by less people on a regular basis can probably do with less sturdy parts.
Conclusion
To conclude, experts say a good toilet can last you roughly 20 to 30 years, depending on how much you take care of it and of course, how frequently you use it. With toilet flappers, you probably need to replace your toilet flapper a few times in between the years your toilet remains functioning.
Needless to say, the better you take care of your toilet, the longer it will last you. Also, the better the parts to your toilet are, the likelier it is to remain to function as well.
Don't forget, buying the best toilet flapper helps you keep your toilet running longer and smoother.
As long as you aren't yanking at the flush every time you use it and you try using it with consideration, you're bound to keep your toilet flapper working for years, if not months on end. 
---
Recommended Resources 
---