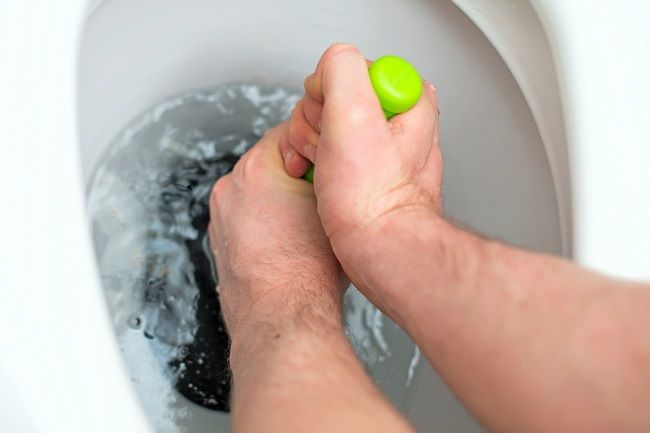 We cannot do without a toilet, even for hours, let alone a day. But we rarely pay attention to it. When there is any wrong with it due to clogging or any malfunction, it becomes worse. It is not only inconvenient but also embarrassing.
Blockage takes place in the waste line leading from the toilet, the soil stack, and the sewer. Things you throw in the toilet, how often you clean the lines and how well the vents are functioning etc. are related to the development of obstructions.
If the blockage is not managed as soon as it develops, water flow becomes slower. The ultimate result of it is the settlement of debris and toilet overflowing. So scheduled maintenance of it is a must to keep the toilet drain clear.
We can take different measures to make the toilet drain clear. Some of them go here. 
Awareness of Disposable Items
 To keep the toilet, drain clear refrain yourself from throwing tampons, diapers, etc. When they come in close contact with water, they expand in vertical sections of the pipe and create a blockage. So, don't treat the toilet as garbage disposal can. 
Simultaneous Flushing of Toilet
You may grab the chance of dislodging debris with water force. It keeps debris moving. Do so with the help of your family members and manage to flush all the toilets in your house simultaneously. If you perform this task once a month, it will prevent the growth of any obstruction.
Keeping Side Sewer Tree root Free
Time passes, side sewer of the hose becomes old. Then there is every possibility root incursion in this line extending from the house to the main sewer covered with vegetation. Not to face such a situation, you may flush a root control agent periodically. Because dichlobenil and enzymes contained in it help diminish small roots. As a result, they cannot turn into a larger one.
It Might Be Helpful:
Restraining Vegetation Growth
You must check vegetation growth. Using copper sulfate crystals around the side sewer is a way for you to control vegetation. You need to make 2-inch holes in the ground two feet above the ending point of the sewer. More holes may be required for controlling more vegetation.
After digging holes, you need to settle a 2-inch PVC pipe in each hole and fill half of it with copper sulfate crystals, then the rest of the pipe with hot water. The crystals get dissolved in hot water. These dissolved crystals prevent vegetation in the adjacent area.
A precaution is there for you. In some areas, it is prohibited to use copper sulfate in wet conditions. So knowing the existing policy in your area, you should apply copper sulphate crystals.
Maintaining Schedule
Usually, we do a lot of maintenance work in our home at different times of the year. Routine maintenance of the drainage system is to be added to your schedule. Besides, you may perform some tasks which require you to spend just a few minutes to ensure that the drain is free from any sort of blockage.
Flushing with Hot Water
Another effective measure you may adopt to keep your toilet drain clog-free. It is to flush the drain with hot water. You are to pour boiled water into the toilet bowl and then flush it. As the water runs through the drains, it clears the way removing deposits in the pipe. For getting a better result, repeat the task in every alternative week.
Using Cleaner
Usually, I use cleaners to keep the toilet drains clean and odor-free. You may choose any one of the cleaners available in the market. Enzymatic cleaner, like Bi-O-Kleen, is a good option for you, which is to be used at least once in a month. These cleaners contain some enzymes which grasp organic matter. Not only that, they help deodorize the pipes.
Using Vinegar and Baking Soda
Experience of having an overflown toilet is, of course, a bitter one. It is no less than a disaster. Getting relief from it will cost you a lot. Hence you need to take the required initiatives. In addition to mechanisms, as mentioned above, you may use some vinegar and baking soda. The role of this process is noteworthy. Flush the drain with some hot water. Then, pour 1/2 cup of vinegar and 1/2 cup of baking soda consequently. Doing so, at least twice a year, I got a good result.
Snaking Drain 
A plumber's snake is of great use while dealing with a stubborn clog. After passing through the drain, if it finds any blockage on its way, it starts drilling into the clog. You need to twist it with the handle. Using the drain snake every six months, you can make sure that the pipes free from any sort of clogging.
Keeping Drain Vents Clear
While performing the thorough drain cleaning activities, one thing is missed. And that is the drain vent that goes to the roof. Any clogging in it gives birth to obstacles on the way of drain works. You must ensure sufficient airflow in the toilet line.
Because it influences smooth water flow and prevents the line from any kind of debris settlement. You may pull debris away from the vent openings in addition to spraying water into the openings. Thus, you can remove blockages.
I have covered vent openings with caps as debris is collected there frequently. Besides, you can also send a drain snake down the vent if you detect any clog there.
Conclusion:
A clogged drain is, of course, a nightmare for all. The first and foremost task to keep toilet drain clear is basic drain maintenance. It assures you that you won't face any unexpected, sudden emergency in an odd hour.
When the toilets get overflown, it causes serious havoc to the floors and the ceiling of the room underneath. So spending some time from your busy schedule to maintain the drain will definitely save the expense of fixing the repairing issue.
So many options are there to keep the toilet drain clear. You should opt for the one that suits you best to resolve the issue. You have to check the drain periodically by a professional despite performing regular maintenance. 
Recommended Resources