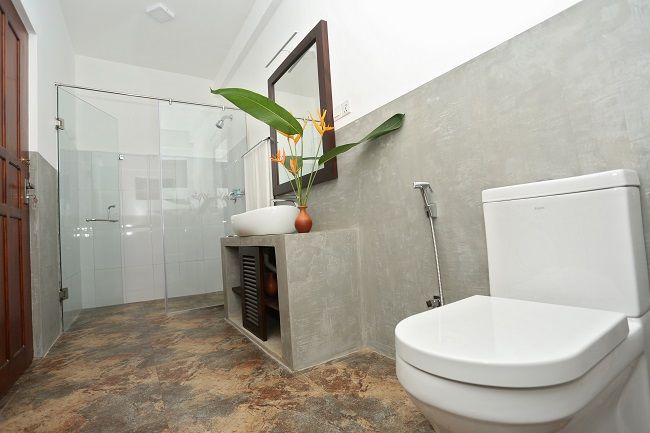 Toilets are some of the most important purchases a homeowner will have to make. The task may seem simple at first but once you realize the wide range of options available to you, things can get overwhelming.
This is why many recommend starting by looking at brands first as doing so can help make the chore a lot more manageable.
One brand you can start with is EAGO. It might not be one of the biggest names in its trade but based on numerous EAGO toilet reviews, it's quite a solid choice. They have a lot to offer and are certainly worth looking into.
So to help you get to know their products better, we took a closer look at five of its top products. Check them out below.
Quick Answer – Top EAGO Toilet
Recommended Top 5 EAGO Toilet Reviews
---
EAGO TB309 Tall Dual Flush Eco-Friendly Ceramic Toilet
---
Let's start off with an eye-catching option, the EAGO TB3019 Tall Dual Flush Eco-Friendly Ceramic Toilet. From the very first glance, you'll know that this product has a lot to offer as it looks very nice and modern. Its one-piece construction is a big hit, too, as it automatically simplifies the cleaning process.
But this item is not just about the looks. As its listing name suggests, it addresses several important needs of many homeowners.
For one, it's relatively tall. Its seat height is within the standard range at 15 ½ inches but its total height is 30 ¾ inches, so it won't require you to crouch too low just to fiddle with the flush. These will make sure that you'll be comfortable in its use.
It's also eco-friendly so you can opt for it if you want your bathroom to be more water-efficient. It has a dual-flush system that will let you use less water for flushing down liquid waste. According to experts, this will let you save up to 67% of water consumption, so that's a great thing.
But that's not the only thing that makes this product very water-efficient. Its Siphonic Flush System which refers to its efficient and powerful 3″ flushing valve will free you from the common issues of ball-chain-flapper systems. As a result, it can lower the odds of your toilet getting left running and continuously flushing water down.
Features at a Glance
One-piece design makes the unit easy to maintain and clean.

Dual flush for better water efficiency.

1.6 gpf for a full flush and 0.8 gpf for a half flush guarantees low water consumption with proper use.

Wide water surface guarantees better odor control.

3″ flushing valve guarantees power and efficiency.

Symphonic Flush System enhances its eco-friendly performance.

Soft-closing toilet seat and lid included to prevent loud noises when lifting the seat and putting it down.
---
EAGO WD333 Square Modern White
---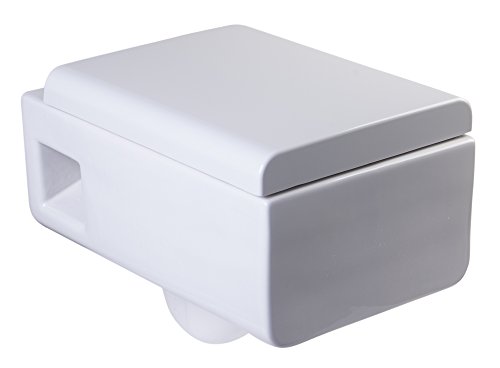 If you're after a more modern option, the EAGO WD333 Square Modern White Toilet would be a nice pick. This wall-mounted, square-shaped option will give a different look to your bathroom, adding a more contemporary appeal to the space.
But like the TB309 listed above, the EAGO WD399 is also brimming with great features. It's listing name may not give many clues but it's also engineered to be water efficient and comfortable to use.
Being a wall-mounted toilet, this product is easily ADA compliant with its versatility. You can mount it at any height to suit your household's needs. It can also be installed to have a 17" floor to seat height to meet ADA's requirements for a comfortable toilet.
In terms of water consumption, the WD333 addresses the issue through its dual flush design with Ultra Low Flush technology. For solid wastes, its full flush only consumes 1.6 gpf while liquid wastes consume 0.8 gpf. With these, you can be sure that you won't just get a modern-looking toilet but you'll also enjoy modern functionalities from it.
Its soft closing toilet seat and lid are also very noteworthy as it can help keep the peace and quiet in your home. No one will unintentionally create a loud ruckus when they go to the toilet in the middle of the night.
Features at a Glance
Wall-mounted design for great versatility and an ultra-modern look.

Dual flush design for the utmost water economy.

Ultra Low Flush (ULF) Eco-Friendly with 1.6 gpf full flush and 0.8 gpf for half flush.

Soft-closing toilet seat and lid ensures that it won't create a racket when the lid or seat needs to be moved.

Meant to be used with the EAGO PSF332 in wall tank carrier.
---
EAGO TB356 Dual Flush Eco-Friendly Ceramic Toilet
---
For a modern bathroom fixture that won't require major work on your bathroom, another good option is the EAGO TB356 Dual Flush Eco-Friendly Ceramic Toilet. We're sure that this will be one of the sleekest and most modern one-piece toilets you'll find in your search, making it quite an interesting pick.
The first thing that you'll notice about the TB356 is its unique design. Its square shape gives it a unique charm. Combined with a seamless silhouette, clean lines, and sharp corners, this toilet can certainly stand out from the crowd.
Aside from its looks, its features will also let you know that this product is a top-of-the-line option. It certainly made sure that it will effectively consume water so nothing will be wasted in the process.
Starting from its dual flush design, it eliminates the need for you to use too much water when flushing down liquid waste. You'll only need half of what is used when flushing solid waste when flushing liquid waste with this toilet. It also promises that its mechanisms are powerful enough for single flushing, allowing you to get rid of solid waste with just a small amount of water.
On top of this is its use of a 3″ flushing valve in its siphonic flush system that reduces the common issues experienced in ball-chain-flapper systems. This will ensure that the tank won't continue running and consuming water in case of a faulty internal mechanism.
Features at a Glance
One-piece design for easy and quick cleaning and maintenance.

Dual flush ULF technology promises total water efficiency. 1.6 gpf rating for solid wastes and 0.8 gpf for liquid waste.

One flush guarantee ensures effective flushing and water efficiency.

2″ fully glazed trap ensures smooth exit flow of waste.

Siphonic flush system further minimizes the odds of wasting water.
---
EAGO TB352 Ultra Low Single Flush Eco-Friendly Ceramic Toilet
---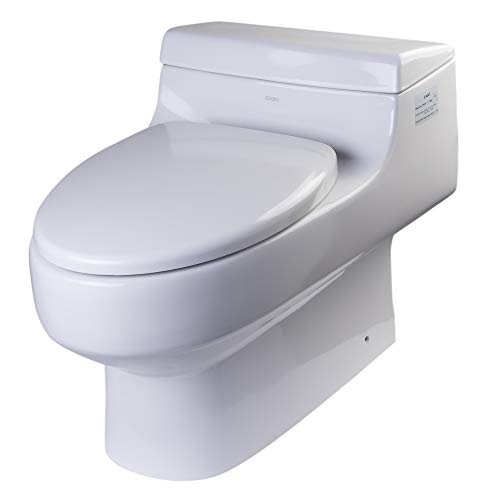 Those who hate the look of a toilet tank might find the EAGO TB352 Ultra Low Single Flush Eco-Friendly Ceramic Toilet a nice option. The most notable thing about this product is its small tank, so if you've never been too keen on the look of a toilet tank but don't want a tankless toilet at the same time, this item can offer a good compromise.
With a total height of 22.25", this one-piece toilet will not take a lot of vertical space in your bathroom. Its seamless aesthetic may even allow it to blend in nicely with some tankless versions, so it can be a great pick for many homes.
If you're worried about the tank's capacity, you don't really have to. Its size is quite proportionate to its requirements since it has the Ultra Low Flushing system in place. It only really uses 1.28 gallons per flush, ensuring low water consumption. This is also one of the reasons why it's touted as an eco-friendly choice as older toilets tend to use more than double that amount.
Further making this toilet water-efficient is its siphonic flush system. This removed the snap and flapper that comes with regular toilets which can be left running and consuming water when they fail to close properly.
With these, you're guaranteed that this toilet will cover all your bases in lowering your water consumption in the bathroom. So even if it's not a dual flush type, you're still guaranteed that it will help you conserve water.
Features at a Glance
One-piece ceramic design ensures easy maintenance and cleaning. It also looks more modern than its two-piece competitors.

2″ fully glazed trap guarantees a smooth exit of waste, thanks to its seamless surface.

Siphonic Flush System eliminates the snap and flapper components of regular toilets to avoid the issues that usually come with these parts when they malfunction.

Low tank height gives it a specific character that some homeowners might be in search of.
---
EAGO TB351 Dual Flush Eco-Friendly Ceramic Toilet
---
Rounding out our list is the EAGO TB351 Dual Flush Eco-Friendly Ceramic Toilet. This product may not look as modern or stylish as the other four above but it has its charms.
For starters, it's low-key modern as it's still sleek despite having a similar silhouette to a traditional toilet. It's like an upgraded option, making it a nice pick for those who want to update their bathrooms but don't want to go all out.
Like the more modern-looking pieces above, the TB351 is also equipped with the handiest and eco-friendliest features you'll want in a new bathroom fixture of its kind. It's easy to maintain, thanks to its clean lines, flat surfaces, and one-piece styling. In addition to this, it's wide water surface also helps it remain in top shape.
In terms of water efficiency, you can also count on this product's dual flush and siphonic flushing systems. Both ensure that it won't use up more water than necessary and prevent unneeded water consumption.
Features at a Glance
One-piece style giving it a sleek and modern appearance as well as making it a great pick for easy cleanups and maintenance.

Dual flush system helps homeowners consciously save more water as they can opt to use one button for solid waste (1.6 gpf) and another for liquid waste (1.1 gpf).

Soft-closing toilet seat and lid will keep your home quiet and peaceful even when the one using the bathroom isn't being mindful of their movements.

Wide water surface helps control odors and aids in easy cleanups.

Siphonic flush system further guarantees efficient water consumption.
---
Buying Guide & Things Need To Know About Eago Toilets Before Buying
---
Still not sure which product to get? That's fine as choosing just one product can really be a tough call if you have lots of great options. To help your decision-making process, however, here are a few things that you should know about EAGO toilets:
Water-efficient toilets are always the best options.
When it comes to toilets, it's always a good idea to upgrade with a new model due to their water-efficiency. Older models have 3.5 gpf rating which means that they use a lot of water to flush down waste. Newer ones, like the products mentioned above, have 1.6 gpf as its highest water consumption rating, so they're significantly more economical options.
Buying matching bathroom fixtures could be a good way to update your bathroom.
Like other toilet manufacturers, EAGO also offers sinks and tubs. This will allow you to get similar looking pieces that will help you create a cohesive look for your bathroom. With such, you don't have to look elsewhere to find the pieces that you need for a quick and effective bathroom update.
Most EAGO toilets come with almost everything you need for their installation.
One of the strongest suits of EAGO toilets is the fact that they include several items in their packages for a fuss-free shopping experience. Most items include the soft-closing toilet seat and lid as well as the wax ring for installation. With these, you don't have to purchase a lot of other items separately for installation.
The brand is dedicated to providing eco-friendly options.
Another noticeable thing about the products mentioned in the EAGO toilet reviews above is that all of them are designed to be very eco-friendly. Not only do they consume less water through flushing but they were also engineered to avoid having mechanical issues that can lead to unnecessary water consumption. This is definitely a great plus.
There's a very wide range of options available from the brand.
As our list above would suggest, EAGO toilets come in a wide range of options, giving you so many choices to choose from. Surely, with the array of their selection, you'll find something that will suit your needs and requirements.
Conclusion
There are many different factors when it comes to choosing the right EAGO toilet for your bathroom. With the quality and performance of their offerings, chances are low that you'll make the wrong call with this brand.
Keep our EAGO toilet reviews in mind and we're sure you will end up with the perfect product that will meet your needs and requirements.