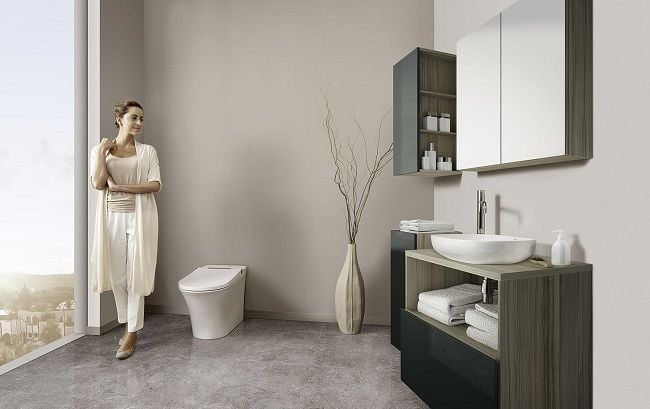 Thinking of giving your bathroom a modern facelift?
The best tankless toilet might just be the perfect item to get as they come with lots of benefits. Not only will they modernize the look of your space but they will also do the same to its functionality.
You see, tankless toilets are not just stylish and versatile but they're also loaded with great features that will let you save water and maintain the said bathroom fixture easier. So if you're ready to check out some good options, check out our product recommendations below.
Recommended Top 5 Tankless Toilet
---
Saniflo 023 Sanicompact Self-Contained Toilet
---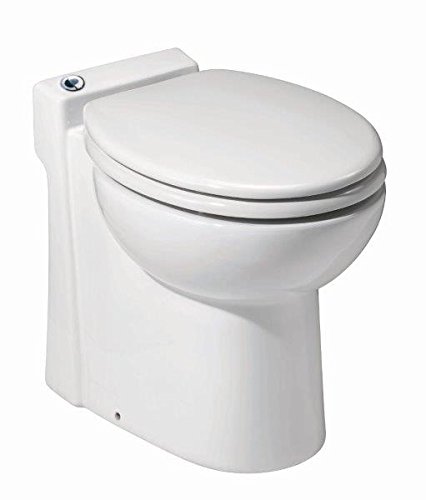 Starting this list with a bang is the Saniflo 023 Sanicompact Self-Contained Toilet. This is a great example of one of the most interesting examples of tankless toilets as it's designed to be compact, suitable for conditions where you can't flush down your waste, and even portable.
As a self-contained toilet, the Saniflo 023 is equipped to macerate and break down solid waste and paper tissue for effective flushing. It's meant to work in spaces that are located below the sewer line since it has an upflush feature.
With this product, you don't have to go through a complicated plumbing and installation process if you intend to set up a temporary bathroom or a bath and shower in the basement.
Due to this, the Saniflo 023 is also a good option for temporary bathroom setups. They're very easy to install as it only requires 3 connections. You can also easily take it out and move it elsewhere since it's a compact, one-piece fixture.
Water efficiency is also guaranteed with this product. It's rated at 1.28 gpf, allowing you to use less water when flushing. Since it also has a motor that is meant to break down the waste and flush them upward, it frees you from the need of using so much water to push the waste down the pipes.
Features at a glance
Self-contained toilet style for easier cleanups. This design also makes it very compact and portable.

Rated at 1 gallon per flush so it's very water-efficient.

Comfort seat height at 18.5" so anyone can use it without too much difficulty.

Upflush engineering makes it suitable for use in spaces below the sewer line without the need for some complex plumbing solutions.

Stylish toilet seat and lid included so you don't have to purchase separately.

Ready for a sink connection making it an ideal choice for half baths.
---
Dyconn Faucet Aqua Tankless All In One Combo 
---
If the reason you're thinking of switching to the best tankless toilet is to get a smart one, then check out the Dyconn Faucet Aqua Tankless All In One Combo Bidet & Smart Toilet. Equipped with a lot of convenient features, it can definitely make your trips to the bathroom more fuss-free.
Like many other smart toilets, you can expect a good dose of automation from this product. What are these features? Let's start off with its more basic functions. First is its built-in LED night light to guide owners to the bathroom without having to turn the lights on and fully disrupt their sleep.
It also has dual nozzles and an air dryer that will help make cleanups simpler. Last but not least is its water heating capability so you won't be sprayed with cold water down there.
Upping its automated capabilities is its sensors for flushing, seat heating, and nozzle spraying. Once it detects someone on the seat, it will heat up. Once it detects the user getting up from the seat, it turns off the heat and spray nozzles for power and water efficiency.
You can also control all of the functionalities of this smart toilet using a remote control or through the LED control panel on the side of the seat. So if you want to make sure that you have total control over this fixture, you don't have to worry.
As for its water efficiency, there's also no need to fret. This item is rated at 1.15 gpf, ensuring that it won't consume a lot in its operation. All in all, you're guaranteed to get a convenient and fuss-free deal with this pick.
Features at a glance
Square-shaped smart toilet offers modern convenience and comfort.

Single flush with 1.15 gpf rating promises top-notch water efficiency.

Soft closing lid ensures quiet use, especially for middle-of-the-night bathroom trips.

Built-in LED light helps users find the toilet easier in the dark.

Automatic sensor seat promises excellent comfort and power efficiency.

Dual-zone nozzles ensure effective cleaning and great user comfort.
---
TOTO MS982CUMG#01 Neorest 550H
---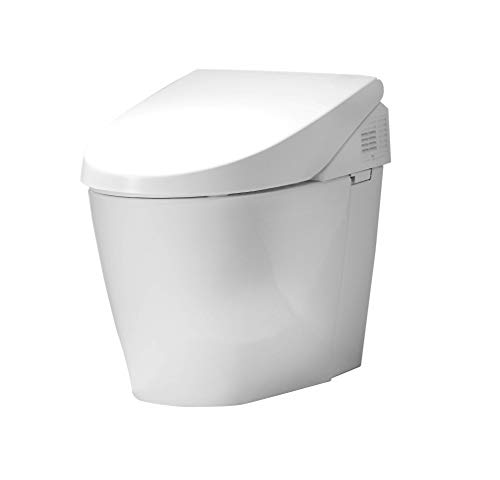 Not too fond of smart toilets because of their overwhelming amount of bells and whistles? Then check out the Toto MS982CUMG#01 Neorest 550H. While this item is not necessarily labeled as a smart toilet, it has all of the convenient features of one. But what really makes it stand out is the unique details that enhance its performance.
Let's start first with its automated functions. For starters, this product automatically flushes, so you don't have to bother about that chore. The lid also automatically closes and shuts, freeing you from the need of touching the toilet.
It also has a heated seat, an air purifying system, and an energy saver timer. It also has an automated bidet that will let you adjust the temperature and position of the nozzle as well as control the spray to make it oscillate or pulse for thorough cleaning.
These are all pretty standard for a smart toilet so Toto upped the ante with its WATER+, CEFIONTECT®, and TORNADO FLUSH®. These are enhancements to the basic toilet features so they're really notable.
Water+ is a cleaning feature that uses eletrolyzed water to mist the bowl's surface. This helps clean it thoroughly without the need for chemical disinfectants. Cefiontect is a special ceramic glaze that prevents debris and microorganisms from sticking to the surface of the toilet, keeping it clean and hygienic. Lastly is the Tornado Flush which ensures highly water-efficient flushing.
Top all of these off with the fact that Toto is one of the most reputable toilet manufacturers in the world and you'll definitely get why this product is a highly popular pick.
Features at a glance
Hands-free smart toilet offering the most convenient functionalities.

Dual flush engineering with 0.8 GPF partial flush rating and 1 GPF full flush rating.

Tornado Flush, Cefiontect, and Water+ technologies guarantee better performance and easier upkeep.

Automated features like automatic lid opening and closing, automatic flushing, heated seat, water temperature and spray control, and energy saver timer make this product very convenient to have.

Remote control functions allow easy customization.
---
Ove Decors Tuva Tankless Eco Smart Toilet
---
Completing our list is the Ove Decors Tuva Tankless Eco Smart Toilet. Offering a very sleek option with a seamless silhouette, this might just be the perfect pick for your contemporary bathroom. It's low-key but is packed with top-notch features that makes it very convenient to have around.
What lots of people liked about this item is its easy customization. It has a lot of different settings to choose from so you can be sure to really personalize the settings of your toilet to a T.
For starters, it has 8 water pressure levels, 4 water temperature levels, and 4 heated seat levels to choose from. You can also select from the different spray settings of the lady bidet nozzle or opt for a massaging cleaning session. There are also a few different air drying temperature settings and fan positions, letting you get the best results from the smart toilet's added functions.
Like the Toto product above, this item is also not just about its automated functionalities. It also has an antibacterial glazing to keep the surfaces of the toilet hygienic and easy to clean.
Its flushing system is powerful and water-efficient, too, so you can be sure that you won't waste a lot of water with this product. All in all, it's a pretty impressive option if you're very particular with how you want to control your smart appliances.
Features at a glance
Smart toilet with several automated capabilities promises excellent convenience.

1.27 gpf rating and WaterSense certified so you can be sure that it's a water-efficient pick.

Adjustable water, dryer, and seat temperatures and water pressure for your utmost comfort.

ECO mode to boost energy efficiency.

Tankless design removes waiting time between flushes so you can more quickly get rid of waste and finish up your trip to the bathroom

Remote control function allows quick and fuss-free customization.
---
Dyconn Faucet Niara Tankless All in One Combo
---
The Dyconn Faucet Niara Tankless All in One Combo Bidet & Smart Toilet is another solid option if you're after a reliable smart toilet. It's designed with your utmost convenience in mind as it's equipped with several features that will save you from having to use actually touch the toilet.
What makes it different from the other Dyconn Faucet mentioned above? It has a patented kick knob that is designed for opening the lid and manually flushing without having to touch the toilet.
This makes it very convenient as a secondary control mechanism for the radar technology used in this item to do the same things. So if you don't want to use the radar or if it's unavailable due to power outage, you still have a hands-free control option available.
Aside from these, the Niara also has other automated features. Like other smart toilets, it also has a seat sensor for heating, front and rear nozzle, and built-in LED night light. It also has a few additional features compared to the Dyconn Faucet Aqua listed above.
It has water pressure and temperature control, self-cleaning nozzles, and deodorizer. So if you don't mind a bit more, this might just do the trick for you.
If you're wondering about its water consumption, don't fret. This product is rated at 1.18 gph, so it wouldn't use a lot of water to flush down all kinds of waste even if it's a single flush kind of toilet.
Features at a glance
Hands-free and equipped with smart functionalities for hygienic and convenient use and operation.

Single flush rated at 1.18 gph promises efficient water consumption.

Patented Kick Knob for opening the lid and flushing ensures hands-free operation.

Radar technology for hands-free lid closure and flushing.

Self-cleaning dual nozzle promises easy hygiene maintenance.

Water temperature and pressure control to ensure your comfort.
---
Buying Guide & Things Need To Know About the Best Tankless Toilets Before Buying
---
Now that we've gotten to know a few of the tankless toilets in the market, we want to make sure that we'll also get to help you in choosing your perfect match. This is a tricky task since there are lots of factors that are worth considering.
So to cover that area, we've rounded up the very things you should look into before you decide on which item to get. These are a few of them:
The features you need
As you can see from our list above, tankless toilets have different offerings and functionalities, so you have to decide on what kind you want to get. Are you ready to invest in a smart one or will a regular toilet work for you?
Do you have other specific requirements regarding its placement and installation? Take these points into consideration so you can decide accordingly.
The usability of the product
A toilet is a pretty simple fixture, however, additional features can make or break it. This is why you should also make sure that it will match the purpose or location you have in mind. A mismatch in this area might render a toilet unusable.
Your budget
It's not a secret that toilets are also big-ticket purchases so there's a good chance that you have a budget in mind for this item. Stick to that so you can be sure to end up with something that will suit your needs.
Product maintenance requirements
Maintaining a toilet can range from easy to difficult in a jiffy, depending on the unit you own. This is why we also recommend that you take a close look at the maintenance requirements of the products you're eyeing. They should make or break your decision, depending on how much effort you're willing to put in the process.
Conclusion
With the many exciting options available for the best tankless toilets, it's completely understandable if you're having a hard time picking just one of them. They all offer great convenience and other features, so they're certainly enticing.
We're confident that our list can help you find your perfect match, though, as we're sure our tips and recommendations are all very useful. Keep them in mind and you'll find the right product for you in no time.
---
Recommended Resources
---