Our top picks: Best Bidet Toilet Combo of 2023
Not a while ago, people were busy finishing 2-ply toilet paper rolls one after another within a couple of days, dumping the chunk of used paper into the toilet, and flushing it. No water tap or handheld jet spray, there's only a toilet paper roll, and a toilet to save bathroom space and make it look sleek and roomy.
The time has indeed changed. Perhaps because of the filthy quandaries, these toilet papers create after a few months. That is when people anticipate something like a bidet toilet combo. The Best Bidet Toilet Combo uses technology that can knock you out.
The combo has found worthy assent with more people becoming aware of toilet paper not being good for the environment, but still needing space in their bathroom.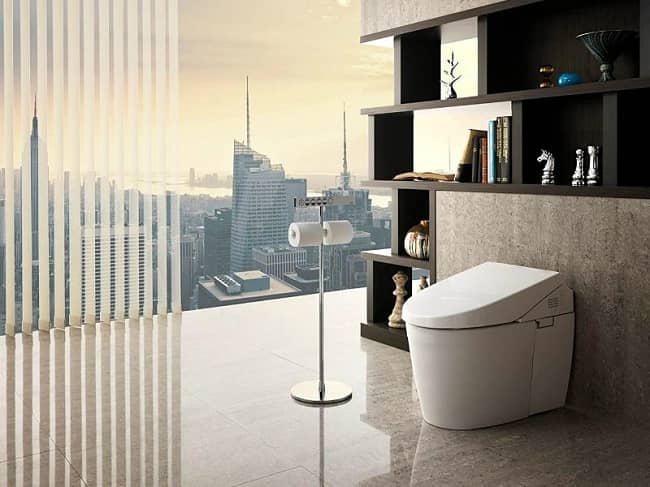 Review of the Best Bidet Toilet Combo
Last Amazon price update was: September 24, 2023 8:23 pm
Let's promptly go about our business by reviewing what we chose to recommend to you.
1. TOTO MS920CEMFG#01 G400 WASHLET Bidet Seat
With this bidet toilet combo, the users hardly need to use their hands. The lid senses the user's presence near it, and auto opens the lid of the toilet. If that was not enough, it does the same when the user is done using it. It automatically shuts the cover.
This toilet features Dual-Max 3D Tornado Flush technology as well as dual flush. When the toilet needs to flush at 0.9 GPF and when 1.28GPF, that will be decided by the toilet function itself. You just need to rise from the seat, and the toilet will assess the situation and flush accordingly.
The toilet has used a very lubricious CeFiONtect glaze on it. The coating makes it look sleek and glossy and doesn't let the waste adhere. Also, even before you use the toilet bowl, the pre-mist function keeps it damp. So, even if there are 10% chances left for waste adhering, that's gone. And the rest of the cleaning work is done by the flush and other passable water through the bowl.
From a child to the tallest member of your family, each one can sit on it comfortably. It is made for universal use. If the weather is too cold, heat the seat up between 82°F and 97°F. Only the ones who have already sat on a heated seat understand how comfy and cozy it is.
It has a convenient design. The skirted build doesn't leave any crevices. All that you need to clean is within your reach. Thus you can well-maintain your bidet toilet.
The rear, rear soft, and front cleansing functions clean you up through every possible angle and way. And that is done through the wand, which self-cleans itself after every use. The water pressure from the three functions is different too. You have a total of five settings for that.
Features at a glance
3D Tornado flush technology with dual flush

Deodorizer removes unpleasant smell

The temperature-adjustable, warm-air dryer dries you at once

Five seat-warming temperature settings

Five water pressure settings with three functions

ADA and CAL Green compliant and WaterSense certified
2. WoodBridge T-0008 Luxury Bidet Toilet
This low-profile, skirted, and elongated one-piece bidet toilet is sleek and a perfect addition to your bathroom space.
You have six different levels of water temperature and five different water pressures. Upon a push on the remote, the stainless steel wand oscillates and cleans you up from every angle. With the posterior and feminine wash, you are cleaning yourself well using different functions, and you can also enjoy a gentle massage with pulsating wash.
Even the seat temperature adjustment has six levels. Thus maximum comfort is guaranteed. Those with health issues are going to find their holy grail. 
The water nozzle self-cleans after each use. It is a three-in-one toilet system where the bidet, toilet seat, and flush are all interconnected. You can easily remove the seat while cleaning the bowl.
Using the toilet at night, and flushing is no more an alarm for the rest of the family members because this one ensures a quiet but powerful flush. The combo is known for its high efficiency and is also WaterSense certified. Thus you can be assured of not wasting a drop of extra water.
The integrated water heater provides you with unlimited warm water. It also has a safety on/off sensor where the toilet senses when someone comes near it.
Features at a glance
Skirted design with an easily removable seat

WaterSense certified

Self-cleaning stainless steel nozzle oscillates

Water heater ensures unlimited warm water

Six levels of water and seat temperature

Five water pressures
3. TOTO MW6042044CEFG#01
This one by TOTO is designed for hiding the WASHLET water supply and power cord. So what you see is just a bidet toilet combo placed at one corner of your bathroom space and nothing else.
The toilet bowl ensures no adhering of waste thanks to the CeFiONtect glaze. Apart from that, it also features the pre-mist function. In this function, the bowl is sprayed with water so that it doesn't remain dry. Thus the filth cannot be stuck on it and is not hard to clean. The wet bowl with CeFiONtect glaze helps to maintain the optimum hygiene of a toilet.  
Then you have the compelling Tornado flush system. The 1.28 gallons of water per flush has enough power to it, to clean the bowl every time you flush. All three techs make the whole process of keeping it clean very easy, at least from the inside.
Cleaning the outer portion might take longer as it has fissures. Still, it's not too difficult when the inside remains pretty clean all the time.
Clean yourself up with the strong water stream released by the innovative air-in-wonder wave tech. The auto air deodorizer, heated seat with five temperature settings, hands-free dryer, self-cleaning wand, and different water pressure, every feature screams comfort and luxury.
Features at a glance
Durable, made of high-quality materials

Hides the water supply and power cord

Pre-mist and CeFiONtect glaze ensures optimum hygiene

Tornado flush system

Heated seat and auto deodorizer

Air-In Wonder Wave technology
4. Complete Electronic Toilet with Integrated Bidet Seat
The electronic toilet with an integrated bidet seat by PRO STOCK is an easy-to-clean toilet. Its smooth ceramic bowl adds a luxurious feel to it. Also, the glossy finish plays its part in keeping it clean and hygienic.
The smoothness of the bowl doesn't allow waste to stay on it for too long. Also, the pre-mist wets it before use. So the dampness doubles the power of smooth porcelain, and the waste just can't adhere.
The elongated bowl is comfy to sit on, and its height is also universal. Cleaning it is easy due to the skirted design. There are no clefts that could be missed.
It allows multiple adjustments to the water temperature and pressure. Also, the seat temperature setting is diverse. The toilet is going to auto-flush the moment it senses you are leaving.
Not just that, it also senses if a person is close to it. Thus auto opens the lid and shuts it as well. But for that, you will have to do the needed setting with the remote once. After that, the toilet will work upon sensing someone's presence.
Features at a glance
Elongated skirted design for comfy sitting

Heated seat option

Lid auto opens and shut

Auto flush system

Pre-mist and smooth porcelain bowl ensure no adhered filth

Varied water and seat temperature and water pressure
5. KOHLER K-4026-0 Karing Skirted One-Piece Elongated Toilet
KOHLER K-4026-0 is an egg-shaped bidet toilet. It might be a weird shape, but when you look at it, you notice how comfy the elongated skirted toilet is in real.
You have the much-needed room in the bathroom without making yourself feel uncomfortable while using the toilet.
It has used the most advanced technicalities in its build. The auto flush flushes 1.28 gallons of water each time.
The toilet features a motion-activated lid and seat. So, everything related to touching the toilet with hands could be skipped as they work auto. The only thing one needs to touch is the intuitive touchscreen remote.
You can keep the toilet clean and maintain optimum hygiene without doing much. The stainless steel wand is for personal cleaning, self cleans and is UV sanitized.
The air dryer dries you up pretty quickly. There is no need to have toilet paper in the vicinity. Moreover, it helps you to maintain hygiene.
Do not worry about the bad odor. The advanced cleansing functionality takes care of that also with the deodorizing filter. You have a heated seat, warm water, different water pressure, and nightlight functionality too.
Features at a glance
Skirted elongated tankless toilet with seamless design

Handheld or wall-mounted touchscreen remote

Motion-activated seat and cover

Self-cleaning stainless steel wand

Heated seat and sprays warm water

Air dryer and deodorizing filter
6. Toto MS992CUMFG#01
Toto MS992CUMFG#01 is a decorative one-piece bidet toilet with a skirted design for comfort. It features a high-profile tank and a fully integrated system.
Like other toilets, this one also has a dual flush, but unlike the others, it flushes only 1.0 or 0.8 gallons of water per flush. Those who are living in a limited water supply condition; try it.
It is not just a flush. It's an ultra high-efficient one-gallon Tornado flush,  siphon jet flushing system. The force of water literally scrubs the bowl. You flush to keep the toilet clean.
Add the CeFiONtect glaze and the EWATER+ tech, where the bowl is cleansed with electrolyzed water every time. The waste has no scope to adhere to the surface.
The lid opens and closes according to the users' approach and departure. It stays deodorized and dry. A toilet is not a place well avoided anymore.
Clean yourself up the way you want. You have five options for that, front, soft rear, rear, oscillating, and pulsating wash.
Too scared to sit on a cold seat, use the heated seat, and warm water. Adjust the heat because there are multiple options.
Features at a glance
High profile tank and skirted design

Five cleansing options

Dual flush, 1.0 or 0.8 GPF

Self-rinsing wand with electrolyzed water

Varied water and seat temperature

CeFiONtect glaze, EWATER+ tech, Tornado flush for optimum hygiene
7. Kohler K-5401-PA-0 Veil
We have another KOHLER Bidet toilet, but this one has a higher profile than the previous one. Searching for a bidet toilet as high as a standard chair, and this is it.
It is a tankless toilet with a dual flush system. That means a direct water supply and no water wastage. Moreover, the skirted one-piece elongated toilet has an ergonomic French curved seat.
That shape is the best among all and ensures optimum comfort. Not just the shape, the heat function also provides comfort and a spa-like experience.
Adjust the sensing distance, and the toilet lid will auto-open and close even before you reach it. Notice it even in the dark with its nightlight function.
The high-quality water wand spray has 78 fine nozzles for a gentle front wash. It oscillates and ensures proper cleaning.
The pulsating wash gives a comfy massage, and the spiral spray wash cleans a broader area. Every time you have used the touchscreen remote to draw out the wand, it self-cleans with sterilized water.
Features at a glance
Tankless skirted elongated bidet toilet

Height similar to a chair

Dual flush

78 fine nozzles for the front wash

Wand self-rinses with sterilized water

French curved seat with heat function
8. Toto MS970CEMFG#01
This low-profile skirted front bowl by TOTO is an apt bidet toilet for moderate-height individuals and families with members, mostly kids.  It is an elongated bowl for comfortable sitting.
Toto has used its patented SanaGloss glaze to keep the dirt and waste away from sticking to the bowl surface. Each flush does the rest to keep the bowl clean.
The toilet auto flushes and auto open and closes the lid. You have a heated seat with different temperature options for comfort in the cold.
It features a dual flush, and it either flushes 1.28 gallons or 0.9 gallons of water depending on how much water the toilet needs to clean the stuff.
Due to the finish, the toilet bowl has and the function where the bowl is capable of keeping it damp, the waste doesn't get much scope to adhere to, in most of the cases. So, minimum water usage becomes a plus point as none enjoys wasting water.
The pressure of the water spray for the front and rear wash could be adjusted too. You can also have warm water of varying temperatures.
Features at a glance
Low profile skirted elongated combo

Dual flush, auto system, flush 1.28/0.9GPF

Auto open/shut lid

Patented SanaGloss glaze

Varied water and seat temperature settings

Front and rear wash with different pressure
9. TOTO MW614574CEFG#01
This one is pretty similar to the second TOTO bidet toilet combo we reviewed earlier. The features are very similar, but the design, is very different.
So, TOTO is giving its customers different options in designs. If you didn't like the design of the previous one, you could try this one and vice versa.
The water supply and power cord are camouflaged due to their design. Also, it is tankless. Being tankless means there is no limitation to the warm water supply, and it makes it look minimalistic and slick.
The EWATER+ tech it uses keeps the toilet bowl clean. The technology works to flush electrolyzed water automatically after every use.
You do not need to clean the toilet with tools and chemicals frequently. The wand self-cleans itself with the same electrolyzed water before and after every use.
It also features the Air-In Wonder Wave technology, where the water stream to clean up is gentle yet strong. Apart from all that, it has a heated seat with different temperature settings, different water pressure, and temperature.
Features at a glance
Tankless bidet toilet with an elongated seat

CeFiONtect glaze, pre-mist, EWATER+ tech for maximum hygiene

Tornado flush system

Auto air deodorizer

Varied water pressure and unlimited warm water

Oscillating wand for front and rear wash
10. WoodBridge T-0008 One Piece Toilet
T-0008 is a luxurious soft-closing one-piece bidet toilet. The high-efficiency toilet follows the WaterSense rules and doesn't let you waste even a drop. It flushes with full force but quietly.
It senses someone's approach, and the lid opens automatically. It does the same when one leaves the seat and shuts off.
The elongated seat is very comfortable. It features a heated air dryer to maintain hygiene and reduce toilet paper use to a bare minimum.
The stainless steel nozzle provides both front and rear wash with hygienic filter water. So, you have options of posterior wash, feminine wash, and pulsating wash. That, too, is from five different locations and the water pressure is varied also.
Five water pressure levels, the water could be cold or warm, it's your choice. You can warm up the seat using five different levels, and the water heater heats the water to six adjustable temperatures. The warm water you are using is unlimited. So, it's a boon if you are living in cold conditions.
Every time you are done using the nozzle, it self-cleans. With so many functions and so many adjustable pressures and temperatures, you can maintain optimum hygiene.
Features at a glance
Soft closing elongated bidet toilet

Self-cleaning nozzle washes from both front and rear position

Auto open and shut lid

Heated seat with five levels and heated air dry

Five water pressure levels

Oscillating and gentle massage pulse functions
Important Things to Consider When Buying Bidet Toilet Combo
Either get any of the ten bidet toilet combos we reviewed to save yourself from getting problematic ones or just know the buying guide. We have a long one for you to check.
Skirted Design
A skirted-designed toilet is always easy to clean because the outer portion of the bidet toilet will be flat, without any crevices. Even, if it has some hard-to-reach spots, those are minimal. The flat design looks cool and has no cracks to gather dirt or to be a habitat of mold. Also, people tend to be lazy and delay cleaning hard-to-clean spots. When the surface is flat, it is easy to clean. Hence you will do it regularly.
Elongated
The elongated shape of the bidet toilet combo will give your front and rear enough space to sit. The oval shape is that which a circle is not. Also, when it's not round but oval, it's thinner but more prolonged. So, anyone can sit comfortably irrespective of size. You do not have to struggle to stay put on the wide, big, round bowl. Your bottom fits there well.
Nozzle
The water wand is everything in the bidet toilet combo, right? We are talking about cleaning without toilet paper. So the more functions the nozzle offers, the better that toilet combo becomes. A self-cleaning nozzle that oscillates is the first thing you need in a bidet toilet combo.
Then we prefer nozzles with separate spray holes. That means you have both rear and front wash options, that too in different ways of water spraying. It could be spiral or fine spray.
Flush
We prefer dual flush in our bidet toilet combo. It could be a little bit pricier than the single ones, but our inclination will always be toward dual flush systems that are WaterSense certified. WaterSense certification means your flush can't fill even a drop more water than it should.
It is made that way. So you save water with every flush. And dual flush doubles up the saving of water because you need full flushing only once a day per member. The rest of the day, you are just urinating, and that doesn't require a full flush.
A dual flush ensures that you use half the quantity of water from a flush tank. Now calculate how much water you are saving with a dual flush system then. It's a lot.
Sensor
The bidet toilet combo must have the sensor on/off option. None happily touches the toilet lid, even if the family members use it. It is not hygienic either. With a sensor, the toilet could sense people coming near it, and auto opens the lid.
You can directly sit on it without bothering about the lid. As it opens, the sensor also lets the toilet know when to shut the lid off and flush. How many of you are fed up asking your kids to flush the toilet and not to leave the lid open? You know what to install now.
Air Dryer
Any bidet toilet combo asks for no toilet paper in the vicinity due to the warm air dryer. At least the high-quality ones have it. What the air dryer does is, release warm air to dry the washed area. It is not as quick as wiping the water with a towel or toilet paper, but it doesn't take too long too. If you add the benefit of doubling up the hygiene by drying with warm air, using toilet paper, even just a piece, seems like a waste.
Heated Seat
This one might seem to be a luxury for many of you, but it's a necessity for us. Because sitting on a cold ceramic surface, even when it's summertime, is not a pleasant experience. It's still cold enough to make you uncomfortable. A simple heated seat function can save you from the cold shock and also add to the whole relaxation process.
Adjustments
If a nozzle releases cold water with the same force, it's fine. If the seat stays warm with a single temperature setting, it is okay. But what if one can adjust the pressure and temperature, sounds enticing. We will prefer the latter option anytime.
And the list we compiled, consists of combos with these enticing adjustments. Some of them come with five to six different temperature settings for the heated seat and water. The water pressure levels are also multiple in these. And these adjustments are much-needed for better comfort.
How to use a bidet toilet combo?
Using a bidet toilet combo is as easy as using a regular toilet. You have the toilet bowl, flush, and water spray in one single piece. The only thing complicated is using its varied functions. We wouldn't deny all the features could be a bit overwhelming for a new user.
Manual
Many might not even know the water nozzle and dryer are inside, let alone know about the heated seat, different water pressure, temperature, and wash. Before you use a bidet toilet, first have a look at its manual. You need to have a thorough look at it to use the functions to their full potential.
Remote
After you read the manual and all about its features and functions, have a look at the remote. Wall-mounted or handheld remote control, both have their own fair share of pros and cons.
In our opinion, it is better to wall mount the remote control if it's a touchscreen. It becomes user-friendly because you do not have to hold the remote to use it. Then there is nothing to push or press. You need just to touch the buttons. So even if the remote requires attention and is at an arm's distance, you can comfortably use it.
Lid Auto Opens
We are assuming you have installed your bidet toilet combo and mounted the remote on the wall. The moment you approach the bidet toilet combo, the lid will open automatically. So, you see, you do not have to use your hand to open the lid.
Sit On The Seat
We are not going to be too graphic about using a toilet to empty your bowel. You could be new to the bidet toilet combo but not to empty your bowel. So, just sit on the bidet seat and use it. You can use the remote control to use the heated seat function. It is comfortable and relaxing.
Wash Button
After you are done using the toilet time to clean up. Now you have two options; front and rear wash.  Unless you are pushing the wash button, the nozzle, wand, or spray is not going to come out. So do not worry about it getting messy.
Push the wash button to draw out the wand. It will self-clean once, and if you are using warm water, it will take a few seconds to release water as the water is heating up right there.
Adjustments
Now you will have to adjust the water pressure, temperature, and position of the wand. You have specific buttons for that on the remote. A little practice will make you adjust to the remote control, and you will start enjoying it. Press the stop button when you are done washing, and the wand will again self-clean and then retract.
Air Dryer
You must be thinking of drying the damp area. Either use toilet paper or a towel. Or simply use the heated air dryer. Remember, every high-quality bidet toilet combo has one in it. For air drying also, you have a specific button on the remote.
Press it and wait till the air dries you well. It could take a while. But hygienic and saves toilet paper. Now you are ready to get up from the bidet seat. Don't touch the lid, just leave. It will sense your departure and auto shut.
Flush
Before you leave the bathroom, do not forget to flush. The bidet toilets have an auto-flush system flush upon departure. The manual ones are not too difficult to use, as well. Use the remote to flush the toilet, depending on for what purpose you have used it. You need not release a full tank of water always. Be wise while using the flush.
Now you are done using the bidet toilet combo. Make sure you wash your hands thoroughly before leaving the vicinity.
Frequently Asked Questions
What is a bidet toilet combo?
A bidet toilet combo is a whole toilet system in one. You have a toilet bowl, a bidet seat with a wand, a flush system, and a remote to control it. So, you have a commode, the water tap, and the flush tank all in one. It is the perfect combo to save space.
Not too long ago, people who were not too comfy with just using toilet paper used to have a commode, and right beside, there would be a bidet that looked just like a washbasin, but a low profile one for cleaning oneself up. It required too much space and was not too convenient as well. The bidet toilet combo with its all-in-one strength has changed the toilet game and brought almost a revolution.
Why is a bidet toilet combo so important?
The foremost reason is hygiene. A bidet could be unhygienic, but a bidet toilet combo is not. There is nothing to enjoy leaving the bathroom without properly cleaning up the personal area without water. Secondly, to clean oneself up thoroughly, people use toilet paper, roll after roll, unlimitedly. They have just no other way.
Tissue paper, toilet paper, and wipes, are just not good for the environment. So, if you are cleaning yourself well with water, without needing to touch anything except a remote, the very thing shows why it becomes so essential for you to have it.  
How does a bidet toilet function?
It is an electronic device. You will have to plug it into a socket, and it will work with electricity. Make sure your toilet space has a standard outlet so that the bidet toilet functions appropriately. You have to use the remote control to control all the features of the toilet. And without it being plugged into the electric outlet, the remote has no use, and the combo remains just a commode.
What do the different patented finishes on the toilet do?
The Bidet toilet combo has a smooth finish to it. Porcelain in itself is slippery and the glaze, coating, layer whatever you name it works as icing in the cake in keeping the toilet clean. The dirt and mold don't adhere to the outer portion of the toilet.
And the waste doesn't stick to the bowl even if it's not damp enough. So, your toilet bowl has no limescale. You are free from using harsh chemicals to clean the toilet. For example, Toto uses either  CeFiONtect glaze or SanaGloss glaze, which helps to keep the ceramic surface of the bidet toilet perfectly clean and fresh to a large extent.
How does warm water supply work?
There is no separate warm water supply connection in a bidet toilet combo. It only has a regular water supply. That water fills the tank through one way of the T-connection. When you use the function of the heater placed in the bidet toilet, the water that runs through the other way of the T-connection starts heating up. So, the varied temperature thus provides you with warm water that is sometimes lukewarm and sometimes warmer.
Conclusion
These toilet combos are very sleek. Almost an adornment to the bathroom. Albeit, a useful one, not just an ornament. And the different features of the combo work as the embellishment of it. We know the bidet toilet combo is not something that is there in every home.
Yet, finding the Best Bidet Toilet Combo was not tough for us. We found 10. Each one of them was impressive. The concept itself was enough to influence. And when the whole thing with technology took shape and form, we had nothing else to do but cheer.
But that doesn't mean there are no bad products. There are many. So do not forget to check our recommendations. You are very much allowed to put our prudence to the test.