Our top picks: Best Heated Toilet Seats of 2023
Sitting on cold toilet surfaces is one of the most unpleasant experiences. That's why the industry is focusing on producing heated toilet seats. Apart from delivering a high level of comfort, they have many sophisticated features along with durability. Most of the best heated toilet seats come with adjustable heat options and self-cleaning nozzles.
These help to relieve pains in the user's muscles as they work like heat therapy. They can be a lifesaver for those people who are suffering from colds and arthritis. Surprisingly, they consume a minimal amount of energy. Most often, the power saving mode automatically turns on when it is not in use.
Review of the Best Heated Toilet Seats
Last Amazon price update was: September 24, 2023 8:24 pm
All heated seats on the market don't hold the same standards. Since none can try all of them, we are presenting the reviews of ten top-rated options for you. Let's discuss their functionalities, specifications, and other details.
1. Euroto Smart Toilet Bidet Luxe Elongated 
This smart toilet utilizes a versatile seat that satisfies all user's requirements during bathroom visits. Its comfortable design includes a self-cleaning nozzle. The nozzle helps to clean by spraying out water. You can adjust the position of it for all types of sanitary wash. No matter if it is rare cleansing, feminine wash, or other washes, it will deliver the best performance.
The heating technology can make the water warm within seconds. The users can choose any water temperature from 6 different levels according to their comfort. Also, it provides six degrees temperature setting for air and seat. Due to such a wide range, it is suitable for all people.
You can also save your personalized settings for further use. Another surprising fact is, it doesn't allow only one but different people to keep their modes. All thanks to the dual-user memory. They only have to touch their saved settings for automatic heating, cleaning as well as drying.
It comes with seat sensors that can detect anyone's presence very fast. Therefore, the deodorizer activates automatically as soon as someone sits on the seat. As a result, there will be no unpleasant odor during and after using the toilet. As it uses electricity-saving mechanisms, no energy will be wasted.
Features at a Glance
Six levels of adjustable seat temperature

Dual-user memory saves all personal settings of multiple users

The self-cleaning nozzle provides the sanitary wash

Included seat sensor activates the functions as soon as someone sits on the seat

Warm air dryer with drying temperature control

Energy-saving mode reduces power consumption
2. UFFU C200e Bidet Electric Toilet Seat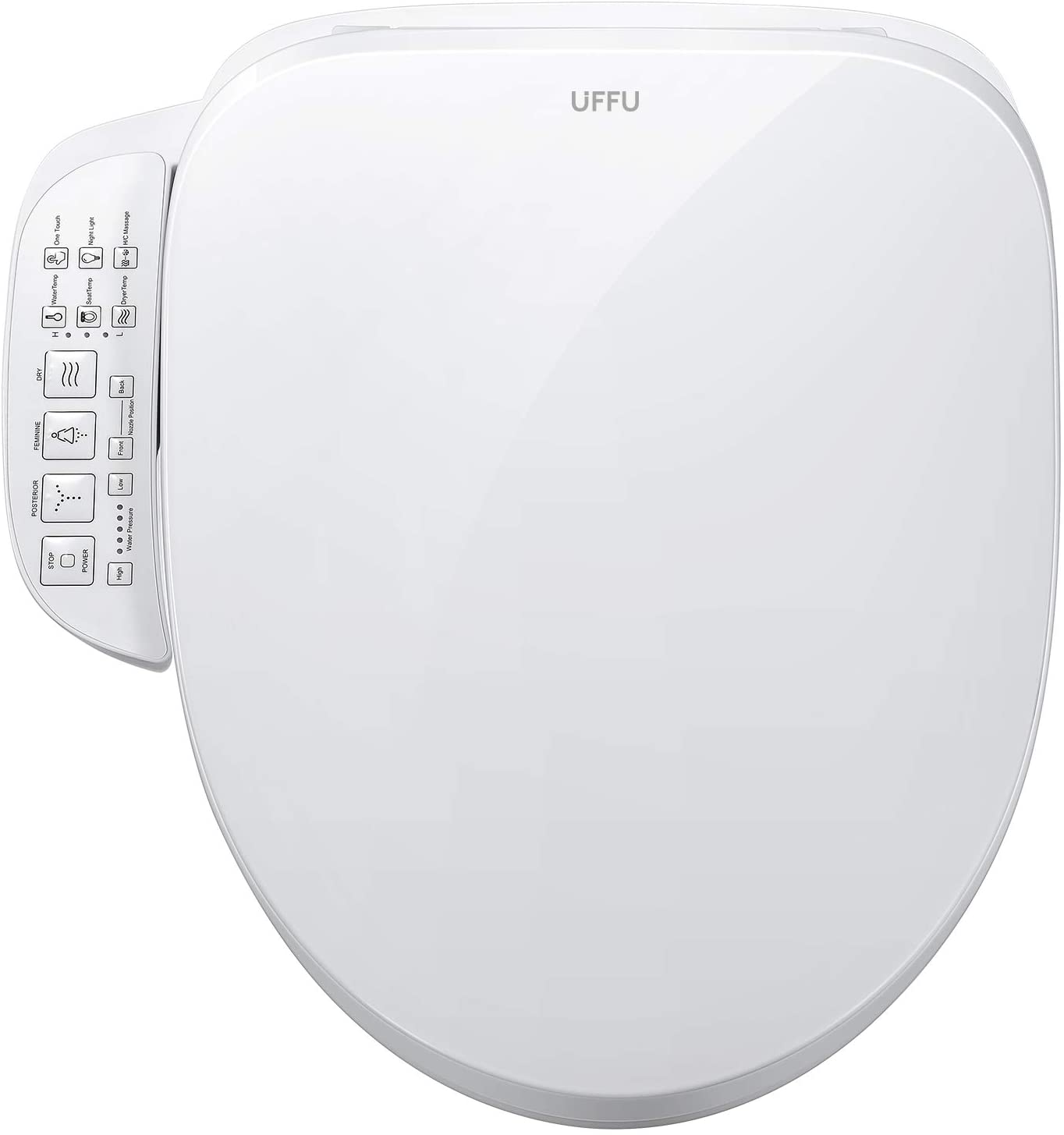 Unlike the regular thick and uncomfortable toilet seats, its slim design also includes a compact seating angle. Pregnant women and older people will not face any issues either. It implements instant heating technology. Thus, it doesn't have any water storage. This feature lessens water pollution significantly.
The smart chips and no water tank construction require twice less space. So it will look good on small bathrooms too. The heat and water temperature can be adjusted depending on user preference. They can choose the right one from several options, which can give them a maximum level of comfort.
It is equipped with a self-cleaning nozzle for ensuring the best hygiene. It removes approximately 80 percent waste before every use. You can move the nozzle to clean the hard-to-reach places. Don't forget to adjust the water pressure of the nozzle from four settings.
The users can change the water and seat heat for optimum comfort. Therefore, using toilets during winter won't be an issue anymore. Besides, if someone doesn't like warmth, they can turn the heat off completely.
Features at a Glance
Light, compact, and comfortable design

Less dirt storage and less water pollution

The self-cleaning nozzle eliminates all dirt

Adjustable spray position and water pressure

Smart adjustable technology to select the right temperature

Perfect for children, elders, and people with disabilities
3. BrondellLumaWarm Heated Nightlight Toilet Seat
Ever have a bad experience using a cold toilet seat? Then replace your old toilet with this one. Both round and elongated seats are available for different toilets. It offers 4 heat settings so that you can choose the most suitable one.
Anyone can easily set it up. You have to remove the existing toilet seat. Then replace it with this one without using any extra tools. Note that it requires electrical power to operate. The power is supplied from a GFI wall outlet.
Sometimes, people may slip and fall while using the toilets at midnight. It features an illuminating night light to avoid such accidents. The toilet bowl emits a nice blue light lighting the whole way. It illuminates so well that you don't even need to turn on the washroom light. It is also long-lasting and consumes low energy. If any user doesn't like the lighting system, he/ she can switch off the bulb as well.
Due to the gentle closing lid and seat, it won't generate noise. It won't interrupt other people's sleep if you are using it at midnight. And there will also be less chance of breakage.
Features at a Glance
Adjustable seat warmth settings

Included LED toilet light

Simple, ergonomic, and standard seat

Gentle-closing lid

Available in both round and elongated shapes

Quick and effortless installation with no tools
4. KOHLER K-10349-0 PureWarmth Heated Toilet Seat
This user-friendly seat has various warmth settings. You can select low, medium, or high based on your preference. Its lid closes quietly without slamming the toilet. For this reason, there is no chance of breakage and loud noise. You can still use the toilet without disturbing the asleep family members at midnight.
The dual led lighting provides guiding radiance after closing the lid and task light while lifting it. The users won't suffer from any difficulties during the night because of the nightlight. They can choose any from two different colors and two brightness options for the light.
It has compatibility with the KOHLER PureWarmth software. The seat warmth, as well as the brightness, can be adjusted using the app. One more important thing; make sure to connect it with a dedicated GFCI outlet. Otherwise, it won't operate.
After buying it, you will be surprised to see its clean look. Its hidden cord is responsible for such an appearance. It also features quick-release hinges to separate the seat from the toilet and cleaning efficiency. The seat removal task will take only some seconds. You don't have to use any other tool.
Features at a Glance
Three-level of warmth settings such as high medium and low

Wide range of color options and brightness levels for the night light

KOHLER PureWarmth app compatibility

The lid closes quietly and slowly

Easy seat removal for convenient cleaning

High stability with tight bumpers
5. BEMIS Radiance Heated Night Light Toilet Seat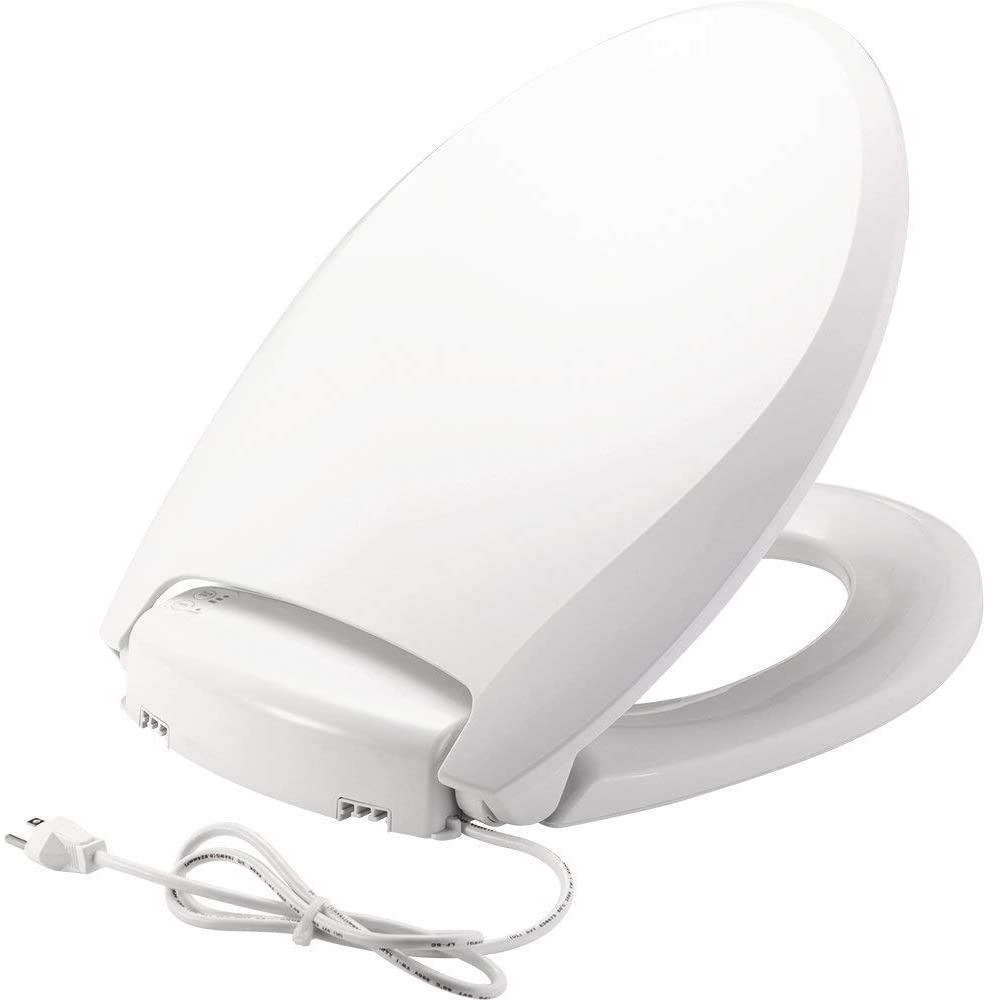 This seat includes 3 seat temperature settings for comfort. You can decide whether you want low warmth, medium, or high. It has the STA-TITE fastening system, which secures the position of the seat on the toilet bowl. This is the reason why the seat never comes loose. You can install the fastening system effortlessly with the help of a wrench.
Its built-in blue light can illuminate the whole way even if it is midnight. Without turning on the washroom light, you will experience a soft glow. The seat closes quietly and does not result in slamming and breakage.
For all-direction stability, it utilizes super grip bumpers. It prevents falling into the toilet bowl. If the seat still falls down, check whether the toilet tank and the bowl are at the same level. You can adjust the tank bolts if you want. Make sure of placing the cover on the tank properly. After following this trick, the seat will be stable and stay up.
It requires a power connection from GFCI wall outlets. You can remove it quickly for cleaning purposes and replacement. They fit the majority of the toilets, especially the elongated ones quite well.
Features at a Glance
3 levels of temperature settings for high comfort

Built-in blue LED to give the restroom a warm glow

No slamming issues

The STA-TITE fastening method secures the position of the seat

Quick setup using only a wrench

Ideal for all elongated toilets
6. Lotus Smart Bidet ATS-500 FDA Registered, Heated Seat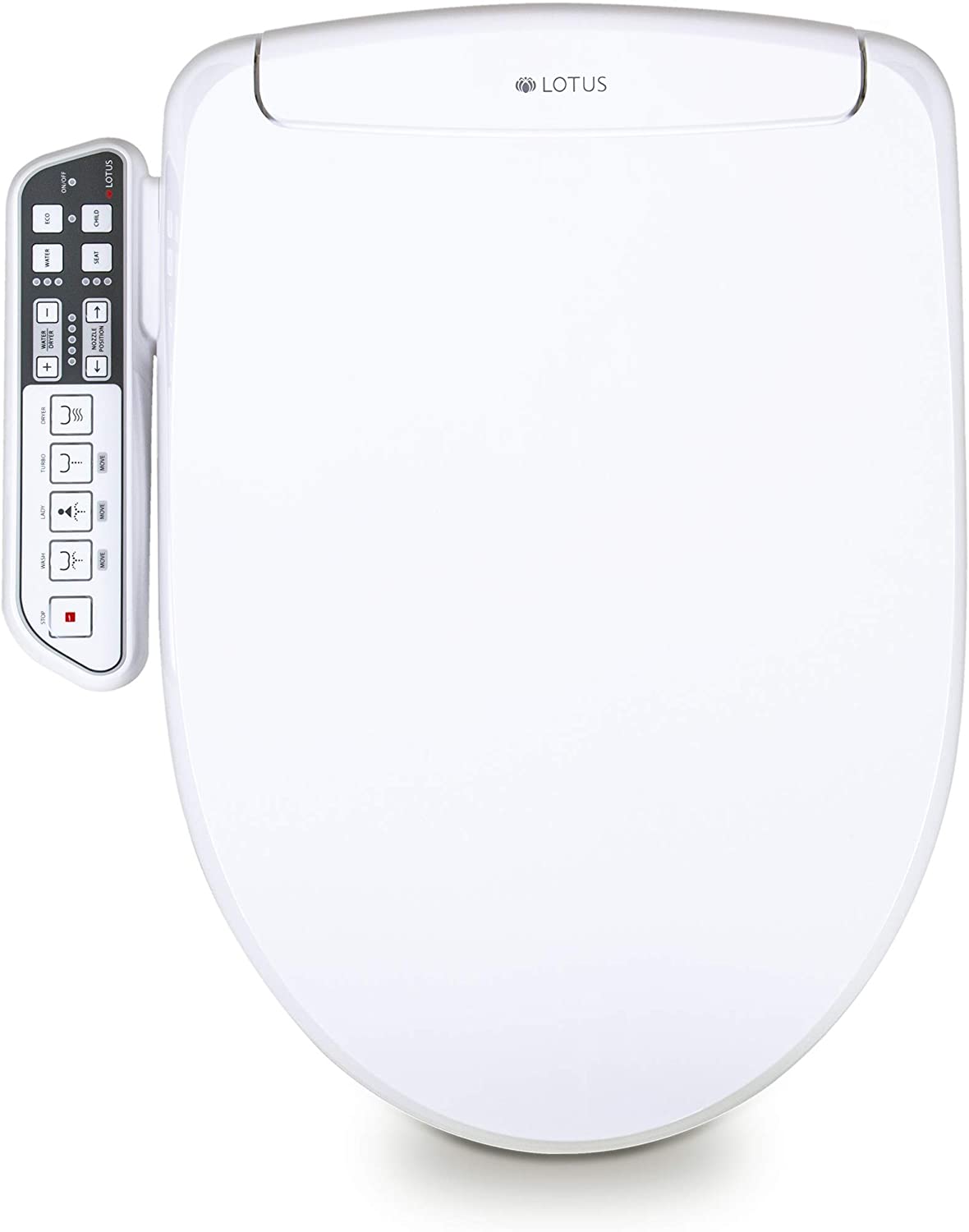 Lotus ATS-500 provides plenty of benefits at a reasonable price. Its several excellent features satisfy all user needs. It delivers continuous and instant warm water. You don't have to wait at all. No matter if the toilet is round or elongated, it fits them well.
It allows us to choose the right temperature from 3 warmth levels. Its self-cleaning nozzle helps to remove dirt and waste effectively. For nozzle position and oscillation function, any of the 5 options should be picked. The continuous flow of warm water can provide rear wash, feminine wash, and turbo wash successfully.
Its air dryer has 5 temperature degrees too. Such a wide range of choices ensures the maximum comfort and service as same as the users wanted. Just like the other top-end models, it contains a soft closing lid. So you don't have to worry about slamming against the toilet bowl.
Another surprising benefit is anti-bacterial construction. It prevents germs, bacteria, and mold building pretty efficiently. The setup process is so easy that anyone can do it. It does not consume too much energy. Once the user leaves, the energy-saving mode activates.
Features at a Glance
3 seat temperature choices

Continuous and instant warm water

5 levels of water pressures

5 oscillation function settings and nozzle position system

Different air dryer temperature

Energy-saving capabilities
7. SmartBidet SB-1000 Electric Bidet Seat for Elongated Toilets
If you are interested in buying the best hygienic, comfortable, and versatile seat for an elongated toilet, check out this one. The installation and maintenance processes are straightforward. You can control its functions with remote control. This wireless tool will fit within the palm. A remote mount holder is coupled with it, which lies within your reach.
Its multi-wash functions work well because of the self-cleaning nozzle as well as oscillation. The nozzles start cleaning before and after every usage. The various wash provides hygienic wash for both males and females.
It offers three warm water options for giving us the best service. Besides, you can shift the nozzle into five positions for the best wash. While washing, you can select the ideal water pressure from five levels. Its warm air dryer is a smart alternative to toilet paper. It will provide the best posterior experience to the users.
It comes with a soft closing and a noiseless lid. Therefore, the breakage probability is almost zero. It goes into energy-saving mode after the user finishes his/her job. Overall, it is a seat with the best value for money.
Features at a Glance
Control system with a remote control

Adjustable water pressure, warmth, and nozzle positions

Warm air dryer with five various levels

Easy installation

Soft closing and silent lid

Multiple wash modes
8. UltraTouch Heated Toilet Seat
When it comes to extra durability, this one is almost unbeatable. Its high-quality construction is not only stable but also long-lasting. It can withstand continuous usage yet last for a couple of years with no degradation in functionalities. If someone is used to sitting on this one, he/she will never want to use another model.
Although they don't have foam padding, they are very soft to the touch. It won't cause rashes to the delicate skin. That's why you can permit your little ones to use them as well. The highly comfortable, patented seating platform will certainly impress you.
It consists of antimicrobial elements. These particles can kill bacteria, mold, fungi, or other microorganisms and prevent their growth as well. Its thermal circuit heating systems provide 20 to 25-degree warmth above the washroom temperature.
It is quite economical because 12 watts of electricity is needed for its activation. This power is 5th times less than the required power of 60-watt bulbs. Its sealed low-volt structure combines with a UL-listed transformer to adopt a higher level of safety.
Features at a Glance
Durable premium-quality construction

The comfortable patented seating platform

12 watts of electricity requirements

Sealed 12-volt formation

Included UL-listed transformer

Built-in antimicrobial particles
9. SmartBidet SB-2000 Electric Bidet Seat for Round Toilets
This heated seat has everything to confirm the user's hygiene and convenience. It takes almost no time to install, is very efficient to use, and is also nature friendly. Its classic design is super stylish and gives the washroom an excellent look. It also contains a multi-function control panel. It is best for elongated toilets.
Its multi-wash functions involve various types of cleaning methods. With the self-cleaning nozzle, cleaning is just a matter of a few minutes. You can position the nozzle in five positions, ensuring that you don't miss any area while washing. Above all, the nozzle cleans itself before the user starts to use it and after doing his/her job.
Its sensor can sense the presence of human skin. Three seat warmth settings are available, enabling the person to pick the needed one. It offers a total of 5 water pressure levels. Additionally, you can decide between three water temperatures, such as low, medium, and high. The warm dryer will dry out the extra moisture so that you can say goodbye to the toilet paper.
Its soft closing lid closes very silently without any slamming. Due to the energy-saving mode, it consumes less amount of energy once the user leaves. In short, this one not only satisfies hygienic purposes but also fulfills all user requirements.
Features at a Glance
Plenty of wash modes

Water pressure, temperature, and nozzle positions adjustability

Adjustable seat warmth along with a skin sensor

Soft and quiet closing lid

The self-cleaning nozzle acts automatically before and after every use

The warm dryer delivers the best posterior performance
10. Bemis H900NL 000 Radiance Round Heated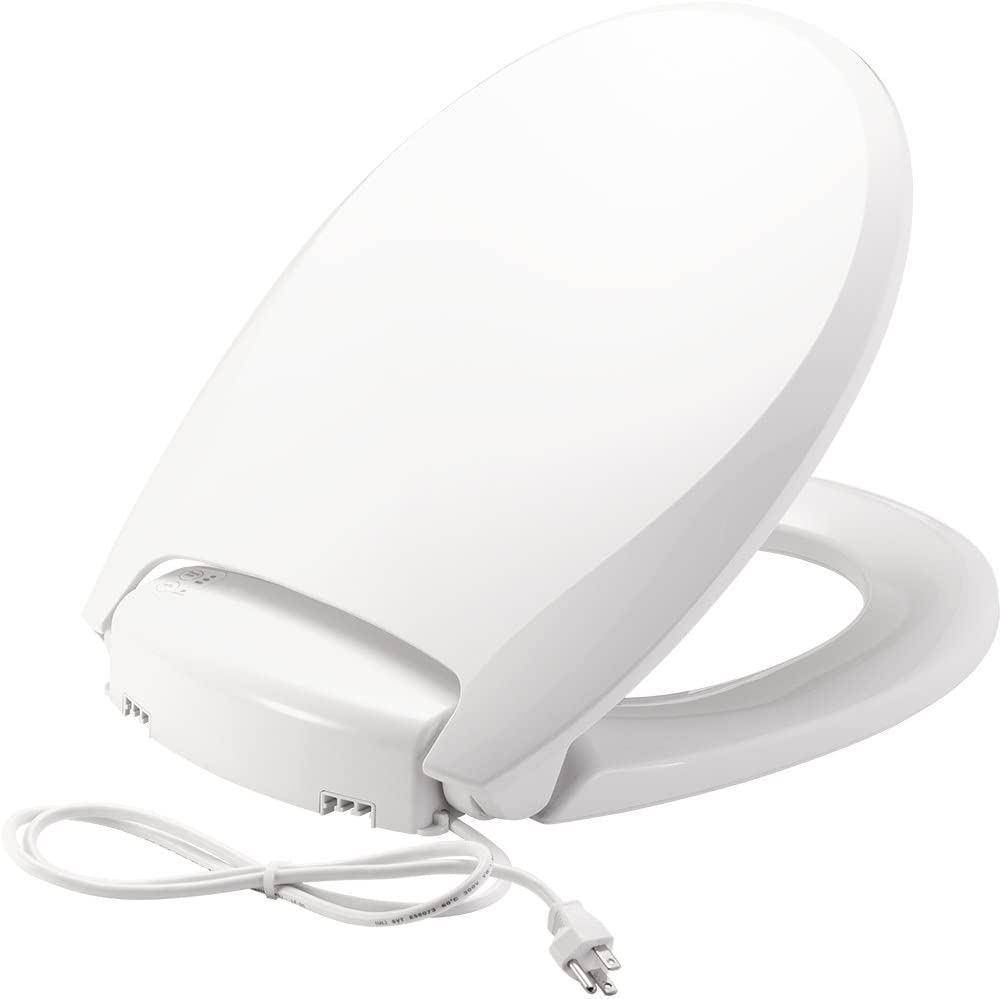 Bemis is a renowned and trustworthy brand for toilet seat. It mainly consists of plastic materials. This construction is responsible for making it lightweight. The closed front-seat style and the seating angle is designed to offer high compactness. It needs a GFCI wall outlet to get working.
The seat will remain stable on the toilet bowl because of the precision fit. It won't shift from its place during usage. It offers several warming settings allowing us to get the right temperature. If it is summer, you can go with a low level of warmth, and the average or high option should be preferred for winter. It can also vary based on the user's choice.
The night bulb is attached to achieve the proper amount of illumination. It is very impressive that it lights up the whole way leading toward the toilet. None has to find the toilet switch in the darkness anymore. Thus it decreases the chance of interruption of regular sleep patterns.
The whole package contains both a cover and hinges. The cover doesn't close fast, slamming against the seat. No noise will be there when it falls. For this reason, you can continue using it at midnight without disturbing anyone's sleep.
Features at a Glance
Warming settings for user comfort

Included lid and hinge

The lid closes slowly without the loud noise

Equipped with a night bulb which illuminates the washroom passage

Compact, stylish, and easy to install
Important Things to Consider When Buying Best Heated Toilet Seat
Consider these factors before buying an ideal heated toilet seat:
Elongated or Round
If you are unaware of these names, then let us explain. All toilet bowls usually fall into two categories of shape- elongated and round. The round products are O-shaped, whereas the elongated ones come in U or V-shapes. All round toilet seats are for the round bowl, and the elongated seat suits the non-round versions.
It makes sure that it perfectly fits the toilet bowl. Round one will not fit the other ones, and the same is applicable to the elongated models as well. No matter how incredible or advanced the seat is, it will be useless if it is unstable. The wrong-shaped seats will move, wobble or misplace when you sit on them.
Materials
Material is a crucial consideration for resistance and pressure tolerance. The models consisting of poor-quality components usually suffer from several malfunctions after only a few uses. You can find both plastic and wooden heated seats in the shops.
Both of them have some merits and drawbacks. Plastic items are cheaper, more studied, and have more anti-bacterial characteristics. Whenever you are holding them, you will be amazed by their weight. For this reason, most companies are focusing on producing plastic toilet seats instead of others.
On the other hand, the wood versions look more elegant compared to the plastic counterparts. They tend to give a high degree of comfort too. But they often absorb water resulting in bad smell and bacteria growth.
Adjustability
Pay more attention to this one because you are buying toilets for your whole family, not for only yourself. Obviously, the preference for seat warmth, water temperature, and water pressure will not be the same for everyone.
Be sure of buying a seat that offers many degrees for all of these functions. While some brands offer three settings, many also implement five different choices. Again, if it features a nozzle, be sure to buy a moveable one. Because you can place them in many positions for efficient washing.
Self Cleaning
Not all heated seats have this system. But it is a mandatory one. Find a brand having the feature of cleaning itself. The upgraded ones usually contain nozzles that clean themselves before and after all uses. They are capable of removing more germs and waste than their regular counterparts.
They always maintain great hygiene, discouraging the growth of mold and germs. Even if you don't clean regularly, it will keep the toilet smell-free, bacteria-free, and shiny. As a result, you don't have to get in touch with water in the cold months.
Closing
The advanced models always include a gentle closing mechanism. It means when the lid closes, it does not hit the bowl harshly. The regular heated seats lack this advantage. They cause slamming that leads to damage to themselves. Moreover, they also make noise. The noise is too loud to wake up anyone sleeping at night. So, prefer a soft closing lid to avoid this problem.
Conclusion
Nothing can be more annoying than using cold toilet seats during cold times. With our best heated toilet seats, this problem will vanish forever. Although all heated models have warming capabilities, these are more beneficial. But if you want to try something else, follow our buying guidelines properly.
You need to set your desired features in mind and keep searching accordingly. Because many customers may love the properties, you don't like them at all, and vice versa. Fix how much you can spend on a heated seat. Then look for the one which has all of your needed functions and lies within your budget as well. These tips will undoubtedly lead you toward the most suitable one.