Toilets are essential to all washroom designs. The most suitable one can be selected based on the bathroom size, compactness, and other needs. When it comes to the toilet bowl, we often find two forms.
One is round, and the other one is the elongated bowl. They are different in size and operations. Although elongated toilets beat round models in terms of comfort, many users still prefer round toilets for several reasons.
As round toilets come in a circular shape, they occupy less room in the restroom. On the contrary, elongated front bowls are way larger and oval. They may not fit in a small space.
Besides, if you have little kids in your house, they can't sit on the large bowl. In this case, picking one of the best round toilets will be a wise decision.
Quick Answer – Best Round Toilet
Recommended 10 Best Round Toilet
There are a wide variety of round toilets available in the stores. Among them, we choose ten top-rated options based on their impressive features and customer satisfaction. Let's check them out.
---
KOHLER K-3887-95 Cimarron Comfort Height  
---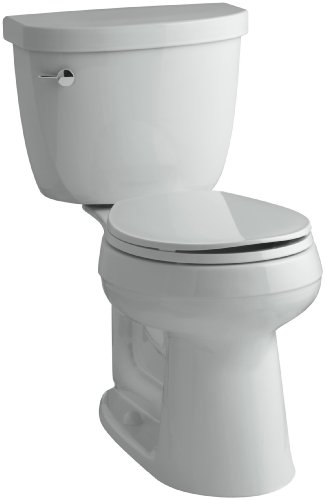 The KOHLER K-3887-95 toilet has an impressive finish, which blends with every type of restrooms. Its installation process is not problematic at all. It easily fits any tiny bathroom leaving sufficient space to move. Some round toilets may not be suitable for adults. But they won't face such troubles with this brand. Due to the perfect chair height, you can sit on it and stand up comfortably.
It meets EPA flushing guidelines. It only uses almost 1.28 gallons of water per flush. As a result, users get to save at least 16,500 gallons of water per year than 3.5-gallon models. You will need more than 20 percent less water compared to 16-gallon toilets.
Despite less water consumption, it does not compromise on performance. It features a powerful and quick flushing capability with AquaPiston technology. It supports water-flow from all sides resulting in an effective cleansing method. The users don't have to flush more than once or experience clogging.
Its water drainage system has increased the flushing power to remove water in many ways. All thanks to the durable canister valve. It is more effective compared to a 3-inch flapper. It will give you the best leak-free performance ever.
Features at a glance
Classic and versatile design

1.28 gallons per flash water consumption

Innovative AquaPiston mechanisms ensure a plug-free flush

Round-front bowl offers an ideal solution for smaller baths and powder rooms

Comfort seat height

Durable canister valve
---
American Standard 288DA114.020 288DA.114.020 Toilet
---
This H2optimum Selectronic toilet is the best known for the highest water-saving technologies. With 1.1 gallons per flush rate, it saves water-cost as well as maintain excellent performance. That's why it is EPA WaterSense certified. The high-efficiency toilet features a round front style occupying small space in tiny bathrooms.
Its round bowl, as well as 16 1/2-inch rim, enhance comfortability. Because of the vitreous china construction, it is sturdy and shiny. It comes with a large water surface and a 2-inch gateway. The fully glazed trapway creates a smooth passage for leading waste and water to the drain pipe. This property prevents clogging.
Before a flush takes place, a siphon jet carries sufficient water to point directly at the trapway. It implements a vacuum system to increase the pressure of the water flow. Thus, it drains dirty water within a few seconds. The users don't have to flush again and again.
It has a revolutionary EverClean surface. Such surface resists the growth of mold, stain, and bacteria. So the toilet stays cleaner for a long time. It keeps the toilet safe from odor too. As the complete package doesn't include a seat, you have to purchase it separately.
Features at a glance
Watersense-certified, 1.1 GPF water consumption

Stain-free, odor-free and bacteria-free EverClean surface

Robust and shiny vitreous china frame

High-efficient power wash rim with Siphon jet bowl technology

Included polished Chrome finish trip lever

Fully glazed trapway
---
TOTO CST743SD#01 Drake Insulated Round Bowl and Tank
---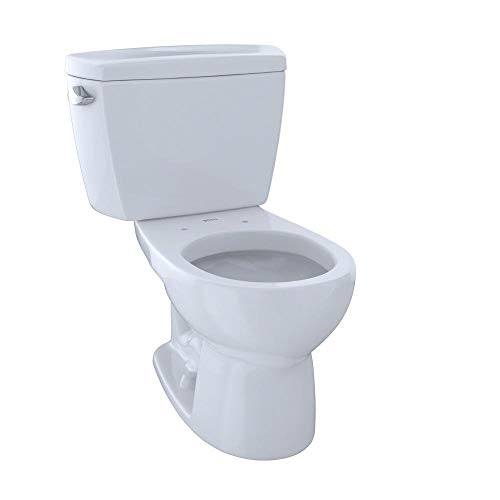 The CST743SD#01 utilizes a G-Max mechanism that provides the best flushing action. The commercial-grade system is quiet yet powerful. The toilet features3-Inch flush valve, which is larger than the regular flush valves. It combines with the fully glazed trapway forming an innovative technology for waste removal. Thus the water and waste can pass through a large water surface.
It conserves water with the siphon jet flushing action. It requires 1.6 gallons of water per flush. The system carries extra before the initiation of the flush. When you flush, It creates pressure directly into the trapway removing all waste at once.
TOTO products provide extra-ordinary performance and reliability, meeting all customer needs. The same thing is also applicable to this model. The high profile design doesn't only look great but also sturdy enough to last for an extended period. The bowl is taller than the similar models.
The set covers a tank with bolt down lid, trip lever, and other essentials. But it does not include a toilet seat, so you have to buy one separately. The installation process is also easy. While installing, you need to attach the tank with the bowl.
Features at a glance
Contemporary design with 12-Inch rough-in

Quite and powerful G-Max flushing facility

Siphon jet flushing system conserves water

No clogging with the large flush valve and wide trapway

Sturdy construction and nice finish

Easy to install
---
Kohler K-3933-0 Memoirs Comfort Height 
---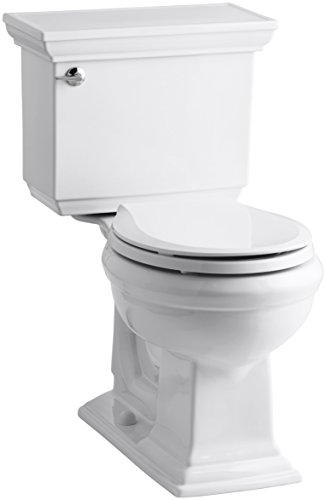 The Kohler K-3933-0 contains a round-front bowl and comfortable hight. It fits perfectly offers an in small home baths or tiny office restroom. Also, the bowl height is ideal for the majority of adults. It makes sitting down as well as standing up more effortless. With 28-3/8-Inch by 18-7/8-Inch by 31-1/8-Inch dimension, it weighs 99 pounds.
It is a two-piece toilet, which offers water-saving benefits apart from the excellent design. Its high-efficient 1.28-Gallon flush saves approximately 16,500 gallons of water annually than the 3.5-Gallon toilets. In this way, it follows the guidelines provided by the EPA's WaterSense authorities.
In spite of water conservation, the flush system is highly potent and effective. Aquapiston canister enables all sides water flow to remove all waste with a single flush. The Large Canister valve maintains an incredible jet action. It transfers water from the tank to the bowl within a few seconds. The canister structure has very little exposed seal material resulting in leak-free performance.
It comes with a polished chrome trip lever but does not contain a bowl seat. 
Features at a glance
Comfortable bowl height is suitable for most adults

Associated polished chrome trip lever

Effective 360-degree water flow

Durable canister frame ensures leak-free performance

Water-saving bulk flushing performance

Powerful jet action delivers water quickly from the tank to bowl
---
KOHLER K-4007-0 San Souci Toilet
---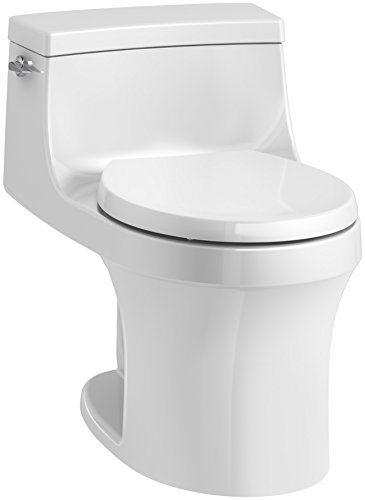 The KOHLER K-4007-0 forms a seamless design integrating the tank and bowl together. The toilet does not have lots of spaces where bacteria can hide. So the smooth surface is quite easy to clean. The low-profile tank and round bowl style are the part of this one-piece toilet. They create a small shape, which is perfect for powder rooms.
Its AquaPiston canister enables water-flow from all directions, enhancing the efficiency of the flush. Due to the robust canister style, it has a little exposed seal system. It handles leakage problems in a better way than 3-inch flappers. 
The Single-flush gravity produces a strong siphon while flushing. Single flush takes more than 20-percent less water compared to the 1.6-gallon toilets. If you compare with a 3.5-gallon toilet, this 1.28-gallon system conserves almost 16,500 gallons of water per year. That's why the San Souci holds the WaterSense label.
With AquaPiston flush motor, you will experience a powerful and plug-free flush. Its canister flush needs less actuation power than flappers. The high-quality tank delivers water to the bowl immediately while the trapway leads the waste to the drain-pipe. The customers will receive left-hand trip lever included, toilet seat and other quick-attach hardware with the model.
Features at a glance
Elegant, compact and easy-to-clean design

1.28 GPF water-efficient system

Powerful and quick flushing capacity

Integrated left-hand trip lever, rubber bumpers, hinges, and more

Less exposed seal style prevents leakage

Less actuation power is required
---
KOHLER K-3987-RA-0 Wellworth Round 
---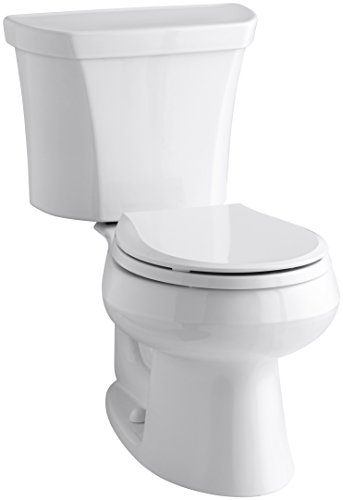 This Wellworth dual-flush toilet combines K-4197 bowl and tank in a small shape. The toilet has a rough-in of 12-inches. It means the finished wall is situated 12-inch far from the waste outlet of the toilet. As it occupies a small space, it is appropriate for small rooms. It supports no-leakage and quick installation. The users just need a socket wrench to fit the tank to the bowl.
Its dual-flush technology enables the users to pick between a complete or different range of partial flushes. The two-tone flush lever allows spending from 1.1 to 1.6 gallons of water per flush. Just like the regular toilets, the lever is placed on one side of the tank. So it leaves a wide space for storage.
The 1.1-gallon modes save at least 30 percent water than the 1.6-gallon version. As a result, it can save almost 4,000 gallons of water annually. Hence, it is Watersense certified. This double-piece toilet comes with a 2 1/8 Inch glazed trapway. 
Its canister valve makes sure of water-flow from all sides. The canister structure features a low amount of exposed seal material that prevents leakage. As only a small area gets in contact with the water, the red seal lasts for a long time. Therefore, instead of using less water, the toilet has an impressive flush system.
Features at a glance
K-4197 round bowl and tank forms a small figure to fit in small space

2-1/8-inches glazed trapway

Easy three-bolt installation procedure

Different flush options with the right-hand trip lever

1.6 gallons per flush water requirement
---
American Standard 2889518.020 H2Option Siphonic Dual Flush
---
The ADA-compliant toilet is 16.5 inches long in height. It is at least 2 inches higher than the average models. So, it will be perfect for most adults and the elderly to sit on it and stand up. But it may not be ideal for short people. The installation method is time-efficient and straightforward. Due to the speed connect approach, it takes 30-percent less time than usual.
This one has a dual flush system. You can use the 0.92 GPF option as a light flush for liquids. On the other hand, the1.28 GPF option creates a heavy flush for solid waste removal. It requires almost 25 percent less amount of water than the flush methods of regular toilets. For this reason, it has a WaterSense badge.
While the siphon jet bowl technology preserves water, the 2-inches trapway prohibits waste clogging. It is capable of cleaning the toilet with a single flush. Its EverClean surface resists the growth of stain, dirt, and odor-causing bacteria. So, you don't have to spend long to clean the bathroom.
The high-quality item weighs 68.8 pounds with 15 x 27.8 x 30 inches in size. The heavy-duty frame lasts for a couple of years easily. Even if any problem occurs, you don't need to spend a single penny on it. 
Features at a glance
Dual flush (0.92 GPF or 1.28 GPF) option

Low water consumption, Watersense certified

Fast flushes, quick refills

EverClean surface inhibits mold and bacteria

Fully glazed trapway prevent clogs
---
Niagara 77002WHCO1 Stealth 0.8 GPF Toilet  
---
It consists of white vitreous china materials. With a unique combination of performance, value, ease, and comfort, this 2-piece item comes at a reasonable price. It uses only 0.8 gallons of water per flush, so that does not allow water wastage. So it will lessen your water bill every year.
Its round bowl offers a cozy platform to sit while occupying little floor space. Additionally, the Niagara utilizes one of the quietest flush systems you will ever find. Such a benefit does not wake the other family members late at midnight. It contains a fully-glazed trapway for friction and absorption reduction. By preventing clogging, it improves the flushing performance. 
It implements an air-assisted flushing method for pressurizing the trapway. As soon as you pull the flush lever, it creates a strong vacuum to get rid of waste immediately. Thus, the system can clean drifts from the toilet bowl with a single flush.
The all-side water flow leads dirt out of the bowl quickly. As soon as the water fills the inner space, the air is pushed through its transfer pipe. When it comes to flushing speed, it is even better than a standard flapper. There will be zero blockage from objects in the bowl.
Features at a glance
Gravity flush style

0.8 gallons per flush water requirement

Extremely quiet air-assisted flushing mechanism

Fully glazed 2-inch trapway reduces friction

Wide water surface

No flapper, zero leaks, no water wastage
---
TOTO MS853113S#01 Ultramax Round
---
The TOTO MS853113S#01 is a high-profile one-piece model. The structure is comfortable and ergonomic. It is 26-1/2-inch long with 15-inch seat height. So it supports the majority of adults and the elderly. The tank measures 27-1/2-inch and 16-1/2-inch in height and width, respectively. It has a cotton-white finish that makes it look elegant. 
Its G-Max flushing mechanisms gives silent but powerful water removal performance. Each flush consumes only 1.6 gallons of water per flush because of the siphon jet action. It won't take too long to get rid of the water and dirt. All thanks go to the 3-inch flush valve. It is 1.25 times wider than other 2-inch valves. It is responsible to produce a fast and forceful flush.  
The large 2-1/8-inch glazed trapway is friction-proof and absorption-proof. It makes sure of quick waste removal without clogging. Due to the high-impact plastic frame, this seat eliminates the chances of injury. The combination of seat and lid features a preinstalled SoftClose hinge scheme. It helps in lowering the position with minimal noise.
The complete suite covers the tank lid, trip lever, and other essentials. The users don't have to buy anything separately. 
Features at a glance
Ergonomic, chemical-resistant, plastic mainframe

Easy floor-mounted setup method

Quiet and powerful G-Max flushing system

3-inch wide flush valve drains dirt quickly

Wider fully glazed trapway
---
Mansfield Plumbing 146.123.WHT QuantumRound Front
---
The Mansfield Plumbing 146.123.WHT version is a vitreous China toilet. This two-piece item contains a circular 14-1/2 inch bowl. Its high-performance flushing method allows only 1.6 GPF water consumption. It will cut your annual water bill and thus saves money in the long run. 
The pressure-assist flushing technology can increase water pressure from 35 to 80 P.S.I. As a result, it will drain out all waste and water with a single flush. Its fully glazed measures 2-inch in diameter. It prevents water flow in the wrong direction and clogs as well. The trapway is not difficult to clean at all. 
It utilizes a large water area in the bowl. You don't have to flush several times like some back-dated toilets. Even if you need to clean again, it won't take so long. The reason is, it takes less than 30 seconds to refill. The product comes along with a left hand, chrome-plated lever. But it does not include any seat. 
You can install the toilet in a few minutes. The installation process is described well in the instruction manual. If you follow it adequately, there will be no problems with adjustments. 
Features at a glance
Vitreous China construction features 14-1/2-inch tall bowl

Associated left-hand chrome-plated metal lever

1.6 GPF or 6.0 LPF water consumption

1,000 MaP Flush Performance

35 to 80 pound per square inch water pressure range

2-1/8 inch glazed trapway and 2-3/4 inch trap seal
---
Consider Before Buying Best Round Toilet  
---
Everyone needs to consider the following factors to choose the right round toilet.
Water Closet Types
A water closet can either be one-piece or two-piece. The system consists of a bowl for collecting waste and a tank for storing the water. One-piece toilets form one whole unit by combining the bowl and tank. They have no joint and gap styles.
So they are easy to clean and install. But the two-piece models have separate tank and bowl, attached using fittings. You may face a little bit of difficulty while cleaning them. Again, they are harder to connect and move. If you fail to connect correctly, it may cause leakage. But they are way cheaper than the first types.
Seat Height
Seat height is nothing but the distance from the seat to the surface. It depends on the height and physical requirements of users. As you can assume, the ideal height will vary from person to person. Most adults prefer at least 16-inch or more height.
It is also known as comfort height. If you are taller than the average, it will suit you perfectly. Otherwise, you may face difficulties to stand or sit on the bowl. The standard seat height does not cross 15.5-inch. They will be the best for short, medium people and children as well.
Fit
Before buying a toilet, make sure that it fits in the bathroom perfectly. A term named "rough-in" measurement was developed for this reason. The rough-in distance is the measurement from the wall to the center of the bowl.
Though the most common one is 12-inch, the buyers will also find10-inch and 14-inch. If your washroom is large, then go for the larger models. But don't waste money on a large model, if you have a tiny bathroom.
Flushing technology
The main performance of a toilet relies on how good the flushing system is. Where some single flushes remove waste immediately, many require more than once. There are lots of flushes implementing vacuum action.
They generate high water pressure to lead the water and dirt directly to the pipe. We can categorize various flushing methods in two main classes- single flush and dual flush. The single flush has fixed water consumption per flush.
No matter you want to remove light waste or massive waste, it is capable of eliminating both types. The dual flush toilets offer different options for different kinds of waste. They prevent water wastage.
Water-Saving Technology
In the advanced decade of technology, people are not only focusing on the benefits but also resource usage. So, the manufacturers are trying to develop products which consume less resource. When it comes to the toilets, the water consumption per flush is measured in gallons.
High-efficient models hardly exceed 1.28 gallons per flush. They usually have EPA's WaterSense label. They conserve at least 4,000 gallons of water per year. However, some brands offer two water consumption options. Then anyone doesn't have to use more water than it requires to remove waste.
Conclusion
After going through the reviews on the best round toilets, you will have a clear idea about them. Our selected models are not only well-designed but also great in performance. All of them are easy to use, install, and clean.
Also, they have plenty of positive feedbacks from customers. The main goal of this list is to help you make the final decision. Whether you purchase any from the list or others, make sure that it has all of your needed features.
Simply follow the given buying guide and keep comparing several brands. In this way, you will find the specific one that meets all of your demands.
---
Recommended Resources
---