Most people in North America use toilet paper to clean themselves in the bathroom after relieving themselves. They are oblivious to the fact that for centuries now, people all across the world have been washing after using the toilet and not using only toilet paper. 
Bidet toilets and toilet bidet seats incorporate this age-old habit of washing oneself after using the toilet. You might be wondering what exactly is the definition of a bidet toilet or, more specifically, a bidet toilet seat. 
To simply put it, bidet toilet seats are special hi-tech toilet seats that have a hygienic nozzle lengthening beneath you as you use the toilet. The nozzle is there to spray and wash you after you have done your business. 
It retracts itself when the seat is not being used. Bidet toilet seats can be added over an existing toilet through simple DIY installations. It can easily replace an old toilet seat. The bidet function can be used whenever you sit on the toilet to use it. 
You no longer have to go across the bathroom to get access to washing yourself post-toilet usage. This article will aim to look at five different toilet bidet seats and the features that are included with each of them and will also tell you briefly how to choose the best toilet bidet seats. 
Keep reading to find out more about this amazing and innovative combination for your toilet seat.
Quick Answer – Best Bidet Toilet Seats
Reviews of the Best Bidet Toilet Seats
It's imperative to mention electronic bidet toilet seats. Those of you who like warm washes, this one's for you. Electronic bidet toilet seats actually have integrated water heaters. That means you can enjoy warm washes post toilet usage.  
As if that feature wasn't good enough, some of these seats have all kinds of cool toilet bidet combinations, like night-lights, heated seats, warm air dryers and deodorizers. We kid you not. 
The following gives you reviews of five of the best toilet bidet seats.
---
Bio Bidet Ultimate 770 Elongated Smart Bidet Toilet Seat
---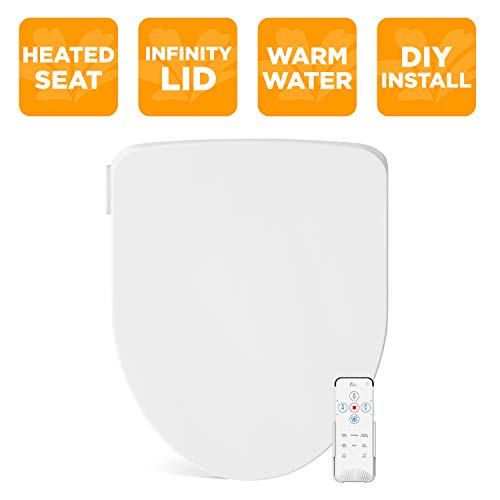 The Bio Bidet Ultimate 770, Advanced Bidet Toilet Seat model, has an easy DIY installation system and includes luxury features from its side panel.
The adjustable heated seat and water along with the dual nozzle posterior as well as feminine wash make it an ideal for all sexes. The nozzle works great for kids as well, making it perfect for the family.
With its wide clean and vivacious massage technology along with bubble infusion, it will leave you wondering why you didn't try it out before. The efficient comfort-adjustable heated seat and water sided with slow closing lid adds to the overall finesse of the seat.
The best environmental part, placing the seat on Energy Save Mode helps to reduce electricity, making it eco-friendly.
Features at a glance
Easy DIY Installation

Luxury features from the side panel

Adjustable heated seat and water

Dual nozzle- perfect for use by the whole family as it has a posterior wash as well as a feminine wash.

Wide clean and vivacious message technology with bubble infusion

Streamlined comfort-adjustable heated seat and water, slow closing lid

Energy Save Mode reduce electricity and toilet paper, good for the environment
---
TOTO SW2044#01 C200 WASHLET Electronic Bidet Toilet Seat
---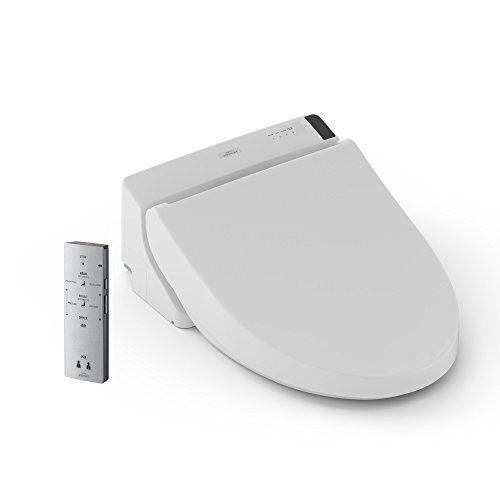 The Toto SW2044#01 C200 Washlet Electronic Bidet Toilet Seat with Premist and SoftClose Ltd. model comes with a self-cleaning wand, which automatically cleans itself both before and after use.
This cotton white colored toilet bidet seat is designed with a heated seat, automatic deodorizer, and warm air dryer. Both front and rear warm water-cleansing options are inclusive, along with five adjustable pressure and temperature settings.
It is remote control operated with an illuminated touchpad that is easy to read and incorporates 2 user memory settings.
The premise set basically allows incoming water supply's misting of the toilet bowl before use to help avert waste from staying back when flushed.
Features at a glance
Self-cleaning wand that automatically cleans itself before and after use

Designed with heated seat, automatic air deodorizer and warm air dryer

Front and rear warm water cleanse with adjustable pressure and temperature settings

Operated with remote control and comes illuminated touchpad, easy to read, and 2 user memory settings

The premist setting- allows misting of the toilet bowl before use
---
SmartBidet SB-1000 Electric Bidet Seat  
---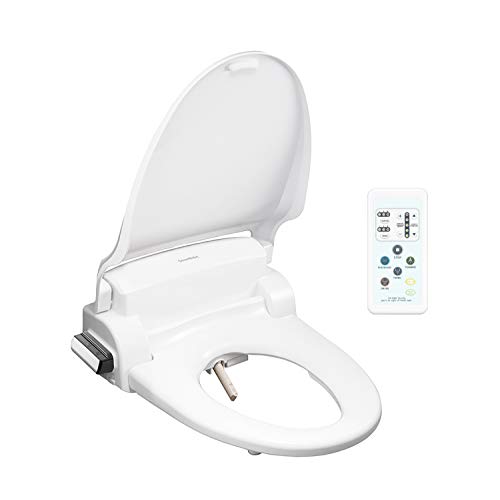 The SmartBidet SB-1000 Electric Bidet Seat for Round Toilets with Remote Control-Electronic Heated Toilet Seat is an easy to install toilet bidet seat. It incorporates energy-saving mode along with a soft closing lid and seat.
The heated seat has three separate levels with safety sensors that activate based on-skin sensors. The five levels of adjustable water pressure, along with three levels of water temperature setting and five different nozzle positions, make it an amazing buy, especially for families.
There are multi-wash functions for both sexes.
The warm air dryer feature eliminates your need for toilet paper at the end.
Features at a glance
Easy to install

Energy saving mode with soft closing lid and seat

Heated seat (3 levels) with the safety on/off skin sensor which activates bidet only when seated

Adjustable water pressure (5 levels), water temperature (3 levels) & nozzle positions (5 levels)

Multi-wash functions with the self-cleaning nozzle

Warm air dryer, adjustable to 5 levels, no need for toilet paper
---
Brondell Swash SE400 Elongated Bidet Seat
---
The Brondell Swash SE400 Elongated Bidet Seat with Air Dryer and Stainless-Steel Nozzle model is of premium quality that you can trust. Brondell is well known for manufacturing reliable goods.
Along with a sturdy seat, features such as warm water wash, warm air dryer, heated seat, nightlight, stainless-steel self-cleaning nozzle, gentle massage pulse, auto mode, and power-saving eco-mode all make for a perfect combination.
You get more for less when compared to other toilet bidet seats that may cost you hundreds of dollars more. The stainless-steel nozzle allows for maximum durability and hygiene.
Features at a glance
Made with premium quality that is reliable, from Brondell

Features such aswarm water wash, warm air dryer, heated seat, nightlight, stainless-steel self-cleaning nozzle, gentle massage pulse, auto mode and power saving eco-mode

No plumber or tools needed, the swash installs on your current toilet, just remove your toilet seat and replace it with the swash

The Swash SE400 has a stainless-steel self-cleaning nozzle for maximum durability and hygiene, inclusive of both front and rear washes
---
Brondell Swash 1400 Luxury Bidet Toilet Seat 
---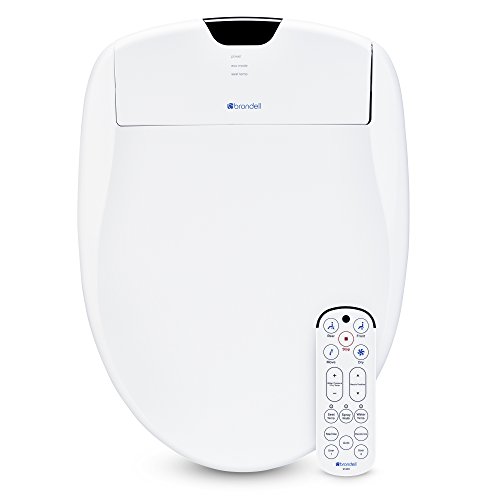 The Brondell Swash 1400 Luxury Bidet Toilet Seat in Elongated White model is laden with features such as a blue illuminating nightlight, endless warm water heating system, replaceable deodorizer, and nozzle oscillation.
Like most toilet bidet seat models, this one can also be installed easily. This model allows you to customize your wash so you can program the wash according to your preference. One-touch auto mode allows for a hygienic experience.
The best part perhaps is the sleek design intended for North American users; the hidden pocket makes sure the water hose and electrical cord remain out of sight when the toilet is being used.
This model has top-notch cleaning, as nanotechnology is used to ensure a germ-free experience. Aerated wash spray comes with three-spray width as well as three water pressure settings.
Features at a glance
Features include blue illuminating nightlight, endless warm water heating system, replaceable deodorizer and nozzle oscillation

Quick installation, the swash installs on your current toilet, simply remove your toilet seat and replace it with the swash.

Customize your wash, programmable user settings and one-touch auto mode from the touch of a button

The sleek design allows for a great toilet fit; hidden pocket makes sure the water hose and electrical cord are out of sight.

Uses nanotechnology to remain germ-free. Aerated wash spray with three spray width and three water pressure settings
---
Hibbent Bidet Seat with Separated Self Clean
---
This incredible seat comes with double self-cleaning nozzles. Both of them have separate knobs. They clean automatically before and after every use. The nozzles will be retracted if they are idle. As they ensure both front and rear hygiene, your toilet will always be clean even if you forget to clean it regularly. In this way, you will get healthier as well as better performance compared to a regular one.
The contoured design of the seat is built in such a way to offer maximum comfortability. It doesn't require any batteries or electrical power. The installation process will take less than 40 minutes. After setting up, you just have to move the function knob to either the left or right to pick the most suitable function. No matter if the user is a child or an elderly, everyone can do so.
Its function controller utilizes one button to enable us to choose our preferred settings. We can select the water pressure from soft to strong for cleaning.
It contains a soft-closed seat that closes gently. It doesn't make any unpleasant or loud noise after hitting the toilet bowl. So, you can use it at midnight without waking up family members. Due to such soft slamming, there won't be any chance of cracking as well.
Features at a glance
The self-cleaning double nozzles come with individual knobs

Simple installation takes 20 to 45 minutes

Different types of cleaning facilities

Soft closing seat and lid don't make noise while closing

No requirements of batteries and electrical power

Soft to strong water spray adjustability
---
UFFU C200e Bidet Electric Toilet Seat with Control Panel
---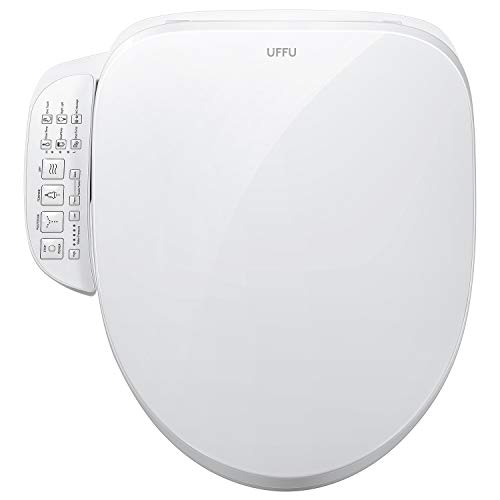 This model offers optimum hygiene and convenience with plenty of beneficial properties. It features a smart control panel. The users can adjust the air, seat, and water temperature from many choices. Besides, if the users don't like the warmth, he/she can turn off the heat completely. Therefore, you can use it in both summer and winter.
It provides high to low water pressure so that you can set the pressure according to your preference. Additionally, you can also keep changing the spray position during cleaning. As a result, there will be no place left dirty. The raised points on all switches assist in finding the right one without moving sideways.
Unlike other conventional thick and heavy models, it has a compact seating angle. It adopts a self-cleaning nozzle that gets rid of the residual water prior to each cleaning. Because of the stainless steel mainframe, the nozzle is robust enough to last for a long time.
It implements instant heating technology. This is the reason why the system does not need any water storage. There will be no water pollution at all. It is suitable for pregnant women, children, and the elderly with reduced mobility. Moreover, it helps to relieve constipation issues, fatigue, and physical stress.
Features at a glance
The smart control panel allows adjustment of air, water and seat temperature

Adjustable water pressure as well as spray position

All-time clean look with stainless steel nozzle

Less liquid storage and zero water pollution due to the instant heating technology

Capable of minimizing constipation and muscle pain

Slim and sleek design, compact, lightweight
---
Brondell LE99 Swash Electronic Bidet Seat LE99
---
This bidet is a complete package of all desired high-quality features. It contains soft and firm wash modes as an extra boost of power. While a gentle wash can be achieved by the first mode, the higher water pressure will remove all hard waste. The front and rear splashes will result in superior cleanness.
With its advanced hybrid heating mechanisms, you will be blessed with a longtime warm water cycle. It allows us to choose any from five water temperature settings to get the needed comfort. Also, be prepared to get a touch of luxury with its warm air dryer. Thus, you don't need to spend more money on toilet paper.
It has a stainless steel nozzle for cleaning purposes. Such construction offers flawless services for a couple of years. All users face a common problem when it comes to ordinary models. They fail to clean the hard-to-reach areas because of the restricted movements of the nozzle. But this will not be a trouble anymore as you can move the nozzle into five positions.
There is a night light, which illuminates the way to the toilet. If you need to use the restroom, no need to turn on the toilet bulb. Above all, it is ideal for the majority of elongated toilets. All these characteristics make it modern, convenient, and innovative.
Features at a glance
Included warm air dryer for best posterior experience

Several wash modes for perfect cleansing

Self-cleaning stainless-steel nozzle provides both front and rear wash

Modern hybrid heating technology supplies a continuous cycle of warm water

Different nozzle positions and water warmth options

Stylish, robust and durable
---
Uni-Green Elongated Manual Bidet Toilet Seat
---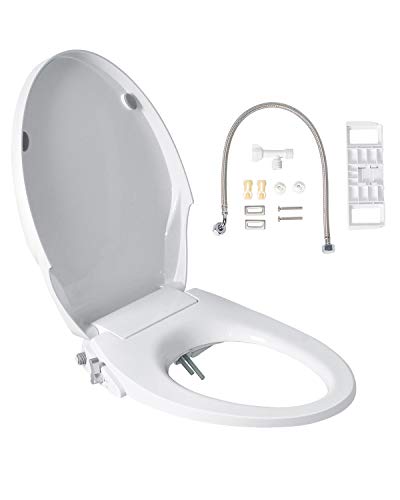 It is a non-electric bidet seat. For this reason, it is entirely safe and highly reliable. It operates strictly off of the tension of the liquid. You can adjust the water pressure based on how you want it. You will get the right one from soft to strong choices by simply twisting its control lever.
It delivers the best way of lady washing and rear washing techniques. The second type is too powerful to remove all tough dirt at once. All thanks to its dual nozzles. The best part is that they are automatically retractable. Effective cleaning methods depend on the touch of a single button.
It features an excellent lid along with slow-closing hinges. Those hinges are responsible for preventing slamming of the seat against the toilet wall. For this reason, there will be no possibility of breakage and loud noise. What else do you need if you can use the toilet without hampering the sleep of others at night?
Its slim frame measures only 6-inches in thickness. You can lift it effortlessly while installing it. The setup procedure is simple, easy, and less time-consuming. If you want to disassemble it, you only have to press the disassembly button. Then you can clean the set and toilet bowl pretty easily.
Features at a glance
No requirements of electric power

Slow close hinges help to reduce the probability of slamming the seat.

Soft to strong water pressure adjustability by turning the control lever.

Doble cleaning nozzles for rear wash and feminine wash

Integrated disassembly button for quick disassembly

Slim and thin construction
---
VOVO VB4100SR WATERJET,Bidet Toilet Seat
---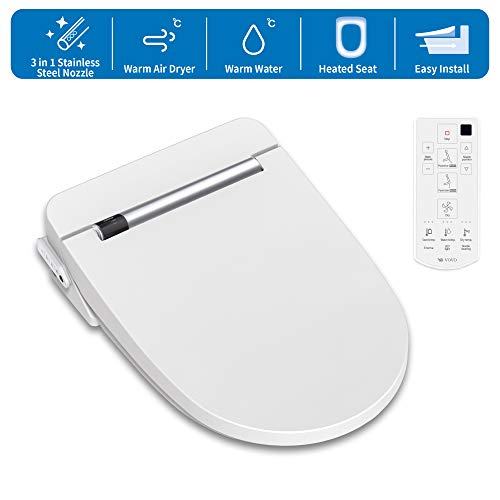 It is an advanced product having most of the properties of premium-quality seats at a reasonable rate. Its luxurious design complements all washroom settings and converts them into a modern spa. Everyone can build them following the instruction manual. If you still can't get it, watch the given electrical installation videos.
Its smart remote controller is wireless and helps to maintain all bidet functionalities by a single touch. The seat warmth can be selected from 3 assignments. Apart from this, you can also change the temperature of the dryer for the most comfortable posterior feeling.
The seat is associated with a stainless steel nozzle to perform feminine and other wash activities. To achieve the best result, you can move it into 5 different positions. All it needs is one touch for automatic self-cleaning. While using it, you will not sense any bad odor. Because the automatic deodorizer will dismiss all bad smells from the bathroom.
Its soft shining LED radiates soft light from the inner bowl. It ensures comfortable use late at night without the need to press the bulb switch of the washroom. Once the user leaves the toilet, it activates the power save mode for decreasing energy consumption.
Features at a glance
The smart wireless remote controller takes care of all functions

Multiple seat heat, warm water, and dryer levels

Lots of nozzle position as well as water pressure for better washing

The automatic power save mode saves a good amount of energy while being environment-friendly too

Soft shining night-light makes it easy to use the restroom in darkness

Stainless steel nozzle, automatic deodorizer and so on
---
Buying Guide for Best Bidet Toilet Seats
---
A toilet seat that helps wash you properly without having to use cups or flowering pots in a bathroom setting is something truly remarkable.
Even though the bidet toilet or bidet toilet seat concept is new in the West, people all over the world have been washing after using the toilet for centuries now. This is something of a necessity in most countries, not something that is odd or uncommon.
Here are a few points to help you choose the best bidet toilet seat for your toilet. The last thing you want to have to do is replace your toilet seat every few months, and so you want to keep the following points in mind. Having to constantly replace is not only a hassle, but it's also a huge money waste as well.
Reliability
As with every other thing you purchase, when buying any toilet bidet seat, you want to make sure it is reliable and won't let you down after purchasing. Usually, if the company has built itself a name, the products should be reliable.
Overall Build Quality
Overall build quality is extremely important because the last thing you want is a toilet seat that is prone to breaking. If the material used to make the toilet bidet seat is of good quality and the technology is top-notch, it makes a huge difference in the long run. Cracked toilet seats or nonfunctioning nozzles don't sound all that appealing.
Age of your toilet
By knowing the age of your toilet, you can get a better idea of which models would go best with it. There are distinctive functions for toilets, depending on which year they were manufactured. If you are unaware of your toilet's age, you can ask a specialist to come to have a look, or you can read up on the specific traits to look for to determine toilet age.
You can save yourself time if you know which toilet seats go best with your toilet setting, so you don't end up buying something that looks out of place. You can even take pictures of your toilet and show it to the specialist at a Home Depot near you.
Frequency of use
As with pretty much everything else in your household that is being used by the inhabitants of the house, the frequency at which you use your toilet should be considered when purchasing a toilet bidet seat.
Of course, if your household consists of more people, the frequency will of use be greater compared to if there are only one or two members. Another factor to consider is the number of family members or friends you have coming over and used your toilet on a regular basis. 
As this will affect your ability to maintain the condition of the toilet bidet seat, it's pretty important to find out the durability of the seat prior to purchasing.
Repair Rates
It's important to know how much fixing the nozzle that extends from the toilet bidet seat might cost or any other technology-related function. It's always a good idea to look into the repair rates for any home purchase so you know how much you may need to spend should the item have issues popping up.
Conclusion
To conclude, purchasing a bidet toilet seat can change your whole perception of using your toilet. I mean, you may end up spending hours sitting on your toilet even when you don't need to!
Don't be disgusted; you might spend hours reading or doing something productive, not necessarily relieving yourself for hours on end. And hey, you are getting a nice washing at the end.
Buying the best bidet toilet seat for your toilet will open you up to new technology. To top it off, washing after using the toilet sure sounds a lot more hygienic than simply wiping with toilet paper (just saying).
If you are worried about how long the seat will last, remember, the better you take care of your toilet bidet seat, the longer it is bound to last. Make the investment towards a good bidet toilet seat. Stay hygienic.
Read Our Blog …
---
Recommended Resources 
---