Our top picks: Best Duravit Toilet of 2023
Hundreds of toilet brands are available all over the world. Some are only functional, some are only stylish, and some fulfill both. However, most people want toilets for their washrooms, which perform great and look elegant at the same time.
The manufacturers of Duravit keep these requirements in mind while launching their products. If you have not heard about it yet, let us explain. It is a famous German brand producing a variety of washroom accessories.
You may wonder why people love their collection so much. First of all, these items match the contemporary theme. Everything they launch at any moment follows the trending styles and materials. Appearance is not the only positive side of Duravit toilets. Some toilets exceed our expectations in terms of quality and durability.
We are adding eight Duravit toilet reviews for further details. Without further ado, let's get started. 
Review of the Best Duravit Toilet
Last Amazon price update was: September 25, 2023 4:07 am
1. Duravit 2173010001 – One-piece toilet
It is a one-piece toilet. The tank and bowl form a combined configuration. It looks so simple yet classy. The best part is there are hardly any spots to hide dirt. Users can wipe every dust off with a wet paper cloth. It is also less prone to leakage and break. So, you can use the same toilet for a long time.
We like its elongated bowl shape. It extends a few inches in the front than the rear section. As a result, the males get additional space just where they need it. It is comfortable for elderly and joint patients as well.
Toilets with a single flush option use the same water quantity for eliminating both liquid and solid particles. Unlike them, It implements a double flushing system to ensure lower water usage, thereby cutting a big amount from your monthly utility bill.
Each flush creates a strong pushing force and leaves a clean bowl. There will be less chance of skid marks and an unpleasant odor. Also, it does not produce a loud noise during waste dismissal.
Features At A Glance
One-piece mainframe

Siphon jet flushing action

Floor-mounted setup

Water-saving properties
2. Duravit 2157010005 Durastyle Toilet
This one-piece toilet is one of our favorite toilets. It will blend well with any type of modern bathroom. A glance at it will make you realize how beautiful the sleek finish is. No wonder it has a high price tag. Honestly, you can get other high-functional toilets within the price range, but finding such a finish will be difficult.
This package covers a wide seat. Users will feel good while sitting on it because of the additional space. Besides, he does not have to buy a seat individually. One thing he has to pay cash for is the seat cover. You won't get a cover along with the toilet.
It is 14 5/8 x 28 ⅜ inches in dimensions and supports 12 inches of roughing. The design is okay but could be better. We have to secure the toilet's base inside the floor to set it up.
Another mentionable advantage is its dual-flush capability. Each flush requires 0.8 GPF or 1.6 GPF water for small and bulk waste disposal, respectively. We don't like how the water flows down the center. We expected an excellent swirl instead.
Features At A Glance
One-piece toilet with spacious seat

Dual flush functions

12-inch roughing compatibility

Suitable for a small space

Coupled with a vertical outlet

Minimal water requirement
3. Duravit 2537090092 Durastyle Toilet
It is a toilet configuration without a tank. It measures 14 5/8 by 24 3/8 inches. The bowl has a square shape that is quite comfortable. Its contemporary design gives the whole bathroom a modern vibe.
Its washdown flush way works in a simple way. It pushes the debris with the help of gravitational flow; no need for a large water volume. Then all substances will go away through the wide trapway. That's why this toilet usually remains clog-free. It is not as powerful as the siphon action.
Above all, we can't forget its dual flushing levels. It features two flush values to eliminate dirt from light and heavier sessions. It saves water because we will not be using more water than is needed.
Note that the suite does not contain all seat and fitting items. You have to collect a few mounting tools to place it in the desired frame. Besides, you can purchase the seat and cover separately from the company. All given parts are 100 percent environment-friendly. Therefore, don't worry about hurting mother nature.
Features At A Glance
Wall-mounted installment

Integrated with Dura fix assembly

Washdown action

Eco-friendly model

Dual flush modes

Compact design
4. Duravit 2545090092 Toilet Bowl Wall Mounted
Its joined tank and bowl result in a one-piece architecture. As they are not separated from each other, the toilet has fewer curves and dirt hiding points. Apart from its modern appearance, it also lessens your maintenance tasks and time.
When it comes to flushing mechanisms, it is similar to the previous product. It consumes a small quantity of water to push the filth. You may need to flush twice or more times for heavy items. It is not bad at all, but we still choose the siphon jet mode to be the winner.
With a 14 5/8 inches width, it is 21 1/4 inches long. People feel good using the ergonomic oblong bowl. It has an extra ceramic glaze layer. It prevents the growth of bacteria and germs. Thanks to the antibacterial characteristics. The installation process is wall-mounted. You have to place the flush lever into the wall as well.
It has broader flush valves than standard toilets. It cleans out the liquid portions using only 0.8 GPF water. Surprising, right? For vanishing all types of dirt, you have to select the 1.6 GPF mode.
Features At A Glance
Antibacterial ceramic construction

Washdown unit

Fit into a small bathroom

Wall-mounted settings

Oblong shape

Large gravity flush values
5. Duravit ME by Starck One-Piece Toilet 2185010002
If you are into one-piece toilets, it is another appropriate toilet for you. Its uniform look and simple setup will mesmerize anyone. It is 28 7/8 inches tall and 15 1/2 inches wide. We have to secure the toilet's position from the floor.
For tackling heavy dust, it has a WonderGliss coating. It protects the inner area from scratches and dirt. Whenever any particle falls into the smooth part, it generally glides off itself. Sometimes, you may notice a little build-up, though. Some splashes of water are enough to remove them. You can use a mild cleaning agent and cloth for better results.
It satisfies all WaterSense rules. Despite its superior service, it needs 20 percent less water compared to most other standard toilets. 1.28 GPF water flows onto the bowl during flushing. It complies with ADA standards too.
In order to develop an effective cleansing method, it has new rimless technology. The designers set the geometry and fluid turns so that a single flush eliminates every piece of waste. Besides, its accessible open area makes cleaning effortless and less time-consuming.
Features At A Glance
Uniform one-piece frame

Left-hand lever placement

WaterSense certification

WonderGliss layer

28 gallons per flush flow rate

Rimless toilets for optimum hygiene
6. Duravit 25335900921 Starck 2 Toilet
It consists of vitreous china elements to deliver several benefits. It protects the toilet bowl by resisting scratches, hard water stains, and many more imperfections. Shiny enamel has a long lifespan. Its functionalities don't degrade over time.
Now, come to the exterior. This one-piece is medium in size and sleek. Cleaning it takes only a few minutes. You won't receive a toilet seat as part of the pack. The bowl has an oval shape, which is very handy and convenient for everyone. Its height matches ADA regulations.
You will find the flush lever mounted on the wall. For every press, two kinds of actions will occur. If you need to clean small waste, pick the 0.8 GPF one. The 1.6 GPF level is capable of sending bulk trash to the drain system. It cuts down one-fifth of water consumption per year. Hence, it is WaterSense certified.
Duravit's Sensowash formula is getting more popular day by day. It maintains the cleanliness of this toilet. Whenever you step into the washroom, the toilet will be hygienic and refreshing.
Features At A Glance
One-piece toilet type with oval bowl

Two different flush modes

Wall-located flush lever

8 GPF and 1.6 GPF water flow

Vitreous china material

WaterSense and cUPC certified
7. Duravit 22170900921 Toilet Bowl Wall-Mounted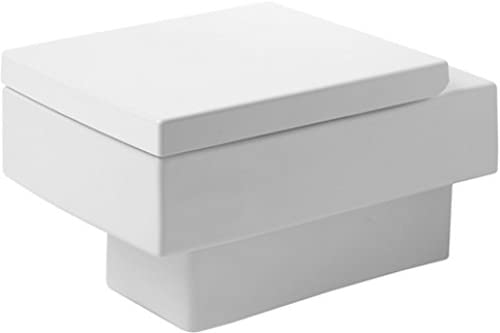 Next is Duravit 22170900921 medium-sized toilet. It stands 13 5/8 inches tall from the base's bottom. The gap between the furthest left to right points is 14 5/8 inches. Most adults can do their natural tasks sitting on this toilet with convenience. Perfect white finishing completes its look.
As a washdown model, It has a wide and short trapway. It allows solids and water to leave the bowl within no time. This is why the water level doesn't cross the outlet rim. It also makes the overall water surface area small. It barely has to deal with clogs and leaks.
A smooth layer is on the internal ceramic portion. It does not promote grime and dirt build-up. The dust fragments run off this surface with water drops. Sometimes, the owner doesn't even have to use detergents. After a single cleaning, it stays clean for a long period.
Like most other Duravit toilets, it has a double flushing system. Only 0.8 or 1.6 gallons of water is used each time. You will be saving 20 percent more water than the common toilets.
Features At A Glance
Brass /porcelain /metal formation

Smooth and attractive upper coating

Washdown strategies

Elongated bowl shape

Concealed trapway

Dual flush options
8. Duravit 2157512005 – One-Piece toilet Dura Style
Lastly, we have this amazing one-piece toilet. It does not come with a seat, so buy it later. With an elongated bowl, it becomes so pleasant to use. Its innovative design and white finish complement the majority of restrooms.
It comprises ceramic materials and no harmful chemicals. The manufacturers apply one more protective layer of vitreous china on it. The surface becomes pretty smooth and less porous. Consequently, it is effortless to clean. You can use only water or soapy water or a vinegar solution to rub the dirty marks. It will stay clean for a few weeks.
These toilets utilize both single and dual flush systems. No matter what you choose, its water consumption does not exceed 1.6 GPF. Two other settings are 0.8 GPF and 1.28 GPF. It meets the restrictions to be a WaterSense-certified model.
The flushes create a siphon jet motion through the trapway. It results in a high water level in the bowl as well as a less bad smell. It gives us an entirely clean bowl with the first trial. None will hear the annoying flushing noise.
Features At A Glance
One-Piece combo with no seat

Siphon jet performance

12-inch rough-in

Three flush schemes

Made of vitreous china

Included installation hardware
Important Things to Consider When Buying Duravit Toilet
We judge the quality of any product based on specific criteria. Then, we filter out the options that do not meet our needs. It is a perfect idea to drag out the most suitable product for us. We should apply the same techniques while selecting a Duravit toilet. These parameters will help you to know a toilet's worth:
Style
They are very popular for an angular look. Such units are unique; a few companies own toilets with plenty of bowl shapes. Do not pick shapes that you can not set correctly in the allocated space. A flat product will make itself blend more perfectly with the restroom's surroundings.
Therefore, it will save up more space compared to the ordinaries. You can either choose a white or colored toilet.
Of course, the preferences vary from client to client. Just be sure of paying more attention to your bathroom arrangements. Even the most decent piece may not look good with the tiles, accessories, and layout. But a matching one will definitely boost the room's elegance.
Mounting type
We can divide all toilets into two classes- wall-hung and floor-mounted. Duravit also offers these variations so that we can decide which will fit well in our bathroom. Generally speaking, both categories have some benefits and disadvantages.
Setup of the first ones requires putting the toilet's tank inside the washroom's wall. Only the bowl will be within our sight. Many buyers prioritize them for modern and minimalistic figures. Their bathroom seems spacious even though it is small.
Moreover, the users can adjust the seat height. The elderly and disabled persons will enjoy comfort. Since they are costly, everyone can't afford them. A cheaper type is floor-mounted toilets. They are easy to build and repair. However, you may have to invest more time in cleaning. Also, be prepared to sacrifice height adjustability and space.
Included seat
Duravit has fantastic kinds of seats. These soft seats are comfortable to use. You won't be suffering from joint pain. Once you use these seats, you will hardly switch to other ordinary ones. Also, one can fit multiple toilet bowls.
There are many models, including everything you need in a complete package. And some models do not even cover the seats. In such a case, you have to buy it separately. According to us, getting a product with all essentials is a smart move.
Toilets without these items are cheaper but eventually cost the same after the complete purchase. Many buyers don't like the idea, though. They want to get the best parts for their toilets from the same or different supplier. They most often grab the seatless version.
Flushing efficiency
A great toilet with a flawed flushing system is like a high-quality car with a broken brake. You should never select a toilet with less waste removal efficiency. It will eventually cause clogging and other problems.
Who knows, maybe you have to replace it with a new one just after a month of use. So, make sure the flushing actions take place properly. Some units employ double flushing buttons, whereas some implement only one.
The first types consume different amounts of water for individual liquid and solid waste removal. As you can assume, they are going to save tons of water annually. Otherwise, choose a single flushing unit that consumes minimal water. Check whether the flush can remove everything from the bowl or not. 
Certification
It may not seem an important point, but it is, especially if you care about mother nature. Duravit authorities try their level best to produce only eco-friendly sanitary ware. Just go to their website to check how much they care about our world's safety.
The Environmental Protection Agency (EPA) declares these toilets to be environment-friendly too. A lot of their toilets have WaterSense levels. They take almost 20 percent less water than most other conventional toilets. You will be surprised to know that a few units use 0.8 GPF water only yet perform better.
Affordability
Whether one is buying from online or physical stores, the cost should not cross his budget. Many claims that the majority of excellent products having more advanced features are expensive. It is not completely accurate.
Smart buyers always find out the best one within their limits. Duravit makes toilets targeting diverse customer groups. It has reasonable pieces as well as pricey ones.
External design and major features determine the toilet's value. In general, inexpensive products lack some advantages, yet they are durable, well-built, and work great. Even the mid-range ones can last up to 5 years or more.
Frequently Asked Questions (FAQ)
Question: Will we get a manual with a Duravit toilet?
Answer: Yes. Manuals are a must for any product. They describe the technical specification, installation phases, maintenance, cautions, etc. You will get an instructional book inside the box. Everything you should know will be written there clearly. Read it at least twice before installing and usage. A simple mistake may lead to a water leak during flushing. So, be careful. 
Question: Why is my toilet loose?
Answer: Toilets become loose after continuous use. It usually happens for these reasons:
Broken toilet flange: When the flange breaks, it no longer holds the toilet properly.
Loose or damaged closet bolts: We have to tighten the mounting bolts while building them up. Otherwise, it won't stop wobbling. Constant sitting can make the same situation.
Poor Installation: A wrong method of setting the toilet parts will affect not only stability but also leakage.
Question: How to fix a misplaced seat?
Answer: Misplaced seats are mainly the result of loose bolts. You can fix them with the following guide:
First, unscrew the bolts, which keep the bowl and lid together.

If you see any covered bolts, expose all of them.

Tighten all with slotted tips by a screwdriver.

Lock the mounting nuts from your toilet's lower panel. You can easily do it by turning the seat clockwise.

Stop when it's tight enough.
Question: Does cleaning a Duravit toilet take a long time?
Answer: It differs as not all toilets follow the same style and construction. Curved models have hard-to-reach places. The same goes for two-piece toilets. Cleaning these are a little bit tricky. If you don't care about cleaning for an extended period, they are perfect for you.
Else, switch to more straightforward and one-piece varieties. Moreover, toilets having flushing rims typically leave a clean surface after every visit. They don't require regular maintenance at all.
Question: Is stainless steel or chrome better?
Answer: Chrome accessories suit everyone to stick to their budget. Their shiny and bright coating looks nice with plenty of bathroom finishes. You can clean and maintain them with less effort.
Metals like chrome are more susceptible to water damage, and high or cold temperatures. Stainless steel is more durable and rust-resistant. Although these essentials are not completely stain-proof, they go through less staining and corrosion. You can't deny their modern appearance too.
Question: Can I buy a Duravit toilet for my small bathroom?
Answer: We know how important it is to measure the available space before opting for any toilet. Duravit has wall-hung toilets for small washroom owners. They fit in limited spaces. We like the shape of the Duravit 2157010005 model. It is one of the best toilets for a small-sized area.
Question: What is WonderGliss?
Answer: It is a colorless and matte layer baked on the Duravit ceramic surfaces. Such a smooth finish does not allow dirt and grime to build up. It will be sanitary even if you are not cleaning every day.
Conclusion
Here conclude Duravit toilet reviews and more details relating to these products. We actually have mixed feelings about them. On the one hand, their modern look never fails to impress customers.
Anyone can grab his demanding piece from a diversity of patterns, including round, oval, rectangular, etc. The models with excellent flushing power last longer compared to the other similar units. You don't have to worry for a couple of years after buying one.
Contrarily, clients are fed up with their heavy weight. They are tough to lift and carry the toilets. More troubles occur during the uninstallation because of the internal trapway design. They are pricey and require regular maintenance. We suggest buying them only when you don't mind taking care of it properly.