Our top picks: Best Woodbridge Toilet of 2023
Like with most items for the home, most folks base their search on the brand when it comes to toilets. This tends to simplify the process for many as the manufacturer's reputation can say a lot about their products.
This is why it shouldn't be a surprise that you're here to look at Woodbridge toilet reviews. Someone might have recommended the brand to you or you might have gotten wind of their products' reliability so you're out to take a look at their offerings.
No matter what the case is, though, you can rest assured that you're off to a good direction as the brand is one of the rising names in the industry. Known for their products' quality and modern features, they can certainly be a perfect fit for a contemporary home.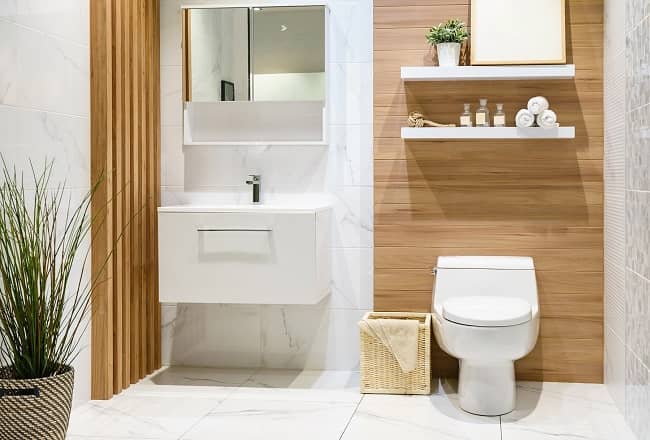 Review of the Best Woodbridge Toilet
Last Amazon price update was: September 24, 2023 5:10 pm
Want to get to know your options from this brand? Here's our quick roundup of some of the finest Woodbridge toilet reviews.
1. WOODBRIDGE T-0019 Cotton White Toilet
Starting off this list is the Woodbridge T-0019, Dual Flush Elongated One Piece Toilet. There are quite a number of surprising things about this item, making it a great choice to open our best Woodbridge toilets list.
What makes this product so exciting, you might be wondering? Let's start with the fact that it offers great value for your money. It's affordably priced but it looks way more expensive than it really is. Stylish with a sleek silhouette, you'd think that it'd cost you more. There aren't lots of one-piece toilets with skirted designs in their price point, especially from the more respected brands, so this one is practically a steal.
Its functionality also adds a lot of value to this product. The fact that it's a dual-flush toilet is one of its biggest charms in this regard. Rated at 1 GPF for half flushes and 1.6 GPH for full flushes and an average of 1.28 GPF, it's definitely an economical choice.
Another great plus is the soft-closing lid that this toilet comes with. It might not seem like much but this attachment can certainly improve the quality of your home life to some degree. Without slamming lids and seats on your trips to the bathroom, you'll ensure some peace and quiet by avoiding having surprisingly loud noises every time someone goes to the bathroom.
To top it all off, this product comes with everything you need for installation. This makes it an even more convenient pick.
Features at a Glance
One-piece, elongated design makes it a comfortable and convenient pick.

Dual-flush design rated at 1. 0 /1. 6 GPF but averages at 1.28 GPF promise water efficiency.

Skirted design further simplifies cleanups and maintenance.

Soft-closing seat ensures discrete trips to the bathroom.

Rectangle-button flush guarantees ease of use and a streamlined design.

Comfort height at a little over 17" makes it easier to sit in and get up from.
2. Woodbridge White Luxury, Elongated One Piece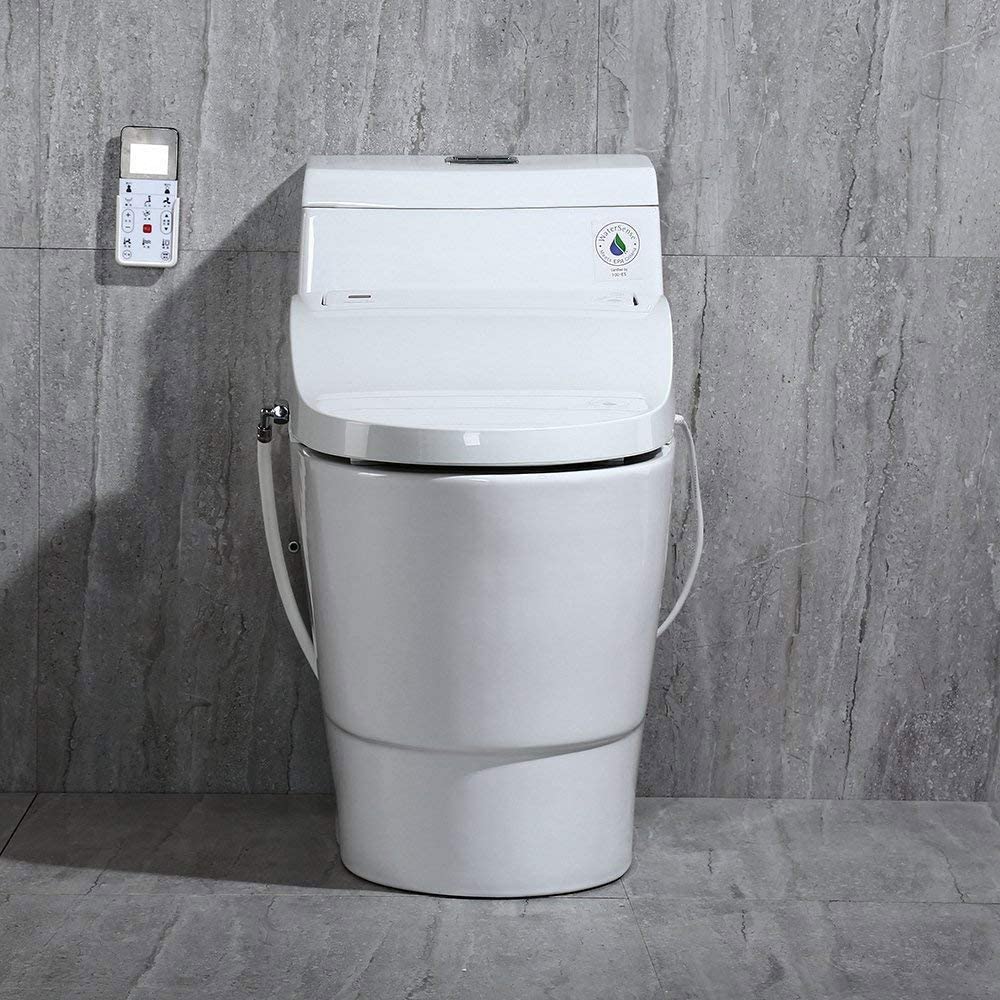 Taking things a few notches up is the Woodbridge White Luxury Elongated One Piece Advanced Bidet Toilet. This product sits in the middle of a smart toilet and a regular toilet as its toilet seat has several automated features that make it more convenient to have around. It will simplify a number of hygiene-related tasks after using the toilet, so it can certainly come in handy.
While the toilet unit itself, the Woodbridge B0980, is pretty simple, it still has a number of modern conveniences that many are looking for in a toilet unit. For starters, it has a sleek, contemporary design with its one-piece, skirted style. This gives it a very current aesthetic and an easy-to-clean build.
It's also a dual-flush toilet so you can count on it to help you conserve water. Like the item above, it's rated at 1 GPF for half flushes and 1.6 GPF for full flushes so it won't use a lot of water to get rid of waste.
However, the highlight of this product is its smart toilet seat. This add-on enhances the functionality of the toilet. It might not automate the flushing, but it can still assist you in cleaning up after doing your business.
Features at a Glance
One-piece, elongated, and skirted toilet design promises comfort, convenience, and modern aesthetics.

Dual-flush design guarantees water efficiency. It's rated at 1 GPF for half flushes and 1.6 GPF for full flushes.

Smart toilet seat with adjustable seat temperature, water heater, warm air dryer, On/Off sensor, and built-in LED nightlight will provide amazing convenience to users.

Quick-release seat for fast and simple maintenance.

2" seat height makes it a pretty standard toilet in terms of seating comfort.
3. Woodbridgebath Woodbridge Luxury
Another option for a regular toilet with a smart toilet seat is the Woodbridgebath Woodbridge Luxury. Like the previous item, this one comes with a sleek, one-piece, dual-flush toilet that's an excellent modern choice for a contemporary home.
It has all of the conveniences of a modern toilet, except for the automated ones, but with its friendlier price tag, it's not exactly a drawback. Besides, it comes with a smart toilet seat, so for most homes, its functionalities will already be more than enough.
The toilet itself is pretty basic and similar to the items listed above so let's take a closer look at the smart toilet seat instead. One of its strongest charms is the fact that it's made for comfort. Its seat temperature can be adjusted to 5 levels, letting you choose the most comfortable settings for you.
The water from the bidet is heated as well and has unlimited heating so you won't run out of warm water in the middle of washing. The spray is adjustable, too, letting you target the area for cleaning effectively. It also has oscillating and pulsating modes as well as an adjustable spray pressure, giving you the kind of feel you'll be most comfortable with.
This device also comes with a heated air dryer to ensure that you'll be comfortable every after use and completely eliminate the need for tissue paper.
On top of these are its safety and convenience features like its LED night light, on/off sensor, self-cleaning nozzles, filtered water, and quick-release design. All of these make it a very attractive pick for many homes.
Features at a Glance
One-piece, elongated, skirted design gives it a modern look and makes it easy to clean.

Dual-flush configuration with 1 GPF/1.6 GPF rating ensures water efficiency.

Low profile seat at 16.25" makes it a suitable choice for many households.

Smart toilet seat is packed with automated features.

Powerful siphon flushing system further guarantees water efficiency.
4. WOODBRIDGE T-0015 T-0015/B0941 Dual Flush Elongated
Thinking of creating a more striking look for your bathroom? The Woodbridge T-0015/BO941 Dual Flush Elongated Toilet may be the perfect addition to it. This striking fixture might be what you need to create a focal point or complement the other eye-catching details in your bathroom.
If you're in the market for a black toilet piece, this Woodbridge product can be a solid pick for you. Most folks with modern bathrooms are more interested in something in this dark coloring but traditional designs don't always cut it. The sleek and skirted trapway design of this item might do the trick for you, however. Its clean lines with a simple detail might just complete the aesthetics you're going for.
In terms of functionality, this item can also offer a lot of modern conveniences. Its dual flush configuration is a very attractive point as it can guarantee water efficiency. Its 1 GPF/1.6 GPF rating guarantees that it won't consume a lot of water. Combined with the siphoning system of Woodbridge, you can rest assured that you don't need multiple flushes to get rid of waste.
Features at a Glance
One-piece, elongated, skirted trapway modern design gives off a contemporary look and makes it easy to clean.

Dual flush configuration guarantees water efficiency.

Siphon flushing and a fully-glazed flush system guarantee powerful and effective flushing.

Comfortable seat height at 16.25" will suit most households' needs.

Soft-closing lid will help you keep your home quiet and peaceful.

Black body color gives it a bold and striking appearance.
5. WoodBridge T-0001 One Piece Toilet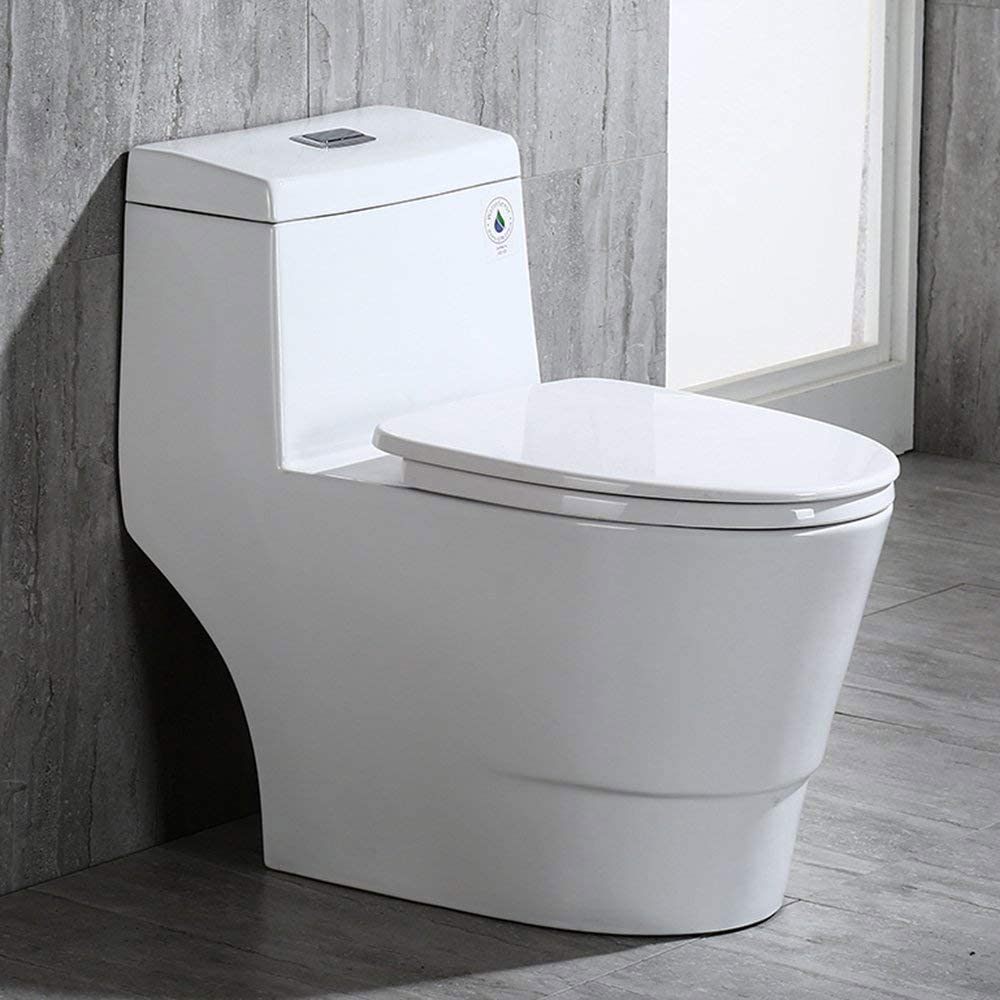 If you loved the look of the T-0015 but you can't work with a black toilet, the Woodbridge T-0001 might appeal to you better. It can be a good alternative to the item above because it's in white but has all of the same features as the other. So if you can't get a black piece, look into this one.
As mentioned above, it has similar features as the item mentioned above so expect many convenient functionalities from it. If you're after something that will help you conserve water, this product will be a good option with its dual-flush design and low gallon-per-flush consumption. Rated at 1GPF for half flushes and 1.6GPF for full flushes, it will let you save a significant amount of water compared to an older toilet.
It also comes with just about everything you need for installation. Aside from the toilet itself, it also includes a wax ring, floor bolts, and installation instructions. As a bonus, you'll also get a soft-closing toilet seat which is a great plus. It can help you avoid experiencing lid and seat slams which can create a racket every time someone uses the bathroom.
Features at a Glance
One-piece skirted trapway design gives it a modern look and makes it easy to clean.

Dual flush feature promises low water consumption.

Siphon flushing system guarantees effective flushing that will further help cut down your water consumption.

Comfortable floor to seat height at 16.25" which will already be a good fit for many households.

Soft-closing toilet seat can help keep your home quiet and peaceful without any slamming noises.

Rectangle flushing button helps enhance its modern appearance.
6. WOODBRIDGE T-0018/B-0735 Dual Flush
A low-profile toilet option that you should also look into is the Woodbridge T-0018/B-0735 Dual Flush. It can be a nice pick if you want something that isn't very obtrusive in your bathroom. With its low overall height and its sleek, modern design, it can help you achieve the look you're trying to go for.
Measuring a total of 22" vertically, the T-0018 is certainly one low-profile option. It can fit with most setups with a breeze. However, if you're worried about seat height, you don't really have to. It's a little over 15" so it can still comfortably seat most folks. It's quite low, yes, but that can be expected from a low-profile toilet. It's not too low to give you much difficulty when standing up or sitting down if you're not too tall, though.
As for its performance, this toilet can also give you a good run for your money. Its siphon flushing system comes with a fully glazed flush system so it effectively pushes down waste and does it quietly.
This product also promises low water consumption. It has a dual-flush design so you can only use 1 GPF for liquid waste and 1.6 GPF for solid waste. As it also has enough power to push waste down, you might not need to flush repeatedly.
Features at a Glance
One-piece, skirted trapway design offers a modern look and easy to-clean shape.

Low-profile design makes it a more desirable option for some households.

Dual-flush construction allows it to consume less water.

Siphon flushing design makes flushing more effective.

Soft-closing seat can help you keep the peace and quiet in your household.
7. WOODBRIDGE B-0960S B0960S Smart Bidet Seat Toilet
Thinking of going for a hands-free toilet? The Woodbridge B-0960S Smart Bidet Seat Toilet might tickle your fancy with its long list of functionalities. It's designed to provide great convenience to users and can be very useful for those with handicaps that make it difficult to use the toilet.
The B0960S has everything you need in a smart toilet. Unlike when opting for a smart bidet seat only, this one will also take care of the flushing and opening and closing of the toilet seat for you. Completing other tasks like washing up is also made simple by this product. It has a bidet and warm air dryer so you can skip toilet paper entirely.
Features at a Glance
Tankless, skirted trapway design toilet offers a compact and ultra-modern look for your bathroom.

Automated features like flushing and lid opening and closing promise great convenience and hands-free operation.

5 seat temperature settings will let you configure the seat heat based on your comfort and preferences.

Adjustable water heat, spray direction, and mode, as well as water pressure level, will allow you to ensure the effectiveness of cleanups and your comfort.

Adjustable warm air dryer helps further ensure your comfort and lets you skip the use of toilet paper.

Other convenient features include an LED night light, an automatic deodorizer, and a touchscreen remote control that can be mounted or used as a handheld device.
8. WOODBRIDGE, T-0032 Elongated Toilet
If your definition of a modern toilet is a sleek-looking one, the Woodbridge High One Piece Short Compact Toilet might appeal to you. This item has some of the cleanest lines on this list, so even if it's a regular toilet and not a smart one, it still looks very contemporary.
Like the other toilets listed above, this product is noted for its solid build. Many are impressed with its construction, guaranteeing many homeowners of its good quality and sturdiness. It's quite heavy so installation will require some serious lifting, however.
In terms of functionality, it ticks all of the boxes that make a solid toilet pick. It has low water consumption and flushes effectively. It's also easy to clean, thanks to its overall design and its quick-release toilet seat.
Features at a Glance
One-piece, skirted trapway design gives it a very modern appearance.

Dual-flush configuration promises water efficiency.

Siphon flushing and fully glazed system further lessen its water consumption.

Quick-release and soft-closing seat further makes cleanups easier and ensures some peace and quiet for your household.

25" seat height will suit many households' needs.
9. WOODBRIDGE B-0960S B0960S Smart Bidet seat Toilet
With regular appliances and house fixtures becoming smarter nowadays, it won't be surprising if you'll be interested in a smart toilet, too. The Woodbridge B-0960S Smart Bidet Seat Toilet is this brand's offering for the corner of the market that wants to automate the functions of their bathroom.
Everything you'll need in a smart toilet, the B0960S has. It's loaded with automated features so you don't have to manually do anything with it, except for cleaning. It has a sensor so its lid will automatically open and close and it will flush on its own. It also has several bidet functionalities that you can tweak using a touchscreen remote control.
As for the toilet's water consumption, there's no need to worry. This product has a dual flush design so it's pretty efficient in its use of water.
Features at a Glance
Tankless, skirted trapway design gives this item a compact look that's also very easy to clean.

Automated flushing and lid closing and opening allow hands-free use.

Automatic deodorizer and LED night light add more convenience.

Adjustable bidet functionalities like water spray direction, pressure, and temperature as well as warm air and seat temperatures.

Dual flush configuration promises water efficiency.
10. Woodbridge White B0920/T-0020 T-0020
Completing our list is the Woodbridge White B0920/T-0020. This product is another very modern option without electronic functionalities. Its appearance alone makes it stand out and can add a very contemporary touch to your bathroom.
The most striking thing about this product is its square shape. Complemented with a streamlined skirted trapway, it oozes modern design.
It might not have automated features but its functionalities are still pretty up to date. The dual-flush configuration is definitely a great plus as it guarantees water efficiency.
Features at a Glance
Square, one-piece skirted trapway design gives this product a very modern look without complicating its use and maintenance.

Dual-flush design helps reduce water consumption.

Siphon flushing system with fully glazed trap way for effective flushing.

Comfortable 16.5" seat height will make sitting down and standing up easier for users.

Soft-closing seat will help prevent loud noises.
Important Things to Consider When Buying Woodbridge Toilet
Now that you have 10 solid picks for the best Woodbridge toilets, making a choice would be the next step in the process of buying one. Before you take a pick, though, here are a few more compelling points that can help convince you to go for this brand:
Woodbridge simplifies the shopping process for you
Most Woodbridge products come with everything you need in the package for quick and easy installation. There's no need to make lots of additional purchases, check measurements, or spend so much time to find a matching accessory for their products as they include the most important items that you'll need in the process.
Woodbridge is known for its solid construction
If your primary concern is quality, then Woodbridge can guarantee you of good construction. Their products are very solidly built and you'll know this for a fact as soon as you get your hands on one.
All of Woodbridge's toilet products are modern in design
This manufacturer has built a reputation for being a purveyor of modern-looking toilets. So if you want something traditional, you might not find your match from their selection.
Woodbridge products are very affordable
Want a modern-looking toilet without spending an arm and a leg? Woodbridge got you covered as they have very friendly prices.
Woodbridge toilets are designed to be installed with ease
Another compelling reason to give Woodbridge toilets a shot is the fact that they're designed to be easily installed. If you're handy, you will be able to do such a task without the help of a professional.
Conclusion
Combining a good brand reputation and a solid selection of products, we're confident that our Woodbridge toilet reviews gave you more choices for your bathroom. Make sure to look closely into this manufacturer and their selection as they might just have the very thing you're looking for.