Our top picks: Best Saniflo Toilet of 2023
From the time people shifted their businesses from the open to inside homes, this has become necessary. Toilets are one of the main reasons why we have bathrooms in houses. If you thought all toilets are the same, then you are very far from the truth.
There are different types of toilets, and you must select the one that will suit you the best. You have to bear in mind a lot of crucial factors for the toilet in your home. It is necessary to ensure that you buy one that will give you trouble-free performance over a long period.
It must also be the type that is most suited for the location of your bathroom. This article analyzes the features of 8 different types of Saniflo brand toilets and their merits and demerits.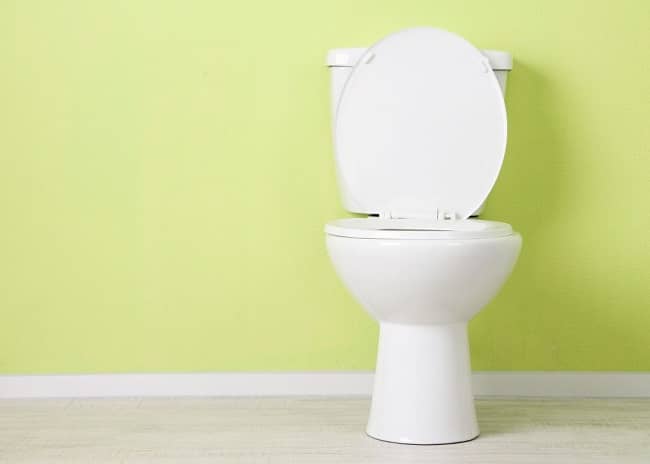 Review of the Best Saniflo Toilet  
Last Amazon price update was: December 6, 2023 5:01 am
1. Saniflo Sanibest Pro Upflush Toilet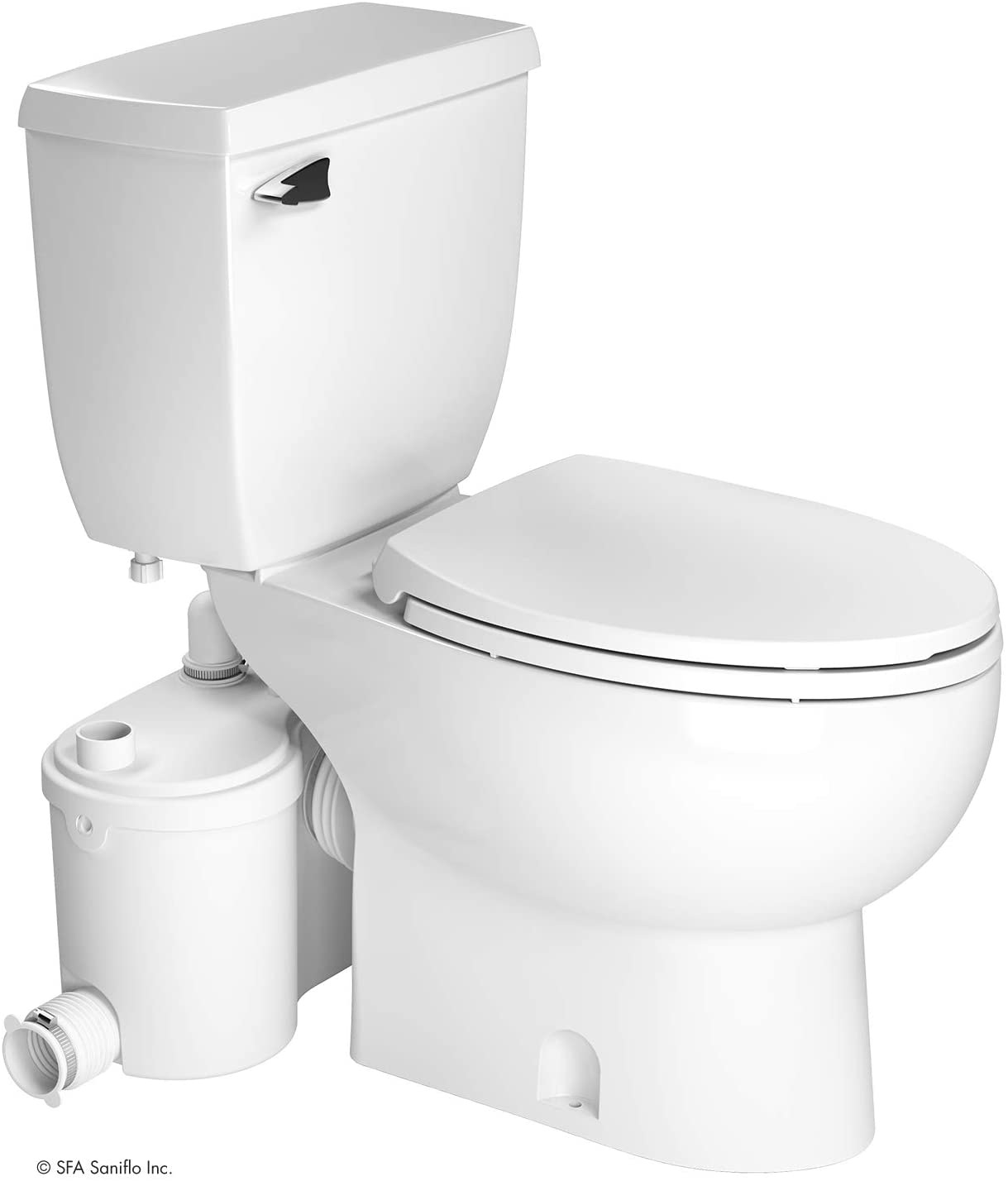 The Saniflo Sanibest Pro is designed well and can match the elegance and style of your bathroom. This toilet has an elongated bowl that makes it more comfortable for the user. The toilet, made of porcelain, is robust and easy to clean. The macerating tank is also made of porcelain. The seat and lid are made of good-quality plastic.
This toilet features a unique flushing system that is suitable for bathrooms below the level of the sewer. The system contains a grinder and macerator. When you press the flush, the water and the waste materials go into the macerating tank through a pipe at the rear of the toilet bowl. The macerator gets activated as you press the flush, grind the waste material into tiny particles, and pump it to the sewer line.
While it is necessary to clean the toilet bowl periodically, the macerator tank itself does not need frequent cleaning. If the system doesn't work properly, you can take it apart and clean it. The main advantage of the Saniflo Sanibest Pro is the reduced consumption of water. You can install this toilet very quickly.
2. Saniflo SaniPlus Macerating Toilet
If you are looking to install a toilet in your basement bathroom without breaking the floor, the Saniflo SaniPlus is your best choice. This sleek toilet will match with bathrooms of any style. It comes with an elongated bowl that is comfortable for all users. This toilet is a water-saving model, which means that you spend a much lesser quantity of water for each flush.
This toilet comes with the unique advantage of comfort height. The seats are high enough to make even tall people sit comfortably. This is a macerating toilet, which means that you can connect it below the sewer line. You can connect your other outlets of the washing machine, sink, or bathroom to the macerating pump to have the waste pumped up to the sewer line. The installation of the Saniflo SaniPlus toilet is straightforward as there are only four lines to connect.
This toilet comes with a robust macerating pump with steel blades that will ensure that your waste materials are turned into a slurry that can be easily pumped up. All the parts of the pump are of high quality, durable, and trouble-free.
3. Saniflo 023 Sanicompact Self-Contained Toilet
The Saniflo 023 Sanicompact is an entirely self-contained toilet suitable for half bathrooms. Besides the compact and straightforward looks, the toilet has many advantageous features. The design avoids the tank completely. When one flushes the toilet, water is pumped in and pumped out along with the waste. The macerator ensures that the waste is made into an easily pumpable slurry. This toilet needs much less space and uses the latest technology.
This toilet saves a lot of water as it uses only one gallon of water. It also pumps out waste material much more efficiently. The discharge elbow feature allows you to turn the elbow 360 degrees and install the toilet anywhere. This helps you fit the toilet anywhere in your toilet. A non-return valve in the elbow prevents a return flow. There is no need to connect a vent to the toilet when it is completely assembled and working.
The Saniflo 023 Sanicompact can pump waste 90 feet above the ground. This avoids the need for installing a separate sewage pump in basement bathrooms, which can cost you a lot. You can also connect your sink to the macerator pump.
4. Saniflo Two Piece Round Bowl Toilet With Macerating Pump
If you are looking for a toilet at an affordable price but with features that will make it ideal for your basement bathroom, then the Saniflo Two Piece Round Bowl Toilet is the best. The model comes with enough features to awe you while being easy on your pockets. This toilet comes with a macerating pump that makes it ideal for use in places where the sewer lines are above the bathroom. This is suitable for your basement or garage.
The toiler is easier to install since it comes with a two-piece model. The other advantage is that if you damage your tank or toilet by any chance, you need to replace only that part. This two-piece toilet comes with a round bowl that offers a comfortable sitting area. This is a toilet that is suitable for any bathroom with enough space.
The powerful macerating pump in the Saniflo Two Piece Round Bowl toilet helps to get rid of waste very efficiently. Like all their toilets, Saniflo has used the best materials to make this model too.
5. Saniflo Two-Piece SaniPlus Toilet
Setting up the Saniflo Two-Piece SaniPlus Toilet is as easy as it can get. You have to connect the toilet to the supply line and the pump's outlet to the discharge pipe. You will need a power outlet to connect the macerating pump. You can fit this toilet in any bathroom situated 15 feet below the sewer line. The pump can also send the waste materials 150 feet horizontally.
Having an elongated bowl makes this toilet comfortable to sit on. It adds an aesthetic appeal to your bathroom. Many people find the elongated design more comfortable. It is easy for children as it has a more extensive area. The elongated design is also good for men as there is more space to aim at. The elongated bowl is also more comfortable for people with mobility problems to get on and off it.
The Saniflo Two-Piece SaniPlus toilet comes in a comfortable height, making it comfortable even for tall people. The powerful motor and steel blades ensure the efficient discharge of waste from the toilet. You can connect your sink, bath, and shower to the pump.
6. Saniflo 087 Elongated Toilet Bowl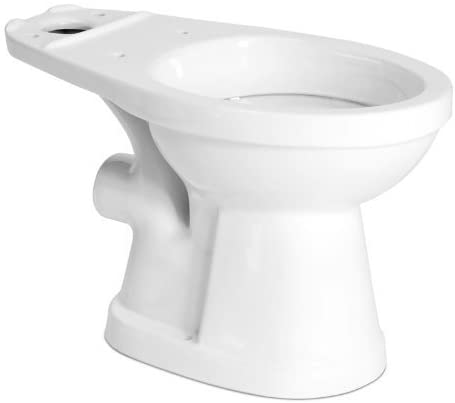 If you have damaged your toilet bowl, it is essential to replace it with a suitable one. You must be able to buy one that is of high quality and durable. The Saniflo 087 Elongated toilet bowl is an ideal product for your bathroom, both in appearance and functionality. The elongated design makes sitting comfortable for even those with slight mobility problems.
This toilet bowl comes with a P-trap, which helps in discharging waste materials efficiently. A trap is essential to keep the foul smell from entering the bathroom. The P-trap is more effective because there are lesser chances of drying out than with an S-trap. After you properly install such a trap, there is hardly any chance of losing its water seal. The Saniflo 087 toilet bowl can make sure there is no foul smell in the bathroom.
The Saniflo 087 with an elongated toilet bowl has lesser chances of clogging as this bowl holds more water and the pressure of flushing is higher. 
7. SANIFLO Elongated Toilet Bowl
The Saniflo 087 Toilet Bowl Elongated White is an excellent choice when replacing your toilet bowl. The elongated bowl provides comfortable seating for both adults and children. As the tank holds more water, there is better pressure for clearing all the waste in the bowl with one flush, which will eventually save water. The WaterSense stamped bowl saves water as it uses only 1.28 gallons per flush.
You can use the toilet bowl with a macerating pump of any brand. The toilet is made from vitreous china and can add to the aesthetics of your bathroom. The use of vitreous china not only makes your bowl look shinier but also makes it scratch resistant. The bowl is more durable, and it doesn't stain easily. This keeps your toilet bowl clean very easily.
The Saniflo 087 Toilet Bowl is made to last long. It is a standard toilet that you can easily connect to the outlets in your bathroom. It can be used as a traditional gravity drain or with a macerating pump. The toilet bowl comes with a one-year warranty for the china coating. This bowl has a P-trap to prevent drying.
8. Bundle-16 Elongated Toilet With Sanibest
The Bundle-16 Elongated Toilet With Sanibest is the toilet of choice if you are looking for trouble-free performance for your basement bathroom. This toilet also comes with the additional benefit of consuming just 1.60 gallons of water per flush. You can clear all the waste from the bowl with a single flush thanks to the powerful macerating pump attached to the toilet.
You can install this toilet 18 feet below the sewer line without making any modifications to your bathroom. There is no need to break the floor or have different motors and pumps to discharge the waste. The macerator has a powerful motor and heavy-duty blades to chop waste materials into small particles and discharge them completely. The powerful pump shoots the debris to the sewer lines for effective draining. You can empty the bowl with a single flush.
The Bundle-16 comes with an elongated seat, which offers comfort to anyone. The elongated shape adds beauty to your bathroom. It is also easy to clean a bowl of this shape. The strong porcelain tank is easy to clean and maintain.
Buying Guide For A Macerating Toilet System
People can be slightly overwhelmed when they go to buy a macerating toilet system. It is more commonly known as a Saniflo toilet because they were the first to invent this type of toilet that gives you the freedom to have a toilet in a bathroom that you never thought can accommodate one. One of the advantages of such a toilet is that you can have it anywhere without worrying about being near a sewer line. These systems can push your waste from the basement upwards to the sewer line.
Macerators are different from lifting stations because they can push up even solid waste, whereas lifting stations can only handle liquid discharge. A macerator doesn't just have a pump to lift the waste material. A system of blades can chop solid waste and make it into a slurry for efficiently pumping it to the sewer line. 
Motor – The motor will have the blades working and pump the waste up to the sewer line level. This means that you must have a powerful motor if you want the job to be done with one flush. A motor with more power will give you a more powerful chopping and pumping action. If you want to lift the waste to a higher distance or send it horizontally a long way, then you must get a toilet with a motor having a higher power.
Pump – This mechanism will lift the chopped solid waste to the sewer line if your bathroom is below it. It will also send the debris horizontally to the sewer line if the bathroom is away from it. Most toilets specify the distance to which they will lift or send water horizontally. You must first measure the sewer line's height before going ahead with purchasing your macerator toilet.
Blades – The blades are an essential part of the upflush toilet system because they must cut solid waste into tiny pieces if it has to be transported smoothly to the sewer line. Moreover, solid waste is more likely to clog the pipe if not cut into pieces and can be challenging to travel long distances, even horizontally. It would be best if you looked for heavy-duty blades that will last longer. Stainless steel blades are best for this purpose and look for this in the specification.
Tank – The tank is another essential part of your toilet system. You can opt for a standard tank, a behind-the-wall tank, or a tankless system. This will depend on the space available in the bathroom. The frequency of using the bathroom will also decide what you must buy. A tankless system will take up very little space and is suitable for small bathrooms.
Energy – All toilet systems with macerating pumps will require electricity. It would help if you had a power outlet to keep the toilet plugged in all the time. It is essential to know that you cannot flush without power. Most of the systems work on the standard power that you get in your house. Look at the wattage rating on the motor when you buy your toilet.
Water Consumption – This is a significant factor considering how water shortage is getting worse in most cities. It is essential to go for a toilet that will use a minimum amount of water in a single flush. This is usually mentioned as GPF or gallons per flush. A macerator toilet system needs less water as the pump helps to push the waste to the sewer line.
Connections – Many macerating toilet systems allow you to connect your kitchen sink, bathtub, and shower to remove the greywater using the pump. But it is better to check whether the toilet you buy is capable of pumping out a full tub of water.
Service Panel – You will need to access the motor and blades if there is a problem or blockage. Make sure there are removable service panels in the toilet.
Frequently Asked Questions (FAQ)
What is a macerator or up flush toilet system?
Some bathrooms don't have any possible way to connect to the sewer line. This is common in the case of the basement or garage. You will need a toilet that can pump the waste material to the sewer line in such cases. Sometimes, you can set the sewer line at a height to push the solid waste and water.
A macerating toilet has a motor, pump, and blades, which help chop up the solid waste into smaller pieces, mix them with water, and form a slurry that will move to the pump's sewer line by the pump.
What is the difference between a lifting station and a macerator?
You might have seen lifting stations being used to discharge water to drains at a height. But these can only remove water from the sink, washing machine, dishwasher, or tub and take it to a sewer line. They cannot remove solid waste as there is no equipment to reduce it to a small size.
A macerator doesn't only have a pump to send the water to a sewer at a height or distance. It has blades that will chop solid waste material. This will break the solids into small pieces, mix them with the water to form a slurry, and efficiently send them to the drain pipes.
How difficult is it to install a macerator?
You don't need to connect a macerator to a waste pipe, and that way, there is no need to break the floor to install these toilets. There is no need to break the floor to install these toilets. You can connect the different outlets and inlets to the system without breaking the floor to install these toilets. However, if you are not someone used to fixing such things, it is best to take a plumber. A wrong installation can damage the system and make your warranty void.
Why is an elongated bowl preferable?
Most people today prefer an elongated bowl for their toilets as it certainly provides a better aesthetic appeal. Besides, there are other advantages to using one. These bowls can hold more water, and hence the pressure when flushed will be higher and can remove all waste materials in one go.
The elongated shapeF makes it easy for people with slight disabilities to sit on and get off the seat. These bowls are safer for children. They give more area for men to use it without dirtying the bathroom. These bowls are also easier to clean because they don't have too many crevices to hold dirt.
What factors must you keep in mind when buying a macerator toilet?
You must make sure that the motor, pumps, and blades are powerful enough to pulverize the solid waste and send it to the sewer line vertically or horizontally. It is best to know the height or distance at which the sewer line is from your bathroom.
Conclusion
We have looked at various Saniflo products that can help you have an aesthetic bathroom. Irrespective of the distance of your bathroom from a sewer line, you can set up a toilet. Some models can be accommodated in half bathrooms.
Saniflo is the inventor of the macerator toilets, and there are many models to choose from. You can choose the right product that will suit your purpose. There are tank shapes to be considered. You must also look at the seat's height and see if it is comfortable to sit on.
A macerator has many moving parts, and it is essential to maintain them very well. However, you must ensure that you purchase a model that will serve your purpose the best while making it easy to maintain.