Our top picks: Best Thermostatic Shower Valve of 2023
Well, it is impossible to get excellent showers without perfect water regulation. It is what the shower valves do. They maintain the proper water pressure with the right volume and warmth.
They remain hidden or exposed while ensuring the functionalities of all shower systems. Although we can find a wide range of them, thermostatic valves are the most popular of them.
They don't depend on electricity but on the main water stream. If any failure occurs, they turn off immediately to save the users from thermal shock. So, if you want to avoid scalding during the shower, you just need one of the best thermostatic shower valves.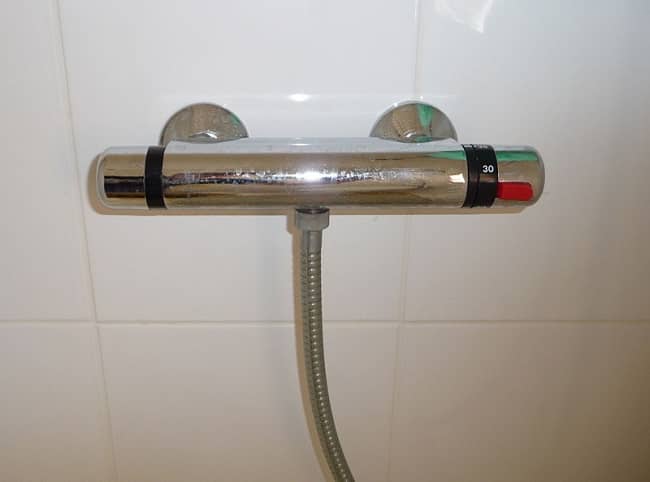 Review of the Best Thermostatic Shower Valve
Last Amazon price update was: December 5, 2023 4:05 pm
As you have thousands of options, you may be confused about which one to buy. This content presents the reviews of the top ten products to remove your confusion. Check them out to know their details:
1. Grohe 29142000 Grohtherm Smart Thermostatic  
With this one, everybody will get the most enjoyable shower without zero issues. It is a package of several benefits that are rarely found in other models. Its minimalist design has a solid metal construction. The push-turn of a switch enables us to choose our required spray source as well as water volume. All thanks to this SmartControl mechanism.
It has a maximum level of flexibility when it comes to user control. Everyone can select, change, and also mix various spray patterns. It delivers the advantage of setting an optimum temperature of 38 degrees Centigrade. As a result, there will be no chance of scalding.
It implements Integrated Grohe TurboStat technology so that it can endure your safety from the warmth fluctuations. As it has some markings and buttons, it is super intuitive and straightforward. The push-button settings can start and terminate the operation of the outlet.
It reduces water consumption by providing the choice of reduced flow, yet zero compromises on performance. You can install it within a few minutes. You have to use the smart box tools of the same brand for its installation. The slim design maintains cleanliness and the long-lasting coating lasts for years.
Features at a glance
Safety button for 38-degree Centigrade to prevent scalding

Metal construction with shaft sealing

10mm angle adjustability

Equipped icons for customizing push buttons

36 liter per minute of water flow performance

Reduced water consumption
2. GROHE 34150003 Grohtherm 1000 2-Handle Thermostatic 
If you want ultimate shower enjoyment along with flawless execution, go for this. It contains two robust and compact handles. It features a scratch-proof and tarnish-proof finish that remains usable for a long time. This durable product will definitely provide the same functionalities and performance after some years.
The safety housing and the impressive chrome finish make a stylish form. It doesn't need any battery to operate. The wall-mounted setup process is quite easy. After installing, you can change the water volume using the economy button for the perfect shower.
Its TurboStat technology sets the desired water temperature within seconds. It keeps the water flow and warmth constant until the user finishes taking a bath. It also gives adequate protection against backflow. Above all, it consumes less than 50 percent water compared to the regular ones.
It offers the highest protection. It comes with an innovative cooling channel for mixing both hot and cold water. If the water temperature crosses 100 degrees F, it stops automatically. In this way, it minimizes the risk of scalding. Thus, it will be suitable for both children and seniors.
Features at a glance
Ergonomic, durable, long-lasting, scratch-resistant, and tarnish-resistant structure

Less chance of scalding due to the cooling channel

The capability of instant and continuous water flow with perfect warmth

Safety system activates at 100-degree Fahrenheit

Safety against backflow

Wall-mounted installation system does not require batteries
3. Rozin Solid Brass G1/2 Thermostatic Mixing Valve
This one has a brass mainframe, which is strong and long-lasting. It has an effective temperature control system along with non-return technology. Therefore, it permits water to flow in only one direction instead of two sides, although it has two openings. The water enters from one side and leaves through the other one.
It does not need any battery. Anyone can set it up effortlessly. As soon as the setup process finishes, you will experience flawless water flow without any back-pressure.
It contains a Shape Memory Alloy or SMA cartridge. The responsibility of SMA is to allow controllable compression. Apart from this, they are durable and corrosion-resistant. They have fewer fatigue properties so they can easily survive several bending and twisting. Despite being a little bit expensive, they are often preferred for manufacturing because of these reasons.
Additionally, they offer all the features the same as the other high-end models. You can change the water volume based on your preference. Also, change the water temperature to have a pleasant shower. There is a red switch for helping us to get water more than 100¨H.
Features at a glance
Temperature control benefits along with non-return inlets

The Shape Memory Alloy cartridge offers more user control

Stepless adjustability of outlet water warmth

Durable brass construction

½-inch male connection

Adequate volume control capacity
4. Grohtherm 1000 2-Handle Thermostatic Bath/Shower Valve  
It is one type of non-return valve. Such a valve offers only one-direction of water flow. Generally, it can operate automatically without the users and other external systems. Their activities keep the compressor instruments safe from all damages caused by reverse flow. They reduce the operation time and the chance of less production as well.
It has a scratch-resistant and tarnish-resistant exterior. That's why it can last for a lifetime. Because of the low-pressure drop, it consumes less energy. It is also able to decrease by 50 percent water consumption.
Its innovative cooling system combines both hot and cold water to form the desired temperature. Thus, it protects against scalding. If the warming level crosses 38 degrees C, it will stop working. It can successfully prevent sudden valve failure too. So, no matter if the user is a toddler or child, they can use it without any fear of accidents.
Once you start taking a bath, the water volume, warmth, pressure, etc. will be set instantly. They will remain constant for the whole time. As it features fewer moving parts, it does not cost a lot for maintenance. It will save some cash in the long run.
Features at a glance
Well-built, scratch-resistant, and tarnish-resistant coating

Coupled with a cooling channel to get rid of scalding

Instant and continuous flow of warm water

Sturdy and ergonomic handle

Multiple safety functions make it suitable for everyone

Non-return properties allow only single-direction liquid flow
5. Hansgrohe 15763001 Thermostatic Trim 2 Function Finish
This brand always looks forward to combining quality, design as well as performance in the products. The same thing is applicable to the valve. It comes with multiple control selection schemes. You can control the water temperature using the given selection handle. These buttons can turn on or off any shower function with one touch.
It implements many safety methods to avoid scalding. An associated safety button restrains the liquid warmth from exceeding 100 degrees F. As a result, you will be enjoying a comfortable shower without any fear of unexpected incidents.
Just like the other items of the brand, this valve has exceptional durability and surprising performance. It includes a trim plate having injection molding advantages. The plate resists dents, corrosion, and mineral accumulation. You can continuously use it for many years to come. Besides, it assists in reducing noise and vibration production.
Moreover, it offers a high degree of accessibility to users. If you want to turn off the services, you can remove the trim plate quite effortlessly. Its two-jet showerhead is one of the best showerheads ever. With two spray modes, it supports 2.5 Gallon Per minute water flow.
Features at a glance
Sleek design and high-grade engineering

Easy and quick selection control of water temperature

Scalding-proof safety button keeps the temperature below 100 degrees F

Durable plastic mainframe tends to resist chemical corrosion

Quickly accessible trim plate

Less tendency for loud noise and vibration
6. LITTLEGRASS Thermostatic Mixing Valve Wall Mount Hot Cold
This is a professional-grade thermostatic valve. It consists of Brass, ABS, and stainless steel components. The structure is quite stable for this reason. It can withstand lots of pressure, bending, and twisting. A thin layer of chrome covers the internal to deliver corrosion resistance properties. So, as you can assume, you don't have to spend money on other models after getting this one.
It offers a high water-flow rate to the users during the shower. They can adjust the degree of water temperature according to their choice. The volume, pressure, and warmth will remain constant until the shower ends. Such precise water temperature stability is quite rare among the valves.
If you want a suspended shower, you only have to press the flow switch. It won't reopen the clock keeping the water at its original temperature. It is ideal not only for adults but also for the elderly and children.
It measures 10.6 inches in length and 2.7 inches in height. It requires some mounting hardware for installation, which will be given along with the valve. Therefore, you don't have to purchase separately. You don't have to use any battery for this as well. The required setup process is wall-mounted and easy.
Features at a glance
Both valve and mounting hardware are included

Wall-mounted setup method with 1/2 IPS male connector

Copper and stainless steel body has a chrome finishing

Instant water temperature adjustment

High flow rate and temperature stability

Appropriate for adults, the elderly, and children
7. GROHE 24133000 Grohtherm Dual Function 
From classic design to excellent profile, it has everything to make your washroom stylish and comfortable. It includes a built-in diverter. We all can select the needed outlet by moving the upper handle slightly on the either the left or right side. They can also choose between the shower head and the hand shower.
The lower handle is for controlling temperature. It changes the water temperature within seconds and maintains the same warmth while taking showers. It features a wall trim plate. The users can change its angle up to 6 degrees after the setup procedures. This characteristic ensures proper alignment of the plate.
With the compact cartridge, your valve will have the best directional, pressure, and flow control. It has wax thermostatic elements for converting heat power into mechanical power. It arrives with a chrome finish that provides maximum safety from corrosion. As a result, your valve will offer the same incredible experience for years.
We know that only great functionalities can not make an ideal thermostatic valve; it needs adequate safety mechanisms too. This valve involves safe stop technology, which automatically shuts down the system if it crosses the temperature limit. Your sensitive skin will not get burnt because of too hot water.
Features at a glance
Sleek and compact design results in a stylish look

Compact cartridge offers long time durability

Instant and continuous warming-up capability

Easy selection with built-in diverter

Safety button to avoid scalding

Trim angle adjustability for proper alignment
8. GROHE 29137000 Grohtherm Smart Control
If you are looking for a flexible system for the most comfortable shower, this one will be ideal for you. The three valves deliver the opportunity of controlling, switch, and combine various spray patterns. It will allow you to choose any outlet as your choice. You can enjoy them separately or run different outlets at the same time
Its minimalist design includes a nice corrosion-resistant chrome finish. So the construction is too reliable to last a long time. The metal wall layer forms a stable and reliable figure combined with the shaft sealing. You can adjust its angle up to 6 degrees for ensuring the right alignment.
It provides options for temperature and volume adjustment. The water volume can be set by turning the knob. Its TurboStat technology lessens the probability of many unexpected temperature failures. If the temperature exceeds 38 degrees C, it stops working immediately. So the users will be safe from scalding. As it utilizes markings and textured buttons, you will not get confused at all.
The overall system is straightforward to install. It will be ready to use within a few minutes. Then you can choose your preferred settings. No matter what you want, you will get the best pleasure, even without less water usage.
Features at a glance
Dual-function control systems allow choosing water outlets

Safe Stop button ensures safety against burning

6-degree angle adjustability

A built-in check valve is integrated with dirt strainer

Various outlets can operate simultaneously

Customizable push buttons, on/off push button
9. HOMEDEC 3-Outlet Modern Shower Diverter Valve
This model is famous for its accurate temperature control. It utilizes a pressure-balancing diverter that minimizes the chance of burning. The water pressure always lies between 0.05 to 1.0 Megapascal. So it is suitable for the whole family.
It is composed of brass materials ensuring both durability and reliability. Besides, the premium-quality polished chrome finish successfully resists corrosion. This is the reason why it meets all industry standards. The completely thermostatically controlled services remove the need for temperature adjustment.
All of three outlets are blessed with generous flow rates. Two ¾-inch inlets are designed for hot and cold water flow. Both of them help in confining backflow. The temperature of cold and hot water lies within 5 to 29 degrees C and 50 to 80 degrees C, respectively. The third outlet size is G1/2-inch. There is a knob for controlling all these functions. Thus, all of them can perform simultaneously or separately.
The handle knobs and cover plates are included in the package. No need to buy separately. Its full body does not require re-plumbing when any partial maintenance is needed. It shuts off as soon as the inlet suddenly stops so that you will not get scalding or cold.
Features at a glance
Durable, robust, and corrosion-resistant polished layer

A single knob enables the use of three functions either simultaneously or individually.

Thermostatic methods for scald prevention.

Included handle knobs as well as the cover plate

05-1.0 Megapascal water pressure

No backflow, no requirements for changing temperature
10. Kohler K2975KSNA Master Shower Thermostatic Valve
This high-flow valve involves an innovative shuttle design. It supports all schemes of consistent temperature control. It comprises brass elements to get long-term sturdiness. It also restrains different aggressive water conditions. For this reason, it will be perfect for all family members.
An associated single handle is mainly responsible for temperature adjustments. The outlet temperature won't change if the water pressure and temperature fluctuate. It has one ¾ female inlet and ¾ female outlet connections. They work in such a way that there will be no way of burning. As a part of anti-burning protection, it features an adjustable comfort setting.
At the same time, it maintains a generous water flow rate. It delivers a 17.2 gallon-per-minute liquid flow rate at 45 pounds per square inch. When paired with compatible trim, it offers a high-temperature limit. It adds extra safety along with the desired flow rate.
You will not get volume control parts and thermostatic trim along with the product. If you want to get their benefits, you have to buy them separately. While installing, you can reverse the cartridge.
Features at a glance
Constant outlet temperature, even when the water pressure or inlet water warmth varies

One-handle temperature control method

2-gallon per minute flow rate

One female NPT inlet and two female NOT outlet connections

Continuous scalding protection.

Adjustable comfort options, temperature limit
Important Things to Consider When Buying a Thermostatic Shower Valve
Keep the following parameters in mind while searching for a perfect model.
Type of the Shower Valve
All shower valves fall into one of two categories- concealed and exposed. In the first versions, the plate and handles are visible. The other parts are hidden behind the exposed part. They are pretty modern and stylish.
With the visible parts, the exposed shower valves do not look as good as the first type. But they are easy to install and also cheaper. They are best for brick walls as the previous one fails to work well on such a surface.
Construction
Although all brands serve a common purpose, they are produced differently. Shower valves made from rust-free materials have the best stability and functionalities. The top-end brands are giving more priority to metal components.
Usually, the brass, ABS, and stainless steel models can survive more pressure and abrasion. They ensure a sturdy finish to prevent leakage. You will find many scratch-resistant and tarnish-resistant vales.
They generally last for a lifetime. Some support both handheld as well as overhead showers whereas others support only one. So, you have to decide which one deserves more priority.
Energy and Water Consumption
We all want the best level of comfort during the shower. But if it costs a huge electricity bill, it will not be worth buying. Some ideal valves are often left behind the others just because they consume more power. That's why try to choose products with eco-settings.
They minimize power costs significantly. Again, avoid those valves which waste a good amount of water. Some water-saving technologies are implemented into them to save more than 50 percent water compared to their regular counterparts. In short, we should not pick one, which will waste plenty of resources.
Ease of Installation
Well, many valves hardly require any tool for installation, whereas a few need additional hardware. Most often, the needed tools are given along with the product. If not, you have to purchase them separately.
Besides, if the setup process is straightforward, you can do it yourself within a few minutes. Otherwise, you have to seek help from a professional. Again, the instruction manual should be well-written with details. You have to consider all of these issues before buying.
Temperature and Pressure Controls
Shower systems without water pressure and water temperature settings are not satisfying at all. Did you ever wish to be able to control the two parameters to fulfill your demand? If so, then there is good news for you.
Many advanced products contain control knobs for the ease of adjustment of these attributes. On the other hand, others have built-in pressure and temperature levels. The users can't adjust them depending on their preferences. None should miss the advantages of the first type unless you don't need them.
Price
The price of different brands varies from each other. The cost basically depends on their production cost, quality, and features. So the majority of the modern models are advanced but expensive. Don't buy a product that won't fit into the budget. But if you can spend more, don't compromise on the quality to save some money.
Conclusion
Now that you know the nature and importance of these valves, you have a clear idea about them. While managing many properties, they also reduce water wastage. We hope all these details help you a lot to get the most suitable one.
Make sure to buy any of the best thermostatic shower valves because the shower's performance will depend on it. You can simply pick any of the described models from the list or another one. Don't forget to follow our buying guidelines.
Those tips will definitely boost your confidence and remove confusion. Then finding out a good match will be much easier.