Our top picks: Best Low Flush Toilets of 2023
Our environment is deteriorating rapidly. Responsible people are trying their best to do their bit. But then the condition is so bad, and we started so late that a bit is never enough. However, doing a bit is always better than doing nothing, and the worse, wasting resources.
Saving water has become urgent for our own good. There was a time when we used to flush the toilet, liter after liter when we didn't need to. But now we have low-flush toilets. That brings us to our topic today, which is the best low flush toilets.
A low flush toilet releases 4.8 liters of water instead of 6. So, with each flush, you are saving a liter and more. The good news is that people are sincerely trying to install the low flush toilets to save as much water as possible. A noble intent and a great move, indeed.
When you have decided to do your bit, it was high time that we did our bit by proposing a few low-flush toilets that are quite high in quality. These will not only save you water but embellish your bathroom space.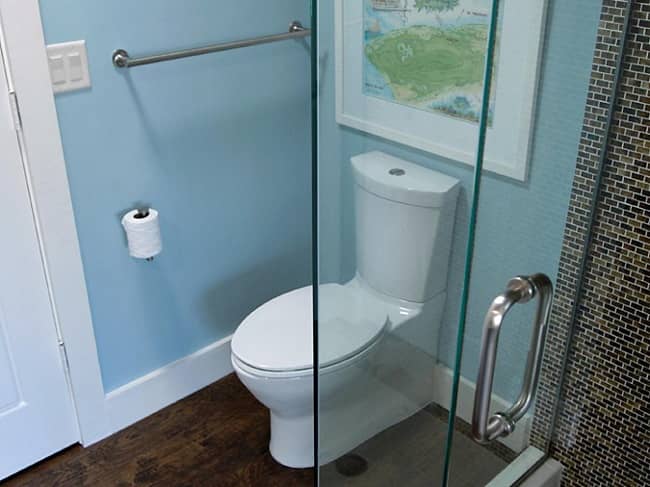 Review of the Best Low Flush Toilets
Last Amazon price update was: December 5, 2023 4:05 pm
1. TOTO CST243EF#01 Entrada Two-Piece
TOTO CST243EF#01 is a two-piece round toilet for users of all heights. You have the round bowl and the flush tank. It has a clean and modern high-profile design and is comfortable for a broader range of individuals.
It is a low-flush toilet certified by WaterSense. Certified by WaterSense implies that you are flushing a specific 1.28 gallons of water per flush after every use. Not just that, but the toilet is ADA-approved too. This follows the standard rules of making it comfortable to use by people having disabilities.
The toilet is safe for the environment and saves energy and resources because it is California CEC and CALGreen compliant. Therefore, not only the water but you are also taking care of many other things by installing this sleek two-piece toilet.
It flaunts the E-Max flushing system. The system includes an extra-large siphon jet, a large trapway, and a 3" wide flush valve. So, even with 1.28 gallons of water, the toilet is cleaned thoroughly due to the powerful flush.
Features At A Glance
28gpf water use

EPA WaterSense certified

Meets the rules of ADA and CEC and CALGreen compliant

Apt for a broader range of individuals

E-Max flushing system

Powerful flush with extra-large siphon jet
2. WOODBRIDGE T-0019 Cotton White toilet
A toilet could be this sleek and luxurious looking, if not finding out this one who would have thought? This one-piece toilet by WOODBRIDGE is simple and clean by looks and way easier to clean in actuality. With this one-piece toilet, you also get a high-end soft closing seat with a sturdy stainless steel hinge.
There are no corners or crevices where the dirt, dust, or grime could gather and make it filthy looking by staining. Often, due to the difficulty of reaching to clean the narrow sections, the toilet gets nasty looking and stained. That will not be the case for this one, not from inside or outside, as it has a skirted trapway.
It is a high-efficiency toilet certified by WaterSense. It is ADA-compliant as well, so perfect for users of any height and issue. Not just the height design, the seating height simulates a chair. So, sitting on it and standing up from it becomes way more convenient for everyone.
Enjoy an ultra-clean toilet after every use due to its fully glazed flush. The siphon flushing design ensures powerful but super quiet flushing. No clogs, no leaks, and you are not even disturbing anyone's sound sleep.
Features At A Glance
Sleek and luxurious one-piece easy-to-clean toilet

WaterSense Certified and ADA compliant

Skirted trapway, no crevices or bents

Siphon flushing design

Quiet but powerful flush

Includes a soft closing seat and a seat hinge
3. American Standard 2961A104SC.020
American Standard 2961A104SC.020 seems like a two-piece toilet but is a one-piece toilet. It is designed to ensure the comfort of every user's height and ease of use for anyone with physical issues. Yes, it is ADA-compliant, thus safe for people with disabilities.
It is a low-flush toilet, so it was a given that it would be WaterSense certified. It will use less water and ensure high performance and water efficiency. But it didn't stop just there and was made fulfilling all the California Energy Commission (CEC) requirements.
The toilet also includes a soft closing seat and lid. And the polished chrome trip lever mounted on the side of the flush tank gives it a nice, sleek look. It has bends and corners at the bottom side, but then the slippery, smooth material and one-piece design compensate for all the hard work to upkeep it by making it comparatively easy to clean.
It is a low profile toilet thus fits in smaller spaces and is elongated, not round. Therefore sitting on it becomes way more comfortable as the narrow, longer shape snugly fits a broad range of users.
Features At A Glance
One-piece toilet with a soft closing seat and lid

28 gallons of water per flush

WaterSense-certified and CEC compliant

Ensures comfort and ease of use, ADA compliant

An elongated compact toilet, apt for smaller space

Easy to clean
4. KOHLER K-4007-0 San Souci Toilet
KOHLER K-4007-0 is not just a low flush toilet but a low profile compact toilet too. It is apt for installation in small bathroom spaces and powder rooms. It is a one-piece toilet with no bends, crevices, or corners. Germs, bacteria, or dust have no place to hide or make the surface its abode. Thus no matter how many times you use it, it will always be clean and fresh.
The cleanliness comes due to the powerful flush as well. It features the patented AquaPiston flush engine, which assures exceptional performance. The durable Aqua Piston canister is designed to display 90 percent less exposed seal material, unlike a standard 3" flapper. That results in leak-free performance.
Moreover, the canister ensures the water you flushes cleans the bowl from all sides as it flows and blows the waste by releasing it from a 360-degree angle. That means there is no space that the flushed water doesn't reach to clean the toilet bowl.
If covering all the sides was not enough, you have a strong siphon flush. What the flow from 360-degree couldn't do, is done by the powerful,  single-flush gravity. The force of the plug-free flush is created by gravity and the precision-engineered flush tank, toilet bowl, and trapway. And all this happens with a mere 1.28gpf water.
Features At A Glance
Low profile, low flush, one-piece toilet

WaterSense Certified, 1.28gpf

Durable Aqua Piston canister

Powerful single-flush gravity creates a strong siphon flush

Comes with the Quiet-Close lid and seat

Easy to keep it clean and fresh
5. TOTO MS814224CUFG#01 Promenade
The previous toilet from TOTO  we reviewed was a two-piece round toilet. So, here's a one-piece, elongated toilet by TOTO for the other spectrum of brand users. As it is a one-piece toilet, it is way easier to keep clean and maintain. The bends at the outer bottom are the only downside, though.
It is among the ultra-low flush toilets and flushes only 1.0 gallons of water per flush. Not even the very standard 1.2gpf, very impressive. Still, the flush is powerful enough to ensure a clean toilet bowl. So, it's clear that the toilet is made following every rule and keeping every user in mind. The ADA, WaterSense, CALGreen, and CEC compliant remain intact. So, it's guaranteed.
The bowl, in fact, the whole toilet unit, has a Cefiontect glaze. That glaze gives the bowl a slippery, lubricious texture that doesn't let the waste stick to the bowl. So when you flush the toilet, the waste is cleaned thoroughly.
When it is about the flush power, TOTO Promenade II 1G has perfected that as well by having the Tornado flush system and ensuring centrifugal rinse off the entire bowl with a mere 1.0 gallons of water. You thought you could do with less than 1.28 gallons to flush the toilet, and TOTO has introduced its industry-leading 1G technology to you.
Features At A Glance
Industry-leading 1G technology

Flushes only 1.0 gallons of water per flush

ADA, WaterSense, CALGreen, and CEC compliant

Cefiontect glazed bowl

Tornado flush system and centrifugal rinse

Easy to clean and upkeep
6. Kohler K-3999-0 Highline Comfort Height
We had previously talked about a one-piece toilet by Kohler. Now we have a two-piece toilet with a 12 inches rough-in for you by the same brand.
It flaunts a chair-height seating, which makes sitting on it and standing from it much more convenient and comforting. The bowl is elongated, too, taking the comfort level a notch higher. From kids to older people and members with joint pain in the family, all can use it with ease.
It strictly follows all the rules and guidelines of EPA WaterSense flushing. So, whenever you are flushing, you are using 20% less water than the standard 1.6gpf toilet flushes every single time.
Less water released from the flush doesn't lessen its power of it. Its canister flush valve releases less water with a very potent punch, and all the waste is removed in one go. No waste of water, no clogs, only a clean, fresh bowl, that's that.
Features At A Glance
Two-piece, elongated toilet

WaterSense certified

Chair-height seating

Potent canister flush eliminates clogs and removes waste

Comfy to use for people of all ages

Easy to clean with powerful flush and less water
7. TOTO CST244EF#01 Entrada Two-Piece Elongated
This toilet by TOTO is exactly the same as the first two-piece toilet we reviewed. The only difference the two have is the shape of the bowl and the color of the set. The first one was round, and this one is elongated. The first one was white; this one is cotton white, and that's about it.
Most of you might prefer elongated bowls as they are way more comfy and fitting when seated on it. If that was not your favorite due to the bowl shape, you have this one to try. It is a low flush toilet, ADA, WaterSense, CALGreen, and CEC compliant.
You are flushing no more than 1.28gpf water after every toilet use. The EMAX flushing system, along with the 3" flush valve and extra-large siphon jet, flushes and pulls the waste away with a high force and too fast. The bowl is spotless with just one flush and with 1.28 gallons of water.
People with disabilities can comfortably use it; the height is universal. And it has taken care of high performance and water efficiency and efficiency of other resources as well.
Features At A Glance
WaterSense certified, 1.28gpf water per use

EMAX flushing system

Extra-large siphon jet flush

Universal height

Elongated bowl

Fast, powerful, but quiet flushing
8. American Standard 288DA114.020 Toilet
This one is an ultra-high-efficiency toilet with a round front and standard height. The toilet is known for its superior water savings, as it releases only 1.1gpf water.
With that much water and the PowerWash rim, every flush cleans the bowl thoroughly. After every use and flush, you are basically scrubbing the bowl with the powerful siphon jet bowl technology. Thus your toilet is always free of bacteria, mold, and mildew, and will not stink.
It's pretty much a given that the toilet meets EPA WaterSense criteria. But it is CALGreen and CEC Compliant too. Ensuring high efficiency and low consumption is its motto.
The elongated bowl with the round front design makes it a unit apt for smaller spaces. Also, the EverCLean surface guarantees a cleaner surface for an extended period.
Features At A Glance
1gpf water

Normal height

Space-saver design

EPA WaterSense certified

EverCLean surface

PowerWash rim and siphon jet bowl tech
Important Things to Consider When Buying Low Flush Toilet
When it comes to a buying guide for a low-flush toilet, the yardstick is pretty straightforward.
WaterSense Certified
Standard toilets come with a flush tank that releases approximately 1.6 gallons of water per flush. Some toilets have a dual-flush system where you can flush a small amount when you need to and a lot more when you need to clean the waste thoroughly.
However, those still use 1.6gpf water or might not be from the affordable side. So, to make things easy and less pricey, you must check for WaterSense certification. Anything that has a WaterSense Certification could be considered a low flush toilet.
The certificate directly implies that you are flushing no more than 1.28gpf water and, in some cases, even less, perhaps a gallon or so. But it will never exceed 1.28gpf water. So, always check whether the toilet you are buying is WaterSense certified or not.
Powerful Flush
You are using a comparatively less quantity of water to flush and clean the toilet. So it becomes important for the flush to be powerful because it has to clean all the waste at one go, with less water.
Most of the low flush toilets have a siphon jet system that holds extra water directly facing the trapway. So when you flush, it vacuums and creates pressure, and releases the extra water with full force to thoroughly clean the waste.
That pressure and force of water is a must when you need to maintain a low-flush toilet. You can also try checking whether the toilet has the PowerWash rim, Tornado flush, EverClean surface, or, at best, a slippery surface. These are all that clean your toilet bowl after every use and help keep your toilet clean, fresh, and odor-free.
Skirted Or One-Piece
We do not actually mind the two-piece toilets. And that is the reason we have talked about a few here. They are great. But if you ask us our preference, we always will favor the one-piece toilets over the two-piece.
Moreover, it's always better to go for the skirted designs without bends, corners, and crevices. These are all features that keep your toilet clean. It's a common issue for two-piece toilets to gather molds and mildew in the gaps behind and at the bottom end.
It stains and turns filthy and yellow. No matter how well the powerful flush cleans the bowl from the inside, an ugly stained exterior will make it not worthy of use. So, always try to buy one-piece skirted low flush toilets.
Quiet Flush
Every time one uses a toilet, there are high chance that you are waking up the person sleeping in the adjacent room. So, you tend to avoid using the toilet, and if you are compelled to use it, time to take a guilt trip for breaking someone's deep slumber.
So, a silent flush is mandatory. It is compulsory when you have kids and pets in the house. You do not want your kids and pets to wake up with the flush noise and stay awake for the rest of the night. A powerful flush can be ultra-silent, too, so better to install those.
Space-Saver Design
This quality has nothing to do with the low flush. But come to think of it, when your toilet has a space saver design, you can use it to make your bathroom space more spacious. You are using less water after every toilet use, you are putting less effort to keep it clean, and your small bathroom has room for you not to feel congested.
On top of that, the toilet's design or quality is not compromised. In every case, it's a win-win situation. All of you apartment owners, please know, your small bathrooms need one of these low-flush toilets.
Frequently Asked Questions 
Q: Why must I install a low flush toilet?
A: To do your bit for the environment and the people who are undergoing water scarcity. When a few of us put effort into saving a few drops of water, people in some areas can have a few glasses of water to drink. Sounds gross, but someone had to say this as the issue has turned this serious. So, when you save gallons of water per day, the good you are doing will be a massive aid.
Q: I have installed a low flush toilet, and the flush is not as powerful as my previous one, why?
A: First of all, there is no comparison between the two when the regular ones use way more water to flush and clean. You are using only 1.28gpf water, and that makes even the most powerful flush system weaker.
Notice we said weaker, so compared to the regular ones, it will seem limited. But when you get used to using less water and know the right way to clean the waste with that much water, it will seem great to you. You will feel the difference.
A siphon jet that flushes 1.6gpf will be way more effective than the same system using 1.28gpf, of course. But the purpose is to save water, which the 1.6 gallons cannot do as well as the low flush toilets.
Q: Does a low-flush toilet actually work?
A: Yes, it works if you know how to make it work. Many think the water is too little to use and is only enough to clean the liquid waste. However, the ones we talked about are intelligently designed. Other factors like slippery surface, skirted design, tramway, and small bowl, everything plays their part to clean the waste with less water. Please understand you need no more than 3-4 two-ply tissue paper to clean up. Use the tissues wisely; the toilet will work.
Q: Does a low-flush toilet require frequent cleaning?
A: Yes, a low flush toilet requires frequent cleaning as sometimes the water is not enough for a thorough cleaning, especially when you have too many people using the same toilet. But the small size and easy-to-clean design make frequent cleaning easy rather than tedious.
Q: Why is my low-flush toilet getting clogged after every couple of uses?
A: Because you have dumped too many toilet tissues in it, and it is used frequently. Or you might have bought a low-quality toilet. Save water and save trees also by not wasting toilet paper. It will get clogged pretty quickly if you are not using or cleaning it the right way.
If you make sure to install a low flush toilet with a powerful flush and don't throw too many toilet papers in it, it will not get jammed anytime soon. But, if it's still clogged, then you have the plunger. That is enough to solve your issue. To save water, one can at least forgo that little downside.
Conclusion
Unless you understand the gravity of where we stand regarding our environment and resources, installing the best low flush toilets will be a mere show-off or an enormous hassle for you. If you have decided to replace your old toilet with a low-flush toilet, you have made the right choice, no doubt.
Installing low-flush toilets is a great move but make sure you are also not wasting water by keeping the tap open during hand washing or brushing. Your every move will matter to thousands.
Take a significant step by choosing any of the eight low-flush toilets we have discussed above. Your bathroom will look the same, modern, clean, sleek, and elegant, but simultaneously you are associating yourself with a good cause.