Our top picks: Best

ProFlo Toilet Review of 2023
A lot of toilets look elegant but consist of poor-quality materials. Then the users face some problems such as breakage, inefficient flushing system, clogging, etc. We need to look for an ideal toilet that works well with the latest standards.
No matter which brand you prefer, it should be stylish, durable, and functional at the same time. You will be glad to know that most ProFlo toilets satisfy these requirements.
The ProFlo manufacturers follow a simple philosophy of maintaining their products' design and functionalities. They had successfully launched quality products, including toilets, fixtures, soaking tubs, faucets, and many more items. Toilets are one of their popular bathroom products. The users find them simple yet very comfortable.
Many have never heard about these toilets and don't know what they are missing. If you are one of them, go through our ProFlo Toilet Review. 
Review of the Top 8 ProFlo Toilet
Last Amazon price update was: December 5, 2023 2:49 am
1. PROFLO PF1712BBRHEWH PROFLO PF1712BBRHE
It is 17-⅛ inches tall, considering the distance between the base and the highest fixture's point. It forms a compact structure with 8-½ inches depth from the furthest points to the front. Such a model fits small to big bathrooms and gives an excellent look. Both adults and older people find it relatively easy to use.
It consists of vitreous china components. This porcelain material builds a non-porous surface. It is the reason why the bowl never gathers dirt and eliminates everything in a single flush.
It comes along with a pro-grade toilet tank. There is a right-mounted trip lever on it. Every time the users want to flush, he has to press the chrome-finish lever. The water will quickly move from the tank to the bowl. Its siphon jet flushing technology sends all debris away through the large flush valve.
As a water-saver model, it uses only 1.28 gallons of water per flush. So, no more water wastage. Apart from all the advantages, we found a small drawback. It does not seem complete without the toilet seat, and you have to buy it separately.
Features At A Glance
Convenient, right-hand flush lever

Includes tank but not seat

Heavy-duty vitreous china mainframe

Easy installation method

Flexible two-piece configuration

Siphon jet flushing action
2. PROFLO PF9312PWH PROFLO PF9312P
It is a high-efficiency toilet with 14-¾ inches, 15-¾ inches, and 8-½ inches in height, width, and length, respectively. Since it already covers a tank, the customers have to get a suitable coordinating bowl only for mounting.
The best thing about the toilet is its dual push button flush. One consumes only 1.1 GPF (gallons per flush) of water. It is for removing only the liquid portion. The other one has the capability of getting rid of solid items as well. At every flush, it flows 1.6 GPF of water from the tank.
As you can assume, it saves 20 percent more water compared to ordinary toilets. Hence, it is WaterSense certified. You will definitely find a significant decrease in your utility bills.
The toilet will always be clean, regardless of how much water you use. Its inner layer is surprisingly less prone to cracks and scratches. One purchase will last for years. All credit goes to the vitreous china construction. The best part is, its performance hardly degrades due to continuous usage.
Features At A Glance
Dual flush valve

Long-lasting vitreous china body

Low water usage

Both tank and toilet in a single package

Superior and comfortable design

Only needs the coordinating bowl for setup
3. PROFLO PF9412UWH PROFLO PF9412U
Just like the two previous units, it also features a tank. The tank fills water quickly so that you don't have to wait longer for one more flush. The flushing lever is on the tank's left side. We can easily reach it within seconds.
Once anyone presses the flush button, 1.28 GPF water shifts from the tank to the toilet bowl. Its two-piece system is responsible for such innovative and water-saving flush functions.
Let's talk about size now. It is 31 inches long. The tank's back has a 29-½ inches gap from the rim. The bowl measures 17 inches in height from the edge to the base. 8-½ inches by 7 inches is the dimension of the inner bowl's water field. It is usable by anyone.
Gladly, it is made of vitreous china, one of the most sturdy toilet materials. It results in a smooth, poreless, and crack-proof condition. Another right approach is putting the required flapper and floater tool in the package. As a result, you don't have to worry about more costs. It does not take a long time to complete the installment.
Features At A Glance
Each flush requires 1.28 GPF water

Insulated toilet tank

Increased longevity with vitreous china

Ergonomic two-piece configuration

Elongated bowl for more comfort

Floor mounted configuration
4. PROFLO PF1501WH PROFLO PF1501 1500
The first three toilet suites include a tank. Unlike them, it contains only the bowl. The elongated bowl extends out 1-½ inches more than a round one. It delivers extra comfort while sitting on it. The shape is absolutely perfect for male users. They get an additional room just where they need it. However, if you don't prefer a bowl-only toilet, skip it.
It implements a super useful toilet flush technique called gravity flush. As soon as the flapper opens up, water starts to flow through the toilet bowl wall. Every flush takes only 1.28 GPF of water. That's why it is an eco-friendly, WaterSense-certified, and CEC-approved product.
All waste transfers to the drain pipeline instantly through 2-⅛ inches trapway after flushing. The trapway is fully glazed to reduce the growth of mold and bacteria. It also helps to minimize clogging issues.
The mounting process is floor-mounted. Once you install it, this vitreous china toilet will enhance the look of your bathroom. As it is 15-½ inches tall and 14-⅜ inches wide, it occupies a small space.
Features At A Glance
Ergonomic elongated configuration

Constructed well from vitreous china

Potent gravity flush system

fully glazed trapway

WaterSense certified for less water necessity

Floor mounted installment
5. PROFLO PF1604PAWH PROFLO PF1604PA
It is another bowl-only toilet. The positive side is you don't have to be stuck with a tank you don't like. Pick any tank that supports your toilet system. Due to the elongated shape, it is a little bit larger than the round bowls. Hence, the man enjoys sitting on it while doing their private job.
It is a vitreous china model with 15-⅛ inches bowl height. The discharge passageway is 2 inches in diameter. It is common in toilet industries but lacks the benefits of a bigger trapway.
You have to install it according to a floor-mounted guide for a two-piece model. The overall procedure needs a separate tank and toilet seat. Although you don't have to spend too much time cleaning the toilet bowl, cleaning the full toilet system will take longer.
It utilizes siphon jet flushing properties for a strong flush. Despite using only 1 GPF of water, it creates a strong vacuum to lead the dirt into the drain line. For this reason, it is WaterSense certified. After a flush, you will barely notice any solid objects inside the bowl.
Features At A Glance
Bowl-only deal

Wide elongated bowl

Siphon jet flush type

1 GPF water flow rate

Vitreous china model

Two-piece toilet type
6. PROFLO PF1605PAWH PROFLO PF1605PA
The only things it contains are a toilet bowl and a rear outlet. You have to spend some more bucks for the rest of the items such as the tank, lid, etc. Get whatever suits our needs properly. The bowl is not round at all; it is 1-½ inches wider than the round bowls. The elderly as well as men feel more comfort and convenience.
It is similar to the other ProFlo units; vitreous china is its main component. Such a glass-based coating on porcelain material makes the walls more long-lasting, glossy, and clean. Also, there will be no pores. Thus, It gives no chance of bacteria growth.
A fully-glazed trapway is placed to release the dirt. It may not seem too adequate to you since the passage measures only 2 inches. But the glazed topping changes the consequences. It guides everything so well without sticking to the upper segment. And the result is a clog-free outlet.
Above all, we can't deny its Sloan flush mate IV technologies. It implements pressure-assisted techniques during the flush. All wastes will be efficiently vanishing, leaving a clean bowl, that too with less water.
Features At A Glance
No toilet seat, no tank

Oval-shaped toilet bowl

Solid vitreous china finish

Unique siphon jet technology

Two inches fully-glazed trapway

Large water flow surface
7. PROFLO PF1403TWH PROFLO PF1403T
Its bowl-only pack allows us to choose a matching tank as per need. The downside is, we have to spend additional cash. Its oval bowl supplies superior comfort while using this, especially to the men. We will see a more open area of the toilet bowl. In this way, it enables us to clean every single corner.
The toilet is 17 inches tall from the toilet's peak to the bottom. The depth from the wall is slightly less than 27 inches. The widest part is almost 16 inches. Consequently, it is appropriate for most people.
When anyone flushes, the water runs through the 9 inches by 8 inches area inside the bowl. A 2-inch trapway will transfer all fluid and solid particles to the outer pipeline. We wished for a broader trapway for better service, but it does not work badly.
What impresses us the most is its flawless production. It gets factory-tested before putting it for sale. Thanks to the manufacturers because they used a super-durable acrylic layer named vitreous china. Even though we keep using it for a year, it will still be the same.
Features At A Glance
Only bowl, no tank, no lid

Floor-mounted toilet system

Elongated toilet bowl

100% flawlessly vitreous china toilet fixture

High seat handles all average persons

2-inch trapway
8. PROFLO PFCT100HEWH PROFLO PFCT100HE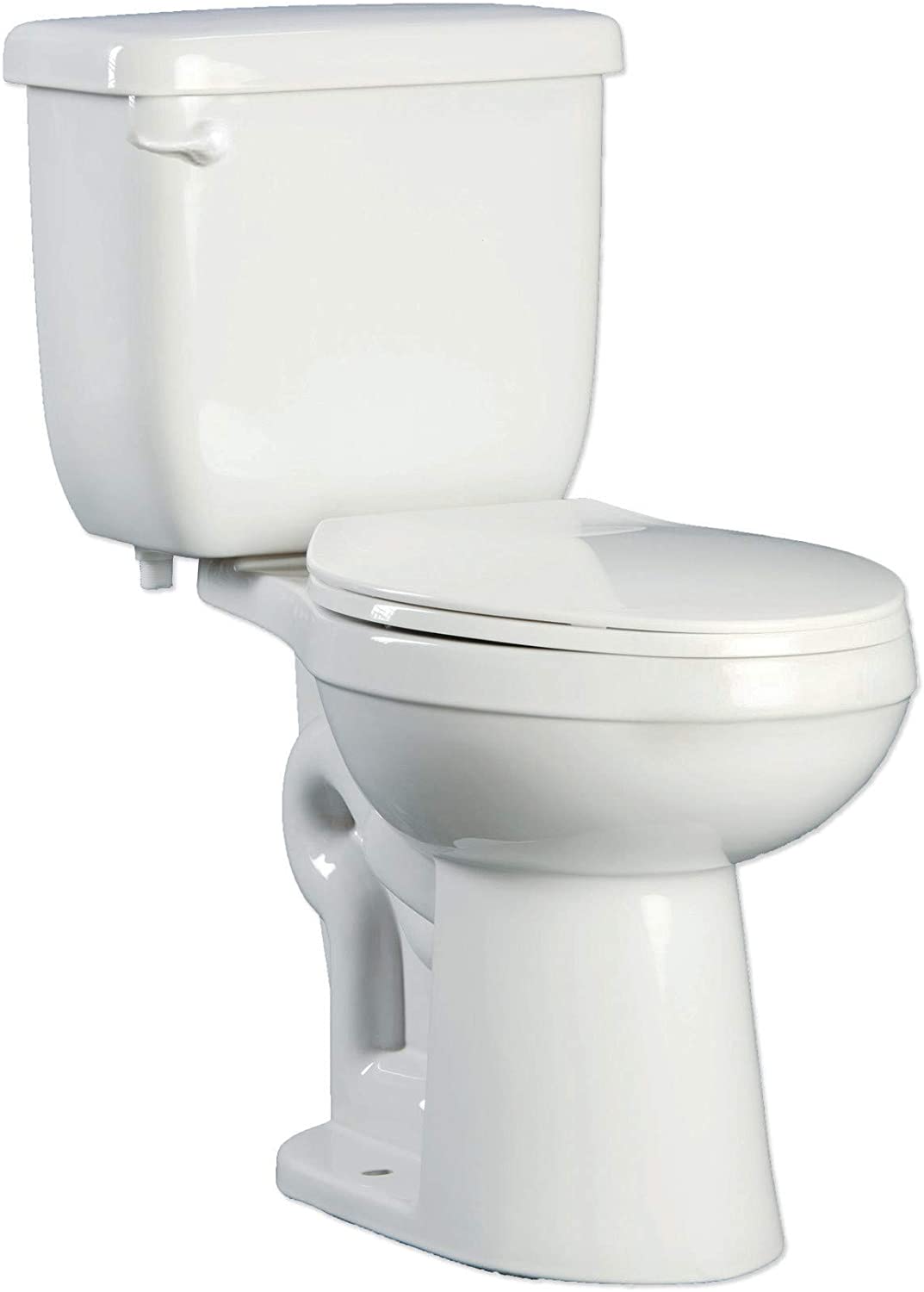 We ranked it as the most versatile ProFlo toilet. Do you want to know the reason? Surprisingly, it covers everything to make a complete toilet system. You don't have to buy any new fixtures. You will find the toilet lid, lever, bolts, and wax rings in the box. Very few manufacturers care for their customers like this.
The toilet tank can carry a large amount of water in it. 1.28 GPF water goes to the toilet bowl during flushing. Everything goes away in the first trial because of powerful siphon jet flushing services.
Most high-Grade porcelain is part of its construction. It is alone strong enough to prevent cracking problems. Plus, a vitreous china enamel coating turns it into a smoother and stronger one. The bowl surface is non-porous and does not be damaged over time.
The bottom of the tank is challenging to clean. If any dirt or fluid seeps there, we have to clean it for a long time. ProFlo adds a sanitation bar to solve the trouble. It is on the bowl's back that never lets anything go to the tank.
Features At A Glance
Incredible toilet tank with lid

28 GPF siphon jet flushing

Durable porcelain with a vitreous china layer

Flexible two-piece configuration

Equipped with all required tools

Classic round-front bowl
Important Things to Consider When Buying ProFlo Toilet
Keep the following parameters in mind while shopping for a ProFlo toilet:
Flushing system
It is the most significant property of a toilet. The ProFlo toilets mainly fall into two distinct categories. The first one is the siphonic jet toilets. As the name describes, they have siphon jet flushing arrangements.
It develops a severe flush action to operate well whenever you press the flush switch. The flushing performs waste removal in a few seconds. All you will notice is a clean toilet and less odor. It won't create a loud noise either.
You can complete your private task without interrupting others' sleep. These toilets are usually water-saver because single flushing does not take more than 1.6 gallons of water. The second type is a gravity-fed toilet.
Most of them are blessed with double flush options. One is for water, and the other is for solid wastes. Their wider trapway barely suffers from clogging. They are affordable but more prone to stains, noise generation, and odor.
One-piece vs. two-piece toilets
ProFlo makes both types of toilets. The one-piece toilets have a combined tank and bowl. Together, they give it a sleeker look. They are easy to clean because there are fewer hard-to-reach spots. We find them compact in height.
They are less likely to break. Everybody can easily set them up in the bathroom. They provide multiple flushing and water-saving choices too. So many positive sides, right? Then why do people give it a second thought before buying them?
It is because they are heavy, costly, and difficult to ship. Two-piece products are a cost-efficient option where the tank is separated from the toilet.
They come in more heights and styles. You don't have to face difficulties while maneuvering the pieces. They also have numerous water-saving and flushing diversity. There are germ and dirt hiding spots around the frame. You have to spend more minutes cleaning them.
Toilet dimension
If a toilet has all the desired features but is too short or too low in height, plenty of buyers avoid it. The reasons are simple. It can cause back pain and leg pain aside from being uncomfortable. So, it is a vital factor to judge.
The good news is, almost all ProFlow toilets stand around 17-1/2 inches tall from the ground. Such height is comfortable for all people, whether they are disabled or adults. Check the depth and width as well. Decide whether they match your shape or not.
The toilet should fit well in your bathroom. If it seems too large, do not buy it. Moreover, the bowl shape can either be round or elongated. The extended versions are more compact and better for male users. They are only for the spacious restrooms.
Ease of installation
These toilets are easy to mount on the floor. The majority does not require a qualified plumber. Even if you have never done the setup ever, you can do it. Simply follow online videos or page's instructions to connect the parts.
Sometimes, the customer doesn't receive the tools with some models. They can buy these tools, lend or call for professional help. Do not start installment until you understand exactly what to do and how to do. It may end up being a leaking toilet for a little mistake. If it feels so hard, so much work to do, or you do not understand at all, call a plumber.
Included accessories
You've seen that many ProFlow units come in a bowl-only form. Choosy buyers who want to use their personal favorite tank instead of the company's tank find it useful. They have to pay for the bowl only.
Then, they attach it to the selected tank to get a personal makeover. Some units cover a tank as well but exclude lids and mounting gear. Then we have to invest a little amount in the missing items as well. However, not all are okay with individual purchasing.
They desire a complete package involving everything they need. ProFlo produces models for them as well. It supplies the bowl, tank, outlets, lid, and even installation equipment. Which category you prefer is up to you.
Water usage
The ProFLo toilets have EPA WaterSense certification. The single flushing units need only 1.28GPF water. In double flush systems like PROFLO PF9312PWH toilets, water consumption is less than 1.28GPF.
They carry two different flush valves. One push away the liquids using 1.1 GPF water. When it comes to the solid filth, it activates the 1.6 GPF water flow. They save tons of water every year. The gravity-fed toilets may not eliminate all debris for the first time. We have to flush and again. Therefore, they waste more water than a siphon-jet toilet in the long run.
Frequently Asked Questions 
Q: Why is my ProFlo toilet clogged?
Answer: Toilets can dispose only of specific items. Putting non-flushable Items will clog the toilet. Again, the toilet tissues, hair, and debris build up in a corner forming a large object that can not pass through the tramway. Eventually, it gets bigger and blocks the passage entirely. It can also be a plumbing problem in the drain line.
Q: Are the toilets ADA-approved?
Answer: Yes, it is. The standard toilets are good for short people and children. Comparatively, ADA-compliant toilets are taller to support the height of adults. They are also a great pick for disabled persons and the elderly. The ProFlo brand most often launches toilets that are taller than 17 inches. People will enjoy sitting down on the bowl and standing up on the ground
Q: Can I install the toilet myself?
Answer: Absolutely. They typically have a standard 12 inches rough-in. Limited models come along with flange bolts and wax rings. The mounting videos are available on different websites. You can lock everything up by following one.
Q: How can I clean my toilet?
Answer: Make your DIY cleaner with water and baking soda or buy a cleaner from the market. Note that. ProFlow toilets have a vitreous china layer. Harmful chemicals can damage it and the inner layer. Therefore, make sure whatever you are using is safe. Spray the cleaner and let it sit for 15 minutes. Gently rub the outer area first. Then, take focus on every inch of the bowl. Don't push the brush too harshly against the wall. Rinse thoroughly.
Q: Do the ProFLo toilets always have a warranty?
Answer: You will get one year of warranty on some toilets, indeed. The producers may give a warranty on a certain part of the full toilet system. They also have the right to change and remove the warranty from a product at anytime.
Q: Can I clean these toilets easily?
Answer: All ProFlo toilets are glazed with a vitreous china layer on the top of the porcelain portion. It is pore-free and highly smooth. There is no scope for promoting dirt, mold, mildew, or bacteria growth inside the pores. All debris will be eliminated from the slippery surface with ease.
Q: Why do some toilets not bring tanks?
Answer: Well, the authorities want to give us a choice between a complete toilet or only the bowl version. Many customers may already have a usable water tank. Investing in a new one is a loss for them. They usually filter out all bowl-plus-tank toilets and look for bowl-only.
Q: What are the disadvantages of a ProFlo toilet?
Answer: No product is perfect in the toilet industry, and neither do the ProFlo toilets. First of all, we have noticed that some parts of several units are poorly-made. They look fragile and non-durable. You may have to replace them after a few months. Secondly, they would work better with a broader trapway.
Conclusion
ProFlo brands usually make user-friendly toilets at a reasonable price. And the other benefits? Albeit you already guessed some after reading this ProFlo Toilet Review, let's lighten you up in brief. These toilets are exceptionally designed to complement any modern washroom.
Their sleek design fits in a small bathroom without any problem. The flushing system is powerful; you may not need to flush twice. Less water will be consumed each time.
The construction, bowl shape, and height are beyond perfect for the majority of adults and the elderly. No wonder they have a MaP rating of 1000. However, a random one may not fulfill your demand. If you like them, have a look at their features and choose the best model according to you.