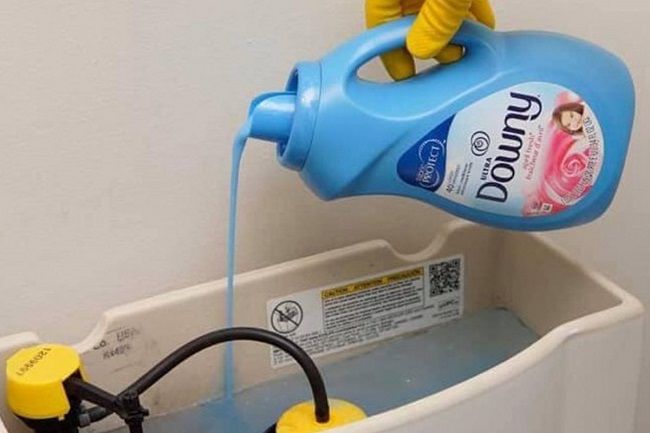 We are all used to cleaning our toilets. At least those of us who believe in hygiene. But, keeping a toilet clean is never enough. Even after constant cleaning, you can see the stubborn rust and limescale up underneath the bowl.
The condition of the toilet tank is even worse. The reason is we don't think of cleaning it until it's clogged. And when we open the lid to unclog, we get the biggest shock. There are these thick layers of rust and buildup from calcium and hard water.
To clean those stubborn deposits and rust, we need a potent cleaner. When you use the best toilet tank cleaner in your toilet tank always, it never gets clogged. There will be no buildups. So, no space for mold and mildew. Thus, no germs and bacteria.
Quick Answer – Best Toilet Tank Cleaner
Last updated on May 27, 2020 5:06 pm
Recommended 9 Best Toilet Tank Cleaner
Who would have thought a tank can get so dirty only by stagnant clean water. But it does get dirty, and removing that dirt is not easy. So, what are some of the best tank cleaners, let's check out right below.
---
Instant Power 1806 Toilet Tank Cleaner, 16 oz, White
---
The first tank cleaner we are reviewing is a 16oz bottle of white powder. It is a potent cleaner that contains citric acid. And those of you who are pretty knowledgeable know how strongly citric acid works on rust. Citric acid works on other buildups as well, like thick layers of calcium and minerals collected due to hard water.
This product is made in the USA, and it guarantees to work. However, to keep the toilet components protected, you must keep bleach far away from the toilet when you are using Instant Power to clean your toilet tank.
The procedure is pretty simple. As we said, it comes in a powder form. So, you will need water to mix it. Make sure you have a toilet tank full of water. Pour half the bottle, which means 8oz powder in the water. Stir it properly and keep it to activate and work overnight.
The next day, without any scrubbing, you are going to see a clean toilet tank. All the rust, calcium, and hard water deposits will be gone- even the rust from the moving parts. What this thorough cleaning does is it helps to increase the service life of the toilet components.
If there still remains some rust or limescale, then repeat the procedure. If not the next day, then a few days later. No matter what, it will work, even if it's a slow process. When you are done flushing the toilet, it leaves a fresh scent. So, not only it cleans all the stains, but it also removes the bad odor.
Features at a Glance
One bottle, two applications

Contains citric acid

Made in the USA

Removes rust, calcium deposits, and hard water buildups

Easy to mix and flush

No need to scrub
---
Soft Scrub In-Tank Toilet Cleaner Duo-Cubes
---
We have a soft scrub for you. Scrub doesn't mean you will have to open the flush tank wide and start scrubbing the whole of it manually. It is a package of duo-cubes. Here you are getting two cubes of soft scrub that dissolves in water. The cubes are wrapped in water-soluble wrappers. Make sure not to remove them.
Cleaning the tank with it is too easy. One just needs to throw the cube in the water tank with the protective wrapping. You have two cubes. One cube can last up to four weeks. So, with these duo-cubes, you are going to have a fresh and clean water tank for up to 8 weeks.
The cubes have a slight scent to it. Its Alpine scent is going to keep your toilet fresh and keep the bad odor away. So, not just the cubes work as scrubs but also fresheners.
These work great on the most stubborn of deposits. No matter whether your tank is stained due to hard water, limescale, or the toilet ring, the cube starts working at once. If you notice some stains to be too stubborn to stay even after a couple of days, then be a little patient. The scrub will eventually remove it.
It doesn't, in any way, damage the toilet components. You can be sure of it, being safe for the toilet components, even the septic tank.
Features at a Glance
A package of two scrub cubes

One cube lasts up to 4 weeks

Easy to use

Doesn't damage the components inside

Alpine fresh scent

Scrubs stains from limescale, hard water, and toilet ring
---
Hurriclean Deluxe 3-Pack New and Improved Automatic Toilet Tank Cleaner
---
Hurriclean is a well-known name, and it has a plethora of packages. You are going to notice it right here in our review, as the other types will also be reviewed right here. This one is their Deluxe package. In it, you get three packs of Hurriclean toilet tank cleaner. However, there is a slight twist.
This Deluxe pack is more in quantity as well as power. Unlike the original Hurriclean tank cleaner, this one comes with 33% more. So, if you are getting 3oz in the original pack, you are getting approximately 4oz in this one.
Each packet has 4oz powder, and you are getting a total of three packets in this package. So, this is going to last you for at least 3-4 months easily.
Then you have the improved formula of the original in the form of Hurriclean Deluxe. It has more citric acid in it. So, it automatically turns more powerful. We all know citric acid works like magic in removing rust and buildups.
The cyclonic foaming that crops up upon mixing the powder with tank water is pretty much the same. But as you are getting a larger volume so naturally, you will get better power and chemical reaction.
Features at a Glance
Deluxe 3-pack

33% more volume than the original

New and improved formula

Cyclonic foaming action

Removes marks of rust, buildup, and scum

Safe and easy to use
---
Dometic D1112002 3 N 1 Bowl Cleaner & Tank Treatment 24ct.
---
Here we have a 3-in-1 tank treatment. You can use this cleaner to clean your toilet tank. You can also throw it into the toilet bowl to have a thorough cleaning of it. And lastly, it has a pleasant lavender scent to it. Thus, it works as a solid air freshener too to keep the bad odor away. It's a complete package that maintains toilet hygiene in every way possible.
You are getting a box full of tank cleaners. Precisely, 12 water-soluble pouches. You do not even have to puncture the plastic wrap to pour the powder inside it. Throw it into the tank or bowl, and it works all by itself. So, it is super easy to use.
The moment it gets into contact with the water, it rapidly dissolves. The powder releases effervescent cleaner action. Effervescent, which means it creates bubbles and releases enzymes and cleaners upon chemical activation. Pretty similar to foaming action.
It is safe for the septic system. You are cleaning your toilet components without ruining them or cutting off their shelf-life to half.
Make sure to wait for the pouches to dissolve and then scrub the bowl a bit for better results. Though a bit tough, you can do the same in case of the toilet tank too. After scrubbing a bit, flush the tank.
Features at a Glance
A freshener, bowl and tank cleaner, all in one

12 pouches in a container

Bubble action upon dissolving

Leaves a lavender scent

Water-soluble

Safe for the toilet components and septic tank
---
Professor Amos' Fast Toilet & Tank Cleaner  
---
This one cleans your toilet bowl as well as the water tank. Without any bleach in it, it cleans the stain, residue, and buildups from the hard water efficiently. This, made in the USA product, not just cleans but deodorizes too.
Bleach is harsh on the toilet and its components. It absolutely ruins the glossy layer that we see in the toilets. So, cleaning with a solution that has bleach on it might clean your toilet but only after ruining its sheen.
And what about the rust that is collected in the bowl and tank! Bleach cannot neutralize rust that you see up underneath the toilet bowl or at the bottom of the water tank. Professor Amos' cleaner can neutralize the rust. It is designed in such a way that the rust disappears the moment it comes in contact with this potent cleaner.
It works with color change technology. That means as a formula; it is green. But the moment you mix it with water, it changes its color and turns blue. When it turns blue, you know it has activated.
The solution comes in a bottle, and you can use one bottle for 24 applications. You can pour some in the water tank and the rest in the toilet bowl.
Features at a Glance
Color change technology

One bottle can be used 24 times

Removes residue, rust, and hard water buildup

Made in the USA

Not just cleans but deodorizes too

Can be used to clean both the toilet bowl and water tank
---
Camco TST Ultra-Concentrated Orange Citrus Scent RV Toilet 
---
If you ask us about the safest toilet treatment of them all, we are going to keep Camco TST at top. It is RV and marine approved. The pouches are 100% biodegradable.
Bronopol is not used to make this cleaner. Bronopol is known to release formaldehyde, and it is toxic. If all that was not enough, the cleaner is free of pesticides and biocides too. So, you can be sure of it to be safe for you, as well as your whole toilet system, including the septic tank.
This one is specially designed keeping the RV black water tank in mind. RV tanks are special as they not only trap human waste, wastewater, but also the toilet tissues. So, cleaning it should be difficult too.
It uses an ultra-concentrated formula to clean the tank. You have to just drop a pouch in the flush tank or bowl. Wait till it dissolves. The potent formula will clean the water scale, rust, and deposits from the tank and eventually reach the RV black water tank and clean it. Before using it, make sure to empty the black tank.
In a convenient box, you get 30 drops-in. So, you can use it for 30 days easily. With one box, you can easily pass three-four months, perhaps even more. It has a strong citrus scent to it. So, it keeps the bad odor away for up to 7 days. 
Features at a Glance
30 drops-in

100% biodegradable

Ultra-concentrated formula

Citrus-scented

Doesn't contain toxic Bronopol

RV and marine approved
---
Automatic Toilet Bowl Cleaner Natural Disinfectant Scrub
---
This one is something new. It is a cleaner bottle that is kept inside the toilet tank. The bottle, the solution comes in, is not usual. It has a patented design, so it is unique. It is designed in such a way that whenever you are flushing your toilet, it releases the same quantity of cleaner. Thus, it lasts up to 90 days. You can easily flush your toilet 900 times with it in the toilet tank.
The ingredients used to make this cleaner are all active biological ingredients. They help to break down the waste but don't damage the toilet components, septic tank, and pipes. The natural plant ingredients are safe for the ceramic, too, and keep the glossy vibe intact.
Its natural acidic plant formula is potent and automatically removes the rust stains, as well as the urine and water scale. It is an automatic tank cleaner. There is no need to scrub the bowl or tank.
Not just that, for 900 times, this cleaner is going to make your toilet smell like lavender. It keeps your toilet fresh and free of bad odor.
Many times, the powder formula tends to leave residue in the tank. They clean well, but you need to wash the residue separately. With this cleaner, you do not have that issue as it doesn't leave any residue.
Features at a Glance
Patented bottle design

Made of natural plant ingredients

Lasts up to 90 days and ensures 900 flushes

Pleasant lavender scent

Safe for septic tanks and pipes

Removes rust, limescale and water scale
---
OntelHurriClean Automatic Toilet & Tank Cleaner
---
If you are searching for an efficient and effective cleaner for your self-cleaning toilet, then here you go. OntelHurriClean automatic cleaner is the apt product for that. Without manually scrubbing and brushing, it cleans your toilet bowl and the tank too.
You get three pouches in an OntelHurriClean cleaner packet. Each packet contains 76g of powder. What you need to do is pour in the whole 76g in the tank and bowl and make sure you wait for six hours before flushing. It will sit, set, and remove the stubborn rust marks and hard water stains.
It is fast. Upon blending with water, it activates and continues the foaming action. The foam ensures to scour all the stains, marks, deposits, and buildups. No need for you to scrub the tank or bowl with a brush. If it misses some spots, then you can brush it to remove it. But most of the time, you do not have to do anything except waiting.
From molds to mildew, germs to bacteria, buildups to deposits, and rust, this cleaner effectively cleans all.
Not just the tank and bowl, it works in cleaning the jet stream and improves the overall condition of the whole flush system. That, too, without damaging the toilet components and septic tank. A self-cleaning cleaner for your self-cleaning toilet- perfection.
Features at a Glance
Instant action

Foaming action scours the tank

No need to scrub

Removes stains, bacteria, mildew, rust and beyond

Cleans the jet stream and improves the flush system

Safe for the septic tank
---
Hurriclean No Scrub Toilet Tank Cleaner Tablets
---
We have another Hurriclean cleaner for you, and this time it's a package that is going to provide you with 3-6 months of cleaning power. Once you spend on it, you will not have to buy a toilet cleaner for up to six months.
Hurriclean cleaner works with powerful cyclonic foaming action. The moment you pour the whole packet in the tank water, it activates and starts foaming. That potent action is enough to scour the hard water and mineral deposits, rust stains, molds, and mildew.
It gives you a thorough cleaning, so it ticks the box of hygiene like no other. There are no places for the germs and bacterias to breed. It is instant, fast, and powerful. So, you get a hand-free cleaning of the toilet tank and bowl. For better results, you need to let it sit for at least six hours. Keeping it overnight is, of course, a better option.
Not only it cleans the bowl and tank; it cleans the jet stream too. Thus, you get an improved flush system.
Those of you who have issues with odor in cleaner must try it because it has no odor. Your toilet will have a fresh feel without having any particular scent to it. It is free of chlorine and phosphate too.
Features at a Glance
A total of six pouches in two packs

3-6 months of cleaning power

Powerful cyclonic foaming action

Hands-free, no scrubbing

Cleans the tank, bowl and the jet stream too

Septic safe
---
Buying Guide For Best Toilet Tank Cleaner
---
Let's discuss the caliber you should expect a toilet tank cleaner to have.
Easy To Use
A toilet tank cleaner has to be easy to use. Whatever the form it comes in, tablet, powder, or liquid, make sure it doesn't have a complicated user manual. As we have discussed, the ones we reviewed needed pouring or dropping into the tank, that's it. Or you can leave it in the tank for days, weeks, even months. So, all the forms we discussed are pretty easy to use.
Fast Action
This one is a crucial feature. The faster action makes the best cleaner. Yes, we can wait for a few hours to let the cleaner sit and work, but it is better if it activates the moment it is poured or dropped into the water. The reason is we do not have extra time to wait always. Sometimes our limited time schedule demands instant cleaning. And, another thing is the cleaner which works well instantly is definitely going to perform better if kept overnight.
Fragrance
A cleaner with a mild scent is a good option to keep the bad odor away. It also keeps the toilet smell fresh even if there is no bad smell in it. And if you do not like fragrance, then we have reviewed some odor-free toilet tank cleaners too.
Hands-free
A toilet tank cleaner that needs no brushing and scrubbing is the best. Because a toilet tank is a narrow thing to clean, one can reach some spots to brush, but most of the spots stay untouched. So, the formula should be potent enough to clean the whole tank thoroughly.
Safe
Bleach and similar harsh chemicals are not good for the toilet components and septic tank. They decrease the shelf life of the toilet parts. So, make sure to buy the tank cleaner that is not harsh on the toilet, flush or septic tank.
Conclusion
All we want to emphasize on is hygiene. A toilet is a routine abode to bacteria and germs. If it's not clean, staying healthy is out of the question. A flush is a must to keep the toilet clean. If it doesn't work and is clogged, keeping the toilet bowl clean becomes way hard.
Because as we all know, a proper flush system itself cleans and scrubs a toilet to a huge extent. Saying it loud and clear, who wants to have a toilet full of stains and limescale- no one. So, brushing a toilet is what we do every second day.
Add to that the multiple flushing. But only brushing or flushing without the best toilet tank cleaner cannot work on the rust and buildup. These are something that needs active chemicals to break down the tissue and waste. So, without wasting any more time, get a potent tank cleaner right now. 
Read Our Blog …
---
Recommended Resources
---