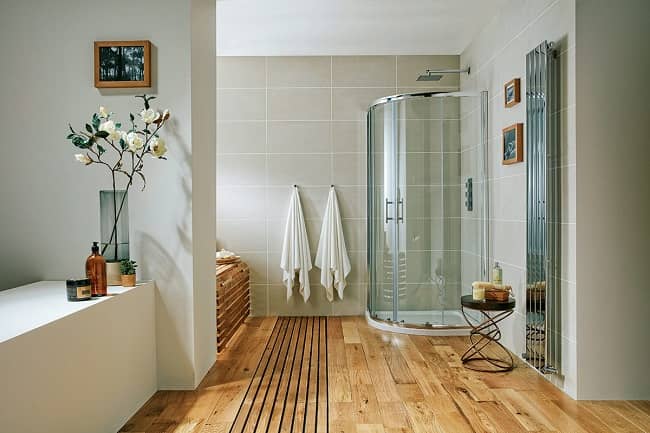 Shower enclosure implementation is a great way to update our washroom. It is a setup with railings and curtain rods that separates the wet and dry bathroom areas. Whoever wants to keep the bathroom always dry, the best shower enclosures can help you.
They offer good privacy and make showering space organized. The majority of users prefer them over conventional bath systems. The reasons are obvious. They require less space and less water compared to a bath.
Finding out the best rated shower enclosures is hard from so many choices. You must spend a lot of time to know about the brands, models, offered features, etc. We are here to make your job easier. Let us present our eight favorites: 
Our Top 7 Recommendations
(Below you can read our detailed reviews about these products.)
Review of the Best Shower Enclosures  
1. DreamLine French Corner Framed Sliding Shower Enclosure
This satin black enclosure measures 34 ½ inches in depth, 72 inches in width. You can increase the width from 0 to 4 inches with its telescopic rails. The walk-in opening measures 20 3/4 inches. Such an entrance is beneficial for small bathroom owners as they usually can't install any swing doors because of limited space.
Two sliding panels and two station panels complete its look. They are made from aluminum and certified tempered glass. With 4mm thickness, the glass gives the enclosure a modern appearance. Besides, the aluminum wall offers a maximum of half-inch adjustment.
The combination of shiny acrylic and fiberglass forms a solid base that lasts for a lifetime. It passes more than twelve strenuous tests. So, you no longer have to worry about durability.
Its low-profile design is everything you need to renovate the washroom. As it comes in a wide range of colors, buy what goes well with your bathroom tiles and arrangements. In this way, you can turn any washroom into spa-like sanctuaries. A natural, teak wood folding shower seat will also be part of the deal. It will add more glamour to the enclosure. You can sit on it while taking a shower.
Features At A Glance
High-quality shower door

Two sliding panels, two stationary panels

Adjustable anodized aluminum wall

Clear tempered glass construction

Fit well in smaller spaces

Modern, durable, low-profile
2. DreamLine Unidoor Plus Frameless Hinged Shower Enclosure
This is a slightly larger model from the previous brand. It is 72 inches tall and 34 ⅜ inches wide. Its main difference from our first enclosure is the walk-in opening's size; the current one is larger by above 2 inches. Everyone can enter it more easily.
Another difference is in the construction. Both of them contain tempered glass, but this one uses bass in place of aluminum. Also, its tempered glass is thicker (10mm). The upper layer is water-resistant and stain-resistant. It prohibits harsh dirt buildups so well. No wonder it survived multiple strenuous tests. It has at least a couple of years of lifespan.
Overall it has a 24 inches wide door along with 22 inches inline panel and an almost 35 inches return panel. A single brass, self-closing hinge controls the door movements. For quick installation, designers added a one-inch aluminum U-channel. It delivers half-inch width or out-of-plumb adjustment facilities. We strongly recommend professional installation for it.
We are happy with the versatility. Their color and size compliment all types of bathroom styles. The teak wood seat is impressive too. We would give it ten out of ten if the package featured a shower base. Unfortunately, customers have to purchase the base separately.
Features At A Glance
23 inches walk-in opening

Exclusive shower door along with return panel

Transparent, water-resistant, stain-resistant, certified tempered glass

Frameless glass style

Solid self-closing hinges

Enhanced durability
3. ELEGANT 2 Opening Sliding Shower Enclosure
Our third pick is from the ELEGANT brand, and it justifies the name indeed. A few 72 inches tall frames surround its 36 by 36 inches base. A 20 1/2 inches walk-in opening acts as the access gate. You can slide the door in any side and get a wide entrance in return. As you can assume, it is a small yet convenient shower enclosure.
It is made from 6mm thick tempered glass. The glass is clear, defect-less, and certified. It gives protection against shattering. As a result, the enclosure doesn't need a replacement for many years. You barely have to put effort into cleaning or maintenance.
We love how gracefully the enclosure prevents water leakage. Any way not? There are magnetic door strips that ensure a dry, tidy, clean bathroom. The transparent vinyl door also deserves some praise due to its amazing seals.
Many have a habit of taking a bath or shower at night. However, their showering activities can wake others up. It will never happen with this shower enclosure. All credit goes to the inner rollers and track rails. Both of them play an important role in smooth movement and quiet service.
Features At A Glance
Smooth and noiseless operations

Immune to shattering, leakage, being dirty

Easy to maintain and install

Double opening shower door

6mm thick tempered glass

Vinyl door seal strips with two magnets
4. DreamLine Prism Frameless Neo-Angle Pivot Shower Enclosure
It is our third selection from the DreamLine brand. It measures 36 ⅛ inches and 72 inches in width and height, respectively, almost similar to the previous two models. But the walk-in opening varies from the other two (22 3/16 inches). It also allows us to adjust the width or uneven walls up to ⅜ inches on each side. 
Just like most other pro-grade shower enclosures, it consists of tempered glass particles. Each wall is 10 mm thick. The design also covers stainless steel bars and a magnetic door latch. Where the pivot bar boosts stability, the full-length door latch stops water leakage. It is super durable too.
This neo-angle shower enclosure is compatible with corner designs. It is reversible for both-side door openings. The brushed nickel finish never fails to draw the guest's attention. Set it in any corner, and it will convert your old bathroom into a modern one. A compact wooden seat will be inside the enclosure for your maximum convenience.
Note that the setup is not possible without a 2 inches bigger base compared to the main unit. Since you won't get it along with the product, order it separately. Don't try to install yourself unless you are a professional.
Features At A Glance
Reversible shower door opening

Sturdy pivot bars

Heavy-duty acrylic with fiberglass

Therapeutic water jets

Pressure-balancing warmth controls

Teak wood shower seats
5. SUNNY SHOWER Corner Shower Enclosure 1/4 in. 
It is a glass shower enclosure with 36 inches by 36 inches shape, a 20 1/2 inches walk-in opening, and a 72 inches tall frame. If we want, we can decrease the width by one inch. Manufacturers applied a brushed nickel layer on it to achieve a subtle, semi-satin finish. It looks stunning.
One feature that we like the most is the double sliding design. Two sliding panels are in this enclosure. Both consist of glass components, slide smoothly, and produce no noise. They make a square shape and leave ample room in the middle to let us enjoy showering. It is pretty stable and sturdy as well.
Mounting an enclosure in the corner can save some space in our tiny bathrooms. We can set this enclosure in any corner we like. All panels, door handles, tools, and an instructional book will be in the box. But you should better call an expert.
Lastly, we want to mention the innovative waterproof seal strips. These magnetic strips are added to the door. They provide outstanding waterproof sealing. Plus, they contain PVC as a protection element. It is the secret behind the shower enclosure's excellent heat and cold resistance.
Features At A Glance
Double sliding glass panels

Spacious shower room

Waterproof magnetic seal strips

Smooth and silent sliding

Dual stainless steel door handles

Included accessories
6. ELEGANT Double Sliding Glass Shower Enclosure
First, come to the sizing. It is a 36 by 36 by 72 inches (depth*width*height) that utilizes a 20 1/2 inches walk-in opening. Due to the sliding system, we get a wide gate to walk through. Its wall profiles offer a width customizing opportunities up to ¾-inch. Satin black grid patterns cover the external surface. They modernize not only the shower system but also the whole bathroom.
The tempered glass mainframe has a thickness of 1/4 inch. Inner and outer areas are so smooth that cleaning only takes a few minutes. No matter how hard you scrub, the walls won't crack. It has ANSI certification for this non-cracking feature.
Every time someone closes the door, inner rollers and metallic track rails work flawlessly. We noticed the presence of anti-collision blocks in the upper and bottom rail. Consequently, zero collision takes place between the wall and glass. Both hinges and upper rail support confirms the perfect stability of the washroom.
Its door closes without generating any noise. In order to reduce leaking problems, there are magnetic strips as well as seals in the door. Thus, the bathroom will never be wet with excess water.
Features At A Glance
Thick, safe, easy-to-clean shower door

Double-opening sliding door

Effortless installation

Waterproof door sealing strips

Presence of anti-collision blocks

¾-inch side wall adjustment
7. DreamLine French Corner Framed Sliding Shower Enclosure  
Medium bathroom owners are not interested in a small shower enclosure because it may ruin the design. This can be the best option for them. It has a 40 7/16 inches square unit area, 72 inches tall frame, 22 ⅝ inches wide panel. You can place it anywhere, especially where a swing door doesn't fit.
The shower enclosure includes a total of four panels- two stationary (fixed) and two sliding (moveable). The sliding panels build a 20 ¾ inches walk-in opening, which is the entrance of the structure. When a user turns on the shower, therapeutic water jets flow water to release muscle pain immediately. Therefore, he/she gets a spa-like experience.
It is engineered in the USA. 4mm thick transparent tempered glass is its main material. Some pivot bars are the main reasons behind its long life and improved stability. Another mentionable characteristic is the watertight service. A magnetic door latch prohibits water from flowing from inside to outside. 
When it comes to durability, this shower enclosure is almost unbeatable. Authorities tested it above a dozen times before launching, and it succeeded every single time. The same goes for an included wooden seat. It is an elegant and compact shower accessory, which comes with the shower enclosure.
Features At A Glance
20 ¾ inches walk-in opening

Dual sliding panels

½-inch aluminum wall adjustment

Improved durability with metal pivot bars

Magnetic door latch

Therapeutic water jets
8. ELEGANT Center on Sliding Shower Enclosure
It is slightly larger in dimension (36 7/10 inches x 36 7/10 inches) than various small shower enclosures but carry a small walk-in (19 3/10 inches). Buyers will receive all fixings (not shower base) for correct installment. Get the base and hire an experienced worker to do the job.
Not all shower enclosures have space-saving properties like this one. Its streamlined curved design has a significant impact on the space. The key trick is, installing it in the corners of washrooms. Then, you can improve the space utilization rate. It is one of the best offset quadrant shower enclosures we have used so far.
The deal holds a stainless steel door handle. It is rust-proof and compact. Everyone can open the door instantly with the handle. After closing the door, feel free to take a shower without worrying about water leakage. The transparent magnetic door seal strip does not allow water penetration at all. Your washroom will always be dry and clean.
Customers can't thank the manufacturers enough for such high-quality, clear glasses. These walls are 1/4 inch thick and entirely safe for use. You will never face cracking issues.
Features At A Glance
¼ inch safety clear glass

No cracking, rusting, leakage issues

Space-saving sliding door

Premium-quality stainless steel handle

Full-length magnetic seals strip

Stylish, safe, humanized design
Buying Guide For A Shower Enclosure
A customer must consider these factors to identify the best shower enclosures to buy:
Sizing
Buying an incredible shower enclosure is useless if it does not fit into the reserved space. On the other hand, a too-small model may work fine but destroy your bathroom elegance. Generally, we can classify all enclosures into three distinct categories – quadrant, rectangle, and square.
Their door may be located on either left or right side based on where you are placing it. Measure the spare room you got. Quadrant units fit into tight to medium rooms.
Their curved front leaves some space while giving a modern look. They are said to be the best shower enclosures uk because British bathrooms are usually small. Plenty of buyers consider square models to be the more stylish type.
They have no curves and take a little bit more space. Still, some square sower enclosures blend well with small washrooms. Rectangle suits only the big bathrooms. Purchase the best style according to your washroom dimension.
Brands
"Branded or non-branded-which is better?" is a common question we hear from the buyers. It is your personal choice. Each renowned brand is famous for its authenticity, additional features, and functionalities.
So, you don't have to worry about particular qualities while spending on a branded product. However, most branded products target clients of medium to upper economic levels. Non-branded ones win in this case.
They are typically a lot cheaper because none invest plenty of bucks on random products. Our shower industry is full of such products, which are as good as the branded products. But do not purchase one without knowing its materials, service, durability, and qualities.
Type
Frame or frameless: Enclosures with a frame are highly functional and available at a cheap rate. A drawback is, they sacrifice restroom aesthetics sometimes. We should bring frameless versions instead to match a contemporary bathroom. They are minimalist, stylish, and easy to maintain.
Clear or textured glass: Clear glasses are transparent, and textures glasses are frosted. People who value privacy or want to create a spa environment prioritize the second one.
Easy or difficult mounting: The majority of options require two or more people to set them up. Nowadays, companies are focusing more on easy-to-install designs. Even the buyer can install them alone.
Door features
Single or dual entrance: Units with one opening has a single access door, while the dual-door model comes with two open sides. The latter gives an open feel and consumes a little bit more space.
Hinged or sliding: Hinged doors always supply sufficient air inside the shower enclosure. Users get a wide entrance to step in; so, they are great for people with disabilities. If your washroom is too tight to have a swing door, go for the sliding doors.
Noise or noiseless: Many expensive doors feature quick-release stainless steel rollers. These rollers assist in the smooth and quiet gliding of the doors. They also last for a lifetime.
Durability
Some buyers do not know about the connection between the glass's thickness and durability. In brief, a thicker version offers more extended service than its thin counterpart even though they are made from the same material.
The first kind is capable of handling more harsh conditions, corrosions, dirt buildups, abrasion, etc. That's why the sellers demand high for a thick frame, although they supply the thin models at a reasonable rate.
The easy-to-clean, smooth glass coatings also last long. Less dirt can gather into their little dips. Owners can get rid of the dirt particles with minimal effort. Some models only needed to be cleaned monthly.
Frequently Asked Questions (FAQ)
How does the framed shower differ from a frameless one?
As names describe, framed shower enclosures require solid metal support. They can't function without the frame. They have a traditional look and cost fewer bucks. But the frameless models do not rely on any metal structure. They are more stylish, clean, and popular right now.
How to clean a shower enclosure properly?
Follow these phases:
Simply scrub with a wet, soft sponge or towel until the excess dirt is gone.

Prepare a mixture of baking soda and water.

Soak a non-abrasive sponge into the solution.

Rub the soaked sponge on every inch of the glass.

Rinse off with vinegar.

For heavy soap or shampoo residues, dip soft clothing into hot and undiluted white vinegar, succumb gently, and wash off.

Don't worry about the vinegar smell. It will fade away after one or two days.

Clean the glass walls with a mild glass cleaner regularly. It will prevent spots and grime.
How to attach accessories to a shower enclosure's door?
It can be very challenging to do it yourself. You may end up ruining the glass door. Simply ask an experienced staff for it. However, you can set a towel bar, additional handles, racks on a frameless, tempered glass wall yourself. Add it with the help of some suction cups. But we can't assure you how reliable they will be.
Is it possible to place a shower enclosure against an uneven wall?
Absolutely. Most modern units allow the dimension to adjust to cope with the uneven surface.
I have a small bathroom. Which shower enclosure should I choose?
The DreamLine French Corner, SHEN-8134340-89, is the best shower enclosure for small bathroom. Although it occupies a tiny space, it gives the restroom a sleek, stylish, and broader appearance. It even fits on the areas where swing doors don't work.
What is a shower tray?
Answer: It is a shower accessory that ensures perfect water flow by manipulating water paths. Do not purchase the best shower trays and enclosures randomly; they must be compatible with each other. After fitting the right shower tray, it will offer:
Less water leakage

Uninterrupted liquid flow

Saves labor, time, and cash

A contemporary look to the restroom
How to make the glass wall smoother?
Dirt buildups make a glass surface rough and unhygienic. So, make sure to clean the glass regularly with a mild cleanser. Many apply the anti-scale treatment (AST) to obtain a better result. This treatment fills the glass wall's uneven surface. Then it will gather less limescale, grime, or other debris. The AST effect will stay up to 1.5 years along with regular maintenance.
Why is tempered glass used in the shower enclosures?
It is nothing but a toughened glass that went through several thermal and chemical processes. It has more strength compared to the standard glass materials. Shower enclosure manufacturing uses it for being heat-resistant, impact-resistant, crack-resistant, and more facilities.
And customers demand these attributes from bathroom appliances. So, the brand authorities use tempered glass with or without other components.
What happens after installing an unbalanced shower tray?
An even shower tray is a basic requirement to achieve completely watertight conditions. If it fails, you have to deal with constant water leakage.
Conclusion
Here concludes our best shower enclosures review. We selected these eight enclosures by our personal experience and other customer's feedback. If your bathroom does not have a shower yet, buy one right now.
Once you install it, it is going to change the overall look of your bathroom. And this is the least you can expect from the best shower enclosures. Their unmatched versatility, unique style, innovative safety, and hygiene technologies will blow your mind.
We hope you are not confused anymore after knowing the top products' attributes, buying guide, and more details. Just follow the buying tips and get a suitable match.