Our top picks: Best Shower Hair Catcher of 2023
If you're not a big fan of digging hair out of the drain, then you need to buy the best shower hair catcher. We lose about 100 hairs daily, and most of them can find their way to the drain as you take a shower.
A hair catcher can save you a lot of hassle and time. Instead of looking for products that can unclog the drain, you can simply catch the hair and throw it in the bin. In this article, you'll learn everything about buying a good shower hair catcher, in addition to my top 5 recommendations.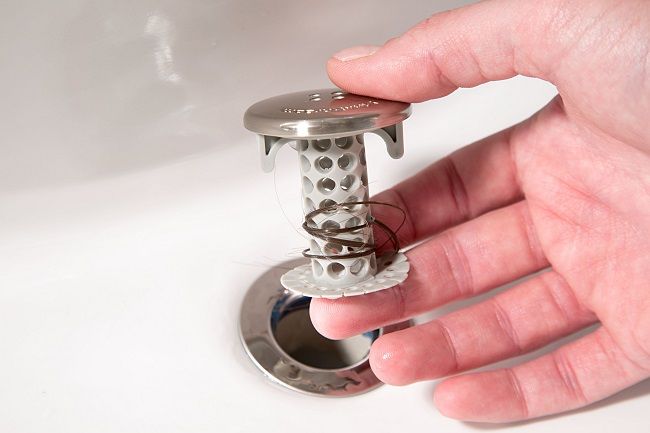 Reviews of the Best Shower Hair Catchers
Last Amazon price update was: December 5, 2023 11:37 am
Hair catchers are typically affordable. However, not using them can cost you a lot of money. When your hair finds its way into the pipes, it will accumulate and eventually clog them. As a result, your bathroom might accidentally flood and ruin your flooring and furniture.
1. LEKEYE Shower Drain Hair Catcher
The first product on our list is made of stainless steel. This guarantees that it will withstand everyday use without showing any signs of rust. The outer edge is made of silicone so it sticks to your drain and doesn't move as the water and soap flows.
It features elliptical holes that don't block the water drainage while trapping the falling hair. Thanks to its stainless steel body, it will stay flat and won't warp or curl up like other products made of rubber or silicone.
Thanks to its flat design, it can be used in any shower design. You can install it in a drain that it's located on the side or middle of the shower floor and it won't hurt your feet if you step on it. However, you can easily accidentally move it by your feet while you're walking around.
Silicone needs to be dried regularly as it might degrade over time. If you're intending to leave the house for a while, it might be better to remove the catcher and keep it dry. Use a cover on top of the drain until you get back.
Features at a glance
Flat design made of stainless steel.

Rust-proof.

Silicone ring that keeps in place.

Elliptical holes to let the water pass.
2. OXO Good Grips Easy Clean Shower Stall Drain Protector
Thanks to its flat design, this OXO shower stall drain protector can be installed on top of any shower drain regardless of its position. The holes are arranged in a pattern that allows the water to pass while trapping the excess hair and soap scum.
The silicone rim keeps the protector in place preventing any debris from passing into the pipes. As a result, you won't have to worry about unclogging your water pipes regularly. Once you're done taking your shower, you can easily clean it by lifting it and throwing whatever it catches into the bin.
The rust-proof stainless steel construction will last for long and won't show any signs of wear and tear. It doesn't get affected by the chemicals found in your shampoo, shower gel, and soap. However, this catcher doesn't stick well to the drain, and you might want to use something to seal it in place. Also, if the water flow is too strong, it might start moving.
Features at a glance
Sturdy construction made of stainless steel.

Can withstand the chemicals found in hair products and soap.

Blocks the hair while allowing the water to flow smoothly.

Doesn't show any signs of rust.
3. ShowerShroom Revolutionary 2″ Stand-up Shower Stall  
This product features an innovative design that doesn't sit on top of your shower drain like the other hair catchers. It fits right into any standing drain to catch even the hairs you can't see. It's super easy to use as you just plug it into the drain and it will catch the hair that falls through.
If you have a 2-inch stand-up shower stall drain, then this is the protector to install. However, you should check your shower or bathtub drain to make sure that this Shroom fits. If your drain is of a different size, you won't be able to use this protector. Nevertheless, it can withstand stronger water flow and won't move around like other flat protectors.
As you let the water flow, the hair will get trapped around the protector. Remove it and use a piece of tissue to wipe it clean. Unlike other protectors, it will keep the hairs away from sight while other protectors keep the hair floating on top of the drain.
The drain protector isn't made of metal or hard plastic. It's made of soft rubber so it can easily fit into most drains. However, it might also get accidentally washed away if the water flow is too strong or if your pipe isn't covered.
Features at a glance
Soft rubber construction.

Fits into the drain catching the hair that you can't see.

Easy to install and to clean.

Keeps the trapped hair away from sight.
4. Lines One Portable Steel Hair Catcher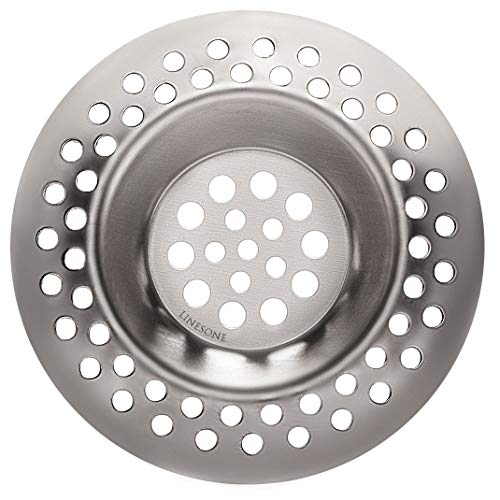 This hair catcher is made entirely of stainless steel. If you're worried about silicone degrading over time, then this is the right one for you. It doesn't react with water or chemicals found in your hair care and skincare products. At the same time, it doesn't block the flow of water while keeping your drains and pipes hair-free.
The outside of the catcher is 2.75 inches wide while the inside is 1.35 inches wide. This means that will sit inside the drain and won't move even if the water flow is strong. You don't need professional help to install it as it's very straightforward to use. It will also catch pieces of soap and anything that might find its way into your shower room.
However, the holes are a bit wide, so it might let some of the hairs pass through. It can catch hair lumps that you occasionally lose when you're combing your hair in the shower, but not the smaller hairs. This is a perfect choice for soap scum but not for fine hair which can easily pass through the holes.
Features at a glance
Stainless steel hair catcher.

Fits right into the drain.

Can withstand heavy water flow.

Catches soap scum.
5. Trobing Drain Hair Catcher
The innovative tripod design of this catcher accommodates both flat and pops up drains. It fits right into your drain to catch hair, soap scum and other objects without obstructing the water flow. It's weighted so it stays in place and doesn't move even with strong water flow.
This hair catcher is made of stainless steel so it doesn't show signs of rusting. It's designed to fit any drain from the size of 1.35 inches to 1.75 inches. The same drain comes with 4 different rubber seals to suit various sizes of drains. The rubber rings are 1.47″, 1.57″, 1.67″ and 1.77" so the protector will stay in place.
The hair will get trapped in the hair catcher and you can easily clean it. The hair catcher doesn't show any signs of rust and will always look shiny to complement the decoration of your bathroom.
It's so versatile so you can install it in the sink, tub or shower. However, some fine hairs might find their way into the pipe if you keep it up. If you keep it down, the design will stop the water flow and cause your water to collect.
Features at a glance
Innovative tripod design.

Multiple silicone rings to fit any drain.

Easily to install and clean.

Collects hair and other particles.
Why Do You Need to Buy the Best Shower Hair Catcher?
Most people have about 100,000 hairs on their heads and will lose an average of 100 to 200 hairs per day. When you take a shower and wash your hair, it becomes weaker. If you choose to comb it or brush it at this stage, you're likely to lose more hair.
As a matter of fact, it's quite normal to find clusters and clumps of hair in the shower. But your water pipes aren't designed to let this hair pass through. With time, the hair will accumulate inside your water pipes and will cause clogging.
Hiring a plumber to unclog your pipes costs lots of money, but you can avoid this by installing a bath hair catcher. This affordable and easy to use product will block the drain and catch the hair without affecting the water flow. At the same time, it will catch the soap scums that accumulate in your drain.
Without having to dig your fingers into the drain, you can easily take the catcher out and throw the hair in the bin. A hair catcher is an efficient and clean way to make sure that water will flow smoothly into your drain. 
What to Consider Before Buying the Best Shower Hair Catcher?
All hair catchers work according to the same concept, but some of them are special. Here are some factors to think about when you're shopping for a hair catcher to install in your shower or bathtub.
Material
Hair catchers will get wet all the time. They're also going to be subject to chemicals. This is why you should make sure that your hair catcher is made of durable material.
Stainless steel is an excellent choice because it's sturdy and doesn't rust. However, stainless steel alone might slide, especially if your hair catcher is designed to sit on top of the drain. You should make sure that the catcher has a silicone ring or rim that will keep it in place.
Low-quality silicone might be subject to mildew or mold. You should make sure that your catcher is made of high-quality materials that can withstand the moisture. There are other catchers that are made entirely of rubber. These are soft so they can fit into any drain regardless of its design.
Design
You can choose either to install a flat catcher or one that sits inside the drain. A flat catcher is very simple to use, especially if you have a drain in the middle of the shower. It won't obstruct the water flow and will allow you to move comfortably.
There are other catchers that are designed to fit deep into the drain. This design catches the hair that you can't see. The hair gets trapped around the body of the catcher, and you have to remove it to get rid of the hair. Take a look at your shower design and the position of the drain to pick the suitable design.
Holes
The most important factor to consider is the number and shape of holes on your hair catcher. If the holes are too narrow, they will definitely catch the hair and soap scum. However, they might hinder the smooth flow of water.
If the holes are too wide, they might allow some hairs to pass into the water pipes. You should make sure that the holes are the suitable size and are adequately arranged to prevent water from pooling inside your shower.
Conclusion
The best shower hair catcher should prevent hair and other particles from reaching your water pipes but it shouldn't hinder the water flow. This will guarantee that you will enjoy your shower time to the maximum while maintaining the condition of your piping system.
It's recommended that you clean your hair catcher regularly. This will help you keep an eye on the amount of hair you're losing every day so you can take action if you're losing too much hair. At the same time, it will maintain the condition of the catcher and guarantee that it will do its job properly.