A bathroom without a hand dryer is simply obnoxious. But yet, finding out the best hand dryers in the market today is quite tricky. Just in case you didn't know, hand dryers are meant to dry people's hands, after visiting the washrooms.
You may have other options to dry your hands, but hand dryers stand the best. While using them, you are assured of your hygiene and environmental safety as well. Additionally, hand driers are easy o use, very reliable, and fast.
If you are among the people in search of hand dryers, this article is going to be of great help. We've scrutinized various types of hand dryers, and came up with a list of the best quality ones. However, the needs of your facilities hugely determine the type you will select.
Are you for an energy-efficient hand dryer or a high-speed one? What's the key factor? After thorough comparison of various hand dryers, below are 10 best hand dryers in the market, accompanied by a guide on which one to choose, for what and why. 
Our Top 6 Recommendations
(Below you can read our detailed reviews about these products.)
Best Hand Dryers: Our Editor's Top 10 Picks
Hand drying is as crucial as hand washing, and a hand dryer is with no doubt the best option. However, selecting a hand dryer, in today's flooded market can be frustrating. It's hard to know the exact hand dryer that will fit your particular needs.
That's where we come in, research, and analyze the top hand dryers in the market and bring you the results. We've gone deep to give you the key features of each of them, so you can pick the one that favors you the best.
1. Goetland Stainless Steel Commercial Hand Dryer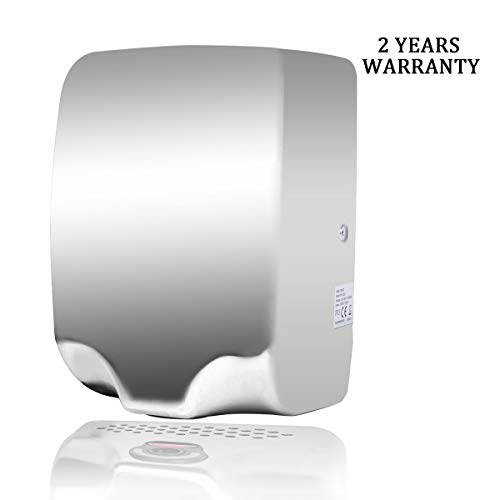 The Goetland hand dryers designed in 2018. Within 10 to 12 seconds, this hand dryer will hand dried your hands, and it has low energy consumption. When it comes to wire connections and mounting, you don't have to worry as it is very easy and convenient. It also has a stainless steel cover that will leave you wanting more of it. 
Do you own a restaurant, hotel, commercial place, shopping mall, or a casino? Relax! This hand dryer is suitable for all these. The best part is that it comes in various colors, and you, therefore, have a chance to select the one that goes with your color theme. 
Just when you think you're done with the goodness of Goetland and dryers, you've not yet. They are processed using waterproof materials and are CE certified. Even though they are available in comparatively small sizes, they also are high performance. 
What else would you need from such a hand dryer! It deserves every penny you decide to invest in. Quality comes first, and it is an example of the best quality. 
Features at a glance
Easy installation

Energy saving

Good deal at reasonable price

Great designs
2. Powerpress Ahd-2016-01 
If you need to dramatically reduce paper towel usage in whatever business you are in, this is the hand dryer to go for. It is very economical and environmentally friendly too. Powered by a 400 W engine, this hand dryer is an 550 heating element. This equals to low consumption of energy compared to other automatic and conventional hand dryers.
When you place your hands, the infrared sensor will instantly activate and stops at the removal of the hands. It is also made of high-quality stainless steel and has a beautiful finish, which will add beauty to your bathroom area. Due to the chip controlled technology, the drying performance is improved, and you can expect speedy hand drying from the hot air volume. 
Features at a glance
It's high quality,

Elegant, and of resilient stainless steel finish

Easy installation

Different colors
3. Dyson 307173-01 Air Blade V HU02-W-LV Hand Dryer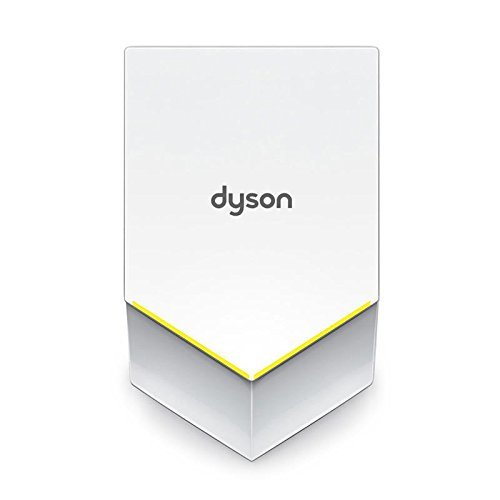 Who doesn't know this hand dryer anyway? It is so famous for its beautiful appearance, the perfect engineering it has, and the effectiveness it comes with. It's an advanced version and equipped with features of better quality features. Perhaps you're reading this and you have a small business? If you answered yes, this is for you. 
Compared to its predecessor AB08, Dyson Airblade V HU02 is well revolutionized such that its sound level is quiet, and its energy very efficient. It has all the specifications that people concentrate on looking for from hand dryers. Even with all those good features, Dyson still manages to maintain a super-fast dry time of about 12 seconds.
Talking about hygiene, the air will be purified by the HEPA filter before it's even blown into your hands. In case you are currently using paper towels in your hotels, this is the time to think twice about this hand dryer. It may be your next game-changer in your business.
Also, worry less about the installation, as it is so easy, as the packaging is small.
Features at a glance
Good for slight traffic areas

Operates quietly

Durable and long-lasting

Easy installation

Advanced features
4. FCH Household Hotel Commercial Hand Dryer  
This particular one is automatic and uses infrared sensor technology, which helps in drying hands even faster. Technology has eased so many things in the current era, but little did we know it would reach this level.
Feel free to use it in your hotel business premises, or at home. This will assist drying your client's wet hands within a very short period, and you can be sure that they will appreciate it. In case you make up your mind and settle for this hand-dryer, the package will contain two sets of keys, a network cable and a pack of screws.
The fact that it is waterproof and automatic, and portable at the same time, makes it stand out to serve both at home and in businesses. Its compact size makes it so easy to install and operate. It is also automatic, which makes it so easy and convenient to use. You cannot afford to lose this chance to buy such a wonderful product, at an affordable price. However, the decision lies in your preferences.
Features at a glance
Speedy hand dryer

Easy installation

Better performance

Waterproof ad automatic

Affordable
5.  JETWELL (2 Pack High-Speed Commercial 
Reliability and durability are what defies this hand dryer. Made from stainless steel, Jetwell hand dryer corrosion-proof, and will, therefore, last long, if well taken care of. It also has a high-speed function which will deliver results within eight to ten seconds of hand drying. This should be three times faster, which is excellent. 
If you are for a very high level of sanitation, this hand dryer will help you out. It will help you fulfill efficient and hygienic hand drying, with the best health conditions. They also contain HEPA filter, which will help I removal of almost all bacterial substances. 
All you will need to do is keep its spare parts clean, to ensure that it serves you longer. When it comes to saving energy, Jetwell hand dryer is the best. It uses about 80% less energy, and it has both cold and warm air switch, which helps save energy.
Before buying anything, most people will always consider appearances. This hand dryer will not disappoint you either. It is engineered in a sleek and modern way, which will add some stylish design in your bathroom. The design also promotes efficient drying of the hands, which is the major requirement.
Features at a glance
High duty

Quiet

Great product

Dries very fast

Easy installation
6. AIKE AK2630S Compact Automatic High-Speed Hand Dryer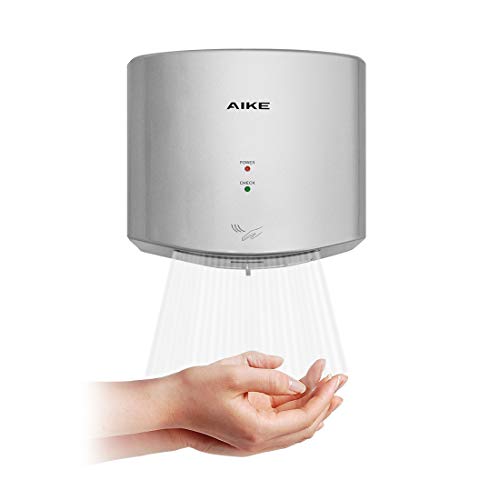 Are you worried about your limited space, making you think twice about buying a hand dryer? Well, this one is designed for small spaces, but it will still meet every requirement others do, be it commercially. They are constructed with ABS polycarbonate, which makes it strong for use, durable, and long-lasting.
AIKE AK2630S Compact Automatic hand dryer has been completely protected with a total of 45 seconds over time, to prevent any danger and malicious behavior. Doesn't that already sound good? Its sensor works so perfectly eve a longer distance. That means that it's very sensitive, ad, therefore, saves energy. 
Features at a glance
Designed for small spaces

Compact size

Quality product

Perfect performance

Easy installation
7.  PowerPress AHD-2001-00 
Whenever you talk of speed, let your mind channel to this hand dryer. It will take you only 10 seconds, at a speed of 90m/s to get your hands dry. This is one of the leading brands in the market, with very high demands. N extremely busy bathroom, with many users, will need this kind of hand dryer. 
 Talking of it being able to accommodate many users, may bring to worrying about the energy. We understand your worries, and we researched energy consumption. The hand dryer is widely energy efficient than many others in the market and designed to function quietly. 
Penson hand dryers are made with nozzles, which are used to reduce the sound level, for it to work more quietly. This would work in businesses such as hospitals, casinos, restaurants, shopping malls, and hotels. As compared to conventional dryers, it saves energy and is equally easy to mount on the wall. 
Penson hand dryers come with ABS which are very durable and will serve you for a longer time, if well taken care of. The ABS cover will also protect your hand dryer from wear and tear, and rust. 
Features at a glance
Operates quietly

Easy installation

Does not heat up and maintains the temperature

Dries hands quickly

Durable
8. Hand Dryer (224 mph) High-Speed 
It as well dries hands at a high speed of 224 mph. With this, it can handle a big business, whose bathrooms are so busy, without keeping the customers waiting for too long. On the other hand, its technology is energy efficient and powerful, and helps saves energy without any compromises. 
It's also made of stainless steel, which makes it so durable and long-lasting. When everyone buys an item, they expect it to serve them for the worth of their money. The quality of the material might be the first thing you notice immediately after unboxing the hand dryer. Hand dryer (224mph) will make your money worth the spend as it will serve you for so long.
Additionally, being made of the stainless steel, this hand dryer brings out a certain bright look, which will give life t your bathroom area. Its filters are replaceable and help to clean air even as it circulates. To set it up, you will need to refer to the instructions in the manual, which are very clear, and easy to apply. 
The airflow that comes out of it is hot, powerful and crisp, and will dry your hands so quickly, and in comfort. In case you are o the fence about the purchase of this hand dryer, this is the time to be sure about it, ad go on with the purchase, as it is worth it. 
Features at a glance
Great dryer

Quality product

Perfect performance

Easy installation

Fast drying

Easy to installation compact
9. World Dryer DA52-974 Model A Durable Standard Hand Dryer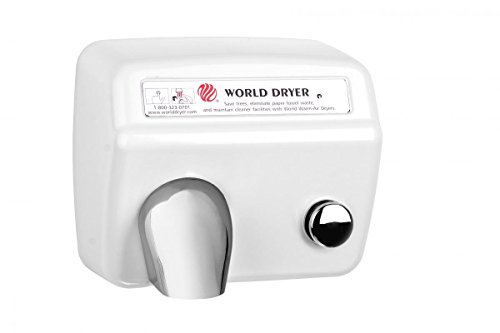 The DA5 model hand dryer has almost a similar look with the DA5 model, but now its cover weighs lighter and is made of stamped steel. The DA52-974 HAND Dryer is constructed using thicker steel that is rustproof and resistant to a vandal. The one-piece cold sheet is rolled and used to make it. 
After construction, the remaining exposed areas are then coated using baked white epoxy enamel which is appliance grade. On the other hand, its universal nozzle is made of zinc alloy, and has a bright chrome finish. When you purchase it, it comes with the mounting instructions and the information on the warranty. If you keenly follow the instructions, mounting it should not be a problem. 
Something about the nozzle is that it's normally shipped within a fixed position, but according to your preferences, you may convert it to swivel. This means that you may use it to dry your hair, ad face, apart from the hand. This sounds good – right? 
Features at a glance
Durable and vandal resistant

Quiet operation

Universal nozzle

Durable coatings
10. AjAir Heavy Duty Commercial 1800 Watts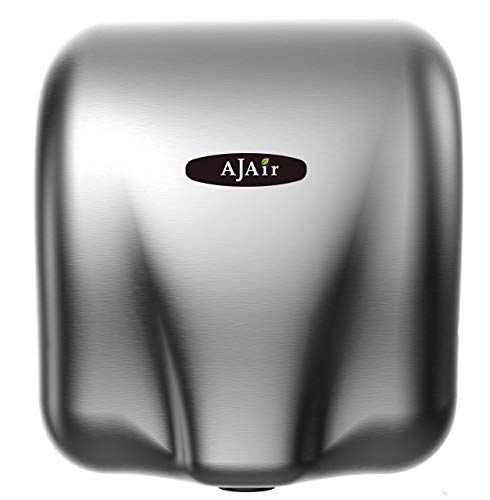 From the past customer feedback, it is evident that this is one of the best hand dryers in the current market. It's warm and powerful air will bring you comfort as you wait for very few seconds to dry your hands.  It's of super high quality, and equipped with an automatic infrared ray induction system.
The unit comes with a cord to plug in an outlet, which can be easily converted to hardware. As compared to the paper towels, this is a much great option that anyone will ever choose. With a top speed of about 90m/s, AjAir® Heavy Duty dries up hands at about 40 to 60 degrees Celcius.
It's made of the stainless metal shell and senses hands at a distance of approximately 12 centimeters, and it's adjustable. It's also good to know that AJAir is the one felony supplier, merchandise from every other supplier is an imitation.
AJAir hand dryers will ensure enhanced hygiene, and less chance of disease-causing infections, and a better overall environment for yourself and your people.
It also comes in a variety of flattering exteriors, including white, black graphite, chrome, and stainless steel. Not only will this hand dryer serve your needs, but it will also complement your restroom's appearance.
Features at a glance
Made of stainless steel

Heavy-duty and perfect sensor

Powerful motor

Dries hands within 12 seconds

Easy installation
Consider Before Buying Best Hand Dryers  
As a business person, or say, for individual comfort, you are required to invest o excellent equipment. But before getting them, there are certain things that you need to look for, during the search to purchase them. Have a look at some of them:
Reason For Installation
I the first place, why are you eve installing the hand dryer? Well, you may have so many reasons, common ones being the high costs of the alternatives, such as paper towels. Also, the same paper towels are not safe for the environment, and waste of paper for such little gain does not add up.
Type Of Business, And Restroom Users
Before deciding to buy a hand drier, check out who your audience is, and the type of your business. If your business has customers throughout, and a big number of them, it needs equipment that dries up the hands speedily.
To narrow down, seek to know what exactly your audience needs. Do they prefer a noisy, but stronger hand dryer or a quiet one? This way, you will avoid cases of making very expensive mistakes. All in all, put your standards higher than, or at the same level you've already set.
Do not embarrass yourself by buying a cheap hand dryer, at a well-strategized restaurant or a casino. Let the impression be constant, by going for the best brands, which are efficient.
The Bathroom/Washroom Traffic
Businesses such as night clubs, busy bars, and restaurants will require a heavy-duty had a dryer, and maybe a number of them. This calls for you to approximate the kind of traffic you have, before researching the type of dryer you want to buy.
In this case, make sure to go for quality hand dryers, bearing in mind the huge number of people who will use it. To reduce the pressure on one, you may opt to buy 2 bor 3 of them, and spread them in different corners of the washrooms, to increase convenient.
Speed And Power
This is some of the key factors to consider before or during hand dryers purchase. We have high-speed dryers and standard speed hand dryers.
Standard speed units
They will take about 20 to 30 seconds to dry your hands. They have warranties of up to 10 years and are mostly vandal proof. They are also cheaper and efficient
High-speed units
These shoes will dry up your hands within 10 to 15 seconds. They give you a reason not to use paper towels, as they give the best results. They are very energy efficient and therefore use a lesser amount of energy than we may assume. For instance, a regular hand dryer would use 2500 watts where this might use only 1500 watts.
The only issue with them is that they are very noisy, and manufacturers have been working on this area.
The speed of the hand dryer will mostly determine its power. The more powered they are, the faster they dry u the hands. Also, the more rapid they dry, the much noise they make. There has been a misconception that more powerful hand dryers use more energy. That is not true. If you're not a wonderful dryer, go for it. 
Durability
Your type of establishment will always determine the type of dryer you buy. If you are buying it for your office, or a small shop, you will not consider longer durability as of someone buying it for a busy bar purpose.
If the dryer is going to experience quite a harsh condition, a premium one would do better. If you need to know whether or not you're going for a heavyweight, check out the warranty.
Automatic Functionality
A wide range of equipment, leave along just hand dryers, are for automatic rather than being operated one on one. Automatic hand dryers are more convenient to both the owner of a business and the customers.
Some customers may be naive, and due to a lack of knowledge, they may end up pressing the wrong buttons and spoiling them. Button replacements will call upon the owner to spend on it, which is so unstable, given that you may not know how often the buttons will be tampered with in a wrong way.
To avoid all this, automatically operated hand dryers are simply the best. Another good thing is that they will sense your hands, and once you're doing, they will automatically go off. This is also hygienic because not so many hands will press a single button in the name of drying hands, from the bathrooms.
Conclusion
Up to this point, we hope that you've picked up a few things that you'd gain from. We have simply put the information to convenience everyone willing to read and take from it. Improve your customer experience from today henceforth. Ensure to provide your clients with quality, as you also consider environment conservation and cutting off costs.
How about the mess to clean up in the bathroom? Whether it's for you, or commercial purposes, you need to save that time you use to clean up the paper towels in the bathroom and invest it elsewhere, for the good of your business. Do not disappoint your customers, as they are expecting to find hand dryers in your bathroom, in this digital era.